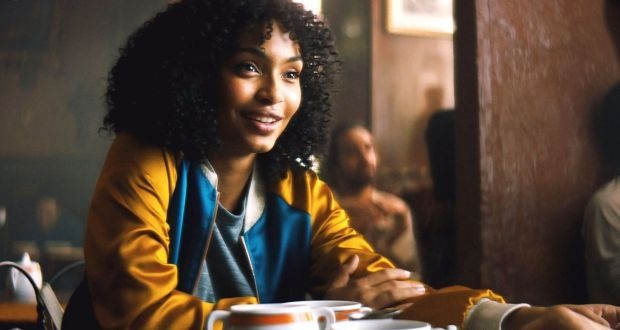 Pictured: Wannabe data scientist Natasha Kingsley (Yara Shahidi) answers important questions about love on the eve of her deportation from the United States in 'The Sun is Also a Star' adapted from Nicola Yoon's 2016 novel by Tracy Oliver and directed by Ry Russo-Young. Still courtesy of Alloy Entertainment / Warner Bros
Set in New York City over the course of one day, The Sun is Also a Star, adapted by Tracy Oliver (Little) from Nicola Yoon's 2016 novel and directed by Ry Russo-Young suffers from a huge credibility problem. Twenty four hours before her family is due to be deported to Jamaica, why would a student, Natasha (Yara Shahidi) entertain Daniel (Charles Melton), a Korean American poet on the verge of being pushed into a medical career he doesn't want, who insists that they are destined to be together? After Daniel saves Natasha from being hit by a car and she sits down with him for a little bit, you would expect her to tell him about her dire circumstances that she was inadvertently responsible for. You see, Natasha stole candy from a store, was reprimanded by the authorities who then looked into her family's immigration status. Ouch! Appeal rights exhausted, they are out and Natasha's father (Gbenga Akinnagbe) is pissed. Natasha had big plans to be a data scientist. She also loves the stars. When Daniel first sees her, having written the words 'deus ex machina' in his notebook first thing in the morning, she is standing in Grand Central Station looking up at the ceiling wearing a jacket with those very words. 'No one looks up any more,' marvels Daniel, who then proceeds from his high vantage point to concourse level only to miss her completely.
His best friend gives him the 'bad luck, bro' speech but when Daniel takes the subway, the train shudders to a halt. The announcer tells the passengers that the train being stuck in the tunnel isn't a bad thing and that it doesn't matter if they're late. His buddy was on a train that got stuck, but if he had made his destination he would have got caught up in 9/11. The timing of the train resuming its journey is almost comic, but Yoon, Oliver and Russo-Young are trying to make us believe in fate.
People are fascinated by the idea of things appearing to happen for a reason – as if there is a cosmic sibling looking out for them instead of asking to borrow money. You know, I haven't paid my mortgage for a year and didn't cancel my cable TV subscription or make any lifestyle adjustments either and if you could just let me have £11,000 which by the way you will have to withdraw in cash and take to my lender, I will continue to forget you for the rest of our lives. Oh, and don't tell mother. I had my life saved by a passerby in 2011 after I had a cardiac arrest and the experience taught me to be positive, use the extra time for something (hopefully) useful and not take life for granted. But the idea of fate is a sinister one. You can use the 'hidden forces' argument to justify racial superiority – claiming to be in the group that was meant to rule – or claim that one religion is better than another instead of that incident being a teachable moment. Even if we have incredible moments that are statistically unlikely to happen, we still have to be responsible for our actions. This for me is why Natasha isn't entirely sympathetic. Yes, she's a kid, but she should know that shoplifting is wrong. Arguably, it is her fate that her youthful exuberance led to her family being removed. She made them honest, even though she thinks it is unfair.
The film's release is timely, appearing in the summer that the President of the United States turned 'send her back' into a catchphrase, referring to the Somali-American Minnesotan Democratic Congresswoman Ilhan Omar, who was critical of his policies. America was founded as a melting pot of all nationalities looking for a new life. But the idea that you can remove flavours to improve the taste doesn't quite work. In the case of Natasha, she wants to go on and make a positive contribution to American life. Surely that counts for something.
The film deals with some universal themes related to the immigrant experience. Parents make sacrifices in order to give their children better lives but in return they ask that their children make them look successful. This is the case for Daniel. His father (Keong Sim) is slightly humiliated running a black hair-care and wigs store in Harlem on 123rd Street with Daniel's brother Charles (Jake Choi). He wants Daniel to be a doctor. But though Daniel volunteers at the local hospital twice a month, helping the patients to write poetry, he would rather be a poet himself. Not that he has a particular poetic turn of phrase, but he is observant, and imagines back-stories for hurrying commuters. That said, imagination is the product of experience and cultural input (what you learn from TV, books, etc) so your ideas about another person might just be stereotyping.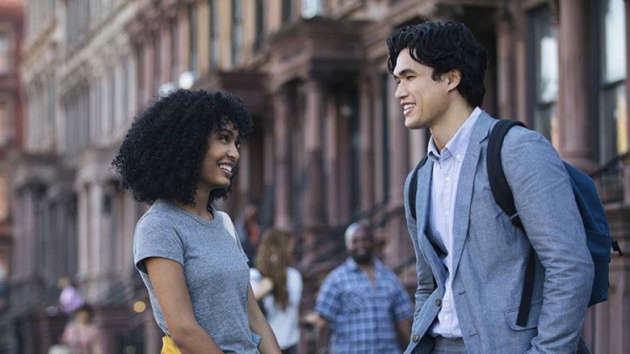 Pictured: 'You're grinning.' 'Really, I hadn't noticed.' Yara Shahidi and Charles Melton in 'The Sun is Also a Star' a film about a 24 hour romance adapted from Nicola Yoon's 2016 novel by Tracy Oliver and directed by Ry Russo-Young. Still courtesy of Alloy Entertainment / Warner Bros
Daniel takes Natasha to a Greenwich Village coffee shop, Caffe Reggio, (address: 119 MacDougal Street, New York NY 10012), which if their Facebook page is anything to go by is more famous for 50% off bottles of wine than poetry afternoons. There he puts to her some of the thirty four questions that demonstrate compatibility. At an editorial meeting for a magazine that I write for, a woman I met only had one: 'are you a member of the Labour Party?' I'm so glad I'm not on the dating scene. The first question is about the five key ingredients that people should have in common for their relationship. Natasha's response is somewhat mechanical. Daniel's involves friendship, chemistry, shared interests and the 'x' factor. I know that's only four but I wasn't taking notes. Besides, isn't the 'x' factor different for everyone? Although, for most, it is a cruel TV talent show. Natasha makes her twelve o'clock appointment with a pro-bono lawyer, only he isn't there owing to accident on his bicycle which Daniel may have witnessed. Natasha has to return at 4:30pm. Later, we will be told it is four o'clock. Daniel takes her to his father's store where they talk about dying the ends of her hair pink and Daniel's father offers her some hair relaxer, which is, like, a total insult. Then they go to Natasha's favourite place, the Frederick Phineas and Sandra Priest Rose Center for Earth and Space, supposedly nearby but actually 40 blocks away. There they look at the stars together – aww. Daniel takes to his favourite place, a first floor karaoke bar where he sings 'Crimson and Clover', a five minute and thirty-five second song made famous by Tommy James and the Shondells reduced in length for montage purposes. During the song, Natasha imagines their life together – the key events, her being a teacher, marriage, pregnancy, being out with the baby and such, not the boring completion of tax returns – gets close and dry-humpy with Daniel and then says 'oh, my god, I have to go'.
I don't want to say too much about what happens next but at one point the characters spend the night in Central Park which I am sure even in summer isn't safe. There is a cringe-worthy reference to Northern Brixton University – it should be 'North Brixton' surely. However, the ending is emotional. Reader, I bought it, even though the movie has more than the credibility problems mentioned above.
Daniel is supposed to be a first generation Korean, not born of Korean and British parents as the Riverdale star Melton is. Melton does not look anything like his screen brother, Choi. Fans of the book have also complained that Daniel's tie is plaid and not red and that Natasha's headphones aren't pink. These are important, I understand. When I watched Rogue One I complained that the Death Star doors don't close fast enough. Viewers also missed the back-story that Yoon fleshed out for the supporting characters, but I think this is a necessary omission. My problem is that Natasha kisses Daniel way too early, about 50 minutes into the film. Their passion didn't feel earned at that point.
The film's producer Elysa Koplovitz Dutton previously brought Nicola Yoon's debut novel Everything, Everything, to the screen for Warner Bros. This earned $34 million against a $10 million budget. However, The Sun is Also a Star failed to set the box-office alight, intended as a counter programmer to John Wick Chapter 3, which opened in the US on the same day. Theatre owners seemed reluctant to keep it on their screens so it couldn't grow an audience. In the UK, home of the non-existent Northern Brixton University, it was released without press screenings.
It does however have qualities to recommend it beyond its emotionally affecting ending. It is rooted in Yoon's own life – she is married to a Korean, David Yoon, an illustrator who has published his first novel, Frankly in Love. It also features some solar enhancing cinematography Autumn Durald Arkapaw. At one point I was mesmerised by a night shot from across the river of an emergency vehicle, red lights somehow brighter than those of the traffic around them, responding to a call. Durald even captures the sun between two skyscrapers. We learn how South Koreans were able to corner the market in wigs. The film makes an impassioned plea for the rights of established migrants who are contributors and not just consumers. The final scene, set in the aforementioned Caffe Reggio has one of the grumpiest looking extras I have ever seen in a movie. Either he was directed that way having to listen to poetry when all he wanted to do was use his laptop. Or he had to endure multiple takes. His presence was accidentally pleasurable. Like Daniel, I felt like inventing his back story.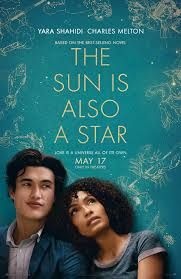 Reviewed at Cineworld Wood Green, Screen 11, North London, Saturday 10 August 2019, 19:30 Screening