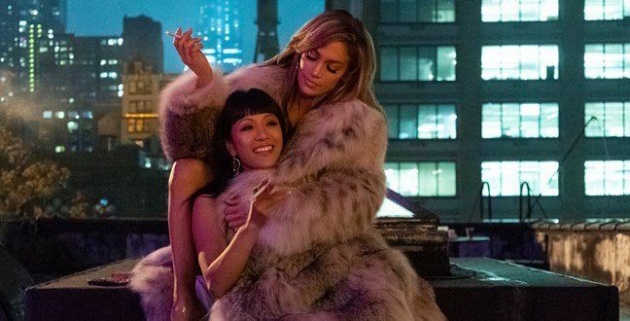 Pictured: Not exactly furry vengeance. Ramona (Jennifer Lopez) keeps Destiny (Constance Wu) from getting cold in 'Hustlers', a fact-inspired tale of pole dancers going into business for themselves written and directed by Lorene Scafaria. Still courtesy of STX Entertainment
More than any other film released in 2019, Hustlers is a game changer. The median US box office gross for a mainstream (studio-made or acquired) film directed by a woman is $21 million – see Little ($40,673,960), Booksmart ($22,680,000), The Farewell ($17,521,288) The Kitchen ($12,180,032) and Blinded by the Light ($11,860,012). So far, in the US alone, Hustlers has grossed $91 million (as of Monday October 7th, 2019). Why is this important? The people who greenlight movies expect a three-fold return on their production budget, allowing for further spend on digital copies and advertising. A production budget entrusted to a woman could be calculated as one-third of the expected gross, that is $7 million. This limits the participation of major stars and the ambition of the project. If the director is considered to have an 'x' factor or is working with a 'property' – major talent who won't do it without them, a famous book with a built-in audience – they might get more money. Generally, if you are pitching an original screenplay, you're looking at filming in Canada.
The success of Hustlers raises that production budget to $30 million without creating a set of genre preconditions that go with that price tag.
Until the recent comedy, Second Act, Jennifer Lopez couldn't open a supermarket, let alone a movie. However, the tale of a department store buyer who enters big business played to her strengths and delivered just enough to appeal to an audience beyond a week of release. Its worldwide gross is $72 million against a production budget of $16 million. STX Films stuck with her for Hustlers but placed her in the mentor role as Ramona, a pole dancer who tutors Destiny (Constance Wu) into better ways of fleecing the customers. Because if you are going to a strip club for the purpose of sexual gratification, you have a wodge of cash and deserve to get fleeced. The writer-director Lorene Scafaria (The Meddler) doesn't make this point explicitly; she already expects her audience to have that opinion. That $91 million gross proves she is right. Scafaria doesn't go for big laughs either – another way of scoring points off men. She depicts it as business. Ramona and her crew make money off-book. The beneficiaries – quite apart from the dancers' families – are the manufacturers of luxury brands. The House (of Gucci) always wins.
I have no way of independently verifying this, but I surmise that Scafaria has watched the Martin Scorsese Henry Hill rise-and-fall picture, Goodfellas. Destiny is introduced at the club in a long continuous take as the camera follows her to the stage. We see her 'dance' the ballet of suggestive exposure but then pay a whole bunch of people before she gets her cut. If you think being an exotic dancer includes medical and dental, be disappointed.
The meeting of Destiny and Ramona is the like the first encounter between Henry Hill and Jimmy 'The Gent' Conway. Destiny is seduced by Ramona's confidence and her ability to work the pole. It is Ramona who turns Destiny into a big money earner and for a while things go great. Destiny is even commended for her handwriting. 'You could be a font,' one patron tells her. Then the 2008 Crash happens. The club stagnates. Destiny loses touch with Ramona. Then they reconnect with a new plan. Nurture their old clients, bring them to the club and squeeze good time money out of them. The women work one-to-one until their 'sisters' turn up; then the party gets started. The guys are taken back to the club. Drinks are bought, credit limits exhausted.
Pictured: Annabelle (Lili Reinhart), Ramona (Jennifer Lopez), Mercedes (Keke Palmer) and Destiny (Constance Wu) break open a bottle in 'Hustlers', written and directed by Lorene Scafaria. Still courtesy of STX Entertainment
The action is broken up by flash forwards to Destiny being interviewed by a reporter (Julia Stiles). At some point, the gang's activities went south. The film builds up to the moment when the police get involved. One complaint is dismissed. A second prompts them to investigate.
At the midway point of the film, the women exchange gifts at Christmas, including the inevitable handbag. The film peddles the myth that expensive stuff makes women happy. It is a scene that any group of women watching the movie can relate to – enjoying gifts without preconditions. The gifts are symbols of self-generated success. The women enjoy their own company, their own space. There is no competition. Children observe their happiness. Men are not involved.
When one of the men targeted asks for some of his money back, Destiny feels guilty. Ramona is harder edged; no sympathy. However, the gang requires new recruits to stay in business, including a dancer with drug problems.
The central mystery that ostensibly keeps us watching is: what drove Ramona and Destiny apart? It is Ramona's choice of co-worker that forces them into a sticky situation. Co-operate or face jail time.
The one big laugh involves drug manufacturing. To get the men senseless, Ramona and company drug them with a MDMA-ketamine mix. The recipe leads to them lying on the kitchen floor. At one point, Destiny dumps a naked man at a hospital emergency room – 'my husband, oh my God' – but familiarity with the scene (from the trailer) dulls its impact.
Above all else, Destiny wants to be a good mother. There is a point where she is late home and rushes from her house (in a long tracking shot) to her neighbour's home to retrieve her daughter. You feel Destiny's disappointment with herself, the humiliation of the moment.
Quite apart from showing women on top, why has Hustlers proved so successful? Firstly, it is an ensemble piece, with a running gag involving vomiting – one dancer literally cannot keep her mouth shut. It is also about immigrant women being successful. White women are seen to be weak and requiring assistance. It is also about the power of friendship and forgiveness, though Ramona does more for Destiny than the other way around. It also de-eroticises the dance sequences. Lopez shows off her physical strength, her athleticism, rather than presents herself as an erotic spectacle. Then there's the afore-mentioned affirmation that it is okay to like luxury brands – don't feel bad about those pair of shoes or that coat.
In the male version of this movie, betrayal would be followed by violence. It does not happen here. Perhaps because nobody dies. Esquire magazine singled out Ramona's final line as 'hilarious': 'It's all a strip club. You have people throwing the money and people doing the dance.' As last lines go, it's not 'nobody's perfect' rather an attempt to elevate sleaze into something profound.
Reviewed at PictureHouse Central, Shaftesbury Avenue, London, Monday 30 September 2019, 18:20 screening