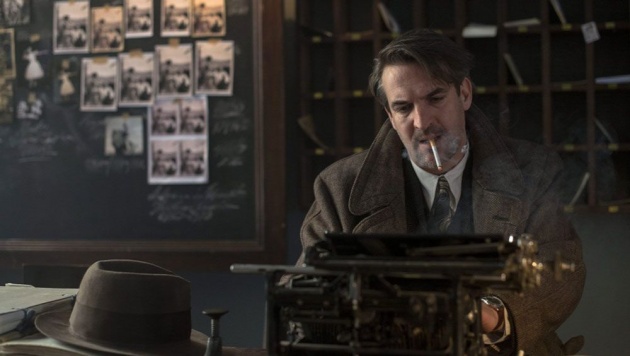 Pictured: Intrepid reporter Gordon Zsigmond (Krisztián Kolovratnik) investigates 'murder on Nagygiofa Street' in the 1936-set film 'Budapest Noir'. Still courtesy of Cineuropa / Pioneer Pictures (Hungary)
With a title like Budapest Noir, you know what you're going to get. It's a film set in Budapest and has many of the tropes of a film noir. By tropes, I don't mean a coastal town on the French Riviera. I'm talking dead bodies, dark shadows, heavy-set guys who give you a beating and tell you to lay off your investigation, beautiful women, cigarettes and a conspiracy. Oh and a voice-over, weary of the world, accompanied by a jazz trumpet and maybe some double bass.
The film is based on a novel, the first in a series by Vilmos Kondor. (Note: Hungarians write names with the surname first, but I'll stick with the English convention here.) Its protagonist is newspaper reporter Gordon Zsigmond (Krisztián Kolovratnik) who we first meet buying smokes from an one-armed street tobacconist on the day of the funeral of Hungarian Prime Minister Gyula Gömbös in October 1936. Gömbös got pretty friendly with one Adolf Hitler and hoped to 'remodel the country internally on dictatorial lines' (as his entry in the Encyclopaedia Britannica puts it). He might have gotten away with it but for his testicular cancer. At any rate, anti-Semitism persisted in Hungary, leading to the formation in March 1939 of the Nazi-like 'Arrow Cross' Party, named after an ancient symbol of the Magyar tribes. (For more, read the blog post 'Ghetto of Budapest'.)
Director Éva Gárdos, who got her big break as a production assistant on Apocalypse Now and alternates between editing (Under the Cherry Moon, Agnes Browne, Children of Glory, The Truth about Lies) and directing (An American Rhapsody, Magic Boys) doesn't reinvent the genre on feminist lines, although she does give agency to one female character. The screenplay by the late András Szekér underplays some of the elements in Kondor's novel, ostensibly to make the reveal that much more surprising.
Gordon finds himself reunited with his ex-girlfriend, Krisztina (Réka Tenki) who has just returned from Nazi Germany in a hurry and is seeking employment as a photographer. When Gordon gets a tip off about a dead body, he hires Krisztina. Gordon is shocked to discover that he knows the dead woman (Franciska Törőcsik). At a restaurant, she came to his table and apologised. Gordon had no idea why until he is told that his bill includes the young woman's dinner. 'I was only borrowing the money,' a note will tell him later.
The corpse is remarkable for one thing – no blood. The woman was felled by a blow. But when Gordon visits the morgue to check the body for further clues and look at the autopsy report, the body has gone. The woman, as it turns out, was two months pregnant. Someone didn't want the child.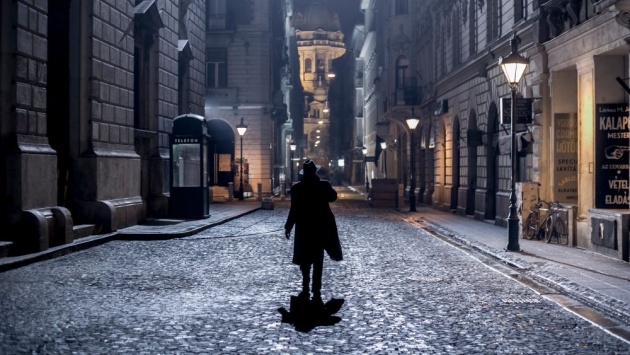 Pictured: The mean cobbled streets of Budapest as seen in the film 'Budapest Noir'. Still courtesy of Pioneer Pictures (Hungary)
Gordon's search takes him to a sleazy photographer, Skublics (Szabolcs Thuróczy) who keeps schtum. Then he visits a high class brothel frequented by politicians. His investigation takes place against the backdrop of growing anti-Semitism. In one scene, he visits a club where the male singer is heckled for performing a Jewish dirge. Gordon stands up for him and the racists are ejected. Gordon finds that Skublics will talk only after he is photographed in the company of some reviled political activists. ('This will ruin him,' one character remarks, looking at the picture.)
Gordon and Krisztina are like a Hungarian Nick and Nora Charles. Gordon's investigation pales without her contribution. He is convinced that she will not be able to photograph Skublics as the exit to a meeting hall is poorly lit. 'Don't tell me that a picture can't be taken!' Krisztina remarks, before boarding a nearby taxi and asking the driver to put on his headlights when she gives the word. Gordon is impressed and jumps on the outside of the cab as it speeds away, pursued by some of the men in Krisztina's photograph.
Gordon has a lighter given to him by Krisztina. It ends up at a murder scene. The police chief Gellert (Zsolt Anger) can charge Gordon straight away but gives him time to clear his name. Gordon's search takes him to some street fighters. One of the boxers roughed him up in his search for answers; the boxer has a young daughter who bites into a scarf that Gordon remembers belonged to the dead woman. He gives the young girl one pengö (the national currency) which she refuses as she 'doesn't do that'. Gordon explains that he doesn't want anything.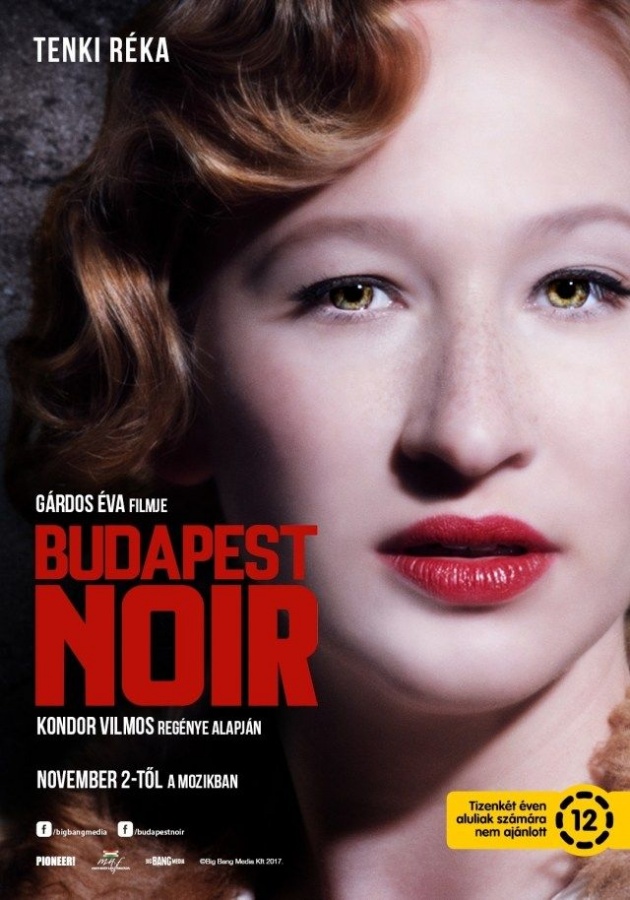 Pictured: An advertisement for the film 'Budapest Noir' highlighting Réka Tenki as the spirited photographer Krisztina. Courtesy of Pioneer Pictures.
Without Krisztina's help, Gordon would have been unable to meet with a dress designer and search her house for clues. He finds a document that takes him back to a character that we met at the beginning. A cake promised in Act One goes off in Act Five. Gordon finds himself turning down coffee and wanting bourbon.
Throughout the film, Gordon's fondness for Krisztina is rekindled, most notably in the darkroom – red light bulbs have that effect. However, Krisztina has an offer to exhibit her work – photographs taken in Nazi Germany – in London, where she is glad people care. What does Gordon think? He doesn't say but he knows he cannot stop her leaving him a second time. Her looming departure is as inevitable as the rise of fascism.
The film is handsomely staged, with convincing, if airbrushed period detail. We see boxing matches where the two fighters are women – apparently their bouts were popular. It opens with a whoosh of smoke from a 1930s locomotive as a coffin containing Gyula Gömbös is carried out. Gordon is supposed to be writing Gömbös' obituary, but he is more interested in the dead girl ('Murder on Nagydiófa Street'). He does produce the obit, cobbled from stories printed in the foreign press.
The one-armed tobacconist tells us how far Hungary has come by the end of the film; his window has been broken. He wants to get out. As one reviewer has remarked, there are parallels with contemporary Hungary under Viktor Orbán, who, like Gömbös, has racist leanings. However, melancholy regret is not a sufficient response to the nationalist erosion of human dignity. Budapest Noir is too soft on the toxic nastiness of racism that it depicts. You sense that there is one eye on the sequel: Krisztina returns from London to help Gordon again, hopefully not discovering a woman leaving the apartment as she does here. Given the poor domestic response to the film, this seems unlikely.
Reviewed at JW3, Edgware Road, North London, Thursday 3 January 2019, 14:30 screening