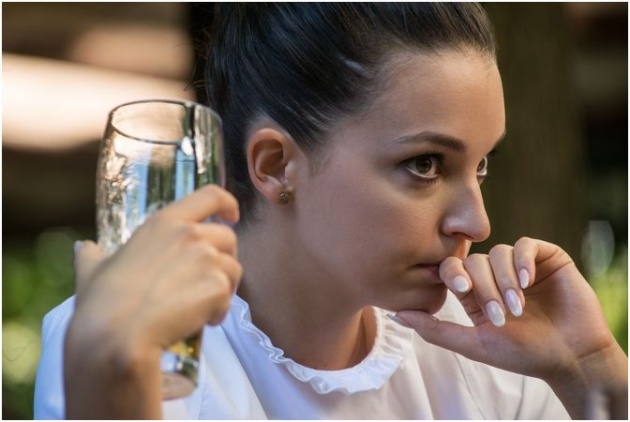 Pictured: Magda (Maria Dębska) contemplates a glass half-full philosophy in the Polish film 'Zabawa Zabawa', directed by Kinga Dębska. Still courtesy of Studio Filmowe Kalejdoskop
Zabawa Zabawa (translated as 'Playing Hard') is a Polish film about three women, aged sixty, forty and twenty respectively, who are alcoholics. The co-writer (with Mika Dunin) and director, Kinga Dębska, wags her finger at them for ninety minutes, showing how dangerous their addiction is to others as well as, in the young woman's case, to herself. In the end, the woman who only harms herself is saved, though she will carry the weight of her foolishness for the rest of her life. She also 'honours' her father, whose alcohol problems she previously mocked.
The most interesting aspect of the film, one which may rebound on Dębska, is that she shows talented, capable women blighted by their weakness, as if alcoholism was a symptom of their success, or at least their inability to accept aspects of their lives. This is not a film that proposes that women can have successful, fulfilling lives at the top of their game. They are one tipple away from losing everything. As such, they are weak and undependable.
It begins at Sunday lunch. Magda (Maria Dębska, the director's real life daughter) is dining with her parents. Assuming the position as the silent fourth person at the table, the camera records in a single take an escalating row. Magda is criticised for drinking, but her father is no model. She is asked about her boyfriend, but takes offence that she might be considered to need one. We next see her on a bicycle being pulled over by two policemen (Rafal Rutkowski, Slawomir Zapala), who in the course of forty-eight hours will interact with all three women, and is asked to take a breathalyzer test – she complies. As far as drinking is concerned, she has not even started. On the dance floor, her male companion watches her become a flooze for booze. Seeing her dance with other men, he leaves her to it. Magda represents young women who party hard, but end up being carried in the street by a silent skinhead type, who after she scrambles around claiming to look for something, takes her to a lock-up garage and rapes her.
In the middle of this night, we are introduced to a sixty year old surgeon, Teresa (Dorota Kolak). She accepts an award for service to the medical profession. In her speech, she pays tribute to her daughter. She means none of it. Daughter Beata (Barbara Kurzaj) needs to borrow money. Teresa walks away from her. At a certain point at the party, after all the congratulations have been given, Teresa finds herself standing on her own, glass in hand, casting around. Not only did she not mean it, they, the organisers, did not mean it either.

Pictured: About to make a bad decision, Teresa (Dorota Kolak) in the Polish film 'Zabawa Zabawa'. Still courtesy of Studio Filmowe Kalejdoskop
Meanwhile an outdoor dinner, celebrated public prosecutor Dorota (Agata Kulesza) is getting loudly drunk. A male guest tries to take her car keys away from her but Dorota will have none of it. Driving home, the phone rings. In a momentary lapse of concentration worthy of an action movie car chase, Dorota drives her car down the stairs of a metro station. That's one way not to miss the last train home.
Our two cops turn up and Dorota claims immunity. She won't take a breathalyzer test. What about a blood test? The two cops get a call: they have to let her go. They won't do it. Instead, they take her to the police station where an MP comes to rescue her. At breakfast the next day, Dorota discovers that she is featured in 'Gossips'.
Dorota's husband Jerzy (Marcin Dorocinski) is a patient man. But he is also committed to their young son, whom he has promised to take to some outdoor activity or other. Far from worrying about her driving licence, Dorota is looking forward to the Advocates Ball.

Pictured: Jerzy (Marcin Dorocinski) and Dorota (Agata Kulesza) contemplate their problems in the alcohol-fuelled drama 'Zabawa Zabawa', a Polish film directed by Kinga Dębska. Still courtesy of Studio Filmowe Kalejdoskop
Meanwhile, on her own but wanting to make a night of it, Teresa takes a cab to a bar where smoking is allowed inside. The driver recommends Foxhole, a 'funny little place'. By 'funny' it is a bar where a woman drinks a pint of beer and an old man watches a young man order a scotch and tells the barmaid, 'put it on my tab.' Teresa finds a quiet corner with her two glasses of vodka and an ashtray.
Later, at her hotel room, Teresa empties the mini-bar and stares out the window. Is Polish TV really that bad? Maybe it is all hectoring films such as Zabawa Zabawa. At any rate, she goes to work the next day, still basking in accolades, though somewhat under the influence. Fellow doctor Wiktor (Miroslaw Baka), with whom she would like to have some sort of liaison – he tells her on two occasions that he won't sleep with her – tells her to go home. Instead, Teresa goes onto the ward when a young girl is in discomfort. After a cursory examination, Teresa gives her a sticker. When the girl's condition worsens, Teresa orders that she is rushed into surgery; she prepares to conduct the operation. The girl's mother protests loudly and vociferously, but to no avail. She calls the police – our two cops then turn up. Will Teresa make a fatal mistake in the emergency room? No spoilers.
All three women have a problem; the film shows how they react. There is tension between Dorota and her maid. Dorota eventually checks into a rehabilitation clinic and then checks out when one of the patients is sanctioned for breaking the rules. Dorota also resented having her perfume bottle taken away from her. As if she would use an Eau de Toilette bottle as a hip flask – she's not that imaginative. Teresa also tries a clinic but is mistaken for a member of staff.
Both Dorota and Teresa have people around them who try to help; Teresa's daughter even goes to the clinic with her. At one point, Teresa tries to dry out at Wiktor's apartment, but she erodes his patience.

Pictured: Beata (Barbara Kurzaj) comforts mother Teresa (Dorota Kolak) in 'Zabawa Zabawa', a Polish film directed by by Kinga Dębska. Still courtesy of Studio Filmowe Kalejdoskop
Magda's life goes from bad to worse. She queues up at a counter and asks to take a HIV test. The staff behind the counter broadcast this loudly. She also takes another test, one which she passes.
It is significant that Magda does not report the rape to the police. Perhaps in Poland, the woman is never believed and the consumption of alcohol equals consent. If Dębska achieves one thing in her movie, it is to deter young single women from travelling to Warsaw.
Dębska is no debutante: she worked with Kulesza and Dorocinski on her 2015 film, These Daughters of Mine. She also cut her teeth as a second unit director on the TV series, Pitbull, where I guess she learned how to crash a car in a public place.
Having denounced religion, Magda does go to church. She also attends an Alcoholics Anonymous meeting where one participant describes seeing her children on fire. Magda finds it hard to talk but she makes a very important decision.
Dębska's point is that failure to deal with alcohol addiction leads to loneliness. Dorota sits on the stairs of her house claiming that she had finally kicked out her husband. Teresa waits at a bus stop but doesn't get on. The bus leaves and she just sits there, inert. After making a mistake at work, and being told that she is nicer when drunk, Magda pours alcohol down the toilet; she is spotted by a colleague, who reacts sympathetically.
The film is clearly aimed at a young audience, giving them reassurance that they have the resilience to overcome their addiction. The sentiment is admirable, but it exists in a film that offers a fatalistic view of two other generations. Such generalisations don't wash.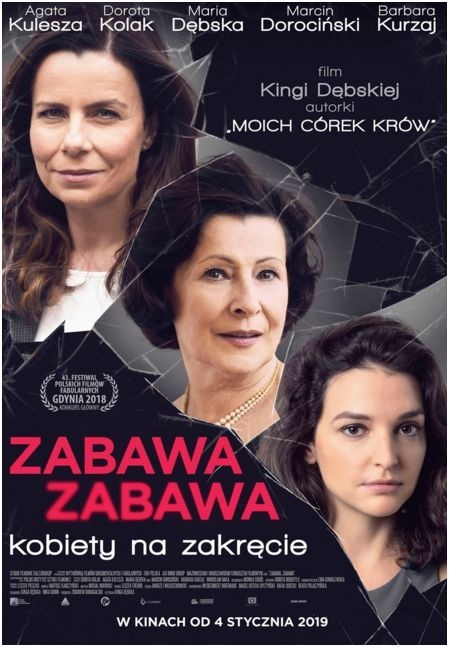 Reviewed at Vue Fulham Broadway, Screen Nine, West London, Sunday 6 January 2019, 19:45 screening