Pictured: Red-caped (and therefore conventional) Harriet Smith (Mia Goth) enjoys a promenade with her new bestie, Emma Woodhouse (Anya Taylor-Joy) in writer Eleanor Catton and director Autumn de Wilde's elegant and giddily funny new adaptation of Jane Austen's 1815 novel, 'Emma.'. Still courtesy of Working Title / Perfect World / Focus Features / Universal Pictures
The last Jane Austen adaptation I watched was Pride and Prejudice and Zombies. But Emma scripted by New Zealander Eleanor Catton and directed by the American photographer and pop video maker, Autumn de Wilde, proves that you don't have to mess with Austen to give an audience a good time. De Wilde understands both visual pleasure and physical comedy and employs them in abundance. Emma is the first Jane Austen adaptation I have wanted to re-watch almost immediately. Alas, after a month it which grossed £7 million at the box office, it is finishing its run in the UK. By comparison, Pride and Prejudice and Zombies made just $1 million here. Proof, if ever you needed it, that bonnets and the living dead don't go well together.
Most Americans know the novel as the inspiration for director Amy Heckerling's contemporary teen comedy Clueless, which relocated the action to Beverly Hills and gave star Alicia Silverstone her biggest solo hit. It turns out that social status and inherited wealth are as important in contemporary Los Angeles as they were in 1815 England. Back in the 19th Century, it was country houses not city dwellings that mattered. Servants should be seen and not heard – though they might sneak the odd look towards one another. Everyone knows their own place, but no one should dare talk about it.
Emma is the only protagonist in a Jane Austen novel to get her name into the title: Austen's other books included Sense and Sensibility, Pride and Prejudice, Mansfield Park, Persuasion and Northanger Abbey. Emma Woodhouse (Anya Taylor-Joy) is a twenty-one-year old young woman who doesn't have to worry about money, love or marriage. Instead, she busies herself with matchmaking whilst knowing that all the young women around her – frequently seen in matching red capes like the handmaids in Margaret Atwood's celebrated novel, The Handmaid's Tale - admire her. She doesn't concern herself with male suitors, though she eagerly awaits the return of Frank Churchill (Callum Turner), a man who breaks the rules – he changed his surname and did not turn up for his father's wedding. Frank, we later discover rode 16 miles to London to get his hair cut and travelled 16 miles back. 32 miles, says one character, appalled, for a haircut.
The film begins with a wedding as Emma says goodbye to her governess Miss Taylor (Gemma Whelan), who has wed a local landowner, Mr Weston (Rupert Graves) – in the 19th Century, no one in polite society has much use for first names. Emma engineered the union and wants to make it two-in-a-row, fixating on Harriet Smith (Mia Goth), one of the red capes. Harriet has received a marriage proposal from a local farmer, Robert Martin (Connor Swindells). Emma maintains that Harriet can improve her social standing by attracting the attention of a gentleman or in her case, Mr Elton (Josh O'Connor) who wears a vicar's surplice like a man dressed as a ghost. Emma, who is accomplished in the arts – but not too much – paints a portrait of Harriet. Mr Elton feels compelled to give it a frame. The presentation of the painting back to Harriet is one of the film's early delights. The painting is hidden behind two heavy doors. When they are opened, it plays a tune like a music box.
Emma's brother-in-law, George Knightley (Johnny Flynn) disapproves of her matchmaking. He is an eminently suitable bachelor but has no inclination for a wife. He is not the only man in Emma's life. There is her father, Mr Woodhouse (Bill Nighy), who is introduced jumping into frame. His feet land on the floor as if sending an imaginary puddle flying in all directions. Mr Woodhouse won't stay still when Emma tries to fasten something to his lapel. He doesn't approve of marriage, but worse – he fears the cold. In an early exchange with Knightley, he asks if he felt a chill. 'No,' replies Knightley. 'Miss Taylor would have felt it,' Mr Woodhouse responds mournfully. Nighy spends the film dressed in matching waistcoat and trousers both with a pattern of brown leaves on green fabric, literally symbolising a man in the autumn of his years. (The film is a visual treat.) Wishing to make Mr Woodhouse feel more secure in his judgment, Knightley confesses that he can indeed feel a draft. Without hesitation, Mr Woodhouse summons two servants to place a draft excluder around them, de Wilde eliciting a chuckle at the expense of Mr Woodhouse's fussiness. It is this piece of comedy business rather than any information shared between the two men that is the point of the scene.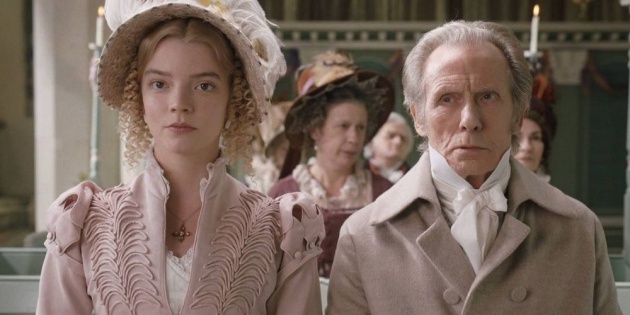 Pictured: 'Did I put on enough layers?' Draft-dodging Mr Woodhouse (Bill Nighy, right) enquires of his daughter, Emma (Anya Taylor-Joy) in Autumn de Wilde's sumptuous Jane Austen adaptation, 'Emma.'. Still courtesy of Working Title / Perfect World / Focus Features / Universal Studios
In as much as the film has a comedy character who conveys plot, there is Miss Bates (Miranda Hart) an older woman who first greets Emma in paroxysms of delight in a haberdashery store. The store fulfils the same basic need as a bar – a meeting point for the exchange of news as customers stand between fabrics and wools. Miss Bates tells Emma about a letter she received from her niece Miss Fairfax (Amber Anderson) who was saved from an indignity by a gentleman. Miss Bates is imminently awaiting Miss Fairfax's return. Emma humours Miss Bates, but they are neither of the same age nor the same class.
It is important to emphasise how funny the film is – de Wilde made her cast watch the screwball comedy, Bringing Up Baby to understand the tone she wanted to achieve. The major set pieces include a visit by Emma's older sister (Chloe Pirrie) with husband (Oliver Chris) – Knightley's brother - and baby in tow, completely unable to cope with the child's screams, calling for a servant at the same time from being dissuaded from doing so. Then there is a dinner in which, during a lull in conversation, Mr Elton remarks that it may snow tomorrow. This is a cue for Mr Woodhouse and all the other guests to stand and depart, meal unfinished. 'It was snowing when my wife died,' Mr Woodhouse mutters by way of explanation. Then there is Emma's piano recital to a small group, perfectly competent but nothing compared with Miss Fairfax's dexterity on the keyboard, playing a piece from memory with drama and feeling. When characters anticipate the holding of a ball, they literally dance in the street around stacks of chairs.
De Wilde is effective at tonal switches, as when Knightley saves Harriet from the embarrassment of rejection by asking her to dance at a ball held in honour of Frank Churchill's homecoming. In the dance, Knightley also gets close to Emma; we feel the crackle of attraction between them.
The film elicits a gasp at a picnic held on Emma's behalf at which Frank entreats the guests to say three dull things. When Miss Bates rises to the challenge, Emma remarks that she'll find it hard to stop at three. The insult reverberates around the company; Knightley later conveys to Emma the severity of her offence. Miss Bates is poor. She will get poorer. There is no circumstance in which making a joke at her expense is acceptable. Overcome with guilt, Emma brings Miss Bates a gift basket. Miss Bates opens the door imagining that Emma wants to see Miss Fairfax and makes no reference to the offence caused.
In early 19th Century England, there is nothing odd about falling for your brother-in-law. Emma's rite of passage is that she learns to appreciate men for their character and not their wealth. The film flirts with subversion – Emma being more interested in other women than men and having no maternal inclination herself, even though her sister's baby likes her. Emma's portrait of Harriet, to which Mr Elton paid such attention because of the artist and not the subject, eventually finds a happy home.
De Wilde cast the characters for their striking looks. Anya Taylor-Joy has an oval, feline face that eschews modesty. Johnny Flynn is tall, muscular and unkempt, uneasy in the role of 'noble landowner'; Knightley makes a point of walking rather than taking a carriage for short journeys. He likes his freedom. Mia Goth has a face that is yet to learn expressiveness; she is the walking definition of impressionable youth. Amber Anderson's looks are conventional; she doesn't stand out the way the principal actors do. Josh O'Connor looks constricted by his surplice as if forcing him into bonhomie that is entirely affected. One actress (Tanya Reynolds) is even cast for her long neck and small face.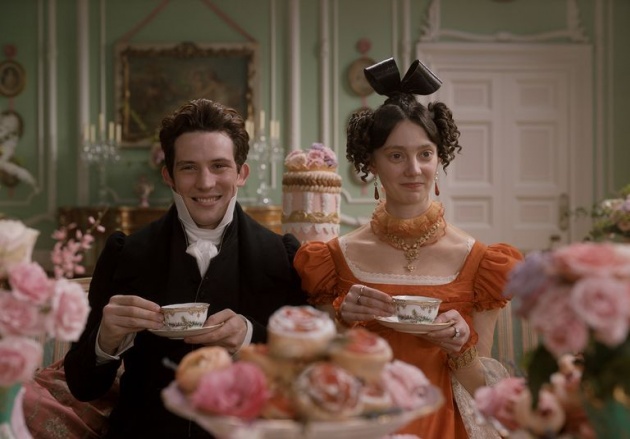 Pictured: Mr Elton (Josh O'Connor) and his new wife, Mrs Elton (Tanya Reynolds) enjoy a spot of cake in writer Eleanor Catton and director Autumn de Wilde's joyous Jane Austen adaptation, 'Emma.'. Still courtesy of Working Title / Perfect World / Focus Features / Universal Pictures
The production design is similarly striking, with the green painted, narrow walled church where Mr Elton preaches constricting his congregation. One of the ways of making a congregation of a scarcely attended church seem large is to shrink the building.
De Wilde's cast lacks the name recognition of Greta Gerwig's ensemble featured in her adaptation of Little Women. De Wilde's Emma offers deeper pleasures. Even the music by David Schweitzer and Isobel Waller-Bridge is more memorable. There is no accounting for taste; but undoubtedly Gerwig's film benefited from an advertising campaign that positioned it as a Rise of Skywalker counter-programmer. De Wilde's film has no such advantage.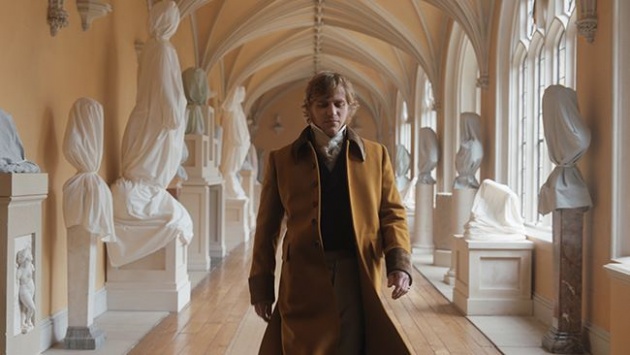 Pictured: Mr Knightley (Johnny Flynn) walks between porcelain busts in 'Emma.', writer Eleanor Catton and director Autumn de Wilde's feast for the eye Jane Austen adaptation. Still courtesy of Working Title / Perfect World / Focus Features / Universal Studios
Reviewed at Cineworld Wandsworth Screen Two, South West London, Thursday 12 March 2020, 12:40pm screening