Pictured: Rachel (Jodi Balfour) and her daughter Talulah (Abigail Pniowsky) adjust to a new reality in the Canadian drama, 'The Rest of Us', written by Alanna Francis and directed by Aisling Chin-Yee. Still courtesy of Gravitas Ventures (Canada) / The Movie Partnership (UK)
Can you be friends with the woman who took your husband? That's the question asked by the English-language Canadian family drama, The Rest of Us, written by Alanna Francis and directed by Aisling Chin-Yee. The title sounds like an apocalyptic shoot-em-up. However, the film is just a humane, adult slice of four female characters getting on in a big old house with a pool and a motorhome right outside.
Heather Graham who appeared in such hit movies as Boogie Nights and Austin Powers – The Spy Who Shagged Me has the leading role of Cami, a middle-aged children's author living in a nice house (with said pool) in North Lake, Ontario. Her teenage daughter, Aster (Sophie Nélisse, best known for The Book Thief) is back home from college. At the start, Cami is checking into a hotel and making herself suitably alluring for someone. She mixes cocktails, puts on adult appropriate underwear and paints her toenails red. However, the stranger does not show up. Meanwhile, at home, the cat dies. Well, not straight away – Cami and Aster take it to the vet. They return with a paw print in clay which could be used as a coaster. Whilst in the car, Cami insists that Aster phone her Dad, who apparently loved the cat, to tell him of its demise. Aster who has 'issues' blurts into the phone. Cami takes the phone (whilst still driving) and learns that her ex-husband has died. He had a heart attack whilst in the bath and drowned. Someone remarks, 'I didn't know he took baths', which I think would make a better title.
Cami and Aster have every right to go to the funeral reception which takes place at their old home. Whilst Aster finds a friend, Cami goes for a wander and steps into a young girl's bedroom. Talulah (Abigail Pniowsky) is apparently the 'Best Kid Ever' according to a sign in her room, which I think gives her an unrealistic expectation. Still, Talulah's mom, Rachel (Jodi Balfour) has excellent taste in throw cushions. Cami then wanders into the master bedroom but then is surprised by Rachel. 'I was looking for the bathroom,' she explains, feebly. 'This was your house. You should know where it is.' To be fair, Rachel could have had the house remodelled but you don't pick a row with a grieving widow. 'I need some air,' Cami explains and meets Talulah for the first time, who is hunched down on the grass looking at insects. You wonder why she is the only kid there or why there isn't an elderly relative to explain that insects are a metaphor.
Clearing up after the reception, Rachel discovers three envelopes with red lettering on them suggesting, 'where's our money?' You'd think she'd have her credit card declined and know something was wrong. Cami discovers this after driving over to bring Rachel and Talulah some lasagne. Cami is a proud cook. She uses natural ingredients, like shop-bought pasta.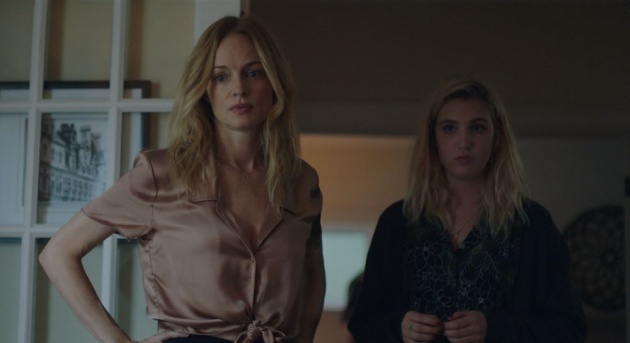 Pictured: Children's author Cami (Heather Graham) and her daughter Aster (Sophie Nélisse) in a scene from 'The Rest of Us', a Canadian drama written by Alanna Francis and directed by Aisling Chin-Yee. Still courtesy of Gravitas Features (Canada) / The Movie Partnership (UK)
It is then that Cami makes the offer: 'you can stay with us until you get back on your feet'. Rachel isn't keen but after a shopping trip with Talulah, she returns to find herself evicted. All her clothes, that 'Best Kid Ever' sign and even those throw cushions are inside the house. Mother and daughter sleep in the car.
Aster is having a relationship with a young guy who works at the supermarket - the cold meat section, perhaps. Cami sees him emerging with no sense of shame out of the motorhome. We meet him early on at Cami's house, stripping off and diving into the pool. He isn't given a backstory but as we discover later, he truly is cold meat.
After a night in said car, Rachel and Talulah show up at Cami's house, the address of which she got from Aster. For Talulah, Cami's house has a wow factor. The pool, cupboards and Cami's workroom with drawings for a future 'Fiona' book – she has accepted an advance but hasn't written anything in two years. Spoiler alert: there isn't a satisfactory explanation. Maybe Fiona is a version of Aster. Once Aster left the house for college, Cami lost her inspiration. But that would have been one year ago, not two. Besides, what's Aster studying anyway? In an early (pool) scene she is shown reading a hardback copy of 'Helter Skelter', about the Charles Manson killings. 'Is that for college?' Cami asks twice. 'No.' You wonder if this is a plant for something ominous. That meat counter guy is kind of suspicious.
The rest of the film follows Rachel and Talulah as they come to terms with their new reality. They settle into the motor home, but Talulah can't help but creep into Cami's kitchen. Aster is in crisis too. She has slept with her best friend's boyfriend – Mr Cold Meat. But I'm getting ahead of myself. There's a shopping trip and an early Christmas present for Talulah. Cami encourages Rachel to look at her assets before the marriage. ('I didn't have any.) Then as tension grows between Aster and Rachel, Rachel goes off the rails leaving Aster motor-home-alone while she goes out drinking and flirting and bowling and eating French fries and saying, 'I'm married. I'm a widow. I'm still married technically.' Her date for the evening is left disappointed. Aster witnesses some of this and sees her as a kindred spirit.
Both young women make divergent efforts to enter the job market. Aster in a supermarket, Rachel in an upmarket restaurant. 'I know wines,' she explains. 'Red, white, sparkling.' It is as if she is trying to convince herself.
There is of course a big twist which hit me about thirty minutes into the movie and turns into a big point of tension – at a birthday party, no less. 'I'm not a saint,' one character explains.
Everything about the film is kind of OK. It is more suited to the small screen than the large, but you appreciate the novelty of a film in which all the four main characters are women – and they are not on a Girls Trip either. The set-up is only slightly contrived – I mean, Rachel has family beyond her late husband, but you wouldn't know that from the screenplay. The performances aren't what you call Genie (that's the Canadian Oscar) bait, though it is great to see Graham cast as something approaching a human being. The cinematography is full of lit interiors where the focus slips from one character to another. There is the occasional smash-cut when music starts and then is dropped abruptly in the next scene.
I could have done without the cute, 'can you play my music' scene as Talulah – best kid ever, remember – hands over her phone and the car stereo is used to play a Ronettes song, somehow unifying all the passengers in an idyllic moment of calm. This is contrasted with a trip that Aster takes with Talulah when they dispose of something that Talulah has been carrying throughout the movie – answering the question, what do little girls have in their handbags? Indeed, it is only really at the end of the film that it becomes cinematic. 'I'm not sure this is legal,' Aster says at one point.
Making her directorial debut, Aisling Chin-Yee has established herself in Canada as a producer, most notably with the film The Saver and the TV series Lost Generation. She does good work with her cast. The Rest of Us is Alanna Francis' first produced screenplay. Overall, the film seemed to take place inside a cultural bubble. Perhaps the references to 1960s America speak of the moment of the emergence of women's liberation; in Canada – and perhaps the world – there is a need for re-liberation and certainly checking the family's bank statements.
Reviewed online (22 March 2020)
The Rest of Us was released on digital download by The Movie Partnership on 23 March 2020 and is available in the UK through iTunes, Amazon, Google, Microsoft, Sky Store and Virgin Media. Running time: 80 minutes.