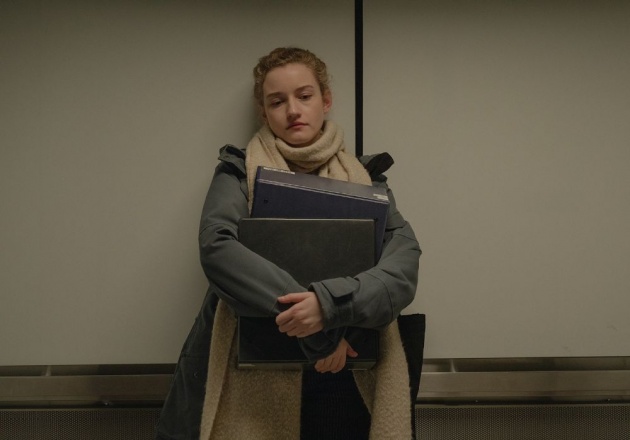 Pictured: Jane (Julia Garner) arrives for another day of work at a New York-based film production company in the 'day in a life' drama, 'The Assistant', written and directed by Kitty Green. Still courtesy of Vertigo Releasing (UK), Bleeker Street (US) 3311 Productions
Getting into the film industry is tough. Unless you have a particularly sought-after technical skill, your appointment to an entry-level job is entirely based on potential. You will have a degree from an esteemed university, some internship experience. Ultimately, the hiring manager assesses you as if you were a casting choice without a show reel. You are put on probation. You do your best to show how committed you are – in first, out last. You order food. You distribute printed material. You unjam the Multi-Functional Device. You do the washing up. You talk to the driver. You process the $40 dry cleaning receipt. You get a paper cut opening an invitation from the White House. You face people whom you fear and give them unwelcome news. Then you have your values tested. You are expected to lie. You are expected not to notice.
In her debut fictional feature film, The Assistant, writer-director Kitty Green, who helmed the documentaries Ukraine is not a Brothel and Casting JonBenet, offers us the day in the life of an office assistant, Jane (Julia Garner), five weeks into her job at an unnamed New York-based film production company. Leaving her apartment in Astoria in the dead of night, white scarf draped around her neck like a noose, she falls asleep in the car that takes her to a building in Tribeca. There she switches on the lights and says hello to the other assistant (Jon Orsini) who arrives early like her. It is Monday morning. She is required to sort, print out and circulate the weekend grosses 'by market'. We recognise some of the cinema names as pages are printed. She also hands out her boss's schedule. As we discover, the diary of the 'President of Production' – the company has a bunch of Presidents – is a movable feast. At 08:00am – the President will not arrive until 10:00am – she has breakfast, a bowl of Froot Loops. This illustrates her youth; she is just a kid. The other assistant (Noah Robbins) arrives. When she tells him about her weekend – 'I was here' - he offers a defensive sneer. He has a habit of throwing balled-up sheets of paper in her direction and cursing when he receives his lunchtime sandwich - 'I said chicken. This is turkey' – before refusing to eat it. He might be a future boss in the making.
Jane is given the calls that the other assistants will not take. The President's wife complains that her company cards have been declined – all of them. 'What about your own card?' Jane asks. Her phone rings a second time. The President of Production (voiced by Jay O Sanders but never seen) explodes. 'What did you say to her?' Jane types an apologetic email. As she does so, the two assistants stand behind her, one of them making suggestions. 'I didn't mean to interfere with your personal life. I am grateful for the opportunity to work here,' she grovels. What is noticeable is that this appears to be something practised; the two male assistants have seen this behaviour before. What is also implied is that Jane is set up like a punching bag; she takes the abuse so that they do not have to.
One of Jane's tasks is to ensure that the President of Production's office is always tidy. She discovers an earring on the carpet, which she places in her drawer. Later is it retrieved by a young Chinese woman (Clara Wong) who accepts it awkwardly by the elevator as Jane signs for another order. A stock of syringes has arrived; her boss is a diabetic who leaves spent needles on the floor as if discarded with disgust. Jane places them in a hazardous material bag for safe disposal. In an early scene, she removes pastries from his office, putting one in her mouth to eat herself. She is seen by two male colleagues who give her disapproving stares.
There is a surprise arrival – a new assistant, just arrived from Boise, Idaho. Male Assistant 2 claims to have seen her before, 'several times.' A former waitress whose father works in Craft Services, the young woman is taken into a meeting room by a man from Human Resources. 'Sign here, here and initial here,' she is told as Jane watches, transfixed. 'Do I need a lawyer?' She asks. 'Do you have one?' Human Resources replies. Jane takes her to her hotel, the Mark. Then the President of Production disappears. The President's wife calls. 'Tell her he's in a screening,' Annoying Colleague 2 suggests. 'I won't lie,' Jane insists. 'Where is he?' screams the wife. 'I don't have him,' Jane insists, making the point more than once. Jane draws a conclusion – she was previously troubled by dollar amounts on a spreadsheet with no description. ('He'll know what they are,' she is assured.) Jane is compelled to go to the other office, to report what she thinks she has seen to a senior colleague (Matthew Macfadyen).
The scene, arriving at the fifty-two-minute mark, is the heart of the movie. Jane explains that the new assistant is unqualified, pretty, from Boise Idaho and put up at a hotel. Jane did not receive the same treatment. Now the President of Production has disappeared. The senior colleague listens to her story, summarising it, insisting that the new assistant is an adult, capable of making her own choices. 'I found an earring on the floor in his office,' Jane explains. 'Shouldn't you leave it to the cleaner?' Her colleague asks sternly. 'I'm encouraged to tidy up.' Jane replies. The senior explains that he has one hundred CVs from graduates who could fill Jane's position, with a 4.0 GPA [Grade Point Average] as opposed to Jane's 3.8 GPA from North Western University. He knows she works long hours. 'You haven't seen your friends for a while.' 'I forgot my dad's birthday,' Jane admits. Finally, Jane is asked whether she wishes to pursue the complaint; notes of the conversation on yellow lined paper are shown to her. Jane makes a pragmatic choice, the choice of someone who wants to be a producer but has limited power in her entry level position. When she returns to her desk there is a phone call and another apologetic email to write.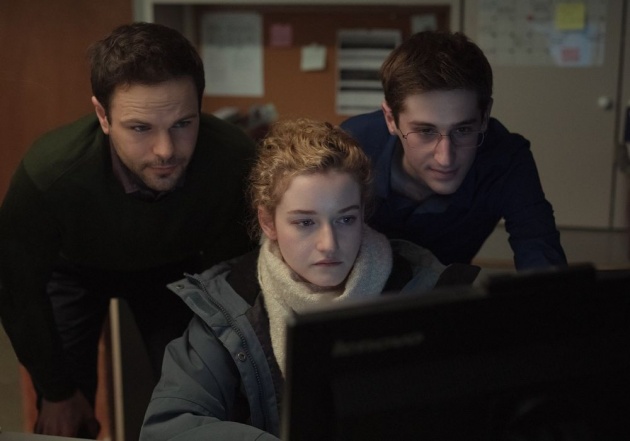 Pictured: Two assistants (Jon Orsini, Noah Robbins) help office assistant Jane (Julia Garner) craft another apologetic email in the drama, 'The Assistant', written and directed by Kitty Green. Still courtesy of Vertigo Releasing (UK), Bleeker Street (US), 3311 Productions
The film does not just show how women are affected by one man's toxic behaviour. The President's colleague is forced to take his 3:00pm meeting and apologise at the elevator to a disappointed Asian delegation. Jane snaps at the President's driver, Amir, who is worried about traffic at the Holland Tunnel after 7:00pm and then apologises. The apology is accepted. 'He says you work hard,' the driver tells her. A small relief. One of the responses to Jane's emails is 'I push you hard, so you'll do great'.
The President of Production has meetings with two women, one who dismissively dumps her fur coat in Jane's hand but then walks in the wrong direction and needs reorientation (small victory), the other arrives in the early evening with a DVD audition disc. Jane watches it. The actress (model turned actress) has no technique – her breathing is wrong. She does not own the dialogue. We see her lip curl. Then again, the writing is cliched nonsense, the sort of stuff no woman would say. The disc is put in a bag for a female colleague, who then says, 'you forgot the DVD player power cable'. The actress stays inside the room. There is laughter. Jane strains to listen.
There are small moments of humour. The irritating assistant recoils when two young girls – the President's children – play in the outer office. Jane carries the youngest one and exchanges animal noises with the eldest, who crawls on the ground like a feral creature, almost in the process of self-othering. In another scene, Jane learns elevator etiquette, always leaving last; a touch on the arm by a man reminds her of the 'correct' behaviour.
At the end, Jane visits a diner and unwraps a muffin. She looks up and sees the light on in her boss' office. A sexual act appears to be taking place. Green has said the President of Production is not a surrogate Harvey Weinstein figure, but there are similarities. What is noticeable is that most of the film posters that adorn the offices feature a woman on them. We cannot read any of the titles, though one ends in 'Road'. We know Weinstein advocated great roles for women – and secured Renee Zellweger and Nicole Kidman their first Oscars – but at what cost? The film asks us to consider that colleagues know so much more about abusive behaviour – men exploiting vulnerable women – than they ever feel able to admit. How can one possibly change the power dynamic without speaking out? 'Don't worry,' Jane is told by a consoling woman who sees her anxiety, 'She'll get more out of it than he will.' Jane is also assured that by Macfadyen's character that she is not his type. Although the setting is specific, the issue is universal. Wherever they work, men have opportunities to abuse their private spaces. Jane's final gesture is to call her father and promise to ring him again. How will she engage with patriarchy?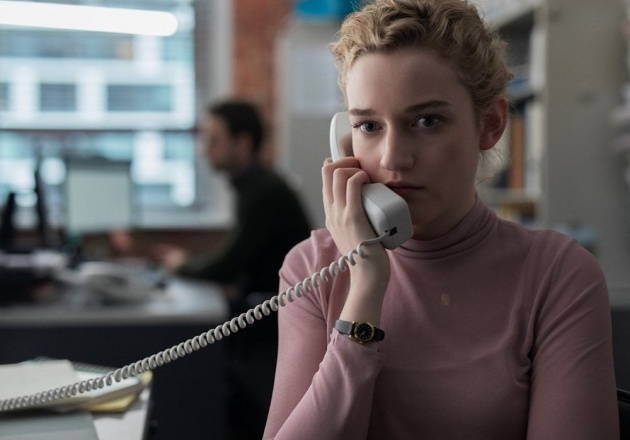 Reviewed through Curzon Home Cinema (UK), Sunday 3 May 2020