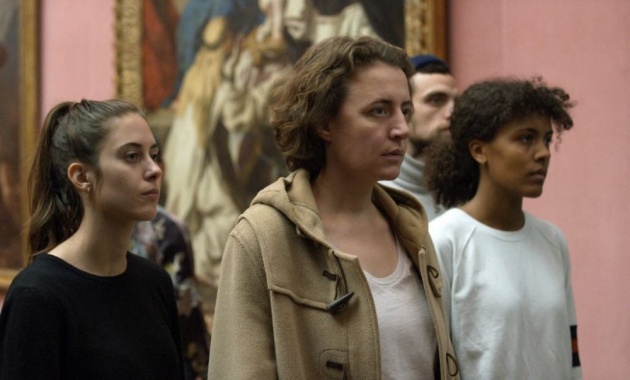 Pictured: Astrid (Maren Eggert, centre) takes in art in Angela Schanelec's German language film, 'I was at home, but' (Ich war zuhause, aber). Still courtesy of Piffl Medien / Berlinale / New York Film Festival
One of the arguments proposed for not venerating women's cinema more is that (apparently) there are not enough recognised auteurs. These are directors with signature styles that work through a theme over a body of work. Whether it is Alfred Hitchcock's meditation on male desire, or Steven Spielberg's yearning for a lost father or Martin Scorsese asking (again and again) whether forgiveness for violent acts and other misdemeanours is possible. The auteur poses the same question in different ways, as if unsatisfied with the answer they got last time around. Art is enquiry and true artists are always curious. If you meet a director who doesn't ask questions, then how can they possibly answer them on a movie set?
With this in mind, I should like to nominate the German writer-producer-editor-director Angela Schanelec as an auteur. Not because I have seen the many other feature films she has made since the 1990s (Places in Cities, Passing Summer, Marseille, Afternoon and, most recently, The Dreamed Path). Not because she exercises control over many of the key creative roles in making a film. But because she has a voice. Reduced to its essence, we go to the movies to see film artists speak through their craft.
A caveat: my attention wasn't entirely held by Schanelec's film, I was at home, but, a literal translation of the German 'Ich war zuhause, aber' handwritten, white on black, on a title card. The long scenes often filmed in a single take demand extra attention; staring at the same set up for minutes at a time lulls you to sleep. Yet I was impressed by it. Schanelec poses an awkward question that isn't asked in movies enough: can a mother's love be absolute? She works through this not only by staging her own drama, about a mother, Astrid (Maren Eggert) reunited with her son, Phillip (Jakob Lassalle) who ran away, slept rough and contracted sepsis resulting in the loss of the little toe on his left foot, who has her own issues adjusting to his return – she buys him a bicycle but it isn't suitable. Schanelec also films a classroom-based production of Hamlet, William Shakespeare's drama about the ramifications of a mother re-marrying 'with indecent haste', driving her son to murder.
The film is also about the challenge of representing human behaviour. In a long scene, Astrid meets her former professor whose film had many commendable qualities but which she judges failed utterly. In particular, she criticises the blending of professionals and non-professionals. The non-professional old woman who is shown waking up is 'art'; by contrast the dancers perform many actions not essential to the scene. Acting, she explains, is a lie and actors do many things that are surplus to requirements. The performance of Hamlet by children is an attempt to show the power of drama just by saying the words, slowly and with suitable pauses. The stage fighting is obviously fake and yet the violence of the finale and the sense of tragedy and poetry come through, even though the children are not applying any technique to animate their lines.
You wouldn't think this meditation on form would be compatible with a drama about a woman unable to perform the role of a loving mother when tested by circumstance, say by her young daughter Flo (Clara Moeller) who makes a mess in the kitchen when attempting to cook pancakes. This incidentally is the stand-out scene of the film and shows Astrid unwilling to be touched whilst processing her anger. She turns her back on her children, puts every pan and utensil into the washing up bowl and scrubs hard at the congealed pancake batter on the kitchen counter. Flo tries to hug her. Astrid yells. The mobility impaired Phillip folds a pancake and offers it to his mother, hopping over to her side. He too is rebuffed. When both children hug her, Astrid doesn't accept it – she doesn't melt. Rather she sends them outside the apartment. Then she opens the front door, sees they are still there, and tells them to go away. The only person to calm her down is a young man who shares her bed. As he leaves the apartment building, he high-fives the two children sitting outside for what one imagines is a long time. We later discover he is Flo's tennis coach. Of the curious questions Astrid asks, one is 'what is it like having a wealthy father?' 'OK, I guess,' is the answer.
Naturalism isn't exactly Schanelec's preferred mode of discourse, but nature-ism is. The film opens with a dog chasing a rabbit. We see the dog running, then the rabbit, back to the dog and we see the rabbit at rest, with its paw draped over a rock. There are mountains in the distance. Schanelec cuts to the inside of a house. There is a donkey inside. The dog gnaws on the rabbit, making short work of devouring its flesh. Eventually it leaves the head and paws, a rabbit reduced to a fleece. The dog sleeps next to the donkey who stands up and stares out of a window space. The donkey is upright, the dog curled up. Schanelec cuts from this to a young girl in a red padded jacket who is passed by a man in a dirty yellow jacket who stands outside an apartment building. You think that the girl and the man are connected. The door to the building is opened and the man goes inside. Schanelec moves from this scene to Astrid racing to be reunited with Phillip. She falls by his feet and hugs him.
Pictured: Phillip (Jakob Lassalle) carries his younger sister Flo (Clara Moeller) across a brrok in the German film, 'I was at home, but', written, edited and directed by Angela Schanelec. Still courtesy of Piffl Medien / Berlinale ./ New York Film Festival
We don't entirely understand the circumstances of Phillip's disappearance. The question Schanelec poses is whether Phillip can be re-admitted to school. There is a strange scene in which a group of teachers discuss this after hours; at least two of them are asleep. There are many ways to read this: teachers have sleep-deprived lives; that the issue is not a priority that they can deal with; or that they are disinterested. There is a link though to Schanelec's attempt to represent truth. The auteur director Stanley Kubrick famously wore down his actors with multiple takes to elicit a performance that was outside the performer's conscious control, Schanelec is saying that life only exists when we are close to sleeping; being in bed gives Astrid equilibrium.
The bike subplot is interestingly handled. Owing a bike is equated with being at home, of settling in the city. Astrid judges her former professor by his bike, even though he explains he is only in Berlin for one month. Astrid buys a bike from Herr Meisner (Alan Williams) who can only speak with the aid of an Electro Larynx. She doesn't give it much of a test ride before paying 80 Euro for it. Then she takes it to a bike shop to get the saddle changed. However, she discovers that it doesn't change gear properly. She demands a refund. Herr Meisner offers to repair it and, when she sees him, he makes a slight adjustment. When she calls at Herr Meisner's house, she stands the bike up and lets it fall, a clear sign that she no longer cares for it. Nevertheless, she decides that she does not want it anymore, and certainly can't see herself returning to him every time there is a fault. Herr Meisner cannot give her a refund straight away – he doesn't have Astrid's money - and the advertisement he had placed has been removed. Nevertheless, he promises her a refund – she provides her bank details. Then some time later, he gives her a call.
Schanelec elevates this into a discourse about human interactions. It is about trust, disappointment and how a single fault colours your perception of the whole object, making it unclean - unsatisfactory. Phillip has lost his toe. He is now impaired. How will he be perceived throughout his life?
German films are associated to some extent with an exploration of human numbness, the inability to communicate, the suppression of emotion. This is true of Schanelec's work here. A young man, Lars (Franz Rogowski) wants to have a child with his girlfriend. She feels lonely and complains that a child will not remove her feeling of loneliness. Motherhood does not guarantee a connection to the world.
Schanelec doesn't tell the whole story or even works towards a resolution. Life in a modern city is a series of small moments that can acquire weight. She returns to the animal house at the end of the film and invites us to consider that the union between a man and a woman is unlikely as that between a donkey and a dog. She also gives us an image of hope, the nine-toed Phillip carrying his younger sister across a brook. He walks in an unsteady manner but makes progress. She clings to him. Persistence gets us through most things. Schanelec offers an unexpected triumph of will.
Reviewed at Sture Screen Three, Stockholm International Film Festival, Friday 15 November 2019, 16:00 screening