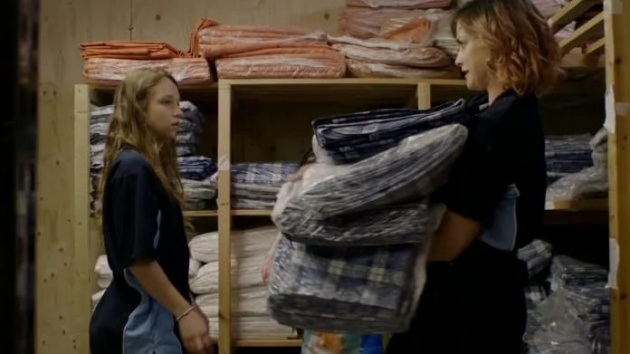 Pictured: Ruth (Molly Windsor) receives some on-the-job training from Jade (Stefanie Martini) in the Cornish 'coming out' film, 'Make Up', written and directed by Claire Oakley. Still courtesy of Curzon Film Distribution / iFeatures / BBC Films / British Film Institute
Set in a Cornish caravan park, the British film, Make Up, the first feature by writer-director Claire Oakley, is a 'coming out' story with a difference: it has the aesthetic of a horror movie. Questions are never satisfactorily answered. A fumigated caravan lit from within may have someone inside. Characters disappear then reappear. There are screams in the night and unexpected thumping. The camera (cinematography: Nick Cooke) tracks past empty caravans. Then there is the mysterious imprint of lip gloss on the mirror and red hair in a caravan. The eighteen-year-old protagonist Ruth (Molly Windsor) is perturbed.
Oakley has met the first criteria of a good movie: show us something that we have not seen before; I cannot think of many films set in a caravan park. The unsettling tone is established from the outset. A huge night-time wave is seen heading toward towards us, ominous, threatening and powerful. Oakley cuts to a bead of light in the left of the frame, headlamps of a car, a taxi that brings Ruth to her new digs. She is deposited outside reception in the rain and thumps heavily on the door. This is eventually answered by Shirley (Lisa Palfrey), a woman who (to quote William Shakespeare's Hamlet) has been too much in the sun. Ruth has come from Derby by coach to stay with her long-time boyfriend Tom (Joseph Quinn). 'Your parents know you're here?' asks Shirley, suspiciously. 'Only Tom told me he had a girlfriend, but her parents never let her come.' Ruth assures her that they know. Shirley segues to a story of a working couple, the female of whom has gotten pregnant. 'I'm responsible,' she says gleefully. Only another person told her that she was not. 'You weren't in the room with them.' The anecdote makes Shirley laugh. She is established as a puppeteer of sorts, nudging people.
Ruth's luggage is brought to Tom's caravan by the surly Kai (Theo Barklem-Biggs), who can be rather direct. Even as Ruth leaves Shirley, Kai has loaded her cases into a small trolley, which he pulls across the bumpy grass. Once there, Ruth is reunited with Tom. They get frisky. After all, it has been a while. It is a caravan. There is no television.
This is a film entirely without mobile phones or a sense of the outside world. Visitors – families mostly - have come for peace and quiet, use of the beach, surfing and swimming. Ruth has arrived at the end of the season when most of the 'incomers' have left. They are not referred to as guests, rather as a source of income. There are a few permanent residents, like April (Maureen Wild) an old woman who lives alone.
The next day Ruth is shown the arcade. The machines are switched on. Ruth plays a game with coppers (one and two pence coins) in a low denomination, low stakes game – it is a feeder for gambling addiction. The light goes out. Tom disappears to investigate. Alone amongst the machines, waiting for him to return, Ruth hears a thumping. She follows the sound to a corridor, where what she discovers is not violence, but Tom and Kai kicking a football in a corridor. Oakley shows how young people easily live in the moment, without any regard for the person left behind in the dark.
Alone in the caravan, unpacking and tidying up – there really is not a lot to do - Ruth notices red hair amongst Tom's clothes and then lip marks on the mirror. Does Tom have a lover? Later, she will see a single strand of red hair blowing in the breeze, hanging from a caravan wall and red fingernails clutching the wall then disappearing.
Tom lives like a student, cooking spaghetti without sauce, served with water. It is a literally colourless diet. Ruth winds the spaghetti around her fork – delaying eating is much of a pastime as chewing or swallowing. Tom suggests that Ruth applies for a job. Her job interview with Shirley is rather short. Shirley is seated on a flowery armchair, her feet resting on a pouffe. Shirley rocks back and forth on both armchair and pouffe as she asks about Ruth's work history. The rocking movement is humorous: Shirley knows how to give herself pleasure; Palfrey knows how to work a prop. The interview concludes unexpectedly: 'be a love and take this into the other room'. Shirley holds out an empty cup expecting Ruth to take it like a maid. Shirley is not one for congratulations.
In a storeroom, Ruth meets a young girl, Kippa (Elodie Wilton) and a beautiful young woman, Jade (Stefanie Martini), whose hair has been dyed at least once - could it have been red? The relationship between the two is unclear. Later, Ruth will be told, 'Jade has a bit of a reputation' but not for what. Jade shows Ruth how to use the sealing machine, to ensure blankets remain clean for the next season. The work seems simple. Later, Ruth goes with Kippa to the beach. Ruth wades into the sea fully clothed. She cannot swim but she allows the water to reach her neck. Later, when she tells Tom, he is furious. 'Going into the water with an eleven-year-old when you can't swim. What were you thinking?'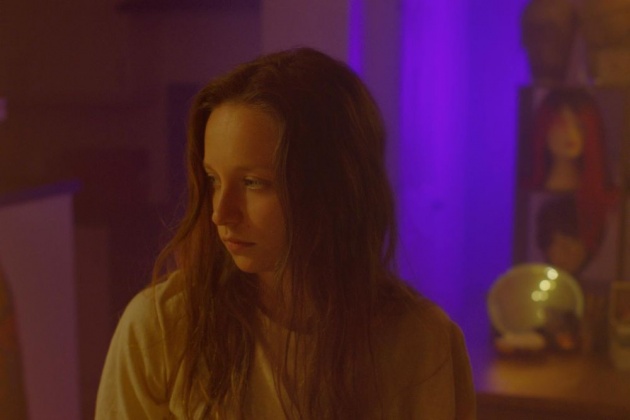 Pictured: Ruth (Molly Windsor) in Jade's exotic caravan in a scene from the British film, 'Make Up', written and directed by Claire Oakley. Still courtesy of Curzon Film Distribution / iFeatures / BBC Films / British Film Institute
Jade invites Ruth to her caravan, introducing the eighteen-year-old to her wig collection. Ruth tries one on. Jade opens her make-up box and offers Ruth a choice of a nail varnish. 'It's not what it looks like that counts but how it makes you feel.' Ruth opts for scarlet sunrise – a red that draws the eye. Back in Tom's caravan, Ruth gets frisky with her new nails. However, Tom, who can disappear without explanation, is not interested. Partly out of disgust – the colour appears to encourage behaviour in Ruth that is otherwise alien to her - she attempts to rid herself of the nail varnish, soaking her fingers in remover and then scraping at the varnish with a knife. The action is painful to watch. We sense that Ruth is cutting into her own nails in a violent form of self-harm.
Ruth's time in Jade's caravan awakens something else. Ruth tells her about Tom. 'We've been together since I was fifteen. That usually impresses most people.' 'I'm not most people,' Jade responds. Jade plies her with drink and encourages her to dance. Ruth's attempt is awkward. They face each other. There is a kiss. Ruth hastily departs.
Kai is disturbed by Ruth's presence. The dog he is walking barks at her. 'He can smell your –', Kai says plainly, referring to her genitalia. Later Kai and Tom break into a fight. 'I told him what you are,' explains Kai. But what is she?
Having a shower in the park's bathroom, Ruth hears some moaning from a cubicle. Leaving her clothes behind, she investigates. We do not discover what she sees until later. In fact, we assume she found nothing – the editing suggests this. Later though, as Ruth joins the search for the missing April, she visits the shower block and sees the clothes she left behind. There is a flashback and we learn what she discovers. Two women standing up, naked in a cubicle, pleasuring one another, their faces not in view. We think one of them is Jade. Who is the other? Is this all in Ruth's mind?
Ruth is convinced that she has seen someone inside a sealed caravan looking out at her. Shirley is unequivocal: there is no one there. In the night-time search for April, Ruth tears through the plastic and investigates. Nothing. Ruth is shown from without. The person behind the plastic is herself. The image in her mind is foreshadowing – a glimpse of the future and a sense that she too, as a teenager, has been sealed in plastic, awaiting to be torn open.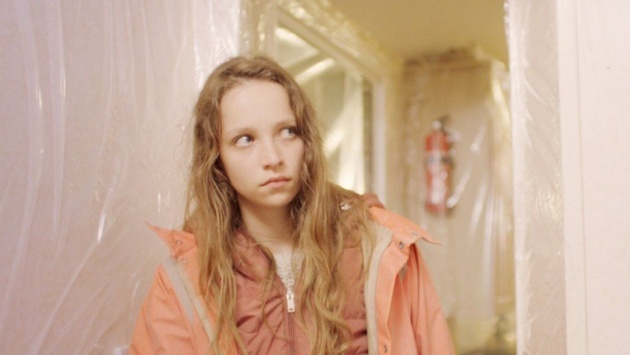 Pictured: Ruth (Molly Windsor) tears through the plastic in a scene from 'Make Up', a British film set in a caravan park written and directed by Claire Oakley. Still courtesy of Curzon Film Distribution / iFeatures / BBC Films / British Film Institute
The look of the film is occasionally striking. In an early scene, we see Ruth head for the beach. The long grass is sun-baked and faded. In later scenes, it does not seem that way. Of course, this could be the result of scenes shot out of sequence, but the sun-faded grass suggests abandonment. Water is what the grass – and Ruth – need.
The other memorable set piece is a night-time beach party. Fireworks go off. There is a bonfire. Ruth and Jade meet again. They leave the group. When there is another explosion of light, we fear that they may be discovered. 'I wasn't going to do nothing,' insists Jade. Then they kiss. The reunion occurs after Tom and Kai have fought. Tom has locked Ruth in his caravan. Ruth breaks the glass and escapes. Their relationship is over. In the film's final scene. Ruth stands alone in the caravan. Then she stands naked in the sea with her back to us in a shot that seems too brief before the credits roll.
The use of the sea to suggest female sexuality is nothing new. The final shot of the film suggests liberation: Ruth finally understands who she is. Yet the brief nature of the image suggests another glimpse into Ruth's mind - another unreliable memory. To what extent do we know what – or who – we desire? I am not entirely convinced that Oakley wanted to be so equivocal. Perhaps she felt uncomfortable showing her young actress (Windsor) in the sea. The brevity of the final shot could be a rare stylistic misstep. At any rate, discovering your sexuality is like being in a horror movie. Oakley got that exactly right.
Reviewed at Genesis Cinema (Screen Three), Stepney Green, East London, Friday 31 July 2020, 18:35 screening.