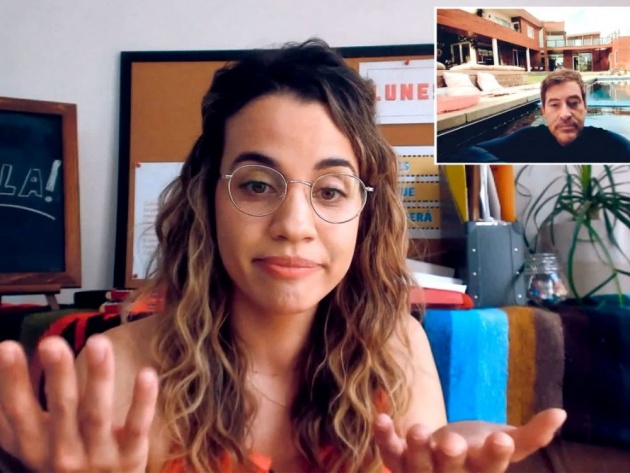 Pictured: Adam (Mark Duplass) receives a pool-side Spanish from Cariño (Natalie Morales) in the video-call-based comedy drama, Language Lessons, written by Morales and Duplass and directed by Natalie Morales. Still courtesy of Blue Fox Entertainment.
Contains Spanish - and spoilers
I was quietly bowled over by Language Lessons, the feature directorial debut of Natalie Morales, who also takes one of two leading roles and co-wrote the script with her co-star, Mark Duplass. Now I want to be loud about it! It is, one would judge, a typical by-product of the Covid-19 pandemic in that it is a series of Zoom calls between Cariño (Morales), a young Spanish teacher based in Costa Rica and Adam (Duplass), who is, as far as we are told, the husband of an exceptionally talented and successful choreographer, Will (Desean Terry) whose voice we hear in the opening scene. How do we know he's successful? Will and Adam's house in Oakland, California, is huge. It has its own pool and for all I know might be Morales' own house, having established herself as an actress in the TV series, 90210, Trophy Wife, Parks and Recreation (that's the biggie) and The Grinder. Will answers a video call from Cariño, who is about to give Adam the first of 100 Spanish lessons for $1,000. Adam just has to be lured to his computer to be greeted with the surprise. The choice to make Adam gay means that Morales isn't interested in making a long-distance love story. However, she has crafted a film about how two people from very different backgrounds connect.
Cariño (short, as we discover, for Caridad, which in turn is the Spanish for 'charity') doesn't make Adam seem awkward that his husband only paid $10 a lesson from a resident of a developing nation. It makes Will seem a bit cheap. But Cariño doesn't actually have the qualifications to teach Spanish. She has a professional qualification but not the one that certifies her as a teacher. Will had apparently responded to Adam's confession that he wanted to speak Spanish better, so had lavished upon him a two-year long gift. For her part, Cariño has carefully arranged her background to suggest that one of a language teacher - one who teaches eight to eleven-year-olds. She has a sign behind her that says 'Lunes', the Spanish word for Monday. Adam doesn't notice this. As we discover, he has more important things to worry about.
Adam takes his first lesson while he is in the pool, which means that he is showing off his wealth rather too opulently. The lesson is planned around his morning routine. In the opening section of the film entitled 'Immersion' (spelt in both English and Spanish), he complains that it is hard to make jokes in another language, which is one way of saying that Duplass Brothers comedies don't translate well overseas. Mark and Jay Duplass are responsible for films such as Cyrus and Jeff, Who Lives at Home as well as the television series, Togetherness that haven't really taken off in Europe. As he describes how he used to speak Spanish but allowed his skill to lapse, Adam says the word 'embarazada', making Cariño laugh. Rather than using the Spanish word to indicate embarrassment, he described himself as pregnant. 'That's not the worst mistake a student of mine has made,' reveals Cariño. Adam wants to know more. Cariño refuses. At the end of the session, Adam asks, 'what is the Spanish for 'cliff hanger'?' For her part, Cariño has given him homework, to demonstrate what 'ser' and 'estar' mean.
In the second section, 'Comprehension', Morales gives us her equivalent of the inciting incident, the dramatic turning point in a movie that drives the action forward. Cariño calls Adam while she is walking around her garden, intending to show him plants and flowers. She discovers that he is still in bed, not ready for his lesson. I don't want to reveal exactly what has happened, but Adam is in a state of shock and has (as he puts it) the payroll of a whole dance company to deal with as well as a nephew's birthday. Cariño's relationship with him swiftly changes from teacher to confidante. Only she isn't paid to fill that role. At this point, the film takes a dramatic leap. Most of us would end the call and discontinue the lessons. However, recognising Adam is in a state of heightened anxiety and then some, she lulls him to sleep.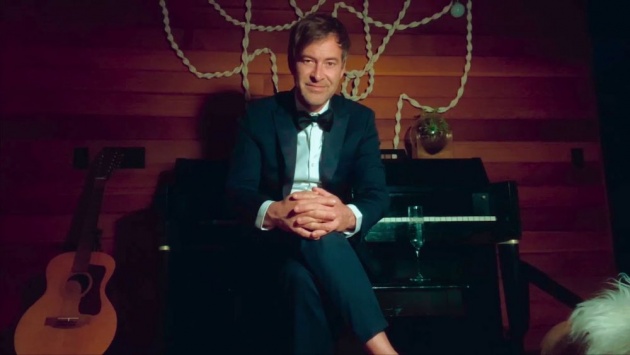 Pictured: Adam (Mark Duplass) shows off his musical skills in a scene from 'Language Lessons', directed by Natalie Morales from a script by Morales and Duplass. Still courtesy of Blue Fox Entertainment
Later, Adam calls Cariño to thank her. By his admission, he isn't fine. Cariño isn't sure how to help him, but 'if you want some Spanish lessons, I'm your girl'. Adam, as it turns out, has been a diligent student, turning 'ser or estar' into a song. Naturally, he plays the keyboards too. 'Estar is where you are,' he speak-sings, 'ser is who you are', noting 'ser describes you best of all'. 'If you want to be a star, know when to use ser or estar'. At this point, we should be heading for the exit or switching off the screener, but, like Cariño, we're glad Adam is feeling a little better. She reveals the Spanish for 'cliff hanger', which according to Google translate is 'momento culminante'.
At another lesson, we see Cariño in a hammock. Although Morales works overtime to keep the film visually interesting, I didn't believe Cariño's scenes were shot in Costa Rica – the light is too similar. I actually felt she used a location round the corner from Adam's house. This leads to a montage in which Adam and Cariño try to outdo one another to make the ugliest face in a Zoom shot. Well, they had to lighten the mood somehow. Afterwards, Cariño tells Adam that he has earned the story of the student who was even more embarrassing than him. It involves a young man who, while at a meal with Cariño and in the company of relatives referred to a bread roll (bolillo) using the Spanish word for vagina. Needless to say, Cariño was 'embarazada'.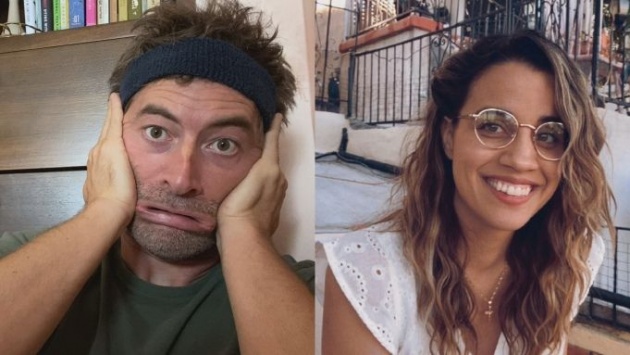 Pictured: Ugly face competition. A scene from the video-call comedy-drama, 'Language Lessons', starring Mark Duplass (left) and Natalie Morales (right) and directed by Morales. Still courtesy of Blue Fox Entertainment
In the third section, 'Context', Adam describes his mood: 'I am crying and crying,' adding that he has dreams that turn ugly as he suddenly remembers what had happened. He describes how he first met Will, seeing him on stage and deciding he was the one. Throughout the call, Cariño's camera is off ('my internet isn't great', she apologises), but suddenly it flashes on, showing her bruised face. 'What happened?' he asks. 'I fell off my bike,' explains Cariño. 'Did you go to the hospital?' asks Adam. Cariño explains that she has a headache and doesn't feel well. Adam is naturally concerned. He leaves her a series of messages. During his first message, he explains how much he appreciates her. He offers to buy her a new bicycle. In a later message, he tells her, 'My feeling is that your internet was fine but that you didn't want to show me your face. I'm not a genius but if you fall off a bike, you don't injure your face, rather your arms as you break your fall.'
In the fourth section, 'Grammar'. Cariño leaves Adam a message. She is keen to go back to teaching him. 'You need to focus on your grammar'. She doesn't want to tell him about her life. But if he doesn't respond, he shouldn't worry. 'I have other students.'
There is a fifth section, 'Extra Credit'. Cariño video calls Adam at 2:30 in the morning (though why he would leave his computer on is a mystery). She is drunk or at least has made the acquaintance of alcohol. 'I found out it was your birthday,' she tells him as he responds. 'I saw it in your file. I stalked your social media. You like shitty records.'
'How dare you replace me so quickly?' she continues. 'I could teach you words for trees.' She has called to wish him a happy birthday in Spanish, though as she points out the translated version of the song doesn't feature 'happy', just 'birthday', so it makes no sense. ('Birthday to you?')
Finally, we get to the point of her drunkenness: 'my mother died on her birthday. Literally everyone dies.' Morales shoots the scene so that Cariño appears out of focus, reflecting her inebriated state.
'You're a nice person,' Cariño adds. 'I didn't know those existed.'
Adam is somewhat astonished by the call but confides in her. 'Can I tell you a secret?' he asks, forgetting that 'can' is about ability and 'may' is about permission. 'It's really nice to listen to you talk.' This naturally freaks Cariño out and she ends the call.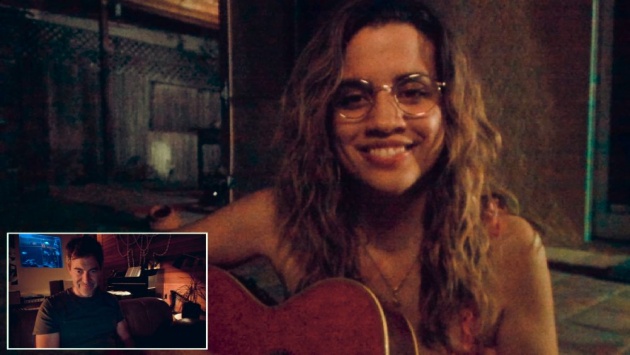 Pictured: A drunken Cariño (Natalie Morales) sings to Adam (Mark Duplass) at two-thirty in the morning in a scene from the heart-warming comedy-drama, 'Language Lessons', directed by Natalie Morales. Still courtesy of Blue Fox Entertainment
She gets back in touch to apologise. 'I drank a beer,' she explains, the adds. 'I have to pause our classes for a little bit,' she adds, having some 'personal stuff' to deal with. 'I think I have to move soon, so I won't have a place to teach you from.' It isn't long before she reveals what exactly that 'personal stuff' is and promptly rebuffs Adam's offer to help. The drama builds to a final scene of Adam's resignation that he hasn't been able to help her that is both sublime and a real crowd pleaser.
Morales' film isn't really about how learning another language improves your world view. Rather it is about the acting of really saying how you feel and not being afraid to accept help. Human beings have the capacity to make one another feel better, a message that is lost in a sea of hate speech on social media.
She also demonstrates that restricted settings do not necessarily limit the impact of the film's content. Both Cariño and Adam are memorable characters, reflecting to some extent Morales and Duplass' own charisma.
Language Lessons was one of three Duplass Brothers productions overseen during lockdown by producer Mel Eslyn, whose directorial debut, Biosphere is currently in production – the other two films are 7 Days, directed by qualified doctor Roshan Sethi, and As of Yet, directed by Taylor Garron and Chanel James. These movies entertain and show a skilful balance of comedy and drama but aren't perhaps the best demonstration of what their directors can do. But Morales herself has gone on to complete a project planned before lockdown, the Hulu television movie, Plan B, that aired in May 2021. The Duplass Brothers low-budget production model can be a springboard to bigger and better things.
Streamed on Saturday, 9th October 2021, London Film Festival press screener