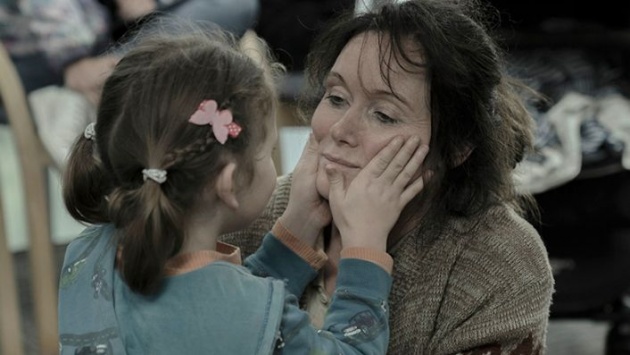 Pictured: Making mummy smile. Shannon (Amelie Baynes) takes a hands-on approach with mummy Bunny (Essie Davis) in a scene from the New Zealand drama, 'The Justice of Bunny King', written by Sophie Henderson and directed by Gaysorn Thavat. Still courtesy of Madman Films (New Zealand)
Contains significant plot detail
Written by Sophie Henderson and directed by Gaysorn Thavat, The Justice of Bunny King wobbles somewhere between comedy and drama, with its initially chipper title character (played by Essie Davis) driven to an act of desperation. Above it hangs a social issue – that mothers in a lower socio-economic bracket in New Zealand struggle to get housing for their fractured family, with the cause of family breakdown driven by an abusive male partner. Henderson and Thavat don't go further into asking why New Zealand men from a lower socio-economic background turn on their partners and what can be done about it. The majority of the film's male characters are lecherous twerps who deserve to have 'scum' spray-painted onto their cars – as happens here. The only kind man in the film is Maori. It is implied that his morals are kept in check by his mum, who has a strong sense of family.
When we first meet her, Bunny is cleaning car windows at a busy intersection for dollar coins, twirling her mop and applying soap judiciously. She's good at it and one of a small group. In the UK, they are called Squeegees after the cleaning equipment that they use. When the police come, the group scatters. Bunny secretes her equipment about her person and avoids notice.
She lives with her sister, Grace (Toni Potter), whose blue tunic and long shifts suggest that she works at a local hospital. Bunny is separated from her children, Shannon (Amelie Baynes) and Reuben (Angus Stevens) with whom she has supervised visits in the offices of Government Family Services, where a worker is on hand to note down every word exchanged. Bunny breaks protocol early by taking Shannon into a doll's house, making a promise to hold a birthday party. Bunny's word drives the narrative; a better title might be 'The Pledge of Bunny King'.
Bunny saves her change in a plastic jar stashed away at her sister's. Grace lives with Bevan (Errol Shand) and a house full of children, with no space to take Shannon and Reuben. Unable to secure accommodation – a snooty woman makes Bunny take her shoes off and gives her no time to look at the place – Bunny proposes to convert Bevan's garage into a living space. 'It's cold in there,' she is told. 'I'll get a heater – and blankets.' Dragging a mini radiator, Bunny is about to put her plan into action when she sees Bevan in the car with Tonyah (Thomasin McKenzie). Initially horrified – Bevan is not Tonyah's biological dad – Bunny decides to break it up. She is thrown out of the house as a result and unable to retrieve her jar of coins. However, she sneaks back and fits a lock on Tonyah's door. Tonyah doesn't respect her aunt. She is quiet and insular and won't admit that she was in danger of being abused. For his part, Bevan alleges that he was giving her driving lessons.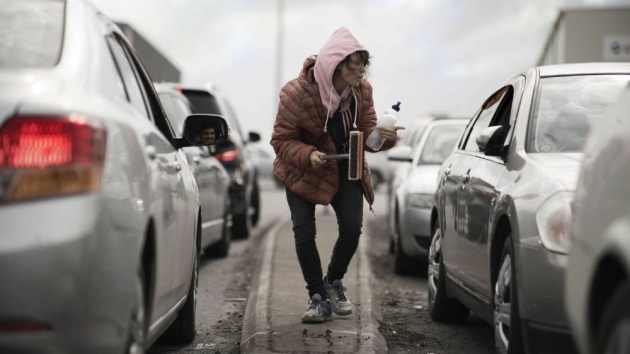 Pictured: 'Basically begging', Bunny (Essie Davis) is at work in the New Zealand drama, 'The Justice of Bunny King', written by Sophie Henderson and directed by Gaysorn Thavat. Still courtesy of Madman Films (New Zealand)
Grace doesn't side with her sister. Fortunately Bunny is taken in by one of the window cleaners, Semu (Lively Nili) whose house is nevertheless rather full. Bunny is so desperate to be reunited with her kids that she attempts to pass of Semu's mother's house as her own, taking down the family photos and passing Semu's mother off as her landlord. The social worker is impressed – and not-so-secretly roots for her. Nevertheless, Bunny is ashamed. She puts back all the family photos and leaves her key behind, given to her by Semu's mother in trust and compassion.
It is certainly my experience that the people with the least to give part with it willingly, knowing what it is like to need much and to have nothing. Hearing that another mother spent her last ten bucks to get to the Government Family Services office and isn't being seen straightaway, Bunny gives her some of her earnings and advises her to make a complaint. Bunny herself is referred to a service that helps her dress to impress, with what we imagine are second-hand clothes. She looks terrific in a blue suit and secures a viewing to a city apartment retailing for NZ $500,000 with allegedly north-facing views. The male realtor, Neil (Phil Peleton), having impressed her with the push-button lock ('saves you worrying about forgetting your card') soon realises that Bunny isn't serious. However, he is not above asking her for a drink.
Knowing it is against the rules, Bunny visits the address of Shannon's invitation to her party to visit her children at their foster home. This is the film's weakest contrivance. It is necessary to set up the finale of the film as Bunny's children are moved to new foster parents and Bunny is not given their new address. While the foster parents permit her to have some time with them, she isn't allowed to say goodbye to her son. She shouts through the window. This is one instance when Henderson and Thavat change the tone mid-scene – another is when Grace snuggles onto the sofa with Bunny, only for Bunny to anger her sister to plead for her children to stay. Thavat and Henderson struggle to show novel ways for Bunny to rail against the system, which is necessary to set up the finale.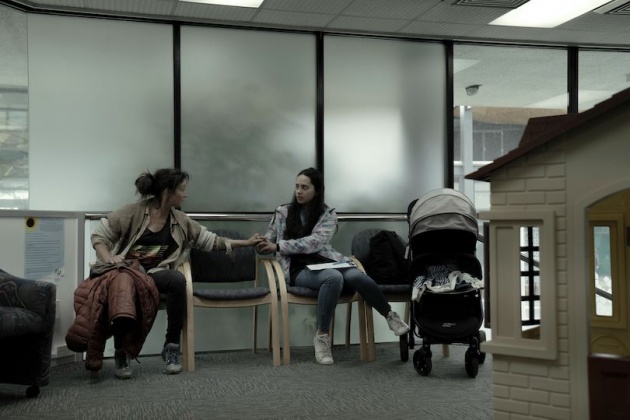 Pictured: 'Make a complaint.' Bunny (Essie Davis, left) gives a troubled mother some of her earnings in a scene from the New Zealand drama, 'The Justice of Bunny King', written by Sophie Henderson and directed by Gaysorn Thavat. Still courtesy of Madman Films (New Zealand)
Bunny is keen to safeguard Tonyah almost as much as get quality time with her children. Having previously snuck into Bevan's garage, spray painted the car and urinated through the sunroof (a heck of an image) and having fled when Bevan drove to her place of work, she steals Bevan's car and picks up Tonyah on her way to school. They spend a night in the luxury flat, eating potato chips and sleeping. With only NZ $3.40 in her account and armed with a NZ $10 note, she finds a novel way of buying materials for Shannon's birthday – hiding her 'purchases' in a stroller box and changing the bar code on it for an item retailing at NZ $9.99 (let's forget about CCTV, shall we) and rushes back to collect Tonyah and the cake she has purchased. Neil is showing the flat to a couple and is surprised by Bunny, who retrieves both Tonyah (very angry) and the cake.
The final act changes tone as Bunny's attempt to find out where her children are living goes awry. Her regular social worker is on a training course and Bunny is denied information. She drives (very far) to another Government Family Services office, where the climax takes place, Bunny making use of a blade that she uses to sharpen her eyeliner.
The ending is undoubtedly dramatic, but it is hard to believe that Bunny would put so much at risk, including threatening harm to others, to fulfil a promise. We learn belatedly that Bunny was convicted on the manslaughter of her partner after he was responsible for the death of one of her children. At the luxury apartment complex, Bunny sees Tonyah with her face down in the communal pool and fears the worst. Tonyah was just floating as a form of relaxation, but this prompts Bunny to tell her story. This revelation seems contrived. It has to be placed late in the story in order that we don't pre-judge Bunny as a convicted felon. We judge her primarily as a woman of limited economic means.
The finale provides a resolution of sorts and gives Tonyah the chance to drive to a new life, in what I suspect is a symbolic gesture. However, it doesn't resolve the central problem, that men like Bevan escape justice.
The title is at best ironic and at worst misleading. The performances are fine, with Davis presenting Bunny as a force of nature and McKenzie as a surly teenager whose main complaint is that her mother 'never even asked her if it [Bevan's attempted seduction] was true'. The contrivance weakens the drama. There is no justification for Bunny threatening another person. Indeed, Henderson and Thavat try to have their cake and eat it by suggesting that there is no real danger and Bunny just wants to celebrate with her children. A Government Family Service worker, ostensibly being threatened, tries to be helpful. The ending would have worked in a comedy but here just seems like a wrong turn. It finally stops The Justice of Bunny King from being anything other than a film festival movie, with limited overseas potential in spite of McKenzie's presence in the cast.
Reviewed at Leeds International Film Festival, Monday 15 November 2021, Vue The Light Screen 11, 20:30 screening