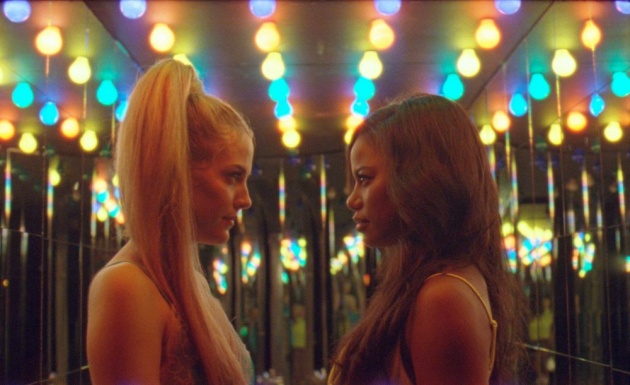 Pictured: Stefani (Riley Keough) goes eye to eye with soon to unfriend her Zola (Taylour Paige) in the tweet-based forty-eight hours in Tampa-tantrum drama, 'Zola', co-written (with Jeremy O. Harris) and directed by Janicza Bravo. Still courtesy of Sundance Institute.
My new mantra for 2021: enthuse, don't abuse. What to do when a film comes up short? Note it and move on.
Zola, or to refer to its proper title, @Zola, is a film based on 148 tweets sent by the then 19-year-old A'ziah 'Zola' King, describing a weekend in October 2015 in which she fell out with her new best friend. Adapted and directed by Janicza Bravo, working with co-writer Jeremy O. Harris, the film shows how Zola (portrayed in the film by Hit the Floor-star Taylour Paige) accompanied another pole dancer, Stefani (Riley Keough) to Tampa, Florida, when she expected to make a share of $5,000 and – well – didn't. It has been unfairly hyped as a wild ride, by which I was expecting twists and turns. It is remarkably straightforward in terms of how bad things get. I expected perversity, dead bodies, bizarre eating habits – something.
Zola worked as a waitress and, if the film is for real, bonded with Stefani after she complimented her breasts ('like apples'). In the bathroom, she asks: 'you dance?' Zola does. They become buds on social media – Twitter, Facebook and … the other one. (Not Instagram.) Dialogue is a series of exclamation points – full-on mutual respect. Every so often, we hear a bird call; a signifier that a line has been straight-up lifted from a tweet. It made me wonder: what sort of sound would accompany a quote from a Facebook post? Probably the ker-ching of a cash register. 'You going to include me in this conversation?' asks Stefani's date, a line I have sanitised for general consumption. Stefani ignores him. A plan is hatched to go to Florida, but then there's a freeze frame, narrated by Zola: 'watch everything this b*tch says from now on'.
Accompanied by Stefani's dopey, there-to-make-up-the-numbers boyfriend, Derrek (Nicholas Braun) and Stefani's room mate 'X' (Colman Domingo) – 'it was two days before I learned his name', Zola's voiceover tells us – they head off and car-rap 'Hannah Montana', which sounds like a euphemism, but really is just a popular series, now on Disney +. Zola looks embarrassed in their company. White people rapping – Zola is African American – that's not something you want to encourage.
There is a reason 'X' doesn't have a name. He is a pimp. You can say that he looks after Stefani, but he has his own business interests at heart. With Derrek left behind in a crappy hotel, Zola and Stefani go out to dance for a clientele whose faces are as creased as the dollar bills in their pockets.
'How much are you going to tell him we made?' asks Stefani at the end of their shift. 'Nothing,' Zola explains to 'X' in the car. He is non-plussed. He has put a Facebook photo of Zola and Stefani on the escort website, Backdoor. Zola is appalled. He then takes them to a fancy hotel where they are going to make $150 per head for sex with strangers.
Credit to Bravo for finding a way to show sex in a non-erotic, non-exploitative way. There are plenty of shots of Zola and Stefani's bottoms – notably in a bathroom scene in which they share toilet paper but also on the pole. According to the film, Zola successfully avoids having sex. The guys are only interested in white women.
I did learn something from the movie. If you are an exotic dancer in Florida, you need a licence to show your nipples and vaginal hair. Otherwise you cover up with sticky labels. Zola and Stefani don't go nude; the actresses are spared nasty freeze frames reproduced in tawdry media. Bravo's direction is sensitive and imaginative. There is a scrolling image, rather like a bad TV signal from the 1970s, in which several men are shown on top of Stefani. We even see their genitalia, one of which gets a Twitter heart-shaped 'like'. Meanwhile Derrek doesn't do what he was told. After leaving several messages for Stefani, after which we hear 'a recording of your message has not been made', he decides to go out and is befriended by a hustler who (in a convenience store) elects to show him the town.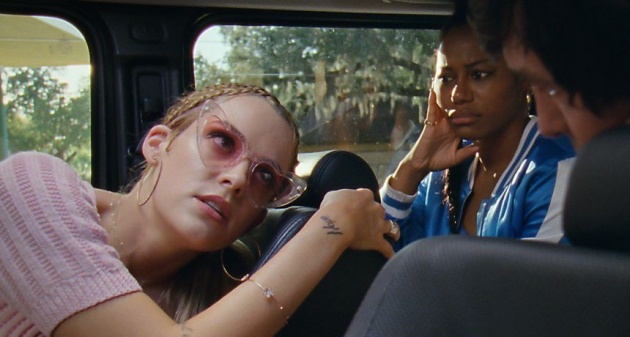 Pictured: 'Please, Mr Peele, cast me in your next movie, 'Nope'. I have the tattoo.' Stefani (Riley Keough) engages Zola (Taylour Paige) and Derrek (Nicholas Braun) in pre-road trip banter in 'Zola', a film co-written and directed by Janicza Bravo. Still courtesy of A24 Films
'X' has threatened Zola – and puts on a Nigerian accent to boot. His name is later revealed but it feels fake. However, after a series of clients came and went, Zola asks how much she is charging. $150 is too low. Zola moves quickly to advertise Stefani at a more appropriate rate. 'If the guy wants sex, he doesn't care how much he pays.' At this point, you think to yourself, how does Zola know how much to charge for 15 minutes?
She is, to my mind, an unreliable narrator. However, she has competition. At one point, the beginning of the film is remade from Stefani's point of view (including a title card @Stefani). In the alternative version, Stefani has embraced Christianity and Zola is the depraved, sex-seeking one. Nice gag but we don't buy it. The alternative reality coked-out car ride in The Wolf of Wall Street is funnier.
Bravo doesn't list director Martin Scorsese as an influence, but the debt is obvious – Bravo should be pledging to commit to the restoration of old movies right now. Once 'X' finds out that Stefani made $8,000 in a night, he is furious with Zola. 'You think you're better than me?' 'Yes'. After grabbing her face, he tells her to fall in line. Would a 19-year-old woman have the confidence to face down a pimp who switches accents and carried a gun? According to the film, yes. However, I didn't buy it.
'X' finds out that Derrek has blabbed to his new best friend, Dion (Jason Mitchell) and they depart their seedy surroundings – not before time. At this point, I was thinking that there would be a complication with the bags or something but if there was it didn't make Twitter.
The weird thing about the movie is how detached from the depravity Zola and Stefani seem. There is a point in which the pair end up at a 'gang bang' and we fear for Stefani. Bravo slows the image down and uses superimposition as then men gather around her but then cuts to the @Stefani alternative narrative. Does Zola watch or leave the room? Do they get paid? We don't find out.
Stefani doesn't look physically shaken by any of her experiences. She is partly the butt of a joke – see what compromising situations she puts Zola into. Only towards the end when Stefani knocks on a door and is pulled in, Zola unable to offer any defence, fleeing the room in terror do things 'get real'.
Derrek certainly is the butt of the joke. At one point, he and Stefani make love off camera, causing Zola to remark, 'sh*t was disgusting'.
The film is all extended sequences with abrupt cuts and little or no reflection on what is going on. Zola coaches Stefani. 'You're doing this for your baby,' referring to the child Stefani is raising. In the climax, 'X' shows just how little he thinks of Zola. There is a comedy coda as Derrek does something exceptionally not-thought-through. We fear the worst.
I was surprised that the great Mica Levi composed the score. There are some disconnected effects, but this is far from her best work. For that, please see Under the Skin. At a certain point, we wonder if the cops will catch up to this motley quartet who convene with X's business partner, Baybe (Sophie Hall), a woman who looks like a man. There is an ominous sequence – an aside – in which the quartet drive by a police incident in which officers are arresting an African American. We know in so many circumstances how that will end, but instead we are stuck with social media hungry empty-heads. Derrek tells us that he wants to create YouTube videos in which people fall over stuff, an ambition that seems passé even for 2015.
The most interesting thing about the story is what happened after. Did Zola's boyfriend forgive her? Did Stefani sucker another young woman into a trip down South? The only question it wants to answer is: how did Zola get out alive? I didn't quite trust the answer or that Zola doesn't get dirty.
Bravo is so keen not to reduce Zola to a cliché, but she forgets to ground her in reality. Paige seems too old for the role, so verisimilitude takes a vacation.
How invested are we in this tale of friendship gone sour? Truly – not much. The box office gross of the film – even accounting for Covid-19 - $4.2m against a $5m production budget suggests that this is one more over-hyped Park City headline grabber. The men in the film pretty much get off without censure, making this an extremely hollow experience.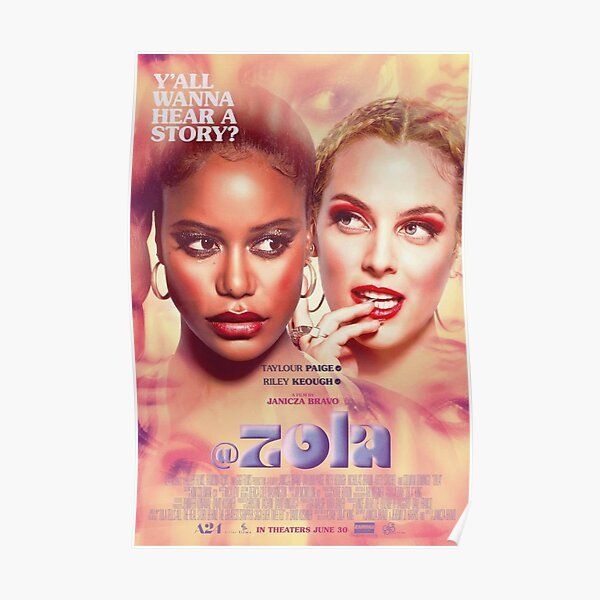 Reviewed at Sundance London, PictureHouse Central Screen Three, Tuesday 27 July 2021, 12:00 screening