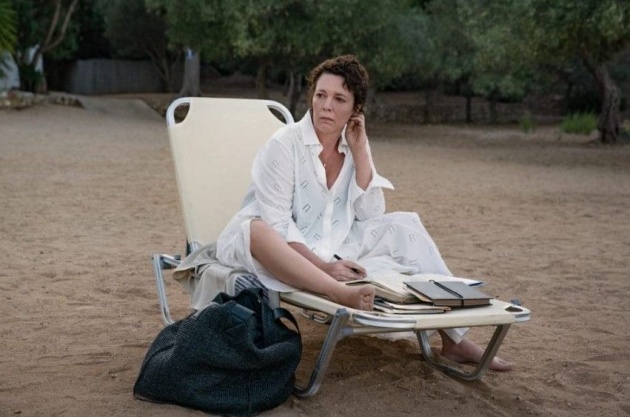 Pictured: Leda (Olivia Colman) takes a call in a scene from 'The Lost Daughter', a film adapted from Elena Ferrante's 2006 novel and directed by Maggie Gyllenhaal. Still courtesy of Netflix
2021 was a banner year for women film directors. Chloe Zhou, Julia Ducournau and Audrey Diwan collected the top awards at the Oscars, Cannes and Venice Film Festivals for Nomadland, Titane and L'Événement (Happening) respectively, Zhou being the only the second woman to win Best Director at the Oscars. The list of female auteurs, women whose presence behind the camera is a draw for an audience, steadily expanded, the aforementioned directors having proved themselves in follow-ups to their auspicious debuts. However, women directors have a long way to go in being routinely considered to helm blockbuster franchises. Imdb users' list of the most anticipated films of 2022 includes no films directed by women. Admittedly, it is a tired selection of Marvel movies (the latest outings of Dr Strange and Thor), DC flicks (The Batman, The Flash) sequels (Jurassic World: Dominion, Top Gun: Maverick, Mission: Impossible 7 and Scream), a video game turned into a movie (Uncharted) and one token auteur work (Killers of the Flower Moon) that suggests limited tastes and, bizarrely, no comedies. (Where's our sense of humour?) In part, Flower Moon aside, these are movies guaranteed a substantial cinema release.
For me, real advancement will be shown when, year-on-year, at least one quarter of the highest grossing films of the year worldwide are directed by women. In 2021, the benchmark was set when three films by women – Black Widow, Eternals and the Chinese hit, Hi Mom directed by Ling Jia – grossed over $300 million worldwide. This represents three films in the top twelve. In 2020, it was two (Birds of Prey and Wonder Woman 1984) out of the top thirteen. In 2019, it was only two films co-directed by women (Frozen II and Captain Marvel) in the top ten. In ten years time (by 2031), if women-directed films accounted one-third of worldwide box-office hits, this would be substantial progress, assuming that cinema survives the decade.
In the meantime, for consideration at the 2022 Oscars is actress-turned-writer-director Maggie Gyllenhaal's feature debut, The Lost Daughter. This film isn't getting a substantial cinema release, in spite of making its debut at the 2021 Venice Film Festival and being initially picked up for distribution by Entertainment One. Netflix subsequently acquired the film, which is now available to stream.
Gyllenhaal is the daughter of screenwriter Naomi Foner (Running on Empty) and director Stephen Gyllenhaal (Paris Trout) and combines both her parents' disciplines to spellbinding effect in an adaptation of Italian writer Elena Ferrante's 2006 novel. For her part, Ferrante, who writes under a pseudonym and gives very few interviews, has spurned requests to film her back catalogue in English. She has relented for Gyllenhaal for reasons we may never be told. For her part, Gyllenhaal has repaid Ferrante's trust in visualising her story to stirring impact.
The story hinges on something small but ostensibly deals with the traumas that we carry with us. Those traumas don't necessarily involve death or abuse carried out by another person, rather the choices we make based on the emotions we feel at particular moments – let's call it guilt or regret. However, Gyllenhaal doesn't show her protagonist Leda (played in her 40s by Olivia Colman and in her 20s by Jessie Buckley) judging herself harshly or atoning for her own behaviour, rather living with it. For her part, in her 40s, Leda, holidaying on a Greek island, makes very few demands of the people around her. However, she doesn't yield either. She expects to be left alone to work and lounge, far from her two daughters aged 23 and 25 respectively.
The film begins at night with present day Leda in a state of agitation collapsing on a beach. Gyllenhaal shows Colman's face in profile, shrouded in shadow, difficult to read. The contrast between the tight close up and Leda's fall is almost comical mainly because we cannot assess the cause.
Cut to Leda's arrival at a house on an unnamed Greek island where she is met by Lyle (Ed Harris), the building's caretaker. Gyllenhaal keeps her camera on Leda, so while we hear Lyle (Harris' voice is unmistakable) we don't see him. One imagines that some actors might object to not being given equal status in a scene – being denied their close up – but Harris, who worked with Gyllenhaal's father on the aforementioned Paris Trout appears to have exercised no such vanity. Gyllenhaal is not presenting Lyle as a proposition, a potential suitor in whose behaviour we should become invested, and it isn't because Harris (born 1950) is two decades older than Colman (born 1974) - since when has age been a barrier in American movies? Rather it is because the film is emphatically not about a need or a loss that can be assuaged by a man.
Not only has Gyllenhaal changed the nationality of Ferrante's protagonist and the location of the action (from an Italian island to a Greek one). She has added an extra detail. Every time the very English Leda is asked where she is from, she replies, Boston, Massachusetts. Leda defines herself by where she currently lives, rather than from Leeds, England, where she was born, Colman occasionally lapsing into a West Yorkshire accent. Leda accounts for the physical difference between the two actresses playing her. 'When I was young, I was flat chested but after I had my girls, I exploded.' Colman, a naturalistic, unshowy actress whose emotions are all on the surface, doesn't play Leda as an unknowable enigma, an exotic object. Her defence is simply to say nothing and when she has something to say, doesn't hold back. (In England, Colman is beloved for her lack of filter.) In the film, male characters constantly ask if she needs anything, making themselves available. For her part, Leda is indifferent to them, or at least exposes their solicitude as something that can't be trusted, as something transactional.
We spend a lot of the movie trying to read Leda, whose suitcases full of books trouble Lyle's arms as he carries them to the house. Asked whether she is a writer or a teacher, she describes herself as a professor. This is at once an insistence on her academic credentials – her expertise is in Comparative Literature - but also on only 'professing' to know something, not to be in possession of absolute truth. It is a clever use of language on Gyllenhaal's part.
The title of the film offers its own enigma, teased out by Gyllenhaal. Early on, Leda has a telephone conversation with one of her daughters and we wonder whether the other daughter is lost. We wonder whether Leda might be escaping something. What does she hope to gain from a working holiday on a Greek island? Is she returning to a place that has a special significance for her?
Mystery and ambiguity keep us interested, but Leda's holiday is punctured by flashbacks – the editing makes Leda's memories feel disruptive, as we are quite enjoying the quiet vacation, thanks very much. The young Leda was troubled by the demands her two young daughters made on her, combing her hair, insisting upon attention (begging her to remove the peel of an orange in an unbroken strip – her party trick) even punching her. Leda remonstrates with her daughter but stops short of actual violence. One of the daughters even cuts herself attempting to emulate her mother's orange feat. Gyllenhaal again keeps the camera close; domestic scenes are oppressive. We get the sense that Leda wants to forget that she is a mother or at least forget her mistakes.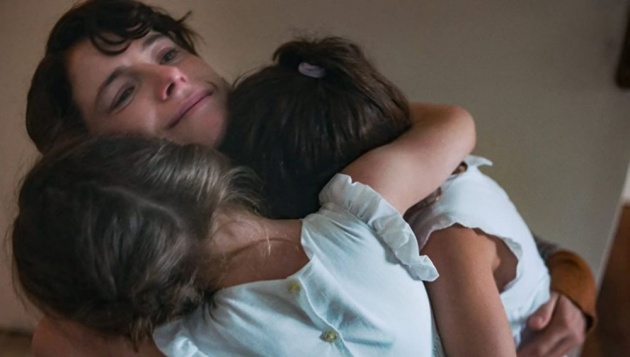 Pictured: Young Leda (Jessie Buckley) is embraced by her two daughters (Robyn Elwell, Ellie Mae Blake) in a scene from the film, 'The Lost Daughter', adapted from Elena Ferrante's novel and directed by Maggie Gyllenhaal. Still courtesy of Netflix.
Her marriage too is troubled. Gyllenhaal telescopes it to one scene. Both Leda and her husband, Joe (Jack Farthing) are on their respective telephones. The two girls need attention. Leda asks Joe for help. 'I'm working,' he hisses. Here, Joe privileges his own work above that of his wife and expects her to deal with the children. It is a cut to the source of discontent.
Gradually though, Buckley's younger Leda shows more dimensions. She receives a call inviting her to a conference and immediately expresses anxiety; she cannot afford the trip. She does not imagine that her expenses will be covered; we sense that she undervalues herself. At the conference, she phones room service and orders a glass of champagne to celebrate, amending the order to a bottle to better reward her accomplishment. There is a knock on the door. It is an old man, Professor Cole (Alexandros Mylonas) who tells her that dinner begins in twenty minutes. She listens to him deliver his paper to a sparse crowd but then, in a separate scene, hears her work being cited in a paper given by Professor Hardy (Peter Sarsgaard). They meet at a dinner table. 'I didn't know you were here,' Hardy greets her. Leda smiles. 'The hunter may yet be frustrated by his pursuit,' says Professor Cole. The camera is rooted to Leda's side of the table as a space is made by Hardy's dinner companions and Leda is waved over. She sits next to them, surrounded by male admirers. We don't need to hear the conversation. If you want an example of a director showing full command of their medium, this is it. Although Leda excitedly phones her husband to celebrate the citation of her work, her affair with Professor Hardy is inevitable, shown by Buckley running her hand over Sarsgaard's hairy chest.
The substance of the film is the 48-year-old Leda having her vacation interrupted by a family from Queens, New York. They are brash, expansive and vulgar. The youngest woman among them, Nina (Dakota Johnson) – all the women wear heavy black eyeliner so when they stare at you, the effect is unnerving – is a mother with a difficult relationship with her young daughter. Leda's unfiltered look radiates scorn. At one point, she is asked to move as the family wants to set up for a beach birthday party for a woman, Callie (Dagmara Dominczyk) who appears to be the matriarch – she acts like Nina's mother but may in fact be her sister or cousin. Leda refuses, explaining that she is quite happy here. One of the male members of the group jumps up from behind Callie and utters an expletive. Leda is unmoved. The family set up in spite of Leda's presence. Callie comes over with a slice of cake to apologise. She attempts charm in the same crude way that she applies her make-up, asking Leda her age and where her people are from. 'Try the cake. It's good cake,' she insists. We sense that Callie admires Leda for standing her ground and perhaps wishes she had the same quality, though when she says that she thought Leda was also from Queens, we know she is being disingenuous. Leda does indeed taste the cake and professes to enjoy it but hands the plate back. It is a measure of Colman's casting that Leda doesn't radiate class or look down on Callie on socio-economic grounds. It is more a sense that they have nothing in common. Callie's idea of Comparative Literature is to choose Glamour magazine over Vogue.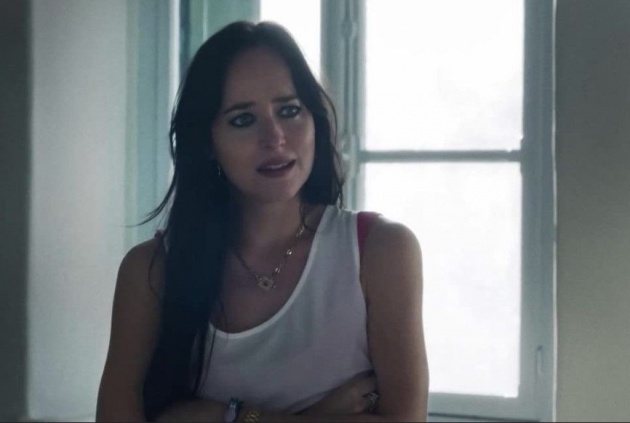 Pictured: Nina (Dakota Johnson) in a scene from the American film, 'The Lost Daughter', adapted from Elena Ferrante's novel and directed by Maggie Gyllenhaal. Still courtesy of Netflix
Leda finds her gaze drawn to Nina in her bottom hugging black swimsuit. She helps the young woman after her child goes missing. Leda finds the child in the forest and carries her back to her distraught family. Then the child starts crying. She has lost her doll. With a start, we discover what has happened to it.
The doll becomes a proxy through which Gyllenhaal explores attitudes towards motherhood. As the search for it intensifies – posters are placed around the resort, the child screams in the company of adults – we become steadily more anxious.
Leda is warned off the family by waiter Will (Paul Mescal). 'I admired what you did at the beach. But don't do it again,' adding, 'they are bad people.' When she attempts to contact Nina by phone, unable to enter the family's well-appointed villa, she spies her in an embrace with Will. The pair are having an affair. We expect Nina to contact Leda, now that she has her number. Instead, she sends Will.
The sense of anxiety increases when one of the male members of the family returns. Leda sees two men standing by what she believes is her car and asks for them to let her leave. However, it isn't her car; hers is parked away from them. Leda corrects her mistake.
Leda is offended by a group of young men who disrupt her trip to the cinema. She visits an empty box office and summons an employee. The young men pretend to be quiet before cursing her and laughing. As Leda leaves, a man stands up and says 'enough'.
The film ends with a single unexpected act of violence as the gift of a hat pin is repaid. It has moments of light relief as well. In the bar where Leda has a meal, Lyle leaves a card game to talk to her. Leda knows the routine, endures the chat and then asks that she be allowed to finish her dinner. He returns to his game but then she walks over to him and whispers in Italian in his ear. The scene is unexpected and funny; Leda is content to receive male attention but only on her terms.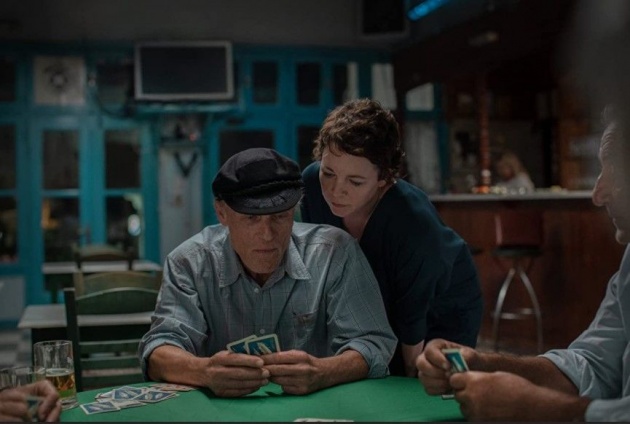 Pictured: Leda (Olivia Colman) speaks Italian to Lyle (Ed Harris) in a scene from the film, 'The Lost Daughter', adapted from Elena Ferrante's 2006 novel by writer-director Maggie Gyllenhaal. Still courtesy of Netflix
There are a few crude touches. The fruit in Leda's apartment is rotten underneath – as obvious a metaphor as you could encounter. Dickon Hinchliffe's score owes a debt to the opening of the Moody Blues' song 'Nights in White Satin'. These aren't enough to affect our enjoyment. There are treats too: Leda/Colman singing along to Talking Heads' 'People Like Us' and dancing with Lyle under the watchful gaze of Callie and her family. On two occasions, fruit drops from the tree as if thrown by someone, puncturing Leda's skin. Having found the young girl, Leda is treated to Callie and Nina staring at her, their intense looks expressing gratitude mixed with suspicion. Noticing Leda's injured skin, Callie rushes to treat it with cream. She's solicitous but motivated entirely by getting a transaction out of the way – like tipping the gardener.
Leda sees something of herself in Nina and has something to tell her – that the moment of despising your children doesn't pass like depression. 'I'm an unnatural mother,' Leda confesses. Viewers will take issue with this statement. Parenthood is a complicated business; there is no 'natural' primal response that lasts 24/7. Gyllenhaal's achievement is to make a gripping, emotionally honest film, with (by the director's own admission) the veneer of a thriller; one that deserves and rewards the widest possible audience.
Reviewed at Curzon Aldgate, East London, Screen Three, Thursday 30 December 2021, 11:10am screening