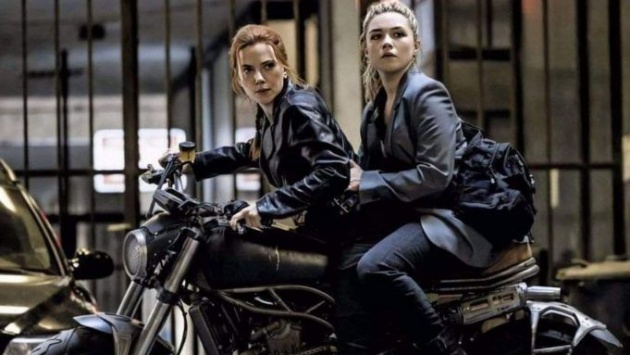 Pictured; 'I thought you Avengers got fancy jet planes.' Yelena (Florence Pugh) admonishes her fake sister Natasha (Scarlett Johansson) in the Marvel Studios movie, 'Black Widow', directed by Cate Shortland. Still courtesy of Marvel Studios / Disney
Contains spoilers
When Marvel Studios developed the standalone movie Black Widow, they reached out to a number of women directors because they wanted the film to better represent 'the female perspective'. Amongst those invited for an informal interview (and subject to a non-disclosure agreement) was Argentine auteur Lucrecia Martel, whose last film, Zama, a critique of colonialism, is very far from commercial fare. 'Don't worry about the action scenes,' she was told, 'we'll get somebody else to do those.' 'Actually, I'd like to direct the action scenes,' replied Martel. Unsurprisingly, she didn't get the gig. Instead, Marvel Studios hired Cate Shortland, whose most recent film, Berlin Syndrome, about the kidnapping of an Australian tourist, was at least in the thriller genre. Shortland is skilled in maintaining a degree of tension. However, superhero movies are not known for their heart-stopping suspense, rather the flair or power that the hero displays in defeating the super villain. Natasha Romanoff (Scarlett Johansson), also known as Black Widow, doesn't have super-powers, but is a highly skilled fighter, a trained assassin who joined the forces of good, otherwise known as the Avengers ™. Johansson has played the role in six previous movies from Iron Man 2 (2010) to 2019's Avengers: Endgame. Without wishing to engage in spoilers, Black Widow is her farewell to the role. It is not a spectacular bow-out, rather an attempt to showcase the character. It is also, to some extent, a variation of the 2018 Jennifer Lawrence picture, Red Sparrow, with a little bit of the television series, The Americans, thrown in.
It is the familiarity of two plot elements that really sinks the movie. The film begins in Ohio 1995 as we are told through one of those huge, screen-filling captions that, for a few seconds at least, blocks out our view of Ohio, 1995. The young Natasha (Ever Anderson) and her sister Yelena (Violet McGraw) are playing in the woods and catch a glimpse of fireflies (bioluminescent insects) around trees. By coincidence, this exact same image features in Carlson Young's alternate-dimension movie, The Blazing World, which debuted at the Sundance Film Festival earlier this year. The children's happy bubble is burst by the arrival home of papa (David Harbour) who explains to mama (Rachel Weisz) that they have to leave within the hour. 'Remember that I said one day we'll go on a big adventure,' he tells Natasha. Well, it's time for them to leave their old life behind, head for a small airfield and board an airplane to fly to the mother country. All four of them are Russians pretending to be as American as apple pie – even though the first apple pie dates back to England in 1381. (OK: as American as apple pie and ice cream.) They are not even biologically related. The big prologue ends with papa lying on the wing of an airplane opening fire at the [SHIELD] agents in pursuit, led by Secretary Ross (William Hurt, in de-aging make up). Personally, I thought the force of the wind against the wing (not a Bette Midler song) would send papa spiralling into the sky below, but this is a Marvel movie and physics is something that happens to other people. He scrambles in so that they can rendezvous with their paymaster, Dreykov (Ray Winstone), who then promptly puts the two young girls to sleep in order to ship them to assassin school.
Sadly, this is not an origins movie, more a fake-family reunion picture, in which Natasha teams up with the adult Yelena (Florence Pugh) and their two fake parents to learn the life-lesson, 'our family - it felt real to me' and to take down Dreykov and his plot to use an army of mind-controlled widows to conquer the world.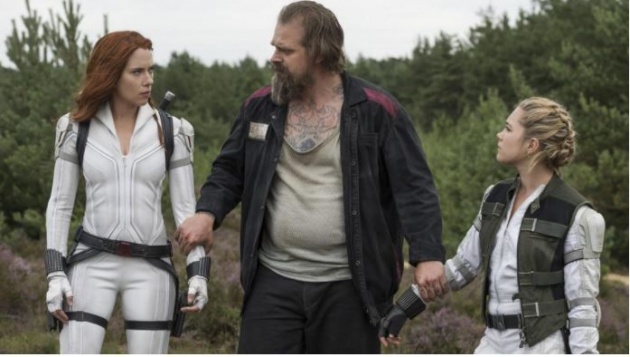 Pictured: 'I don't want to be a White Russian'. Alexei (David Harbour) aka Red Guardian, bonds with his two fake daughters, Natasha (Scarlett Johansson) and Yelena (Florence Pugh) in a scene from Marvel Studios 'Black Widow', directed by Cate Shortland. Photo: Jay Maidment. Courtesy of Marvel Studios / Disney
The film, scripted by Eric Pearson from a story by Jac Schaeffer (the head writer of WandaVision) and Ned Benson (The Disappearance of Eleanor Rigby) does not break any new or interesting ground. Natasha has a fixer, Mason (O-T Fagbenle) whose sole job is procure vehicles to get Natasha from plot point A to plot point B – and complain a little in a semi-amusing manner. This allows Natasha not to worry about visas or being mistaken for a drug smuggler. There are no drug smugglers in the Marvel Cinematic Universe. Jet-setting between locations either identified as a capital city (Budapest) or a country (Morocco) depending on Marvel viewers familiarity with the names – how many of them would recognise Rabat or Casablanca – the film builds to a climax on sky city where the infamous Red Room is located – and an homage to the 1979 James Bond film, Moonraker. In one blink-and-you'll-still-see-it moment, a clip featuring Roger Moore and Michel Lonsdale is glimpsed on a TV screen.
So what exactly did Marvel Studios hope that Shortland would bring to the party, bearing in mind that they could have had Martel's off-kilter framing, dry humour and groups of women calling out a peeping tom? Comedy – specifically the lively Russian-accented banter between Yelena and Natasha. Johansson, who excels in the action scenes, is not a classically trained actress and does not really do accents. Besides, she might be called out for taking a role from a Russian-speaking actress. Natasha's superhero landing – one knee bent, the other left outstretched, hair tossed-back - is the subject of Yelena's gentle mocking, after they have the let's-fight-each-other brief moment of antagonism, when Natasha arrives at Yelena's safe house. (Yelena doesn't do 'flat share'.) Sure enough, towards the end, Yelena mimics Natasha's landing and exclaims as if to say, 'it's harder than I thought'.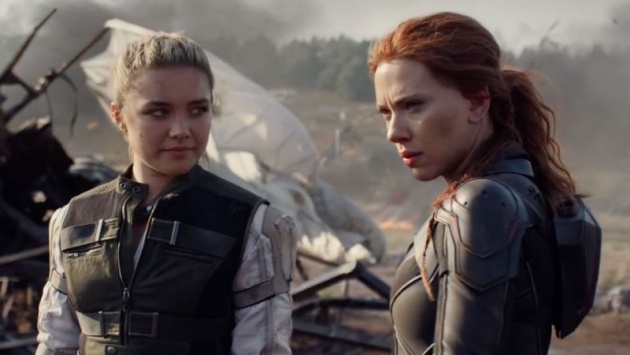 Pictured: 'Nice party, sis.' Yelena (Florence Pugh) turns to her fake sister Natasha (Scarlett Johansson) for a post-fight analysis in the Marvel Studios superhero movie, 'Black Widow', directed by Cate Shortland. Still courtesy of Marvel Studios / Disney
The not-very-sophisticated plot involves Natasha and Yelena in a car chase in Budapest in which they exchange wise-girl banter. This could be a scene from a Bad Boys movie, though in that franchise, Will Smith and Martin Lawrence would be doing the chasing. Natasha's signature line is, 'I'm done running' – cue for much leaping, punching and the use of automatic weapons where appropriate. For all intents and purposes, this is a Scarlett Johansson workout video.
At a certain point they decide to break out their fake papa from a Russian prison, because, they assume, he will know where the Red Room (Dreykov's hideout) is. Cue a scene in which papa, aka Alexei Shostakov aka Red Guardian, once the pride of the Russian Federation, but now barely able to get into his super suit (and, like Mr Incredible, he does try). He demonstrates his power in a series of comical arm-wrestling matches, which are almost over the top, as opposed to Over The Top, a comical Sylvester Stallone arm-wrestling movie. Needless to say, Alexei has no idea where the Red Room is, but maybe their fake mother, Melina Vostokoff, knows.
Natasha's guilty secret is that she was responsible for the death of Dreykov's daughter, who was collateral damage in an operation to kill the young girl's father. There is a biologically superior woman (Olga Kurylenko) who is on Natasha's trail. It is no surprise to discover who she really is. Natasha desperately wants to say sorry.
The free-fall battle in the sky homage to Moonraker is the film's raison d'être, not before Natasha has to face a group of Dreykov's highly trained widow warriors. Natasha is programmed not to hit Dreykov but in one extreme (head-banging) act of violence, overcomes this.
I would suggest that this scene, more visceral than most in a Marvel movie, is what Shortland brought to the film – the desperate, last-ditch effort, pain is better than letting Dreykov get away with it gesture.
Like so many 2021 films, Black Widow was delayed because of the Covid-19 pandemic. It received a hybrid release - in cinemas, where it has earned to date $171 million in the United States – and on the cable channel Disney +, where it can be rented for a premium fee. The loss of theatrical revenue has driven Johansson to sue Marvel for breach of contract and loss of profit-related earnings. (It is her last film in the role, so why not?) Even in spite of the hybrid release, Black Widow is one of the highest grossing films of the socially distanced US box office summer. Worldwide, the film has grossed $350 million, recovering its $200 million production budget. Shortland has proved that a woman can helm a Marvel superhero blockbuster and that the result can - just about, in difficult circumstances - turn a profit. The film itself is rather forgettable. This isn't down to Shortland's direction, but the film's limited room for manoeuvre. Every so often, there is a reference to another Marvel superhero – Tony Stark aka Iron Man or Captain America – just to remind the audience of the film's lineage. The post-credit sequence features a character from the Marvel TV series, The Falcon and the Winter Soldier, aka Elaine from Seinfeld. A spin-off is promised, featuring Florence Pugh, whose career isn't unduly affected by the movie, but don't bet on it.
Reviewed at Cineworld Leicester Square, London, Screen Five, Saturday 31 July 2021, 17:10 screening