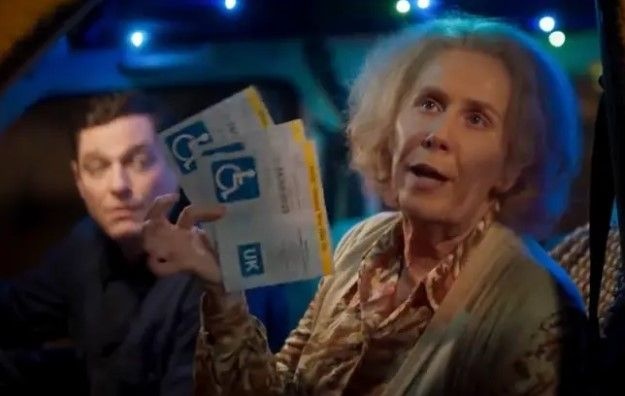 Pictured: 'And yet I have.' Joannie Taylor a.k.a. Nan (Catherine Tate) shows off three disabled parking permits watched by her grandson Jamie (Mathew Horne) in 'The Nan Movie' co-written by Tate and Brett Goldstein and directed by Josie Rourke. Still courtesy of Warner Bros UK & Ireland
Unlikely to travel far outside of English-speaking countries – a bit like Brexit, really – The Nan Movie is notable for the absence of a director's credit. That doesn't mean it was rudderless; it started production with Josie Rourke (Mary, Queen of Scots) at the helm. During production, Rourke and co-writer-star Catherine Tate had a bit of argy-bargy as they say in South London to the extent that Rourke is only listed as executive producer and the co-writer of two songs. A credit reading 'A Catherine Tate Film' confirms that creative differences were not overcome.
The Nan Movie is a spin-off from The Catherine Tate Show (2004-9), that featured the titular actress in a series of sketches featuring recurring characters like Lauren the Essex schoolgirl who makes inappropriate suggestions (catchphrase: 'am I bothered?') and Joannie Taylor, aka Nan, the foul-mouthed East London grandmother who makes inappropriate comments. Tate's characters are keenly observed stereotypes who dominate every sketch. The actress is best known outside the UK for playing Donna, companion to David Tennant's time-travelling Doctor Who between 2006 and 2009 in the long-running British science-fantasy series. Nan was previously the subject of a TV special in 2014 and a short-lived TV series in 2015. Without an extended cast of characters around her to catalyse storylines, a single character cannot sustain a television series. However, Nan is perfect movie spin-off material; you can see why Tate, working with co-writer Brett Goldstein (Superbob) opted for the latter, in particular choosing the road movie format.
Women directors have a solid track record in TV spin-offs. In the US, Penelope Spheeris directed both Wayne's World and The Beverly Hillbillies while Betty Thomas helmed The Brady Bunch Movie, I Spy and Alvin and the Chipmunks – The Squeakquel. In the UK, Mandie Fletcher re-united with writer-star Jennifer Saunders to direct Absolutely Fabulous – The Movie. Movie spin-offs put established characters in unfamiliar settings and let them fly. Storylines feature an emotional arc, though this is tempered by the fact that situation comedy characters are fundamentally resistant to change.
The film offered Rourke the opportunity to shape Joannie's backstory. Here, her contribution is most evident. The flashbacks are less crude than the framing road movie; Tate's performance is toned down. Moreover, they give the film an emotional core that doesn't slip into sentimentality.
The rest of the film - clearly what fans had come to see - is crude and obvious up to eleven. Nan is contrasted with her grandson, Jamie (Mathew Horne), who is mindful where Nan is abrasive. In the film's worst joke (there is competition), he drives a van with the logo 'Crafts Undo Negative Thinking', the acronym being a vulgarity. Nan is the sort of lady who would shower praise in one breath and curse in another. When it comes to food, she is dismissive of anything foreign-looking and she haggles for a Robert Mugabe statue convinced it is the news reader Trevor McDonald. In short, Nan is exactly the sort of little Englander who would vote for Britain to leave the European Union. Indeed, she enjoys Jägerbombs with a complete lack of irony.
Nan learns that her sister, Nell (Katherine Parkinson) is dying, but is in no mood to see her; the pair haven't spoken for decades. Jamie, who finds Nell's letter, is keen to heal the rift. Instead of driving to Coventry where she hopes to redeem her 'Wowcher' for a 'Hollywood' (spa treatment), he takes her first to Liverpool, then to Dublin, Nell residing on an 'island off the coast of Ireland'.
Tate exercises her talent for improvisation, messing with the craft products in Jamie's van. In the most inspired gag, she puts pipe cleaners in her mouth and exclaims that she was swallowed a multi-coloured tarantula. (I laughed.) She gets mileage (sorry) out of the nutritionally vague meat snacks that she takes along for the ride and for urinating into Tupperware. As the van jolts, she apologies, 'sorry – should have put the lid on'. In the least inspired improvisation, she mangles the name 'Sandi Toksvig' (co-host of The Great British Bake Off).
'Do you still do those little animations?' Nan asks Jamie. 'Yeah, I've got thirty followers now,' he responds proudly. This is by way of justifying the crude animated interludes that use photographs of Jamie, Nan and the van, superimposing googly eyes. These interludes act as a bridge and allow the filmmakers to stage sequences cheaply – including a car chase.
In Liverpool, Nan meets her nemesis, Mahler (Niky Wardley), formerly a social worker who was sacked following to Nan's outright lies regarding the theft of Sky satellite television transmissions. Mahler is now working for the police and complains that Jamie's van is parked outside a hostel across three disabled bays. 'I have three disabled badges,' counters Nan, waving them like a fan. As Nan plays with the breast pocket zips from officer Mahler's jacket, Mahler responds with a deadpan sour face. Officer Mahler pursues Nan throughout the rest of the film, though the payoff is underwhelming.
Set pieces include Nan heading downstairs ostensibly to reprimand a group of loud Australians, only to join them in drinking games, then heading off clubbing, where she inadvertently takes a popper, having dropped her own pill on the dancefloor. Once in Dublin, Nan stops off for a drink and offers a lift to Mick (Tom Vaughn-Lawlor), a self-confessed troubled man. He turns out to be a vegan activist, who handcuffs himself to Nan and takes her with him to blow up a chicken farm, having set the birds free first. The 'MMM' tattooed near his wrist stands for 'Meat Means Murder' and not, as Nan remarks, 'Mick, Mick, Mick'. In uttering the latter, Tate channels the London comedian Jim Davidson ('nick, nick, nick'), whose right-wing political convictions aren't ones many would admit to sharing. In the finale, Nan arrives at the 'island off of Ireland' and gets a surprise.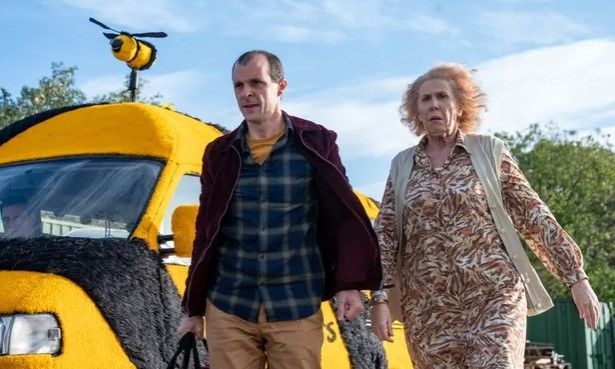 Pictured: 'Come with me, we're liberating chickens.' Mick (Tom Vaughn-Lawlor) and Nan (Catherine Tate) in a scene from the British comedy, 'The Nan Movie', co-written by Tate and directed by Josie Rourke. Still courtesy of Warner Bros UK & Ireland
At its best, the film tackles racism through Walter (Parker Sawyers, best known for playing Barack Obama in the romantic drama, Southside With You), a black American GI who falls for Joannie but is seduced by Nell. At a dance, white British soldiers are told by the women, 'we don't want your kind here,' an appropriation of their response to Walter. The relationship between Walter and Joannie is credible, the latter charmed by Joannie's humour. Their relationship is charted through a series of cinema trips during which Nell asserts herself, edging Joannie out. Meanwhile Joannie is courted by the steadfast but seemingly uncharismatic Terry (Jack Doolan), who is there for Joannie when she needs him. Their blossoming relationship – and its decline – is told through dialogue-free vignettes involving ice cream cones; towards the end, Joannie hides one behind her back to surprise Terry in hospital. The sequence is reminiscent of Carl Fredrickson's romance montage at the beginning of the animated film, Up, and achieves a similar impact.
Tate has always based her comedy around socially divisive issues, for example the treatment of homosexuality, seemingly endorsing the so-called norm but undercutting it. Here, she tackles not only vegan activism but also gender dysphoria. The climactic punchline might seem a joke too far, Nan endorsing heterogeneity in spite of the alternative being presented as unthreatening. Some of the reviews of The Nan Movie do not get Tate's comedy, that she is taking a position to an absurd level to show how ridiculous it is. In the case of vegan activism, Tate mocks the militancy of the most extreme form of protest. The film was shot in 2019, before extreme climate activism (Extinction Rebellion) took off, otherwise Tate might have changed her target. Nan's opinions aren't a version of Tate's; they shouldn't be taken as the film's message.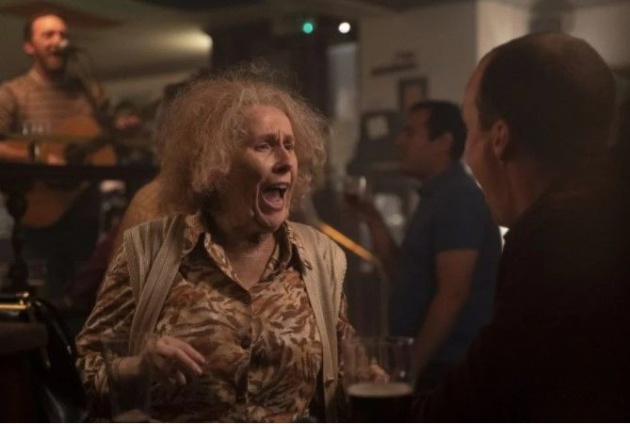 Pictured: Nan (Catherine Tate, left) in full sing opposite Mick (Tom Vaughn-Lawlor) in a scene from the British comedy, 'The Nan Movie', co-written by Tate and directed by Josie Rourke. Still courtesy of Warner Bros UK & Ireland
Some of the film is extremely subtle. In a throwaway line, Jamie remarks that he hoped that the bee on the top of his van would be 'iconic'; British bees are the very species threatened by Britain after it exited the European Union and subsequently planned to abandon environmental protections. At the climax, when Nan hugs another character, her fingers hover above and twitch before she completes a clasping movement; Tate is strong on performance details.
The running 'roll call' gag – characters bursting into rhyming song ('My name is Nan / From London Town') – yields a chuckle. The film embraces stereotypes only to tackle them. Whether the audience get the whole joke is moot. Certainly, The Nan Movie, which ends with Joannie accepting her neighbours – she believes they are 'naturalists' because they get fresh vegetables delivered in a crate - generates a good many laughs. The film may not travel far, but it knows its audience.
Reviewed at Cineworld Dover, Kent, South-East England, Friday 18 March 2022, 20:30 screening