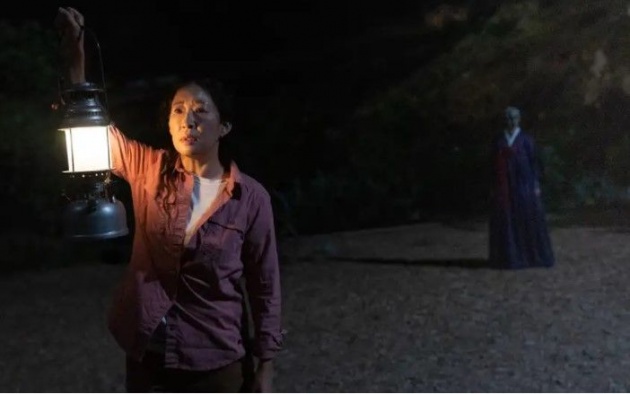 Pictured: 'Chris, dinner's on the table!' Soo Hyun aka Amanda (Sandra Oh) fails to notice Umma behind her in a scene from 'Umma', a horror film written and directed by Iris K. Shim. Still courtesy of Stage 6 Films/Sony Pictures
Stage 6, the specialist arm of Sony Pictures, deserves credit for releasing a high number of films by first-time female writer-directors. In the last two years, we've seen The Broken Hearts Gallery (writer-director Natalie Krinsky), Yellow Rose (a Filipino-American musical written and directed by Diane Paragas) and A Mouthful of Air (writer-director Amy Koppelman). The company is described as acquiring and marketing low-budget films, having slam-dunked with the Insidious movie franchise almost a decade ago. Their latest release is Umma, a Korean American horror film in which a reclusive, electricity-fearing Korean American accountant turned beekeeper, Amanda (Sandra Oh from the TV series Grey's Anatomy and Killing Eve) faces the spirit of her dead Umma or mother. Meanwhile, Amanda's daughter, Chris (Fivel Stewart) comes to understand that her mother might literally be gaslighting her – seriously, Amanda has no battery-operated flashlights, only gas lamps.
As horror films go – and this one is under 80 minutes long, though imdb alleges it runs 83 minutes (the movie database website is gaslighting me) – Umma underperformed at the US box office in its opening weekend (18-20 March 2022), grossing only $915,290 from 805 screens. Its screen average was only $500 below X, the other big horror film release of the weekend, but it isn't destined to live long in multiplexes across North America. As Korean American films go, it won't reach the relative high-water mark of Lee Isaac Chung's Minari (cumulative worldwide gross $15 million), and it could negatively define Korean Americans as clingy domestic abusers. There is a point at which Amanda and Chris slug each other in the face – a sort of slap-punch - and I briefly mused, 'I thought we weren't supposed to see women being hit in the face anymore'. Still, Umma is compact and gets to the point, even if it promises a moment when Sandra Oh is possessed by electricity and causes chaos. Reader, this does not happen.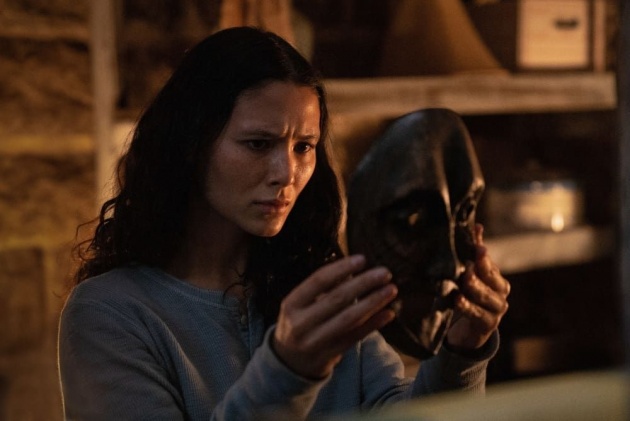 Pictured: 'Something for Hallowe'en.' Chris (Fivel Stewart) makes a discovery in the American horror film, 'Umma', written and directed by Iris K. Shim. Still courtesy of Stage 6 Films/Sony Pictures
Like all good horror films, Umma begins with a 'grabber', a striking yet enigmatic opening in which a vulnerable character screams while electricity races across the screen. The traumatised young girl is young Soo Hyun (Hana Kim) who we discover was punished by her mother for being disobedient. Now an adult, with her name changed to Amanda, Soo Hyun lives alone with her daughter and keeps bees. She refuses to allow anything electrical in the house and uses a gas oven. Poor Chris apparently pleaded to be home-schooled and chose beekeeping as the perfect mother-daughter hobby. Nevertheless, Chris resents being laughed at by other children – she rides a bicycle, as if that is a crime against nature. She dreams of leaving the nest and going to (the fictitious) West Mesa University, which may as well be Whatsamatta U, if you are fans of The Adventures of Rocky and Bullwinkle.
The family are visited by the friendly and faux ignorant storekeeper Danny (Dermot Mulroney) who is very happy to take Amanda's jars of honey. 'I can't sell these fast enough,' he gushes. 'They've gone viral, endorsed by someone called an influencer. I don't understand it.' Of course Danny understands it but he's trying to be charmingly gauche, and we remember with some pleasure that Mulroney was once a credible leading man in films such as My Best Friend's Wedding. Is it too much to ask for him to lean against Sandra Oh on a movie poster? Yes, it is. Danny knows not to park too close to the house and to leave his mobile phone in the glove compartment. He has heard about Amanda's reaction. What happens if Amanda is exposed to electricity? 'She gets sick,' Chris tells River (Odeya Rush), Danny's college-age niece. The two girls exchange niceties in Danny's store. 'I like your make up,' says Chris. 'I like your freckles,' replies River. When Chris returns home with her face made up, Amanda asks, 'What's that?'
Amanda's quiet life is disrupted by the appearance of her uncle (Tom Yi), who comes bearing a box of Amanda's mother's belongings – and her ashes. 'When she died, she called out your name – and you weren't there,' moans the uncle who passed Chris on the dusty road and spoke to her in Korean. Not only did Chris not understand him but she didn't even think to ask whether they are related – her mother is the only Korean in town. Uncle describes Amanda's mother as a powerful woman, 'you know what she was like' and can't wait to get rid of her belongings, though not without moaning that Amanda is hard to find. Living without electricity has its advantages – no social media presence. Amanda eventually tells Chris that they had a visitor, after Chris finds an old Korean gown and tries it on, standing by the window (as you do) in order to give Amanda a fright. 'Where did you find that?' Amanda asks.
Early in the film, there is a lightning storm and Amanda has a panic attack. 'Don't worry,' Chris consoles her, 'the lightning is far away. It can't get you.' However, even if lightning doesn't strike, Umma might. Amanda starts seeing and hearing her mother, which on a farm in the middle of nowhere, isn't great – and she is unable to call the emergency services. Her insurance premium must be huge.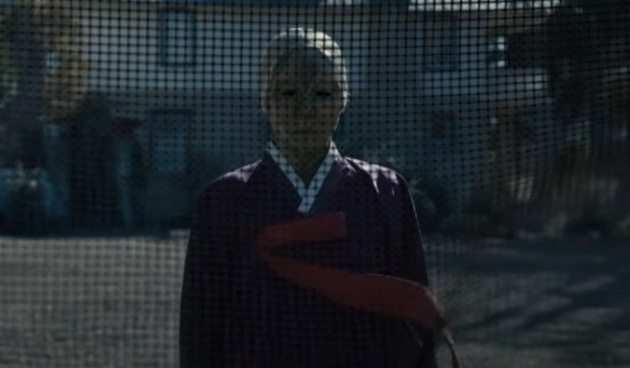 Pictured: 'Beekeeper hat on - here's Umma'. A scene from the American horror film, 'Umma', written and directed by Iris K. Shim. Still courtesy of Stage 6 Films/Sony Pictures
The film boasts Sam Raimi as an executive producer and includes an Evil Dead homage when a tentacle grabs Amanda and threatens to pull her into the ground. 'You call that buried?' cries the spirit of her mother in Korean. Umma and the film have something in common – they are both in need of a plot. Amanda/Soo Hyun continues to hallucinate. Beekeeper hat on, she sees Umma, beekeeper hat off, she doesn't. During game night – they play Rummikub – River and Chris leave Danny and Amanda to it. River reveals that she brought her phone. Chris is shocked but accepts that it didn't affect her mother. Something is up.
A few times, Amanda goes down to the cellar to store some goods away. We see a few lamps with plugs removed. You wonder fleetingly who takes away her garbage. Later, Chris will go down into the cellar and discover the power switch. It is at this point that I expected something explosive.
Amanda does indeed become her mother. It won't surprise you to learn that the final confrontation in which the spirit of the past is laid to rest is somewhat underwhelming. Shim doesn't fully embrace the film's genre elements. There is a notable absence of blood and gore. There is also very little suspense; this is low-stakes horror. The sound design goes into overdrive, though mostly during the end credits, during which creepy effects and string instruments are deployed.
Umma isn't subtle, but it features some nice bee photography – as well as a fantasy sequence in which bees gather at the window – maybe they want to see Chris in her gown. Oh is not particularly subtle in her performance but it is good to see her in a semi-villainous turn as the possessed Soo Hyun. Shim has assembled some unusual elements, but the horror genre makes for bland seasoning. Credit though for the cameo by the Kumiho, the nine-tailed fox spirit, reminiscent of a rabid Basil Brush.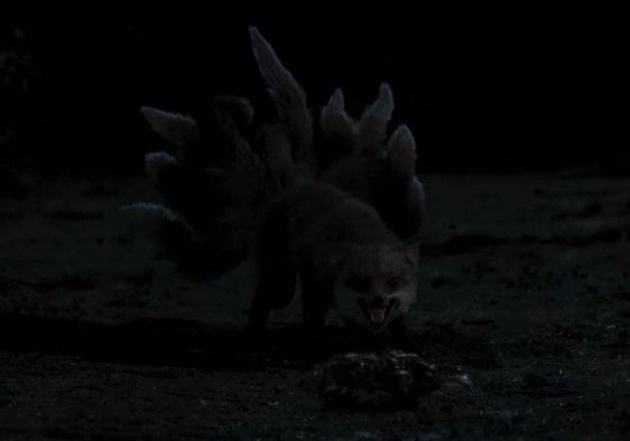 Pictured: Kumiho, also known as the fox with nine tails in a scene from the horror film, 'Umma', written and directed by Iris K. Shim. Still courtesy of Stage 6 Films/Sony Pictures
Reviewed at Cineworld Dover (Kent), Screen Four, Monday 21 March 2022, 19:30 screening