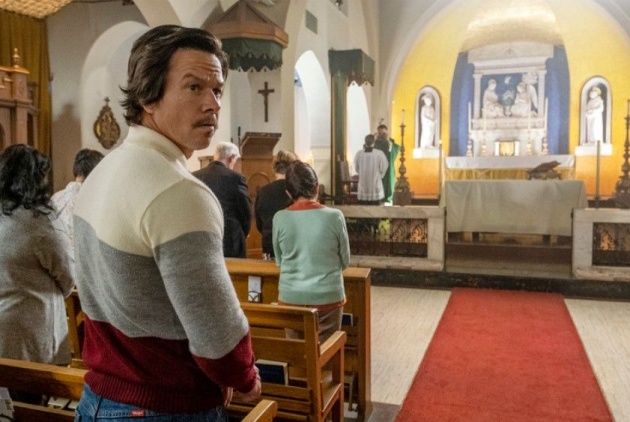 Pictured: Stu Long (Mark Wahlberg) contemplates his religion in the fact-based American biopic, 'Father Stu', written and directed by Rosalind Ross. Photography: Karen Ballard. Still courtesy of Sony Pictures Entertainment.
Father Stu is not your typical film by a woman director. It is the passion project of producer-star Mark Wahlberg, who plays the title role and bankrolled the production to the tune of 'millions and millions' of dollars. Based on a true story, it is a biopic of the Montana amateur boxer, Stuart Ignatius Long (1963-2014), who became a priest. Wahlberg runs the full gamut of showing he is in great shape at the start of the film in scenes set in the 1980s to being afflicted by a debilitating illness and a prosthetic face in the closing stages. Having failed to interest his first-choice director, David O. Russell, with whom he worked on Three Kings and The Fighter, Wahlberg shopped the project to debutante feature writer-director Rosalind Ross, the partner of Mel Gibson (Gibson played Wahlberg's dad in the comedy Daddy's Home 2). Ross' work is proficient. She veers away from one scene that a male director might have embraced, the consummation of the title character's pursuit of a Mexican American woman, Carmen (Teresa Ruiz); there are no sex scenes here. Otherwise, her staging is functional, though the film walks a tightrope between coarse, expletive filled humour and a character who, as the title suggests, embraces Catholic religion and seeks ordination.
Gibson, who has a role in the film, naturally as the title character's extremely wayward father, is one of cinema's most visible Catholics, having written and directed The Passion of the Christ, which to me was little more than religious torture porn. It remains one of American cinema's most commercially successful, independently produced films. When he was Wahlberg's age (51) - a mere 15 years separates the two men – Gibson had taken a sabbatical from acting to stay behind the camera. Without dwelling on his life off screen, it is fair to say that he is no longer the bankable, charismatic star he once was, though he retains the capacity to surprise, evidenced by the success of the 2016 pacifist World War Two drama, Hacksaw Ridge, starring Andrew Garfield, which he directed.
Gibson is the second person we see in Father Stu. As Bill Long, he sits in an armchair clasping a beer can while berating his young son, Stu (Tenz Call) who is prancing round a dimly lit room – the blinds are closed - singing along to a record. 'The only thing you have in common with Elvis is a love of hamburgers,' moans Bill, who is the kind of father who withholds approval, nursing instead bitterness and rage. The next time we see Stu, he's an adult (played by Wahlberg), dancing around the boxing ring. The boxing announcer describes Stu as 'past his prime', an on-the-nose phrase if ever I heard one. Stu goes some distance in the fight before losing - we don't see the knockout, just the accumulation of wounds. In a doctor's office, he is advised never to box again – the real-life Long suffered a jaw injury. In spite of having very dodgy facial hair, whose evolution over the decades represents the Taming of the Stu, our hero heads to Los Angeles to pursue a career as an actor. 'Look up your father while you're there,' advises Stu's mother, Kathleen (Jacki Weaver, still retaining the capacity to be the most threatening person in the room as she fixes Wahlberg with a determined stare).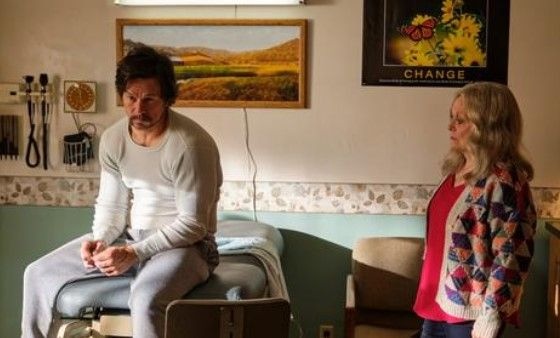 Pictured: 'Listen to the doctor - no more boxing.' Stuart Long (Mark Wahlberg) gets some stern advice from his mother, Kathleen (Jacki Weaver) in a scene from the fact-based drama, 'Father Stu', written and directed by Rosalind Ross. Photography: Karen Ballard. Still courtesy of Sony Pictures Entertainment
Stu and his father are bound by a tragedy – the death of Stu's younger brother. Before leaving for LA, Stu stops by his brother's grave late in the evening and punches a statue of Jesus. Police appear. 'You're Bill Long's son?' an officer half-asks, half-tells Stu, shining a torch at him. 'That's right.' The officer snorts. 'Like father, like son.'
Checking in to a motel, where he fails to impress the desk clerk, Stu takes a job in the butcher's section of a grocery store, asking (it seems) every customer whether they work in movies. None of them do. Stu visits a male producer, who says he might have work for him if he is prepared to do something for him. The camera pans to the guy's crotch. Stu pins the guy against the wall by way of reply. 'Can you call the next person in,' asks the producer feebly as Stu leaves. After Stu continues to vent his anger, knocking over a piece of equipment, the producer calls to his assistant: 'oh, can you bring in another camera?'
Stu gets his big break – a mop commercial, which Kathleen conveniently watches on television after a telephone call with her son. This allows him to rent his own apartment.
By this point, the film has paid homage to two of Wahlberg's roles, that of Dirk Diggler, the porn star protagonist of the 1970s-set drama, Boogie Nights, and Micky Ford, the boxing protagonist of The Fighter – in the latter, Wahlberg's work was overlooked in favour of his co-star, Christian Bale. Wahlberg is associated with roles where his character does grunt work, an officer never the chief. Generally, he's starred in more box-office hits than misses and has done solid work for the actor-turned-director Peter Berg, with whom he has worked five times, from Lone Survivor to Spenser Confidential. He's pretty good as the straight man in comedies such as The Other Guys, Ted (and its sequel) and Daddy's Home. For the most part, he stays away from high-concept and comic-book movies.
Father Stu departs from the real Stuart Long's story when charting Stu's initiation into Catholicism. He embraces Catholicism to impress a (fictitious) Mexican American woman (the aforementioned Carmen) who he meets at the grocery store where he works – she wants tinned fish; he tries to interest her in meat. Her resistance to him – in true rom-com, but also stalker fashion – spurs him on. He spots her entering a church and follows her inside. There he meets a group of earnest individuals with whom he has nothing in common, who are seeking ordination. One of them introduces himself as Ham (Aaron Moten). 'That's my name,' he insists, continuing the use of meat-based humour. All the young men in the room are clean-shaven in neat, freshly ironed clothes, in contrast with Stu who looks like he has mistaken the church for a truck stop. The men deduce Stu's motives straight away. Stu is happy to volunteer as 'security'. He ends up offering to help Carmen in a kindergarten class. 'I'm good at acting,' he insists.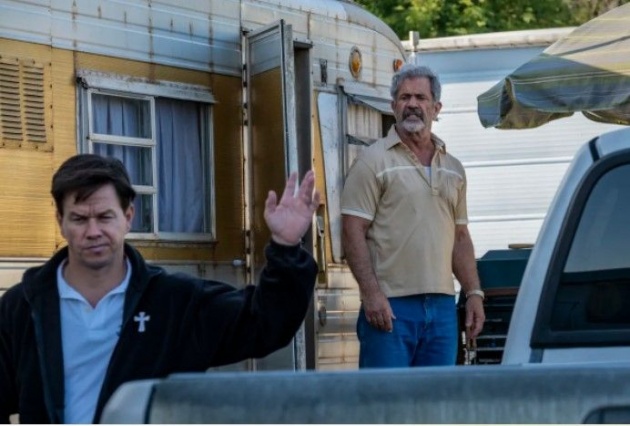 Pictured: 'I can't accept advice from a guy who lives in a caravan.' Stuart Long (Mark Wahlberg) waves goodbye to his father Bill (Mel Gibson) in a scene from the fact-based American drama, 'Father Stu', written and directed by Rosalind Ross. Photography: Karen Ballard. Still courtesy of Sony Pictures Entertainment
Stu is far from the straight and narrow, calling on his father's place of work, a building site and trying to find his dad's car keys. 'Your kid's here,' Bill is told while he operates a crane. Stu is unsuccessful in his attempt to borrow Bill's car. The pair are mutually antagonistic, the necessary prerequisite for a character arc. By the end (not a spoiler) Bill is pushing Stu in a wheelchair to get to church on time after his car breaks down.
Some set pieces would play better if we could hear Stu's dialogue. At first, I thought it was just me, but Washington Post reviewer, Michael O'Sullivan described Stu as 'imperfectly intelligible, thanks to a mumbling delivery by the film's star'. Stu is at his most articulate speaking Spanish at the dinner table in front of Carmen's family. I know that Wahlberg works hard in front of the camera. In the dubbing theatre, though, he might have struggled.
Some scenes are ropey. A mysterious stranger in a bar sets Stu off on his righteous path right before a motorcycle accident almost kills him. Similarly, after Stu is diagnosed with Myositis and muscle deterioration ('it's like Lou Gehrig's disease') he visits a prison on crutches and addresses a group of inmates, giving one of them a barely credible 'your-family-might-not-love-you-but-Jesus-is-there-for-you' speech. The inmate appears taken in by it, the (non-Christian) audience less so.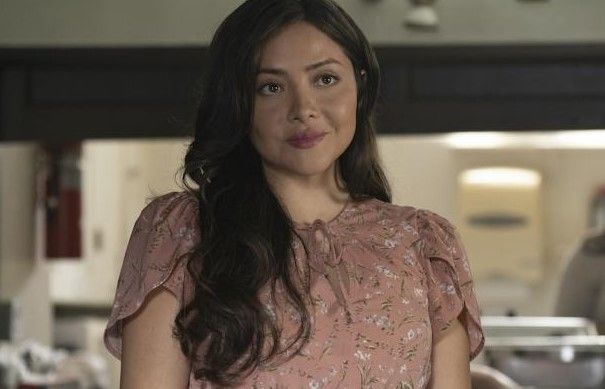 Pictured: Carmen (Teresa Ruiz) in a scene from the otherwise fact-based drama, 'Father Stu', written and directed by Rosalind Ross. Photography: Karen Ballard. Still courtesy of Sony Pictures Entertainment
In one of the better scenes, Stu prepares from his baptism in front of Carmen by taking off his shirt and showing off his muscles – a meet-cute if ever there was one. He coaxes Carmen into a karaoke duet with him of a Johnny and June Carter Cash song, where she out-performs him - in Church, she's had a lot of practice.
The film's comic tone is wobbly. Bill rushes to hospital after Stu's motorcycle accident convinced that he is dead and is disappointed to see Stu alive on a gurney – this after complained that a vending machine took his dollar. Bill initially expresses scepticism about Stu's conversion but ends up impressed.
The blend of fact and fiction makes for a coherent, if not especially effective drama, with Stu encountering a late obstacle to ordination in the form of Malcolm McDowell as Monsignor Kelly. 'You're asking the Catholic church to invest in you,' he tells Stu, preparing him for the worst. Stu can't help using coarse street language but insists on his sincerity, with all the passion of a basketball star being benched. In the end, in the film's version of events, Monsignor Kelly pulls some strings and Father Stu administers at a care home, inspiring residents to queue round the block. Who knew there was that much sin in care homes?
As a caption describes Stu's death, we see him in the boxing ring in his prime, in a final cinematic gesture of pathos. Wahlberg might have seen this as his shot at an Oscar but in reality, Stu converts to Catholicism out of self-interest and rarely helps others, except on his own terms. He tries to encourage a young man to join in a basketball game. 'I don't need to go out on the court to know that I'm bad at it,' the young man tells him. I expected Stu to turn him into a great player, but it does not happen. Besides, administering Catholicism in a care home is not the same as being on the street: 'Brian, you coveted your neighbour's shower gel. That's two Hail Marys and a bar of soap.' This religious drama feels surplice to requirements.
Reviewed at Cineworld Dover, Kent, South-East England, Tuesday 3rd May 2022, 19:30 screening