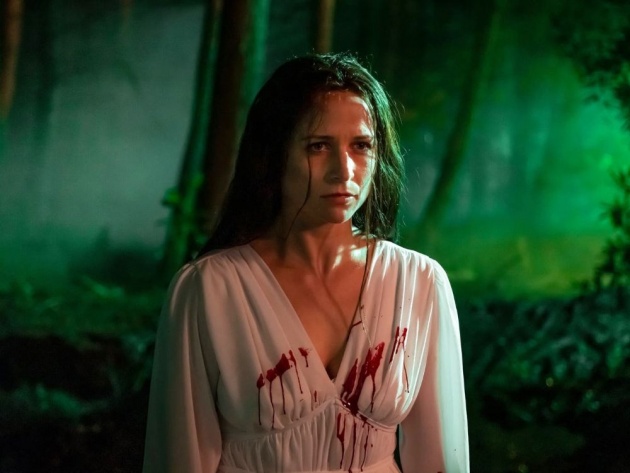 Pictured: Enid (Niamh Algar) goes to extreme lengths to investigate her sister's disappearance in director Prano Bailey-Bond's feature debut, 'Censor'. Photo by Maria Lax. Still courtesy of Vertigo Releasing (UK) / Timpson Films / Alamy / Film Four.
Censor, the debut feature from Welsh-born co-writer-director Prano Bailey-Bond, is getting plenty of love from film critics but significantly less from mainstream audiences. Set in Southern England in 1985, it is a film that responds to the tropes of so-called 'video nasties', lower-budget films with gratuitous sex and violence from America and Europe that could be rented from one's local video store with proof of age, but whose home viewing was uncontrolled. Magazines such as Fangoria made the public aware of such movies, with glossy spreads of gory content. The British Board of Film Classification was faced with the task of ascribing a rating, recommending cuts or outright rejecting the most violent and exploitative content. Moral crusaders at the time claimed such movies could deprave and corrupt, spawning copycat activity. One of the most notorious cases occurred in 1993 with the abduction, torture and murder of two-year-old James Bulger by two ten-year-old boys who had played truant from school, one of whom had been exposed to the 1991 horror film, Child's Play 3. In this particular case, there was no evidence that the murderer had watched it.
Bailey-Bond's film focuses on an unsolved child abduction. In Chorley Forest on 5 September 1965, Enid Baines (Beau Gadsdon) was out playing with her seven-year-old younger sister Nina (Amelie Child-Villiers). Nina didn't return. In the intervening years, the Baines family struggle to come to terms with her disappearance whilst Enid (played as an adult by Niamh Algar), who remembers nothing, took a job as a film classifier. We first meet her assessing a film-within-a-film in which a young woman bathed in red light in a forest and paralysed by fear is attacked by a shadowy figure. Bailey-Bond pastiches the style well but cuts away before showing us something truly disturbing. Indeed, we will often hear the screams and sounds of violence as they are assessed by Enid and her colleagues; Bailey-Bond doesn't reproduce the exploitative content of the films that inspired her.
Enid is absolutely convinced that her sister is alive. Leaving work in the late evening – we see her in the catacombs of concrete tunnels that connect Waterloo Bridge to Waterloo Station - she calls to a woman in front of her, who is much older than Enid expects. 'Sorry, I thought you were someone else,' she apologises. Enid is one of a motley crew of film classifiers that includes Sanderson (Nicholas Braun), the 'posh' (upper middle class) one, who claims eye-gouging is a homage to Shakespeare's King Lear or the cyclops, Anne (Clare Perkins), who exploits Enid's desire to stay late, asking her to type up her notes so she can leave early for a night out and Perkins (Danny Lee Wynter), the sensitive one, whose mother died recently and who invites Enid for a drink. Enid rebuffs him. Enid wears her glasses on a chain, the sort that a grandmother might use, with blouses that button to her neck. Her hair though is less neat than we might expect. Loose strands hang over the sides of her face like rolling tears. This is the one signifier of her trauma.
Invited by her parents (Clare Holman, Richard Glover) for a meal, Enid is presented with a death certificate for Nina. Her mother insists it is for the best. The family needs closure. Although Enid holds the certificate, she doesn't want to accept it. 'That's a copy for you,' mother says, before wanting to change the subject at the restaurant she had heard about where friends had a lovely meal.
'Doesn't it get to you?' Enid is asked by Anne after one particularly gruesome watch entitled 'Extreme Coda' (not shared with us). Enid claims she can remain detached. However, she and Sanderson are summoned into their boss' office to be told that one of the films they had passed, featuring a man who bites off a human face, has inspired an attack. The perpetrator is dubbed 'the amnesiac killer' on account of not being able to recall his crime. Moreover, Enid and Sanderson's names have been leaked to the press – 'I don't know how it happened,' adds Fraser (Vincent Franklin), the head of the team. In subsequent scenes, Enid ploughs her way through a throng of expectant press, keen for her explanation. She also receives an abusive phone call from an indignant (male) member of the public. How could she pass such a brutal film? The answer: it wasn't realistic.
Enid piques the curiosity of a visiting film producer, Doug Smart (the magnificently oily Michael Smiley) who leaves Fraser's office after a meeting. He pays Enid a compliment. 'If you're ever fed up banning my movies, you could be in one,' he oils. 'I don't fancy being raped and butchered,' replies Enid. Doug produces the films of director Frederick North, one of which he has submitted for certification. 'Perhaps you could slip me a fifteen,' he suggests salaciously.
Enid and Perkins sit down to watch 'Don't Go In The Church'. 'There won't be many places left that we can go,' remarks Enid in one of the film's few moments of dry humour. 'Bare title card, no music. That's unusual,' remarks Perkins. As the film begins, we see two teenage girls in the forest playing a game, before the younger is goaded by the elder into entering a shack, then taking an axe and hacking her to death (again we don't see it). Enid, who only managed to write the title and the director's name in her notebook is frozen in fear. The film seems to be inspired by her own story, her own private trauma. She vomits into a toilet – proper vomit, not that fake retching that we sometimes see in movies. 'That was pretty full on,' says Perkins. He tries to console her, but Enid's defences are up.
From then on, Enid becomes obsessed with the films of Frederick North. She approaches the archivist, Valerie (a magnificently haughty Felicity Montagu, heavily accentuating her consonants). 'Have you got a list of his films?' Enid shakes her head. 'It'll take at least a week,' Valerie purrs. Enid goes off the reservation, visiting Gerald's Videos and blackmailing the clerk to let her borrow an under-the-counter title, 'Asunder' featuring the actress Alice Lee (Sophia La Porta). The film features the usual accidental summoning of a demon. Enid notices an uncanny resemblance and shares this with her Jaffa Cake-deprived parents.
Enid's search takes her to the point of no return, a real piece of on-screen violence played for black comedy laughs. I respect why Bailey-Bond did this – the death is unrealistic and over-the-top as well as a response to misogynist filmmakers – but in doing so she sacrifices the integrity of Enid's very real trauma.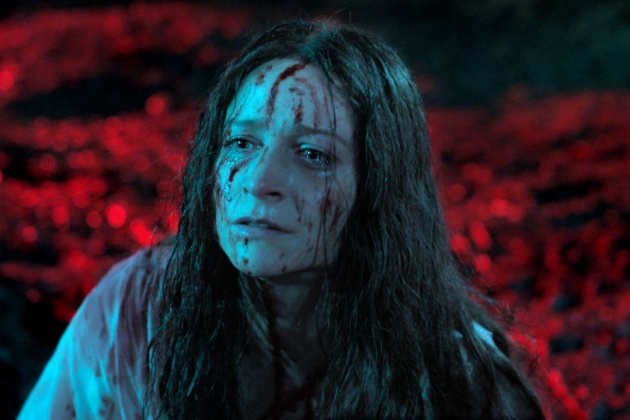 Pictured: Horror in blue and red. Enid (Niamh Algar) in a scene from 'Censor', a British film co-written and directed by Prano Bailey-Bond. Still courtesy of Vertigo Releasing (UK) / Magnolia Pictures (US)
Enid is absolutely not a victim as she 'takes control of her story' (to quote Frederick) and upends the conventions of low-budget horror filmmaking. The violence becomes even more unrealistic, paying homage to one of the death scenes featured in the film's opening montage of real video nasty footage. The finale takes the viewer into a fantasy landscape of wish fulfilment as we see another film ('reality') underneath, in just the same way that re-used video tapes show traces of films that have been recorded over.
Bailey-Bond and co-writer Anthony Fletcher give us much that we can decode, which is to say the identity of the real 'amnesiac killer' and the reason why Enid shouldn't go into the church, a place where confessions are heard. Quite a few scenes may not be real – not just the scene of Enid's mother turning round and saying in a scary voice, 'it's all your fault' but others as well. Indeed, the whole film with its mystery leaking of Enid and Sanderson's names may be one long unreliable narrative.
The film's title has a double meaning. Enid doesn't just censor images to protect others but does so to protect herself.
Trapping the viewer in a character's psyche is nothing new. However, Bailey-Bond is detached from her subject. Censor is not a film that sets out to scare us. It makes for an interesting comparison with writer-director Rose Glass' 2019 film, Saint Maud, another film with a double-ending – transcendence in Maud's mind replaced by a glimpse of her real suffering. The difference is that even as we cringe and then are horrified by Maud's choices, her behaviour is compelling to watch. We are less compelled by Enid. Her takedown of horror auteur Frederick (Adrian Schiller) is funny. Frederick is a caricature who in one moment tries to get Enid to reveal her true nature then tells her (in fruity language) to go away. He becomes a droll punchline.
Staying well away from the James Bulger case (child-on-toddler violence), Bailey-Bond doesn't trespass on the real question as to whether violent films deprave and corrupt. Instead, moral outrage is replaced by voices in Enid's head. Not just her dreams of her sister, informed by the films she has watched, but also her attempt to re-write the past. We have a very real opinion of Enid at the end of the film but no real explanation of the behaviour that she has forgotten, which appears to be driven by an extreme form of sibling rivalry. In writing this, I have encountered for the first time the word siblicide.
Bailey-Bond's award-winning 2015 short film, Nasty, about a 12-year-old boy, Doug, 'drawn into the lurid world of VHS horror as he explores the mysterious disappearance of his father' (thank you, imdb), sparked her into developing a feature on a similar subject. It even features an identical image of a figure in a dark forest. Censor offers the pleasure of period detail – remember when we could smoke on public transport? However, it lacks emotional force.
Reviewed at Sundance London, Picturehouse Central, Piccadilly Circus, Monday 26 July 2021, 09:00am press screening