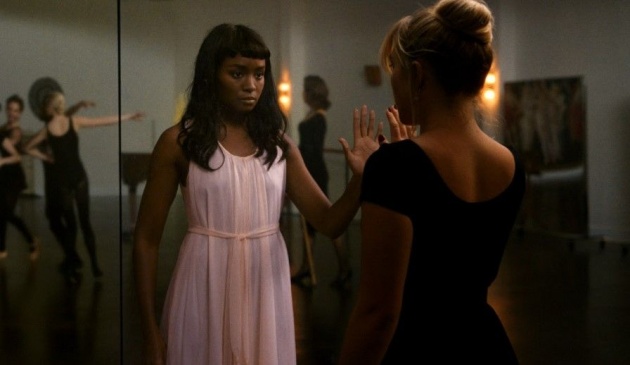 Pictured: Vision of a missing neighbour. Margaret (Kiki Layne) appears to Alice (Florence Pugh) in a scene from the psychological thriller, 'Don't Worry Darling', written by Katie Silberman and directed by Olivia Wilde. Still courtesy of Warner Bros Discovery
Judge the film not the gossip. That's the only appropriate response to the social media chatter surrounding Don't Worry Darling, a 1950s set psychological thriller directed by Olivia Wilde. You may know that Shia LaBeouf was replaced by singer Harry Styles shortly before shooting commenced, that star Florence Pugh did not attend the press conference that followed the film's first screening in Venice, that Styles appeared to spit into co-star Chris Pine's lap during the premiere and that 40 members of the crew signed a letter attesting to favourable conditions on set. During production, Wilde split with her husband, Jason Sudeikis, to begin a relationship with Styles and at a presentation at CinemaCon was served with child custody papers. As many writers have noted, male directors are spared such discourtesy. Wilde has been singled out for treatment because she is not only a film director but an actress-turned-film director - she also has a supporting role in the film. To her credit, she has fended off the gossip with professionalism. Her job is to ensure that Warner Bros gets a return on its investment. The film topped the US box office in its opening weekend (23-25 September 2022), the third such film directed by a woman to do so this year, after The Invitation and The Woman King.
After her success directing the teen comedy, Booksmart, Wilde switched genre in a film about a stay-at-home housewife, Alice Chambers (Pugh, with a perfect American accent and Doris Day look) who gets curious about the apparently utopian community in which she lives. Her neighbour, Margaret (Kiki Layne) has made a discovery but is then locked away. Alice is drawn to the sight of a red biplane that flies over their community and appears to crash. She wants to help but the tram driver is fearful. She finds herself running up a gravel hill, discovering a house at its summit – perhaps headquarters of the so-called Victory project – then places her hands on the window and passes out.
Though different in tone, what both Booksmart and Don't Worry Darling have in common is an interest in women fighting the expectations placed upon them. Alice is expected to be passive but finds herself confronting the Victory project's charismatic leader, Frank (Pine). Working from a script credited to Katie Silberman from a story by brothers Carey Van Dyke and Shane Van Dyke (grandchildren of Dick Van Dyke), Wilde's film has something in common with the Jim Carrey-Peter Weir collaboration, The Truman Show, which is also situated in an apparently idyllic suburban setting.
For all intents and purposes, Alice and fellow wives Bunny (Wilde), Violet (Sydney Chandler) and Peg (Kate Berlant) are army spouses. Their husbands are in all engaged in the so-called Victory project doing hush-hush work in a setting that resembles Area 51. Every once in a while, there is a distant explosion that causes the wives to steady themselves. We might wonder whether their husbands are engaged in weapons testing, but what is really going on is much more sinister. While the men are at work, the women clean and cook, occasionally getting together for ballet classes. Alice is affected by troubling visions – black-and-white Busby Berkeley-like visions of Marilyn Monroe type-dancers and eggshells with no yoke. There is no TV in this community, but plenty of parties and a swimming pool.
The first half hour of the film is set to wall-to-wall 1950s pop tunes, like 'The Right Time' by Ray Charles and 'Sh-Boom' performed by the Chords. Running through the film and heard only in fragments is 'With You All the Time', a composition by Harry Styles that has a particular resonance, hinting at the film's Third Act revelation. Wilde has clearly watched Martin Scorsese's 1990 picture, Goodfellas and appreciates how back-to-back songs can power a movie along.
When we first meet Alice, she is balancing a small tray with a drink on her head whilst dancing alongside other women doing the same. The glass inevitably wobbles. The women are encouraged to compete with one another. They reflect favourably on their husbands. Alice's best friend is Bunny (Wilde), who has two children, who enthusiastically greet Alice when they see her. Bunny struggles to keep them in order; we sense that Alice doesn't envy her.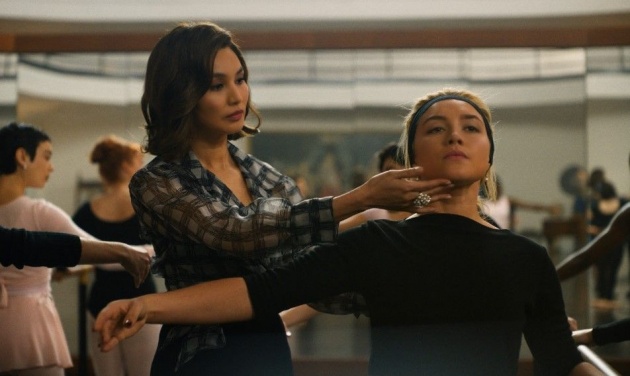 Pictured: Chin up. Shelley (Gemma Chan) the wife of the head of the enigmatic Victory project adjusts the poise of housewife Alice (Florence Pugh) in a scene from 'Don't Worry Darling', a psychological thriller directed by Olivia Wilde. Still courtesy of Warner Bros Discovery.
In the party scene, the men are spectators. The women are putting on a show (so to speak) revealing their hidden talents. In the chatter that follows, we discover that the women don't know what their husbands do and even the men don't know their colleagues' jobs. Frank is spoken about in hushed tones. Frank's wife, Shelley (Gemma Chan) is also a powerful and mysterious figure. During ballet class, Shelley enters. We see the women through Shelley's eyes as she passes among them in a travelling point-of-view shot. What is also clear is that the families engaged in the Victory project are of mixed ethnicities – somewhat at odds with the 1950s setting, but in keeping with a recent Hollywood trend of multi-ethnic casting. This isn't just revisionism for the sake of avoiding exclusion, rather is justified by that Third Act revelation.
So to the question of Styles. The criticism that has gained traction is that Harry Styles, formerly of the boyband, One Direction, cannot act. Styles made a tentative non-singing debut in Christopher Nolan's Dunkirk, as part of the ensemble, in scenes that neither helped nor harmed the film. The camera likes him, but that doesn't mean it wants to go on a date with him. Performing in pop videos is not the same as inhabiting a character. In recasting Jack, Alice's husband, Wilde being fearful of LaBeouf's 'method', the director has made certain allowances: Styles doesn't attempt an American accent and doesn't have to emote too much; he delivers many of his lines as if he were making recommendations in a clothes store – more 'Top Man' than Top Gun. There is one scene where he demonstrates his casting, when he is invited to the top tier of the company at a project Victory gathering and is encouraged by Frank to perform a mad dance. The pain and concentration on Styles' face seems real; he wallops the scene past the boundary.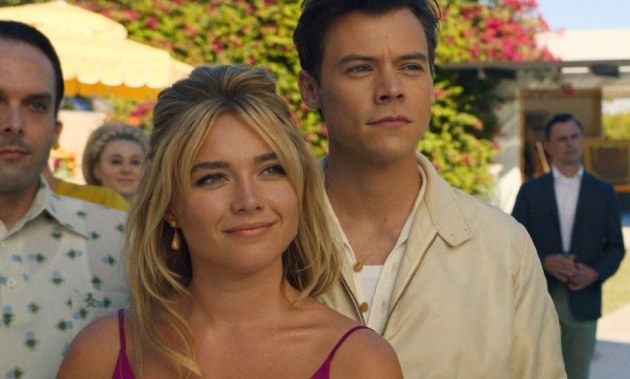 Pictured; With you all the time. Alice (Florence Pugh) and Jack (Harry Styles) in a scene from 'Don't Worry Darling', a psychological thriller directed by Olivia Wilde. Still courtesy of Warner Bros Discovery
Styles' uneven performance actually makes sense in that Third Act. His fragile grip on emotions is rooted in a revelation. Undoubtedly LaBeouf would have nailed his scenes with characteristic intensity – growing up in front of the camera has contributed to his off-screen waywardness. But as in Dunkirk, Styles doesn't detract from our enjoyment.
All the men are afraid of Frank, knowing he can make or break their careers. When he is invited to Jack and Alice's house, Alice proposes making her 'famous tuna casserole'. 'Frank hates tuna,' Jack hisses. Another man complains that Frank has never been to his house; Jack and Alice are so lucky. Alice is more perturbed by seeing Margaret standing on the roof of her house, apparently suicidal. She is later told that Margaret's husband has left the project. Pine, with eyebrows that dwarf his squinty eyes, has charisma but is dressed like a golf pro. Frank is intended to be intimidating in his inscrutability. However, Pine withholds so much in his performance that he is almost absent. In Jack's house, when Frank tells Alice, who has defiantly taken her husband's seat at the top of the table, directly facing him, that he likes being challenged, we imagine him giving up after the easy Sudoku. Pine's performance is rooted in that Third Act, but that doesn't stop him being irritating to watch.
There are also the men in red uniforms that take women away when they behave out of turn, dressed like blood cells dealing with a threat to the body politic. (Wilde isn't subtle.) The climax of the film owes a lot to The Truman Show as vehicles are deployed in earnest.
There are other cinematic nods too, notably the quickfire montage of coffee, toast, bacon and fried eggs prepared for Jack's enjoyment before he leaves the house – very reminiscent of Darren Aronofsky's drug administering montage in Requiem for a Dream. Jack naturally gets into his car without his lunch. Alice eagerly brings him his pail.
When not focussing on the gossip, social media chatter has focussed on unanswered questions like, 'what does the red plane mean' and 'why does 'x' stab 'y'?' The real question is: what is meant by Victory? Victory over what – or whom? Wilde's film is released at a time when American men are asserting their power over women's reproductive rights, reinstating bans on abortion. Wilde and the scriptwriters didn't foresee this, but there is something of the zeitgeist in that Third Act. Of course, the film is about control. Prohibitions exist purely in order to show the exercise of power. The film doesn't dig into this. Rather Don't Worry Darling leaves the whisper of a mystery for audiences to ponder.
Reviewed at Cineworld Ashford, Kent, Screen Seven, Sunday 25 September 2022, 14:40 screening