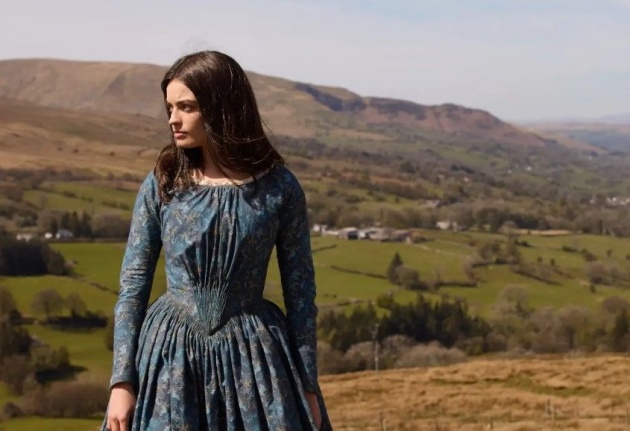 Pictured: A writer in waiting. Emily Brontë (Emma Mackey) atop a hill in the factually dubious romance, 'Emily', written and directed by Frances O'Connor. Photo: Michael Wharley / Popora Film Ltd. Still courtesy of Warner Bros (UK) / Bleeker Street (US)
Within the first few minutes of her 19th Century drama, Emily, writer-director Frances O'Connor commits a crime against literary history. Thirty-year-old Emily Brontë (Emma Mackey) faints and collapses onto a chaise longue. She glimpses at a trio of volumes. They read 'Wuthering Heights – a novel by Emily Brontë'. Most students of English literature are taught that the novel was first published under the name 'Ellis Bell', as the Brontë sisters all used pseudonyms to disguise their gender. In her desire to indicate that the young woman of failing health is the author of one of the greatest (doomed) romances of the last two centuries, O'Connor cheats. It's an own goal that almost robs us of the desire to watch any further. Next filmmakers will present a first edition of 'The Bell Jar' by Sylvia Plath, rather than by Victoria Lucas, Plath's pseudonym. What O'Connor could have done is just shown the title of the book. We know Emily. We know 'Wuthering Heights'. The majority of the audience – and this is an arthouse film – will connect the two. Fortunately, the film recovers from this divergence from truth, only to present an imagined romance between Emily and curate William Weightman (Oliver Jackson-Cohen).
In her weakened state, her older sister Charlotte (Alexandra Dowling), sometimes seen with glasses that make her resemble a Puritan, other times not, demands to know how Emily could write such a book. 'I put pen to paper,' Emily murmurs, but that's not important right now. 'The characters are selfish,' explodes Charlotte, her Puritanical rage reaching its zenith. 'We're all selfish,' continues Emily, straining to form words. As celebrity interviews go, this isn't as insensitive as Louis Theroux asking Dame Judi Dench about her late husband, Michael Williams, or her relationship with Harvey Weinstein, but it's pretty cart crash. 'It's ugly,' screams Charlotte, finally. Emily's last request – as we learn at the end of the film – is to have her unpublished work burnt, the inference being that it hurts people. Charlotte complains about Emily's early stories being frivolous. She is no less pleased by the mature writer. Nevertheless, in the film's final scene, Charlotte sits at Emily's desk, opens the window, stares at the landscape – the same view that inspired her younger sister – and starts to write about a young woman who has her sister's middle name 'Jane'. This is one of the film's few subtleties.
Like an acceptable student, O'Connor does at least tell us what question her film sets out to answer. How could Emily write such a book? But, oh dear, she suggests that Emily put pen to paper following the death of her brother, Branwell (Fionn Whitehead) as if the novel was born of grief. The facts tell us otherwise. 'Wuthering Heights' was published in 1847. Branwell died on 24 September 1848. Is there anything in this movie we can trust?
O'Connor broadly follows the contours of Emily's adult life – her unhappiness about being a teacher and her brief sojourn in Brussels. The former is dealt with in a scene set to music, with dialogue muted, in which a group of women amass at a cupboard door. Inside Emily is hiding, holding a white piece of cloth as if it were a comforter. It's safe to assume she didn't have control of her class; perhaps she waved a white flag. At any rate, she returns home in disgrace. This is a generally accepted fact.
Curate William Weightman was indeed a real person. Anne, the youngest Brontë sister (played in the film by Amelia Gething) apparently had a crush on him. He was not, as Patrick Brontë (an unrecognisable Adrian Dunbar) suggests 'an Oxford scholar, no less' (the dialogue is peppered with occasional anachronisms) rather a graduate from Dunham University. Weightman died in October 1842 of cholera. In the film, Weightman dies soon after Emily and Charlotte head for Brussels, which is factually accurate. In fact, the Branwell referred to in failing health over the breakfast table in Brussels – I was quite taken with Charlotte's serving of cheese and fruit – was Aunt Branwell (Gemma Jones), whose funeral prompted Emily's return. We don't see Aunt Branwell being buried; rather she is suddenly absent.
Enough of this fact checking. By the end of the film, we understand who Emily drew upon for inspiration to create the character of Heathcliff, the orphan boy taken in by Mr Earnshaw and raised as his son in the novel 'Wuthering Heights', that is Branwell Brontë himself. The Branwell of the film isn't brooding or Byronic, rather louche, and irresponsible. He blows his father's money by abandoning his course at the Royal Academy of Arts ('my imagination can only be expressed in words'), sits on top of a hill with his sister yelling 'freedom of thought', the inscription on his arm that Emily later copies, then takes Emily with him to spy on Mrs Linton, on whom he has a crush. On the second such sortie - that is, staring through Linton's window whilst in animated conversation - Branwell gets caught. Mr Linton (Gerald Lepowski, O'Connor's real-life husband) seeks appropriate compensation. Branwell is employed by Mr Linton to teach his son and uses the opportunity to steal glances at Mrs Linton. When the pair scarcely keep their hands off one another at a musical performance – Emily's glances give the game away - Patrick Brontë sends Branwell off to work as a stationmaster. By this time, Emily and William can't keep their hands off each other either. This is no polite biopic, though bodices aren't so much ripped as attentively unlaced in preparation for horizontal flesh pressing. 'Reader', she might have written, 'I humped him.'
Thus far, I have avoided mention of the title character herself, played in (brown) eye rolling fashion by Mackey. Emily is the most sceptical person in the room, a poor baker (blame it on the Elixir of Opium that she steals from her brother), a passionate poet, a devastatingly honest critic, a skilled pianist, and a spinner of tales whilst supine in the long grass, sharing stories with Anne. She is delighted that Charlotte has come home but immediately is made to feel inadequate. There is unhealthy – even un-heathy – competition by the two sisters, Emily dismissing Weightman as 'Celia Amelia'. 'Oh, which ribbon shall I choose?' she asks, imagining William as vain and indecisive. 'He can speak,' pleads Anne. 'Yes, but can he do?' asks Emily. 'Do what?' asks Weightman, attracted by the sound of his name. The curate's rain sermon is the cause of much amusement amongst the Brontë sisters. 'How does He get into all those tiny drops?' Emily asks. Nevertheless, rain is cruel; water is the source of many of the characters' deaths.
Tension between Charlotte and Emily flares up during an evening's entertainment in which a mask is produced. It is a beautiful object, moulded to a real human face. The mask is used for the player to pretend to be a famous person whose identity the assembled throng guess. Charlotte amuses with her French speaking Marie Antoinette. Emily, reading a book, is reluctant to play. Charlotte goads her. 'She wouldn't be very good at it.' Emily snatches the mask then retreats behind it, suddenly impersonating the ghost of her mother. She is framed sitting some distance from the others as if participating in a séance. The tenderness in her voice brings Charlotte to tears and even reaches Anne. Weightman is furious; later he will complain that there is something ungodly about Emily. The howling wind outside forces the shutters to blow open. It is as if spirits had appeared to take Emily's mother away. Just then Patrick bursts in, scarcely able to comprehend how a game in which his girls demurely pretended to be characters from Shakespeare and the Bible could have gone so awry. In the next scene, Emily buries the mask, earth thrown onto the camera lens.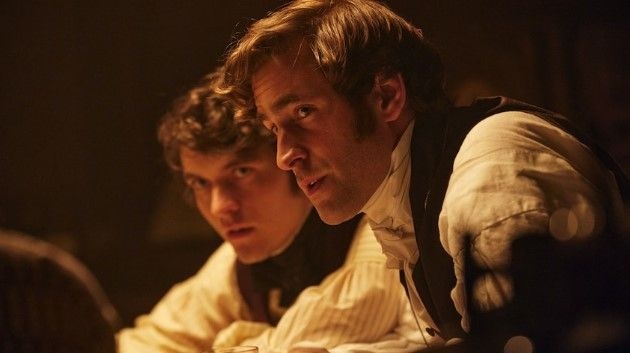 Pictured: 'Which of us is the proto-typical Byronic man?' Branwell Brontë (Fionn Whitehead) and curate William Weightman (Oliver Jackson-Cohen) in a scene from the biopic, 'Emily', written and directed by Frances O'Connor. Photo: Michael Wharley / Popara Film Ltd. Still courtesy of Warner Bros (UK) / Bleeker Street (US)
Having failed as a teacher, Emily is instructed in French by Weightman. Her French wobbles throughout the film, being 'unimpressed by Moliere's bottom'; she means the ending of 'The Misanthrope'. Weightman asks what she thought of his sermon. 'It was very interesting', Emily replies, before questioning the concept of blind faith; how can one obey God without question? When Emily's vocabulary fails her, Weightman suggests a word. Emily uses it. 'Why did you use that word when I suggested it?' Weightman asks. 'Because you are a moral man.' 'But I could have given you the wrong word.' Weightman likens trusting God to trusting a teacher. Emily doesn't have an answer.
To be clear, it isn't Emily who initiates the affair, rather Weightman, after they find themselves seeking shelter in an abandoned cottage and kissing, before Weightman withdraws. During her father's sermon, Weightman leaves her a note suggesting that they meet at three pm at the cottage. Emily is early, sitting inside with her back to the window, glancing three times as Weightman approaches, as if on each occasion checking that he is real. The image feels like the reverse of the final shot of The Searchers. This time, there's a man coming home. There is more undressing than physical contact. Emily's subsequent letter to Charlotte brims with innuendo.
At a certain point, Weightman spurns Emily, his morality having belatedly asserted himself. When Emily decides to go to Brussels, Weightman is prompted to write a letter. He places it in the drunken care of Branwell, who doesn't deliver it until after Weightman's death; cue an expression of guilt.
We learn that Emily wrote quite a lot of poetry in her twenties. 'You should show them to someone,' crows Charlotte. 'I have,' insists Emily, who shared her work with Branwell. Weightman finds one of her poems, starts reading it and drops it on the ground as if it were pornographic. He is captivated. In real life, the three sisters published a collected volume of verse under the names Acton, Currer and Ellis Bell. In the film, 'Bell' only appears as a shop frontage.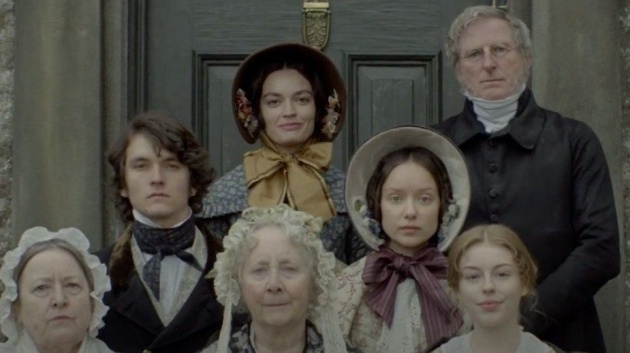 Pictured: The Brontë family pose for a photograph in a scene from the biopic, 'Emily', written and directed by Frances O'Connor. Photo: Michael Wharley / Popara Film Ltd. Still courtesy of Warner Bros (UK) / Bleeker Street (US)
Emily's prose is noted for its sensitivity to nature. O'Connor's camera doesn't capture this. It is obvious that scenes at the same location taking place at different times were shot on or around the same day (the weather is identical). O'Connor appears not to have the luxury to show the same landscape in different seasons affected by different climates. This is the most disappointing aspect of the film. I expected haunting moors – where are they? Mackey, frequently shown in close-up looking skyward, is vivid in the title role. She is at her best sparring with Weightman. Jackson-Cohen is a handsome actor who resembles Jack Davenport from This Life and the Pirates of the Caribbean films. However, I couldn't help but feel that Weightman exists in the narrative to prevent us from concluding that incest took place between Branwell and Emily (Emily 'imagining' her brother as an orphan taken in by her father). At certain points, we wonder whether Patrick Bronté is the model for Catherine Earnshaw's brooding love interest. He is certainly cruel and emotionally repressed.
Emily flips the question aimed at her back at Weightman: 'where do you get the ideas for your sermons?' Weightman replies that some of the ideas are autobiographical; some are based on what he sees. There is very little difference between a writer and a curate; each seeks inspiration.
Once O'Connor has answered her question and treats us to the cringey scene of Emily's father showering his daughter with praise in company ('to think that someone in London is reading a book from this humble family'), the drama has nowhere to go. I couldn't help but wonder whether O'Connor should have shaped the drama a different way. Did Emily just want to write one book. Reducing a writer's inspiration to people and events is rather trite; there is also a reaction to other literature. I don't approve of O'Connor's general thesis, though I enjoyed the gothic flourishes, in particular Emily digging up the mask before she starts writing. There is a comedy house guest in the form of Ellen Nussey (Sacha Parkinson) who requires considerable assistance straddling a small wall – inviting the attentions of numerous men. O'Connor's film doesn't really diagnose the source of Emily's 'oddness' – that is, why she embarrasses her older sister. Is it the result of social isolation? In a biopic of intermittent veracity, this is one question O'Connor could have usefully addressed.
Reviewed at Royal Cinema, Faversham, Kent, Southeast England, Sunday 6 November 2022, 16:00 screening