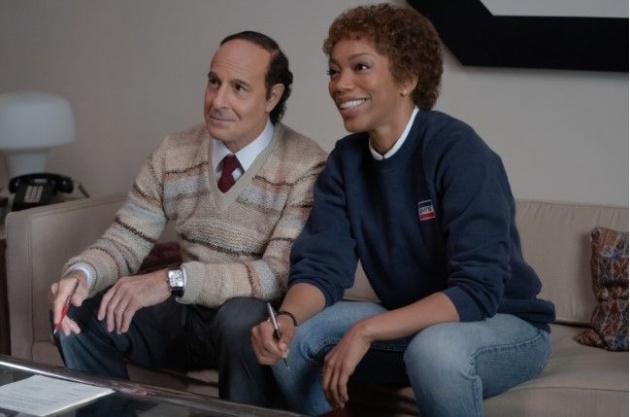 Pictured: 'Sign this form and I'll make sure you'll never copy my dress sense.' Clive Davis (Stanley Tucci) and Whitney Houston (Naomi Ackie) in a scene from the musical biopic, 'Whitney Houston: I Wanna Dance With Somebody', written by Anthony McCarten and directed by Kasi Lemmons. Still courtesy of Sony Pictures Entertainment
I have mixed feelings about including the Hollywood biopic, Whitney Houston: I Wanna Dance with Somebody in this series. Kasi Lemmons (Eve's Bayou, Harriet) directed it, but the film comes across as a further effort to milk the legacy of the titular singer, who in her prime achieved seven consecutive Billboard Number Ones, from 'Saving All My Love for You' in 1985 to 'Where Do Broken Hearts Go?' in 1988, as well as an attempt to let some of those who contributed to her decline off the hook. The film charts Whitney's rise and fall and is advertised as 'from the writer of Bohemian Rhapsody', Anthony McCarten, as if that was somehow a selling point. McCarten is also listed as a producer. Modestly budgeted at $45 million, with British actress Naomi Ackie convincingly lip-synching and emoting as Whitney, the film's box office has been tempered by adverse weather conditions in the United States, not to mention poor-to-indifferent reviews. The film climaxes with a flashback to an iconic performance in 1994 when Whitney put her voice to the test but suffers from the effort to cram too much in – Whitney's life has enough drama for a six-part television series.
The film covers thirty-two years, from Whitney meeting Robyn Crawford (Nafessa Williams) at summer camp in 1980 to the star's death in 2012 at the age of 48. Conspicuously absent from the film is any attempt to identify who supplied her with the drugs that contributed to her decline. Such an omission can be partially justified by a desire to focus on her achievements rather than her failings. However, the question of criminal liability is important. The nominal villain of the film is Whitney's exploitative father, John (Clarke Peters), who at one point is shown dishing out credit cards and is frequently in the company of a female personal assistant leaning over his desk. That said, woe betide any assistant who calls Whitney 'Nippy' – her father's nickname for her – in her earshot. From his hospital bed, John who had ill-served Whitney as her manager, threatens to sue her for $100 million. Whitney earlier complains of having a vacancy for a father. There is the suggestion that her brothers aren't nice. Retreating into their room as her parents argue, on the verge of violence, Whitney partakes in a narcotic-filled pipe to take away the stress of the Houston problems.
When we first meet Whitney, she is being coached by her mother, Cissy (Tamara Tunie), who is famous as a singer in her own right; Dionne Warwick is Whitney's first cousin, but not, as claimed by the film's Whitney, her godmother. She introduces herself to Robyn as 'Whitney Elizabeth Houston', a source of amusement to her new friend. They go to different schools, Whitney educated in a white neighbourhood. Cissy is fully aware of her daughter's vocal dexterity and arranges for a record producer, Clive Davis (Stanley Tucci, with the majority of the film's best lines) to attend a show. Feigning a cough like any good stage mother would, Cissy entreats Whitney to open the show. 'Start with 'The Greatest Love of All',' she wheezes before taking her seat close to Clive. Robyn is also in the audience.
Whitney impresses. 'I think I have heard the greatest voice of her generation,' enthuses Clive after her performance. We hear just one song, but this is a movie. The associate next to him agrees. 'The difference is that my opinion comes with obligations and contracts,' Clive tells him, 'Yours comes with potato chips.' Tucci's performance quivers with intelligence and restraint. His Clive is never over eager nor exploitative. During contract negotiations over rights, Clive makes a slight concession – 'best endeavours.'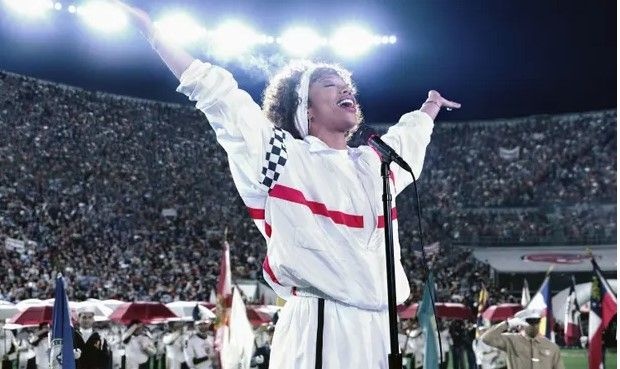 Pictured: 'The land of the free.' Whitney Houston (Naomi Ackie) performs at Superbowl 1991 in a scene from the biopic, 'Whitney Houston: I Wanna Dance With Somebody', written by Anthony McCarten and directed by Kasi Lemmons. Still courtesy of Sony Pictures Entertainment
After Whitney signs with Arista Records, Clive gives her the 'I'll take no interest in your private life' speech, the first indication that is this an exercise in absolution. 'I'm not a confidante or a rabbi,' he explains, but for professional matters, he will be there 24/7, a point later tested. He asks about her musical taste. 'Do you write songs?' 'I could try,' Whitney replies. 'What type of songs do you like to sing?' 'Good songs,' she replies, 'a song is either good or bad.' 'You're right, of course,' notes Clive. 'We'll get the best song writers to write for you.' 'They'll do it for me?' Whitney asks. 'No, but they'll do it for me,' replies Clive. The film is at its best showing Whitney's development as an artist, listening for songs that she can do something with. Clive is sceptical of this approach. Of one tune that she picks, Clive complains that it doesn't have a hook. 'I'll give it a hook,' insists Whitney.
It isn't long before Whitney, by now living with Robyn – though the film is coy about her sexuality – hears her song on the radio. Cue enthusiastic leaping up and down. For reasons not fully explained – this is a film that doesn't fully explain anything – Whitney wants to employ Robyn as an advisor. 'If you want to hire her, Nippy, I have one condition,' purrs John. 'Be seen with a boy on your arm.' Robyn refuses but for Whitney, it's possible. Later, Whitney will invoke God and the Bible to justify the choice of heterosexuality. Robyn breaks stuff.
In a recording booth – as well as outside it – Whitney gets a little too familiar with Jermaine Jackson, after they record a duet. However, Jermaine isn't the one. At a Music Awards show, she meets the white-suited and gap-toothed Bobby Brown (Ashton Sanders). He impresses her on stage and off it. She nudges one of his entourage to get his attention. 'How old are you?' asks Whitney. 'Old enough,' replies Bobby. They start spending time together. In the back of a limousine, Bobby proposes. As he does so, he tells Whitney that he is expecting a child from his ex-girlfriend, Kim. 'It's been eating at me,' he explains. Whitney is furious, orders the car to stop and steps out into traffic. 'What? You were still seeing her while dating me?' Bobby pursues her. On the other side of the street, Whitney reconciles herself to the news. They call the car over.
In another movie, this would be a character-defining moment. Why would Whitney enter into a relationship – a marriage – as inauspicious as this one? Is she so concerned by her image that she overlooks becoming involved with a man who doesn't respect her? A later scene confirms the warning signs. Whitney jets home after a gig expecting to find Bobby in bed. Only he's not there. When he returns, they have a furious row. Whitney tells him to get the hell out. He gives her the 'don't speak to me like that, you're Mrs Brown' speech, his face intimidating and close to hers. This isn't even the beginning of the end – the end began long ago – but could be one of the contributors to Whitney's debilitating drug habit.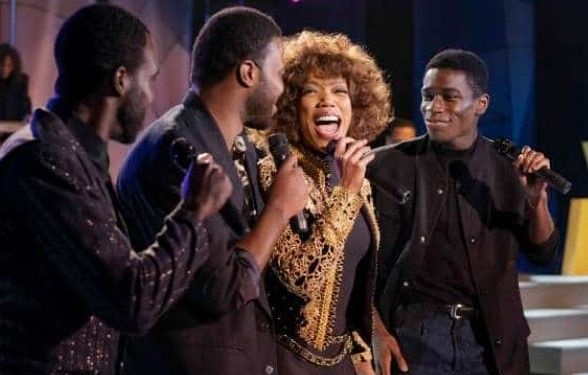 Pictured: Whitney Houston (Naomi Ackie, centre) in performance in a scene from the musical biopic, 'Whitney Houston: I Wanna Dance With Somebody', written by Anthony McCarten and directed by Kasi Lemmons. Still courtesy of Sony Pictures Entertainment
The film covers Whitney's career highs. Her first television appearance, when her mother intervenes to get the music played faster ('it's too slow'), conducting backstage and contributing to a successful performance. Whitney has the opportunity to star in a movie, The Bodyguard, and casts the script to one side, retrieving it just as quickly when she hears that Kevin Costner asked for her specifically. According to the film, he even chose Dolly Parton's song, 'I Will Always Love You' for her to perform – both her cover and the film were hits. Whitney performs 'The Star-Spangled Banner' at Superbowl 1991 in a white tracksuit rather than a dress – the costume choice raises eyebrows. The film also features her lows: a miscarriage during production of The Bodyguard, her period in rehab, insisted upon by Clive, and Robyn walking out, after clashing with Bobby ('I'm the husband').
Two scenes involve a (white) fan who asks for an autograph, where the film lingers on him, as if he might be her future assassin. On the second encounter, on the day of her death, he tears out the page of the book with her signature and dumps the rest of the book in the bin. Whitney retrieves the book. I wasn't sure what to make of the scene. Does she identify with the discarded autograph book? On the day that she mixed drugs with a bath, she has a drink at the bar. The bar man tells her about her greatest performance and gives her a drink on the house. Whitney leaves a $100 tip but then returns to retrieve a highlighter pen. We then see her in her bathroom, rolling up a banknote. Thank goodness for the move to contactless payment. I hope it has affected cocaine usage.
Whitney's performance on Oprah Winfrey's chat show is horrible to watch. We hear the decline in vocal range and understand the commercial imperative to go on tour to keep her family in the lifestyle to which they are accustomed. Her father tells her that she also had a private jet; she enjoyed a lavish lifestyle too. Strange though that this is the best defence that her family could muster. In an interview, Whitney explains that drugs preceded Bobby (true); he expresses gratitude that he is not to blame for her habit, though he could have helped her end it.
By the end of watching I Wanna Dance with Somebody, I could not help but feeling dirty, participating as a ticket-buyer in the Houston family's legacy washing. Clive comes out of the film well, notably in a scene in which Whitney hammers on his door early in the morning and asks him to find a song. You think she will ask him to source drugs; her demand has the energy of an addict. The ensuring selection process gives the film a shot of energy. By contrast, the Superbowl performance disappoints. Lemmons shows it from the halfway point, so we don't experience the mounting sense of drama that she gave to the song. Afterwards, Cissy tells Whitney that she performed the anthem 'how it was meant to be sung.' Too bad we didn't have that experience.
Reviewed at Cineworld Ashford (Kent), Southeast England, Sunday 1 January 2023, 15:40 screening