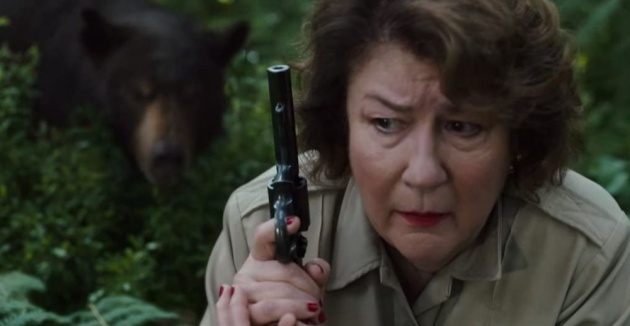 Pictured: 'Help, help! Here comes the bear.' Park Ranger Liz (Margo Martindale) doesn't hear what's behind her in a scene from the horror comedy, 'Cocaine Bear', written by Jimmy Warden and directed by Elizabeth Banks. Still courtesy of Universal Pictures
Leave the 'D' out. Genre not gender should determine a director's suitability for a project. If a woman can handle action, give her a franchise. If she has a talent for comedy, match her with the funniest people in Hollywood. If she has a flair for horror, let her remake The Omen. Or should that be O-Women? Oh women! Cocaine Bear is a welcome example of a director paired with a subject based on her sense of humour. As an actress, Elizabeth Banks' signature roles have been presenters who suffer from delusions of relevance; they feed off snark bait - see The Hunger Games and Pitch Perfect. As a director, she shines the spotlight on others. Cocaine Bear isn't just high-concept – grizzly bear becomes addicted to A-class drugs, inflicting B-movie carnage. It is high concept. The bear doesn't want anyone messing with their trip. Portions of legs are severed from bodies. Bellies are punctured. Blood spills. A posterior is scratched – the bear is way too handsy. Internal organs pulled from the body like sausages. An 80s hit is revisited – and I'm not talking about the film Grizzly – that was released in the 1970s. Nor The Edge starring Alec Baldwin and Anthony Hopkins. That came out in 1997.
In Hollywood, bears don't equal box office, though somehow Yogi Bear voiced by Dan Aykroyd grossed $100 million domestically. A Three Bears film starring Phil Collins, Danny DeVito and Bob Hoskins never left development. Nobody mentions The Country Bears. I can see why there has never been a Hair Bear Bunch movie. So the film represents a creative risk. Banks' previous directorial foray was the lustreless Kristen Stewart Charlie's Angels reboot that performed better internationally than in the US – maybe dubbing improved it. Budgeted at $35 million, Cocaine Bear has already grossed $63 million at the US box office. It had its cake and, you know, ate it. In short – and sadly the drug puns never end – it's a hit.
Written by Jimmy Warden, Cocaine Bear has an improbable caption: 'based on a true story'. Maybe not so improbable. Truth is elastic. It is owned by an individual. What's true to one person is unacceptable to another. So most films are based on true stories unless they take place in a cinematic universe and feature individuals with unlikely superpowers. How does the Human Torch even breathe? In the film, set in 1985, drug smuggler Andrew Thornton (Matthew Rhys) tosses a set of duffle bags out of a plane while practising karate poses, then as he is about to jump out himself, bangs his head and falls concussed to his death, his chute failing to open. The comic tone is set early through exchanges like the following.
'His full name is Andrew C. Thornton.'
'What does the C stand for?'
'I don't know.'
'I thought you said you knew his full name.'
The detective being all self-important is Bob (Isiah Whitlock Jr), new to the love of dogs, having just purchased one. His interlocutor is Officer Reba (Ayoola Smart). Bob is on the trail of Thornton's associate, Syd White (Ray Liotta, first seen in police photographs). Back in the day, small planes would be used to transport drugs over swathes of forests,. Then the drugs would be dropped off in a designated area to be retrieved later.
Early on, the film answers the question 'does a bear sniff in the woods' when a pair of comedy Nordic tourists encounter a coked-up grizzly. Olaf (Kristofer Hivju) takes fellow hiker Elsa (Hannah Hoekstra) to a rocky promontory to enjoy the view, when Elsa starts photographing a bear attempting intimacy with a tree. The names are an obvious homage to Frozen to the extent that you wait for one of them to exclaim 'big summer blowout'. After one too many clicks, the grizzly finds something else worthy of its attention. 'If it's brown, lie right down. If it's black, fight right back,' suggests Olaf. Elsa runs and pays the price, the bear pulling her into the bush and chewing straight through her leg, the booted stump of which is tossed towards Olaf. Is he frozen in fear? You bet.
Recently Steven Spielberg expressed remorse that his 1975 film, Jaws, contributed to a negative reaction towards Great White Sharks. What he forgets was that it was based on a popular book. Banks is clearly sensitive that her film might justify the hunting of bears, so she includes a quote reminding us that bears are peaceful creatures. She adds a citation, Wikipedia, which is intended for laughs.
Banks then introduces us to a motley cast of characters including single mom, Sari (Keri Russell) and her ten year old daughter, Dee Dee (Brooklynn Prince), grieving widower Eddie (Alden Ehrenreich) and his criminal associate, Daveed (O'Shea Jackson), park ranger Liz (Margo Martindale), Dee Dee's schoolfriend, Henry (Christian Convery), the aforementioned police colleagues Bob and Reba and park guide 'don't call them animals' Peter (Jesse Tyler Ferguson), not to mention a trio of juvenile criminals (Aaron Holliday, J. B. Moore, Leo Hanna) who have founds some of the drugs and hidden them in the gazebo. Cue the line 'what's a gazebo?'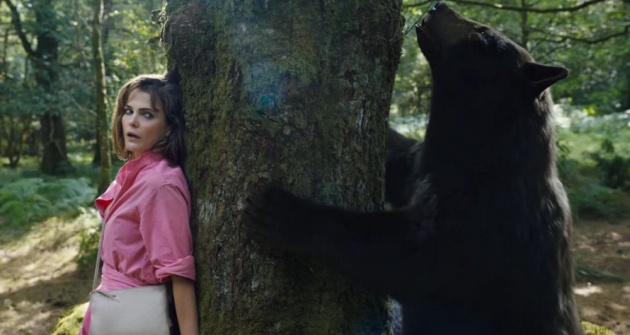 Pictured: Sari (Keri Russell) is in no mood for hide and seek in a scene from the horror comedy, 'Cocaine Bear', written by Jimmy Warden and directed by Elizabeth Banks. Still courtesy of Universal Pictures
Eddie misses his late wife Joan but ended up with John tattooed on his chest. He has to wait seven days before the tattoo can be altered – seven days of John. He blames his wife's death on his father, the aforementioned Syd, who is looking after Eddie's son, though as Syd himself puts it – Liotta staring intensely – 'do I look like daddy day care centre?'
Syd tasks Daveed to help recover his packages, coaxing Eddie out of mourning. They head to Chattahoochie National Park. In the park restroom, Daveed encounters the three punks who have been terrorizing customers. Banks' flair for physical comedy is evident in a fight scene in which Daveed takes out one of the juveniles with his own skateboard. He does however end up with an implement in his shoulder, ruining his favourite shirt. Drug dealers always have a favourite shirt. Eddie relieves him of his injury in a sort of Androcles and the Lion moment, though Daveed isn't exactly fearsome, very much the image of O'Shea Jackson's father, Ice Cube.
With her mom showing no interest in allowing her to 'paint the waterfall' at the weekend, offering instead a trip to Nashville, Dee Dee skips school and heads to the National Park with Henry. Is this really a compelling cause for truancy? Nurse Sari gets a call and finds both Dee Dee's backpack and her plans for the trip. She gets a lesson is parental responsibility from ranger Liz, who otherwise is too busy flirting with Peter to notice that her stock is being stolen. She offers a juvenile punk in her office a lollypop but won't allow him to swap it for a different colour. Sari recruits Liz and Peter to help find her daughter, convincing them to take the most direct route and not the loop – Liz's amorous preference. Meanwhile, Dee Dee and Henry have discovered some packets of drugs. Attempting to present himself as cocaine-conversant, Henry opens the back, puts a wadge on his knife and attempts to eats it, before spitting it out in disgust. Then Dee Dee does the same thing. The film encourages yelps of delicious disgust from its audience: oh my gosh, kids are trying drugs, though not consuming them properly. Jeepers, the angry bear is tearing people apart. Goodness, a woman in her seventies is being tossed from an ambulance. Incredible, the park ranger shot right through that young man's head.
Whilst trying drugs, Dee Dee and Henry attract the bear. When Sari finds the boy, he has sought refuge up a tree. 'Why are you up there?' he is asked. 'Bears can't climb trees.' 'Yes, they can,' blurts Peter. Naturally the bear turns up and chases Peter, because he is quite annoying, and no one wants to watch a young boy being killed in a mainstream movie.
Meanwhile Daveed discovers that one of his assailants has a packet of Syd's drugs. He interrogates him, asking Eddie to fetch his gun. The kid explains that they hid the recovered stash in the gazebo or as Daveed puts it, 'the wooden structure'.
Having witnessed the death of her beloved Peter, Liz returns to her office, joined by one of the juveniles. They call for an ambulance. Opening the door to the office, the bear is outside. Liz makes an argument for the over-seventies not being permitted firearms.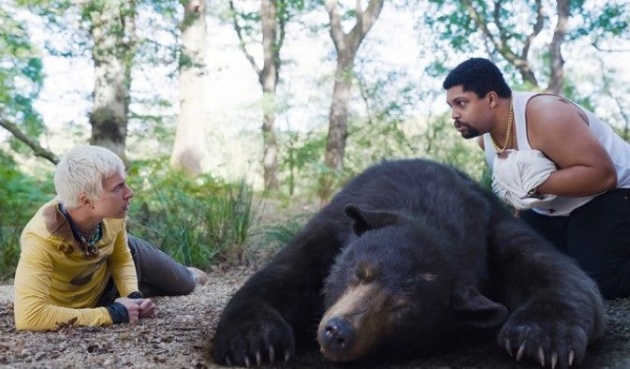 Pictured: Bear with. A killer grizzly gets snuggly with Eddie (Alden Ehrenreich, unseen) watched by a juvenile (Aaron Holliday, left) and Daveed (O'Shea Jackson, right) in a scene from the horror comedy, 'Cocaine Bear', written by Jimmy Warden and directed by Elizabeth Banks. Still courtesy of Universal Pictures
Rescued by medical staff, the film's highpoint is set to the Depeche Mode hit, 'Just Can't Get Enough' – an on-the-nose music cue – as ranger Liz is whisked away by a moving ambulance, a male medic running to board a moving vehicle whilst pursued by the bear. The film's money shot has the bear leaping towards the ambulance, causing the medic to be gored as well as Liz, who had already been scratched by the bear, to fly out of the moving ambulance on a gurney. As the vehicle crashes, the bear is non-plussed.
Wouldn't you know it, but Detective Bob gets to the gazebo before Daveed, Eddie, and their reluctant, scrawny guide. The bear also makes an appearance flopping onto Eddie.
The climax takes place at a waterfall where there are not one, but two, family reunions. One character, assumed dead, returns, and Bob gets a surprise before being facing Syd. Banks saves the goriest death scene for the end.
Just like the Fast and Furious films, another product (along with Cocaine Bear) of Universal Studios, the film is about heteronormative family values, also in a fairly parodic, over-the-top, subversive way. Eluding the 'po-po', with a new pet in his possession, Eddie accepts a lift from a truck driver, first checking that the livestock in the back isn't addicted.
The film comically portrays the myth that drugs give the user superpowers, even being able to recover from what might otherwise be a fatal injury. Banks doesn't include the Wikipedia entry about the dangers of cocaine use, which might have balanced the earlier caption. Nor does she attempt to show the bear's point of view. Its cocaine consumption is immense, well beyond any human. The bear is shown to be paranoid, angry, and not make any sense whatsoever, displaying the common side effects of addictive drugs.
Demonstrating a talent for horror comedy, Banks has crafted a slice of post-Covid escapism, with a nod to the disaster movies of the 1970s. Perhaps the Scream franchise awaits.
Reviewed at Cineworld Leicester Square (Central London), Screen Six, Thursday 2 March 2023 (20:50 screening) and Tuesday 21 March 2023 (18:45 screening)