Pictured: Having her paint mixed, Carmen (Aline Küppenheim) contemplates the horror outside in a scene from the Chile-Argentina co-production, '1976', co-written (with Alejandra Moffat) and directed by Manuela Martelli. Still courtesy of Kino Lorber (US) / New Wave Films (UK)
Leading a military coup in Chile on September 11, 1973, and installing himself as Head of State, General Augusto Pinochet Duarte remains a controversial figure. To some, he saved the country's economy, ushering a boom between 1976 and 1979. Far more will recall the brutal repression, his secret police arresting 130,000 people, including foreign nationals, many of whom were tortured. Of those who 'disappeared', the number killed is estimated at 3,000. He remained in power for two eight-year terms of office. Attempting to have his rule extended by a further eight years in 1989, Pinochet was rejected by 55% of voters. He relinquished the Presidency in 1990 but remained as Commander in Chief of the Armed Forces until 1998. Whilst in London to undergo back surgery in October that year, Spain issued a warrant for his arrest for his part in the torture of Spanish citizens. He was placed under house arrest in the UK until 2000, when he was finally returned to Chile owing to ill health. Charges were brought against him in his own country. However, he died in 2006, never facing justice.
The terror of life under Pinochet is revisited in the Chilean-Argentina co-production, 1976, directed by Manuela Martelli from a script she co-wrote with Alejandra Moffat. Martelli's debut feature deals with the adjustments to behaviour that occur out of necessity. The government that cannot be spoken about. A priest who lies. A grandmother who requests the mixing of paint so that the pink colour matches a Venetian sunrise.
Martelli's film has three large plus points. First, Aline Küppenheim's central performance as late-middle-aged doctor's wife, Carmen, who is asked by a local priest to take in Elias (Nicolás Sepúlveda), a twenty-five-year-old man, who had injured his leg in a botched robbery. 'He stole because he has nothing,' Carmen is told by Father Sanchez (Hugo Medina). Second, the production design, from Carmen's renovated beach house reflecting 1970s modernist kitsch – and a huge trip hazard – to a drab café. Third, and by far the film's strongest element, Marià Portugal's score, mechanical, thrumming, occasionally giving way to a single trombone, it is more akin to the accompaniment to a 1970s horror film than a thriller. There is one point when the soundscape elicits a jump scare. While Küppenheim's performance internalises Carmen's fear, Portugal's music brings it to the surface.
In the film's opening, terror occurs off-screen. The drama begins sedately enough with the opening of a travel guide set against the whirring of a machine. Leafing through the pages, Carmen describes the colour she is looking for. The camera pans to a paint-mixing machine, the source of the whirring noise. An assistant is told to 'add more blue.' Just then, we hear commotion outside. A woman is being taken away. Carmen stands up and walks towards the entrance of the hardware store to get a better view. The owner walks ahead of her and pulls the metal shutter down. Whatever is going on shouldn't concern them. Carmen's attention is then drawn back to the paint mixer. 'I think we've got it,' the assistant explains.
Carmen drives back to her beach house with two cans of paint. Her elderly maid, Estela (Carmen Gloria Martínez) sits next to her in the front seat. 'Pass me a cigarette,' Carmen asks, smoking while driving much to Estela's displeasure. Arriving at the house, she is greeted by workmen who take the paint cans from her. The lounge is being renovated. Carmen's husband, a doctor who practices in Santiago, is away.
Resting in bed, Carmen is awakened by Father Sanchez. She offers him toast for breakfast; Father Sanchez informs her it is nearly lunchtime, but he'll have some coffee that Estela left for her. She then tells him about 'Father' Elias, the young man with an injured leg. Would Carmen help? 'I'm no doctor,' she explains. Nevertheless, she accepts Elias into her home.
Carmen then goes to a local hotel. She appears to know the woman behind the desk. Finally, she can go into a booth to make a phone call. Carmen telephones a doctor. She needs some supplies. Her request is queried but successful.
Carmen's daughter, her son-in-law and three young grandchildren then arrive, the children – two girls and a boy – wanting to run and play. They give Carmen a belated hug. Two men arrive in a second car, the first is Carmen's son-in-law, the second Carmen's husband. We wonder: can Carmen really look after a petty criminal with so many people around the house?
We then meet Elias, first glimpsing the deep bloody wound on his leg, which Carmen dabs at. We then see the bearded Elias in profile. Martelli's use of medium close-ups, restricting our view, also keeps Elias at a distance. We are told that only Estela knows of his existence - no one else.
Most of Carmen's scenes with Elias involve treating him, either washing him or administering an injection. Her medical experience is far in her past. Requiring supplies, she goes to a hospital, stating that she seeks medicine for her dog. 'Where is your husband?' 'At home with the dog.' Carmen shows evidence of her medical credentials – a Red Cross card dating back to 1943. A woman at the hospital views this sceptically, drawing attention to its age. Finally, the staff member relents, asking, 'what size is your dog?' 'It's big,' explains Manuela.
With limited medical supplies, Carmen can treat Elias. She also knows that he is no criminal, rather than that he is been sought by the secret police. 'Would you have helped him had I told you the truth?' asks Father Sanchez. 'No,' replies Carmen.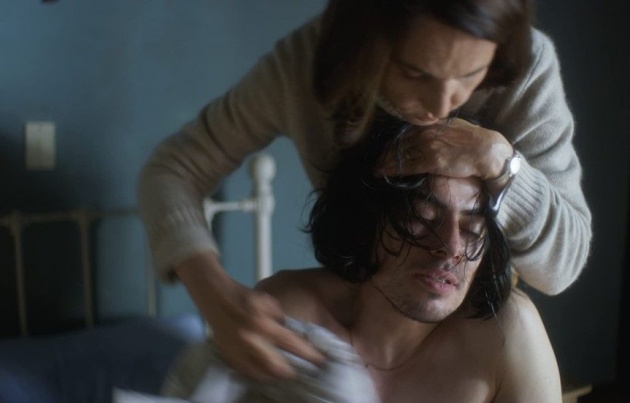 Pictured: Carmen (Aline Küppenheim) washes Elias (Nicolás Sepúlveda) in a scene from the Chile-Argentina co-production, '1976', co-written and directed by Manuela Martelli. Still courtesy of Kino Lorber (US) / New Wave Films (UK)
Throughout treating Elias, helping him to his feet, though he can barely walk, Carmen never tells him her name. They agree upon a pseudonym: Cleopatra. This is the name one of Carmen's acquaintances had given to his boat. Elias makes a promise: to name a hospital after her. 'After Cleopatra,' Carmen insists.
Martelli eschews melodrama by alternating fairly ordinary scenes between Carmen and her guests with scenes between Carmen and Elias. Elias has a family – a young woman who loves him, at least. Carmen is given instructions on how to find her, taking two buses. The young woman is pleased to see her but also prompts Carmen to walk quickly, as if they were spotted. Carmen later discovers that the young woman's alarm was a test; to check whether Carmen is a spy. The young woman heads down a hill, in the opposite direction to which they had walked, insisting that Carmen should not follow her.
In the second half of the film, Carmen is aware of the proximity of the secret police and the possibility of detection. Taking her grandchildren for a walk near a cliff edge, she glimpses down and sees the body of a young woman being covered up, then uncovered. The children are curious, but Carmen steers their attention away.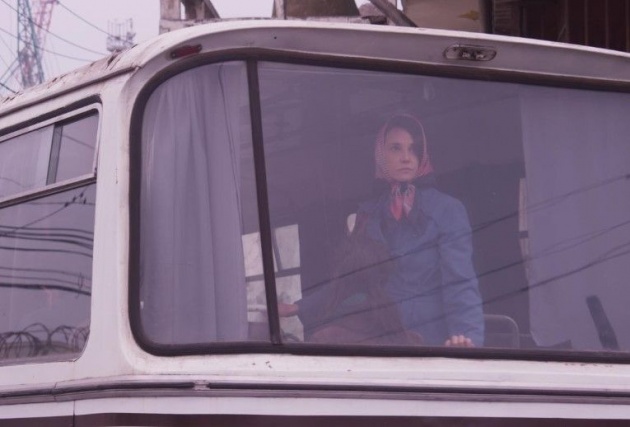 Pictured: Taking the bus, Carmen (Aline Küppenheim) in a scene from the Chile-Argentina co-production, '1976', co-written with Alejandra Moffat and directed by Manuela Martelli. Still courtesy of Kino Lorber (US) / New Wave Films (UK)
During one drive, Carmen fails to contact a member of Elias' network. On the way back, she is stopped by police. We worry that she will be detained, immediately identified as an outsider from Santiago. Fortunately the police let her go. During one of her phone calls at the hotel, she hears interference, as if someone was cutting into the line. These are small indications that perhaps she is being watched.
Carmen makes a further attempt to contact one of Elias' network and drives to a slum. She meets a man in a market who gives her instructions where to drop off Elias. When she returns to her car, the car door is open. Her documentation – ID, driving licence – is missing. She drives home, aware that she might be followed, stopping off at a café. She orders a drink. A man her age takes an interest in her. 'You sound European,' he suggests, having invited himself to her table. 'You sound European too,' counters Carmen. Carmen asks about the young woman found at the bottom of the cliff. The man is evasive. 'You best get back before the curfew,' the man suggests, with a hint of menace.
Two scenes illustrate Carmen's growing anxiety. A man visits the beach house and returns Carmen's documentation. 'You were lucky,' she is told. On board the yacht, 'Cleopatra', while in the company of her husband, his friend, and another woman, Carmen becomes ill.
At one point, we see the three grandchildren playing a game, hiding behind trees in the forest, as if illustrating the point that for the young, under Pinochet's rule, stealth is the best form of defence. At one point, Carmen arrives home and calls for Estela. There is no reply. She fears the worst but discovers her maid sitting at a table asleep. Later, she will call for Estela and make a different discovery.
The film builds to a party held for Carmen's daughter. In an early scene, the grandchildren watch some of Carmen's home movies that include their mother. We learn that Carmen had two daughters. No one speaks about the other child.
The party is a success. Carmen's renovation skills – or more accurately her vision (and the pink paint) – is praised. However, as the day approaches for Elias to leave the house, events take a turn for the worse.
The ending says something about the way in which Pinochet was able to thrive, the prosperous middle class being mostly untouched, and encouraged not to discuss the political situation. We are invited to contemplate the horror of Carmen's situation. Is it worse to be arrested for harbouring a fugitive or to live knowing that the actions you took made no difference? Martelli does not suggest that this feeling of guilt is experienced by the children of the Chilean middle class in the way that Germans feel the shame of being associated with Nazism. We learn that Father Sanchez had been moved away by his church for his safety. Certainly the church's role in reacting to the disappearances under Pinochet's rule might be a source of national shame, but Martelli's film suggests how the church behaved heroically under difficult circumstances, helping where they could.
When we think of responses to the climate crisis, with the middle class (so-called 'woke') becoming activists, it is important to acknowledge the sense of shame that comes with privilege. I know better; therefore I must do better, even if I risk losing what I have. It is also noteworthy, when considering a British politician who recently resigned from office, that those found guilty of crimes exhibit a sense of narcissism and entitlement and feel no shame. Shame keeps us honest, humble - arguably alive. 1976 reminds us of that.
Reviewed at Kiln Cinema, Kilburn, Northwest London, Friday 14 April 2023, 20:30 screening