Pictured: 'We're not so different, you and I.' Raheela (Nimra Bucha, left) squares off against Ria (Priya Kansara) in a scene from writer-director Nida Manzoor's comedy, 'Polite Society', set amongst West London's Anglo-Pakistani community. Still courtesy of Focus Features (US) / Universal Pictures (UK)
British Pakistani writer-director Nida Manzoor makes a confident if repetitive feature debut with her action anti-romantic comedy, Polite Society, which features appealing performances from its broadly unfamiliar multi-racial cast. I wanted to like it more than I did. It has a UK '12A' rating which marks it as suitable for audiences of all ages, though with two scenes of near strangulation of a young woman by an older one, I felt that the film classifiers were surprisingly generous. The story is told from the point of view of a young martial arts enthusiast, Ria Khan (Priya Kansara) who idolises stunt woman and former Gladiators competitor turned star Eunice Huthart in spite of being told that she should consider being a doctor, one of the film's main satirical points. Ria is however not the film's protagonist. Rather it is her older sister, Lena (Ritu Arya) who is the centre of the drama. Having quit art college believing that she is not good enough, she falls for a handsome doctor, Salim (Akshay Khanna), who may not be all that he seems.
Should a woman unconvinced of her talent seek solace in marriage? Sounds like a good idea for a comedy-drama. Manzoor's film approaches this subject from the skewed vantage point of a nerdy, hyper-confident teenage schoolgirl, whose best friends cry, 'f- the patriarchy', even though the villain of this piece is a woman with warped ambitious to relive her life. I didn't understand the villain's motivation, which crossed the thin line between being divinely twisted and genuinely stupid, the kind of idea you immediately delete in a word document. Did anybody at Working Title, the successful production company behind the film, try to talk Manzoor out of it at development stage?
Unusually, I have watched the film in two versions. The first was at a packed test screening in Islington, North London in June 2022. People with film industry connections aren't ordinarily permitted to attend, but I've spent my entire thirty-year reviewing career requiring another job to make a living, so I consider myself exempt. The second on a Saturday night in Canterbury during the film's the opening weekend among an audience of five. It is sad to say there aren't that many British Asian families living in my neighbourhood. Moreover, Polite Society doesn't have that Everything Everywhere All At Once multiverse cut through. Then again, I'm so through with the multiverse, even though Hollywood is still in love with it - see this summer's The Flash and Spiderman: Across The Spider- Verse. The first screening of Polite Society went well, so well in fact that there are few discernible changes to the film, even down to the music cues (it ends with 'Identity' by X Ray Spex). My suggestions to the filmmakers were as follows. 1. Change the title – it doesn't tell you anything about the film other than it may be a class satire. 2. The ending is silly. 3. Replace the voice of Huthart with that of a well-known actor (the reference is too niche). All my pencil marks were ignored.
The film opens with Ria's martial arts class, each student practicing their punches and positions in unison whilst standing on separate squares. Her sister, Lena mooches around Shepherd's Bush in West London. In the film's most amusing sight gag, she pops into a Chinese restaurant and emerges with a whole cooked chicken in her hand, biting off one wing, then hiding from some older women that she knows. Ria meanwhile pedals frantically from class to their home. She has energy for the both of them, roping her sister into shooting videos for her website, in which Ria shows off her moves. It's a slick site; maybe Lena designed it. It is unclear whether Ria gets any feedback, or even invites any. She is desperate to perfect a signature flying kick taught to her by the aforementioned Huthart. Needless to say, it needs work. On the second attempt, it needs work. During a fight with a school bully, it needs work. During a fight with another character, it needs work. This is what I mean by repetitive.
At her all-girls school, joined by her two pals, Alba (Ella Bruccoleri) and Clara (Seraphina Beh), Ria is met with a negative response to her ambition of being a stunt woman. She also faces off against her class's library monitor, Kovacs (Shona Babayemi), whose father gave her a car for her sixteenth birthday before he ended up in jail for insider trading. We enjoy the comical classroom banter, teenagers critiqued for the judgments of their parents. However, this is only the basis for one scene. This is a youth movie without references to climate change, religious intolerance, and veganism. There is a vague reference to (anti) capitalism but not enough that sticks. In short, you wonder whether teenagers really care about the things that matter, or are they simply self-absorbed narcissists?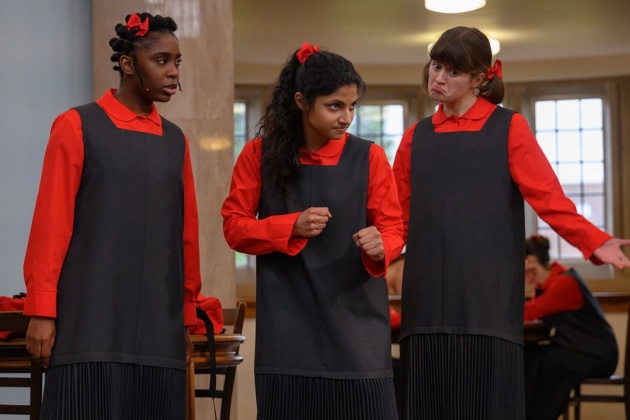 Pictured: 'F- the patriarchy... and Double Geography.' Friends Clara (Seraphina Beh, left), Ria (Priya Kansara) and Alba (Ella Bruccoleri) in a scene from the London-set comedy, 'Polite Society', written and directed by Nida Manzoor. Still courtesy of Focus Features (US) / Universal Pictures (UK)
Each fight sequence is prefaced with a caption: Kovacs vs Khan, Khan vs Khan, Khan vs Shah. Ria is almost always the challenger, never the defending champion. I half-hoped that Manzoor would play with the captions a bit – 'Spa Treatment vs Khan' – but she has a system and stays with it. There are chapter headings: 'A Tale of Two Sisters', 'Eid Soiree' and 'The Wedding' but these aren't milked for laughs. Manzoor appears to be parodying a certain form of literary adaptation – one that acknowledges its origins - but it is without spin. At one point, there is a fight in Lena's bedroom. A wooden door is shattered, but no one complains.
Ria's problems begin when her mother, Fatima (Shobu Kapoor) accepts a lunch invitation from an old friend, the very wealthy Raheela (Nimra Bucha, a well-known Pakistani actress, also seen in the TV series Ms. Marvel). Raheela complains about her son's difficulty in finding a bride. He's a doctor and very marriageable. 'How are your two girls?' she asks Fatima pointedly. Raheela is a Queen Bee, with a buzz to silence the others, making them aware of their social inferiority. Fatima secures an invitation to Raheela's Eid Soiree (Chapter Two) and that's when the problems start. Left to chat to a girl her age while Lena disappears, Ria has her glass snatched from her hand before she finishes her drink and is prompted to explore the house – more of a mansion, really. Upstairs, she discovers a room with a series of photographs – head shots - laid out. It suggests a casting director looking for a face to fit a role, though Raheela does not work in the arts. Downstairs, Ria spies Lena with Salim and that's when alarm bells go off.
Following their introduction, Lena sees a lot more of Salim. Ria scowls from her bedroom window, a room filled with posters advertising The Man With The Iron Fists and Dragon: The Bruce Lee Story produced by Universal Pictures, the distributor of Polite Society. With Alba and Clara as willing assistants, Ria undertakes a series of approaches to rescue her sister. First, 'diplomacy', talking to her father (Jeff Mirza), who describes the potential relationship from the point of view of a financial advisor, offering potential yields, a gag that would be fly if Ria had a witty retort (stocks can go down as well as up). Second, 'dirt', stealing Salim's laptop to find evidence of unsavoury behaviour. Cue a set piece in a gym, in which Ria and Alba wear fake moustaches, resembling the twins from a well-known telephone directory service commercial (118 118). The joke is that Alba wanders into a changing room full of naked men. If that's the best you've got, time to cancel the gym membership. Third, 'smear'. Salim is a saint. He saves children's lives. Ria decides to plant used condoms filled with milk (don't ask) in his bedroom, only to be discovered by Raheela. Lena gives Ria the 'stay out of my life' speech, insisting that she will never return to art college. Cue 'Khan vs Khan' and the broken door.
Having offended her friends, Ria brings a peace offering to Raheela's house to make amends and is invited to enjoy some pampering. This involves aggressive hair removal – 'we don't shave', Raheela tuts accusingly – and a warning to Ria. She makes a break for it and discovers Salim's secret laboratory. Here the film gets into fantasy territory, involving cloning. There is also an unlikely fight sequence involving spa staff. This is the only sequence that appears to have been re-edited from the rough cut - I vaguely recall a scene in or near a pool.
The finale involves making up with Alba and Clara, engaging an unexpected helper, who has an antique car – cut a shot of it driving over Waterloo Bridge with Big Ben in the background. Ria's rescue plan involves a cup of tea and chloroform as well as lip-synching to a musical number. There is a final confrontation between Ria and Raheela in which Ria declares, 'I am the fury' – a line that by the seventh utterance has lost its impact.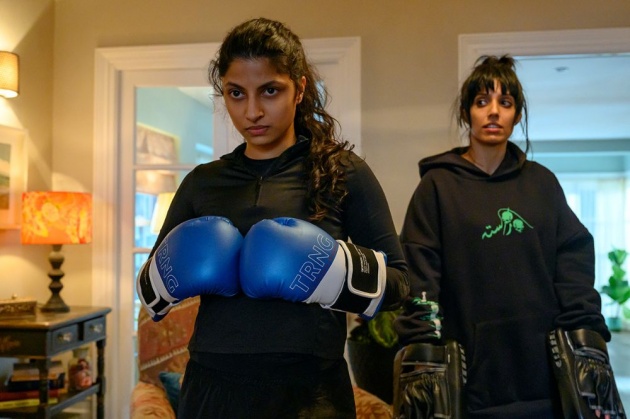 Pictured: Fighting for the right to a centre-parting, Ria (Priya Kansara) dons boxing gloves, with sister Lena (Ritu Arya, right) in the background in a scene from the London-set comedy, 'Polite Society', written and directed by Nida Manzoor. Still courtesy of Focus Features (US) / Universal Pictures (UK)
The title Polite Society brings to mind Brian Yuzna's horror comedy, Society, an attack on the upper classes and their debased values. The film approaches criticism of arranged marriages – as Ria's father puts it, outsourcing romantic negotiations to one's parents – but ultimately focuses on the disappointment Raheela feels for being a wife and making sacrifices for her son. It isn't really satire. At one point, Raheela utters the cliched line to Ria, 'we're not so different, you and I'. This isn't true at all. Raheela is much the better fighter and older too. Ria has no intention for sacrificing her dreams, ever optimistic that her sister will come back to her and that she will hear from Eunice Huthart.
The action choreography is disappointing. Manzoor is so conscious that she is breaking a taboo of sorts with her British-Pakistani action hero, that she fails to give Ria interesting moves to perform, other than the signature kick that she fails to execute. The action sequences are both repetitive and toothless, save for the final one, which is the point. Should an audience put up with so much unpleasure that they finally succumb to cheering, as occurred during the test screening? No, you can make a crowd rouser without boring viewers first.
The first day US gross of Polite Society - $280,000 on 907 screens on one day's release – is not encouraging. Nevertheless, it may find an appreciative audience. Of the comments I made at the test screening, I stand by two of out of three. Manzoor's decision to include the voice of the real Eunice Huthart is the correct one, reminding women that there are successful women who achieve unfashionable goals, in spite of the odds. If the film achieves anything, it is in bringing Huthart to a larger audience.
Reviewed at Vue Islington, North London, Thursday 16 June 2022 (test screening); Curzon Riverside Canterbury, Chaucer Screen, Southern England, Saturday 29 April 2023, 21:00 screening