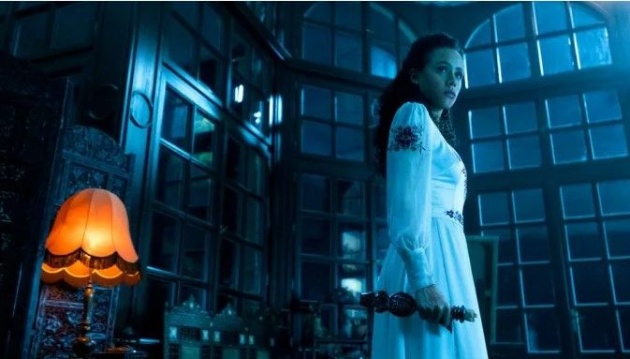 Pictured: This is why Suzanne Vega sings, 'I never wear white'. Evie (Nathalie Emmanuel) prepares for the worst in the vampire film, 'The Invitation', written by Blair Butler and directed by Jessica M. Thompson. Still courtesy of Sony Pictures Entertainment
Contains Spoilers
Incredibly, The Invitation, the email-order bride vampire film (not hard to work out the twist) is the first film directed by a woman to top the US Box Office charts in 2022. Admittedly, the weekend of 26-28 August was described as slow, with audiences insufficiently tempted by Idris Elba as a Djinn offering Tilda Swinton three wishes in Three Thousand Years of Longing (subtitle: '… gives me such a crick in the neck'). An estimated gross of $7 million doesn't make it the highest opening film directed by a woman so far this year – that would be Where the Crawdads Sing – but it does show the enduring power of genre. Originally entitled 'The Bride' (let's forget the Jennifer Beals-Sting movie of the same name) it stars Nathalie Emmanuel as Evie, a catering assistant and would-be potter hired for swanky launches who gets to keep a goodie bag. This, gentle reader, is a cautionary tale. You might think its great to swipe freebies at an awards ceremony or similar, but it could lead you down a very dark path. For Evie, whose mother had recently died, and who celebrates her birthday listening to an old voicemail message – stroke therapy in action – it leads to a submission of DNA to a company called 'Find Yourself' and a date with an over-eager Englishman, Oliver Alexander (Hugh Skinner), who insists he is her second cousin and invites her (with the aid of his Air Miles) to the 'wedding of the century'. He doesn't mention which century, but it happens to be the 19th.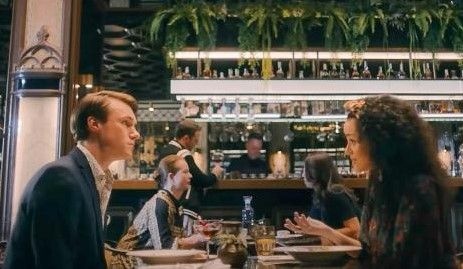 Pictured: Oliver (Hugh Skinner) offers Evie (Nathalie Emmanuel) his Air Miles to attend a family wedding in the horror film, 'The Invitation', written by Blair Butler and directed by Jessica M. Thompson. Still courtesy of Sony Pictures Entertainment
Australian-born, Los Angeles-based director Jessica M. Thompson made her feature debut with the drama The Light of the Moon, starring Stephanie Beatriz (of Brooklyn Nine-Nine fame) as a woman who denies the impact of an assault on her, released in 2017. Since then, she has directed six episodes of the Australian-set television series, The End. Here, Thompson is working from a script by Blair Butler, who specialises in the horror-thriller genre, with screenplay credits for Polaroid, Hell Fest and America's Next Top Zombie Idol (which sounds like more of a sketch than a TV special). The Invitation is a film with one twist: Evie is not just a guest at a wedding to a vampire, she is also the bride. Cue response: 'then what?'
The film begins with a sequence that broadly earns it a PG-13 certificate. How do you commit suicide in an old house if you have supernatural flying abilities? You take an alabaster bust before you throw yourself over a balcony with a noose around your neck to give yourself extra neck-cricking weight. It does mean that Thompson shows the bust smashing on the floor below rather than a neck being broken, which is a novelty of a sort. Before killing herself, the woman complains of having had enough. Immortality is not all it smashed up to be. Nor is being the third wife – and a fourth wheel.
Now the basic rule of predatory vampire films – as opposed to Blade – is that you have to feature a handsome Caucasian, a sort of Britain's top model; he sports suits, swimwear and capes, but not all at the same time because that would resemble a superhero. Walter (Thomas Doherty) is such a guy. He is unexpectedly forgiving, has an excellent sense of Evie's dress size, will keep watch as she falls asleep and hides his bad habits in the library. The latter isn't doom-scrolling on Facebook, as we might expect, but involves feasting on a maid, each of whom has a number on their collar. Talk about 'cashier number two, please'.
The first giveaway that there is something fundamentally wrong with the film itself is Walter's house. It looks nothing like an English country estate, rather a Middle European yellow and white hidey home. The film was shot in Hungary where such architecture is excellently preserved. English country homes are poorly maintained on the outside with dirty brick work and lichen. They do not resemble fairy tale mansions. Having told Oliver that he had 'spoiled coach forever', Evie, who brings a pot for a gift, makes her first mistake backing into a maid carrying a box of champagne flutes, which smash on the ground. Her first response is to help clean up, catching the ire of head butler, Mr Field (Sean Pertwee). Pertwee is a semi-sight for sore eyes, but then I'm not a fan of Gotham, in which he appeared as Alfred Pennyworth, Bruce Wayne's faithful servant. I haven't seen him in a film for years; he can easily pass for his father, the late Jon Pertwee, who played Doctor Who back when the title character had a vintage motor car. (They bring back the Daleks and Cybermen but resist the hot wheels.) Mr Field is one of those censorious head butlers who mistakes Evie for hired help rather than a VIP. Having been corrected by Walter, he then explains that every room in the house is open to her, except the library, which is 'undergoing renovation'. But where are the men in hard hats?
The formally identified bride and groom are conspicuous for their absence, but Evie meets two of the bridesmaids, brunette Viktoria (Stephanie Corneliussen) and blonde Lucy (Alana Boden). Viktoria is superior and super-serious whilst Lucy is friendly. She's never been abroad, much less watched cable television. Evie is also allocated her own maid, Mrs Swift (Carol Ann Crawford) who shows her the cord to summon assistance but asks her sternly not to ring it in vain. The bell, one of several in a row, makes her shudder.
To underscore the danger that looms for Evie, the five maids are lined up together. One of them is chosen to clean the library. A drawer opens to reveal a key. It is turned in a lock. The maid makes an unpleasant discovery that will take more than Lemon Pledge to correct. In another scene, two maids are sent by Mr Field to fetch a bottle of wine that dates back to 1787. He locks the gated door behind him. Something unpleasant awaits them, and it isn't wine from 1786.
There are creepy sounds in Evie's bedroom. She hides under the bed and then is dragged from under it by friendly Walter. It is at this point that he offers to watch her sleep. Evie, who is genuinely flirtatious, expects him to sleep with her but he does not do so, being the all too perfect gentleman.
The film's most suspenseful sequence is Evie's spa day in which she and Lucy have their nails attended to while Viktoria disrobes and dives into the pool. As Evie converses with the two women, her nails are snipped. Inevitably, a comment from Viktoria turns Evie's head and blood is drawn. Viktoria is keen to attend to Evie's bleeding finger – well, she would – but Evie is spared additional blood loss.
Throughout, Evie video calls fellow catering assistant and best pal, Grace (Courtney Taylor), to connect to the film's core audience of knowledgeable young women who have been waiting for the female equivalent of Get Out. Zingers don't exactly fly.
Inevitably, the film builds to Evie investigating the library to find a print-out of her 'Find Yourself' application. That and a maid's body. 'I wasn't a surprise guest. You knew who I was all along,' she tells Walter. 'I couldn't invite just anyone to my house without checking whether they have a criminal record,' he explains before Evie is seized and locked into an upright coffin. 'There are some misconceptions about us,' Lucy informs her brightly, implying vampires can go out in the day.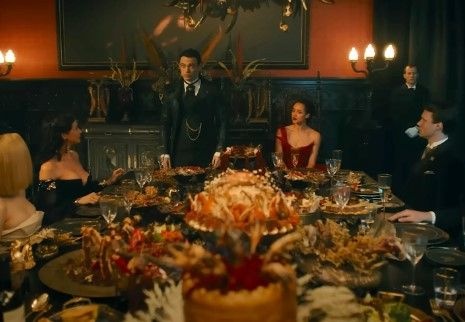 Pictured: The food is just for show. Walter De Ville (Thomas Doherty) makes an announcement in the vampire film, 'The Invitation', written by Blair Butler and directed by Jessica M. Thompson. Still courtesy of Sony Pictures Entertainment
Lucy is seated at a pre-nuptial dinner, where the guests are elderly and masked. It turns out that if Walter remains without a third wife, his power – and the livelihood of the surrounding community – will perish. That's just rich person gaslighting; there is a lot of that in the UK at present. Each diner makes a two-finger salute (not the rude one), pointing towards their lips. Another maid is sacrificed at table, the blood from her neck filling a bowl. With Mrs Swift's help – 'I accept my fate' – Evie flees but the old lady and gentleman in whose house she seeks refuge, one of whom is called Harker, aren't exactly hospitable. Evie is offered camomile tea, which is a very bad sign indeed (it is associated with the two maids of honour). She loses consciousness.
In the finale, Walter shares his blood with Evie, turning her into a super-fighter with the prowess of the Dothraki (Emmanuel made her name on Game of Thrones). There is the inevitable woman-on-woman fight sequence, Evie verses Viktoria, but Lucy proves unexpectedly helpful. Friend and foe feature in a double impalement. Inevitably, Evie confronts Walter. The charming Englishman gets his comeuppance in fire. In a post-script, a conversation takes place between men sent to an Alexander business address to eliminate all trace of Walter's plan. Evie and Grace stand outside, ready to take them on.
The audience with whom I saw the film fidgeted throughout. There were no gasps at the jump scares or laughter. Horror enthusiasts are way too ahead of the film to enjoy it. Instead, they cross their arms and ask, 'yes, and?' Viewers are better off renting a film of the same name directed by Karyn Kusama, also featured in this series. However, its modest success means that Thompson may at least get another film to direct.
Reviewed at Cineworld Leicester Square Screen Five, Central London, Thursday 25 August 2022, 19:30 'Unlimited' preview screening