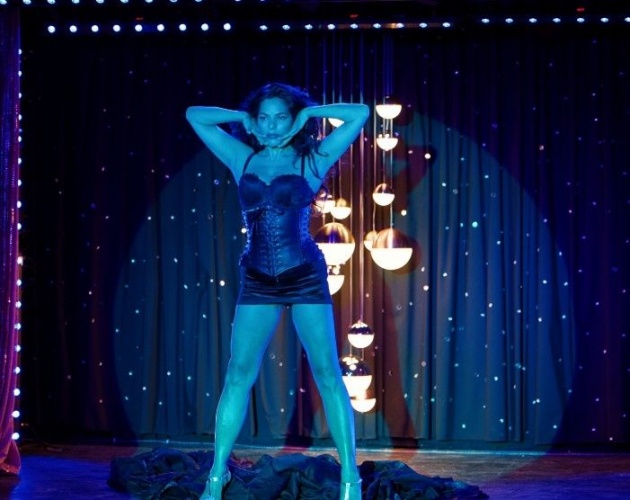 Pictured: Club owner Alex (Sarita Choudhury) performs for a waxwork-like British audience in the Costa Blanca set film, 'It Snows in Benidorm', written and directed by Isabel Coixet. Still courtesy of BTeam Pictures (Spain) / Parkland Entertainment (UK)
Officially in the United Kingdom, we are not supposed to talk about Brexit – the decision made in a referendum in 2016 to leave the 'ever closer' European Union. When discussing economic difficulties, even the absence of certain vegetables in our shops, it is not to be mentioned. Sold as an opportunity to 'take back control', Britons in their millions voted for it, swayed by the argument that an elected institution in Belgium should not be interfering in their lives to create a fairer society. Following this logic, but never acknowledging it, millions of Britons would much rather have a government closer to home cultivating an unfair society without the protections afforded by the EU. For the vast majority of people in the United Kingdom, there is nothing good about Brexit. The post of Minister of Brexit Opportunities – a non-job – has been quietly abolished under new Prime Minister Liz Truss. The UK government uses the English characteristic of never discussing shame against its own people. Its 'utopia' narrative, not so different from the one employed by terrorist groups, has been written out of official discourse. Trusted media brands like the BBC are being eroded from within, encouraged to omit Brexit from news bulletins.
Other countries regard the British – specifically English – decision with amusement and incredulity. Britons love Europe. It is a continent to which they retire or where they express their most hedonistic tendencies whilst on holiday. Spanish writer-director Isabel Coixet uses this dichotomy as the starting point of her English language, Spanish set feature, It Snows in Benidorm, starring the melancholy-faced Timothy Spall.
Spall is not classically handsome. Here he plays the archetypal socially awkward Brit who does not mask his self-doubt with aggression, rather with semi-apologetic bluster. In the film, he is cast opposite the fifty-six-year-old Anglo-English actress, Sarita Choudhury, who worked with Coixet on her 2014 film, Learning to Drive. As Alex, a Benidorm-based club manager who has been left in the lurch by her English business partner, Choudhury radiates sexual confidence and power, coupled with a 'heard it all before' realism. She and Spall are quite a pair. When Spall's newly retired bank employee, Peter Riordan explains that he has never seen a woman quite as beautiful as Alex, we believe him. It is an age-appropriate relationship too. For her part, Alex looks at Peter and describes him as innocent.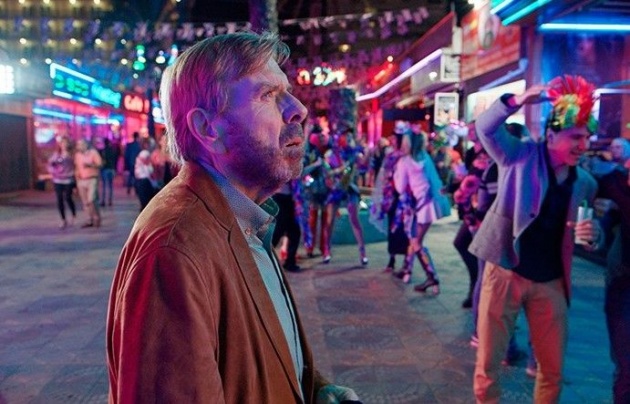 Pictured: Peter Riordan (Timothy Spall) searches for his brother in the Costa Blanca-set film, 'It Snows in Benidorm', written and directed by Isabel Coixet. Still courtesy of BTeam Pictures (Spain) / Parkland Entertainment (UK)
It Snows in Benidorm is a fish-out-of-water drama about a man visiting Benidorm for the first time hoping to see his brother. It is not a social realist film, nor a conventional romance. Rather it is a film about living with a palpable sense of uncertainty, even as Peter investigates his brother Daniel's disappearance to the best of his limited capability in a place where he is an outsider in every sense. In an early sequence set in the Manchester bank ('We Bank') where he works, he is faced with an Indian couple (Kandarp Mehta and Dhwani Mehta) who have not made a mortgage payment for six months, the husband falling to his knees and touching Peter's feet. Peter responds by re-financing their loan, much to the chagrin of his manager (Ben Temple), who asks him to accept early retirement. Peter does so reluctantly, asking not to have a farewell party. 'We weren't planning one,' he is told. Having cleared his desk, Peter commits a tiny act of vandalism turning the company logo into a rude word.
Coixet presents Peter as a stereotypical, insular Brit boringly obsessed by the weather. Most Britons use the weather as a conversation starter; not many turn it into a lifetime hobby. Peter's fascination allows Coixet to give the film twelve chapter-headings, each representing both a climatic condition and a foreboding of events to come.
We aren't sure whether Peter spoke to Daniel before arriving; we hear the messages that he leaves on Daniel's phone but not Daniel's voice. Having waited for his brother at the airport without a response, Peter takes a taxi. The driver attempts to overcharge him, stating the fare is 100 Euro. He is saved by Marta (Carmen Machi), an off-duty policewoman leaving the building where Daniel lives, who retrieves his fare. The duty clerk admits Peter into Daniel's otherwise empty apartment, telling him that he has headed for Africa. Peter is incredulous. Daniel has his name written in green neon lights fitted to the wall. What sort of business is he in?
Coixet employs mystery elements, such as a suspicious looking cleaner, Lucia (Ana Torrent) who may be poisoning Peter. She also leaves white towels shaped to look like swans on his bed that appear to be some sort of message, though neither Peter nor the audience can work out what it is. Alex herself suddenly appears in Daniel's apartment standing on the balcony, looking for her business partner. Peter is no help to her. She tells him that she and Daniel manage a club, unimaginatively entitled 'Benidorm'. At night, amongst the hedonistic Brits who cause Peter to recoil – they are loud, leery, self-obsessed, laughing without reasonable cause – he pays the club a visit and sits amongst waxwork-like British tourists watching a sweaty, aged Elvis Presley impersonator in a white jumpsuit perform 'In the Ghetto'. Peter is surprised to see Alex on stage as 'Pearl', performing a suggestive dance that involves her pulling a string of pearls from between her legs. It is not a regular occurrence, Peter discovers later; Alex was filling in for one of the other acts. Going backstage, Peter discovers a sex act taking place that stops him in his tracks.
Peter's attempt to report Daniel as a missing person doesn't get very far, though he is reintroduced to Marta, now in her official uniform. Daniel won't be declared missing until seven days, though if Peter provides any evidence of foul play, they could open the case earlier.
The investigation into Daniel's disappearance moves at a languid pace. Coixet's intention is to depict Benidorm as an otherworldly place with a surprising history. Marta tells Peter that her father once saw the late poet Sylvia Plath on the beach in a bikini at a time when bikinis were rare. Of all the details Coixet could have included, this is a strange one; during her honeymoon, Plath stayed at 59 Tomas Ortunio with her husband Ted Hughes. Even stranger, Peter is prompted to buy a copy of one of Plath's books. A bikinied Plath appears as an imagining in Peter's fevered mind towards the end of the film. This has little to do with the main thrust of the narrative.
Coixet contrives to have Peter find an open safe to discover papers belonging to his brother relating to the purchase of property. Peter takes Alex to Daniel's unfinished house. It is not altogether surprising to learn that Daniel is in property development with a partner, Esteban Campos (Pedro Casablanc). Esteban also owns a butcher's shop. The employee behind the counter tells him nothing.
There is an odd scene in which Peter and Alex are surprised by a knife wielding mugger whom Peter tackles as the mugger reaches for Alex's purse – Peter hands over his wallet quickly enough. This seems like a pretext for Peter and Alex to cement their attraction, but their relationship is chaste. Peter is taken to Alex's apartment where Lucia is cleaning; Lucia appears to be everywhere. 'He is not like his brother,' Alex assures her. In another odd scene, we see Lucia pick up and hug Alex's pearls. We know where they have been.
Alex and Peter do end up in bed together, but they don't kiss. This is a prelude to Peter being kidnapped and find himself in the backroom of a butcher's shop face-to-face with Esteban.
While Coixet trades in cliches about Britons – and Brexit is mentioned – she gives her Spanish characters the benefit of the doubt. Esteban is the kind of 'no hard feelings' kidnapper who offers Peter lambchops; somewhere in the world, perhaps in Spain, this passes for humour. Lucia adds making tea to her cleaning duties; in one scene she awakens Peter with her vacuuming. We suspect that the tea might have something to do with Peter's stomach pains.
In spite of its languid pace, It Snows in Benidorm holds your attention. Coixet's camera is fascinated by Spall, whose sunken jowls are adorned with a carpet of facial hair. Visiting Esteban's club, Peter slicks his hair back; Spall is transformed into a 1950s rocker. In a gentle way, Peter discovers the possibilities in himself.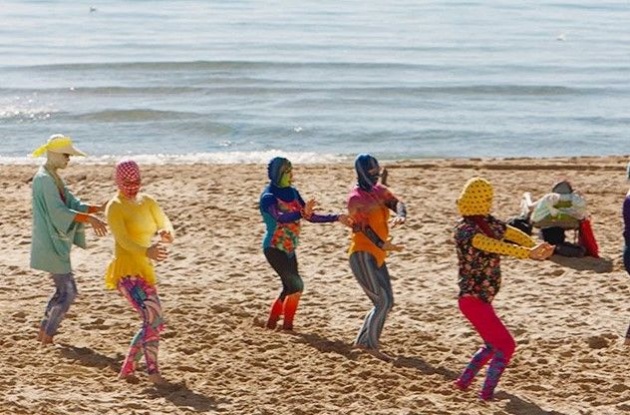 Pictured: Pushing hands on the beach. A scene from the Costa Blanca-set film, 'It Snows in Benidorm', written and directed by Isabel Coixet. Still courtesy of BTeam Pictures (Spain) / Parkland Entertainment (UK)
The plot is wisp thin; there is scarcely any drama. Coixet's interest is in her location, featuring pensioners wearing masks performing tai chi on the beach. I have no idea where that imagery comes from either. Alex was fully prepared to leave Benidorm until she watched singers performing in the open air. She is fascinated with the resort. Marta the policewoman is having an affair with a young man; this is a place where anything could happen. Coixet suggests that Brexit exists in a place where Brits chase a dream. Only like Peter, who imagined Sylvia Plath in her bikini, they have to wake up. I support this sentiment.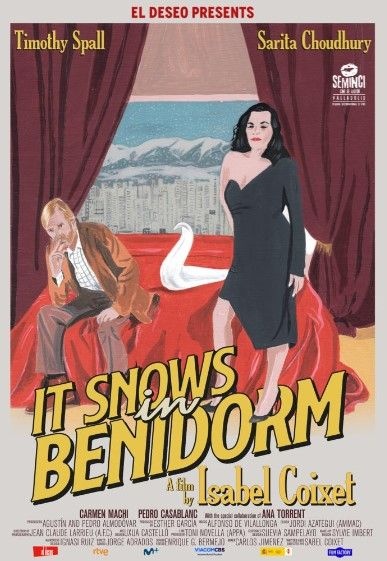 Reviewed at Ashford Picturehouse, Screen Three, Kent, Sunday 11 September 2022, 17:30 screening