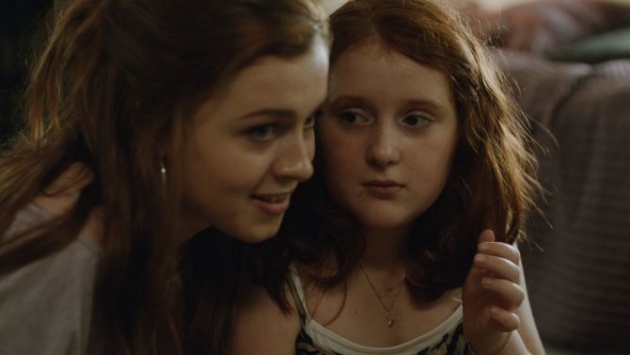 My Skinny Sister (Min Lilla Syster) is the feature debut of Swedish writer-director Sanna Lenken. It deals with anorexia, specifically how an overweight twelve-year old girl, Stella (Rebecka Josephson, granddaughter of famed Swedish actor Erland Josephson) is forced to act when the older ice-skating sister whom she idolises, Katja (Amy Deasismont aka Amy Diamond, the Swedish Miley Cyrus) runs off during Stella's birthday meal to vomit and has fainting spells during practice sessions on the rink. Katja blackmails Stella into keeping her condition a secret – Stella has a crush on Katja's English-speaking coach, Jacob (Maxim Mehmet). But as Katja becomes more insular, Stella moves from bullying scare tactics – getting a school friend to give her crank calls – to approaching the school nurse and taking direct action.
As anyone who has dealt with serious cases of anorexia will tell you, the condition can kill. But it isn't all – or indeed mostly - about idolising zero-sized catwalk models or pop stars. We are told anorexia affects high-achieving individuals who want to take control of their body but go too far. Anorexia is something sufferers love as well as hate. When treating the condition, you can't just force feed kids; you have to give them something to replace the source of their addiction, to get them to open their mouths.
Lenken, now aged 38 and a graduate of the film directing programme at Stockholm's National Film School, is a former anorexic herself and feels the subject keenly. My Skinny Sister has its genesis in her 2013 short, Eating Lunch (Äta Lunch), about five youngsters consuming a meal at an eating disorder clinic. She is particularly good at directing children. Stella is a complex character who wants to be like her sister and puts in some of the work but doesn't have the strength and dedication to be like her. Her motive is to impress Katja's coach rather than want to be a skating star. The scenes with Jacob are toe-curlingly embarrassing to watch as Stella asks to speak to him privately in his room and meet him at 08:00am to discuss her sister but ostensibly wants to spend time with him alone. Stella alienates her best friend and resists hanging out with children her own age. She also, at one point, refuses to eat the potato chips that Katja doesn't touch whilst watching TV.
The drama cranks up after Katja is told not to practice. She defies her coach. Her mother, a career woman who is mostly out of the house, takes a belated interest. The film is precise about the futility of a family trying to deal with the problem on their own – in this case in a log cabin where they ordinarily holiday. Professional help, the encouragement and support of independent witnesses, is what is required.
There are many ways to deal with anorexia, replacing the addiction with art therapy and drama therapy. One wonders whether it was film directing that saved Lenken. Her film is truthful, well-made and compelling, if not exactly a bundle of laughs, with two of the best child performances you are likely to see in films today. My Skinny Sister is warmly recommended.
Reviewed at Arthouse Cinema, Crouch End, London, Sunday 6 December 2015