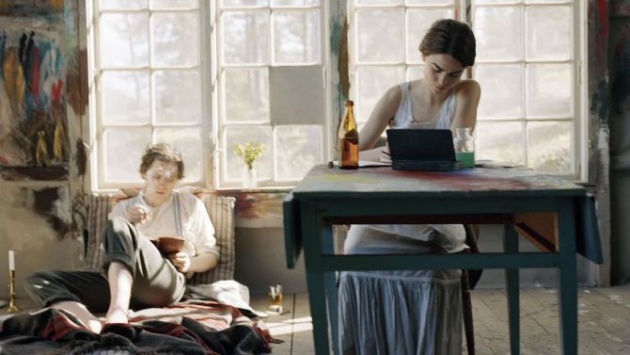 Hjalmar Söderberg's 1912 novel A Serious Game has been adapted for the screen before, by Rune Carlston in 1945 and Anja Breien as Games of Love and Loneliness in 1977. It is the tale of Lydia Stille, an artist's daughter and Arvid Stjärnblom, a lowborn newspaper proof reader and, later journalist, who falls for but refuses to marry her. They both enter into marriages to better themselves. When they meet again years later (the novel is set between 1897 and 1912) at the opera, a passion is re-kindled. But complications ensue.
The 2016 screen version has been adapted for the screen by Lone Scherfig, a notable director in her own right, with films from the Dogme 95 Italian for Beginners and 2014's The Riot Club, and directed by former actress Pernilla August, best known for playing Anakin Skywalker's enslaved mother in Star Wars: The Phantom Menace. The combination of these two talents makes the film intriguing. It premiered to modest applause at this year's Berlinale prior to its Swedish release in September. Reviews were somewhat sniffy. ('A drearily old fashioned costume drama' – Variety; 'unexceptional' – Hollywood Reporter; 'the picture's best chances of a life beyond the festival circuit will be in Scandinavian countries where Söderberg's writing is known and celebrated' – Screen Daily.)
The unenthusiastic reviews fail to note the subtle changes wrought by Scherfig and August to their source material. Lydia (Karin Franz Korlof) is far more passionate in the early section than in Söderberg's novel. The story is told through the eyes of Arvid (Sverrir Gudnason) whom we first see climbing into his only shirt and suit – he lives in a boarding house – and slipping on to the back of a carriage to avoid paying his fair. He is introduced as a proof reader but taken to accompany his editor (Michael Nyqvist) to visit the painter Anders Stille (Goran Ragnerstam) who lives an island. 'I hope you brought your swimming costume,' he is told. Arvid ,who probably only owns one pair of underpants, is alarmed. Lydia dotes on her father, describing herself as having two jobs as a daughter and an assistant. But she is also a painter in her own right. She gives a small water colour (handy wallet-sized) landscape to Arvid, which unbeknownst to her, he treasures. On the back, there is an inscription: 'I want to get away.'
When Lydia's father dies, he has the opportunity to marry her. But he is poor, having no prospects. Or so he thinks. Sent to the opera in place of the regular critic, he is given a glass of champagne by the parents of Dagmar (Liv Mjones) and writes a fizzy review that impresses his editor. He becomes an opera reviewer, dines with Dagmar's parents and marries her. Meanwhile, Lydia marries a wealthy acquaintance of Arvid's editor, Roslin (Sven Nordin). She lives a life of luxury, has a daughter but the marriage is stifling.
Lydia doesn't really get away and Arvid hasn't married out of passion. They are both incomplete. He struggles for his father's respect – papa (Staffan Gothe) wanted him to be a teacher and not move to the city. She hasn't fulfilled her own potential as an artist.
Recognising her own unhappiness, Lydia asks to leave her husband. He consents to a divorce, offers her a pension, but won't give her custody of their daughter. She is heartbroken and contrives, as a mother surely would, to be with her child.
The emphasis on Lydia's sacrifice makes this version feminist. Arvid, by contrast, cannot quite reciprocate. But life has to go on. Lydia has relations with another man (Mikkel Boe Folsgaard) who, coincidentally, works at Arvid's paper. Arvid claims to Dagmar that he is teaching him Russian whilst in reality he is meeting with Lydia.
August and her cinematographer Erik Molberg chose to film the majority of the film in a boxed format (1:33) enlarging the screen for transitions. When I saw the film, I didn't quite get this – a consequence of my front row seat – incidentally, the aspect ratio trick was first used by Douglas Trumbull in Brainstorm in 1983. The stifling format is meant to represent the conditions in which Lydia in particular found herself.
Neither Korlof nor Gudnason give break-out barnstorming performances. I felt this was deliberate. August takes care not to elevate her characters too far above their circumstance, not to appear the smartest people in the room as it were. (After working with George Lucas, I can understand her not being keen on Hollywood tropes.) The characters are intentionally not fully-formed – this is different from traditional star vehicles in which the lead characters exude certainty.
August and Scherfig have produced a film that has melodramatic elements but underplays them. It is frisky, to be sure, but not moving.
Should they have tried to engage the audience more with obvious tricks, ramping up the romance? This would suggest that they believed in romance and the union between a man and a woman as the answer. The strongest bond in this movie is between a mother and a daughter. Arvid never does win over his dad, though the latter gives him the suit that he wore to Arvid's mother's funeral – way to go, pop!
In the time between its Berlin premiere and its September release, August has time to prepare an audience for the movie that she has made, not the one they might expect to see. I think A Serious Game might find an audience outside Scandinavia beyond the festival circuit – take that, Screen Daily!
Reviewed at the 66th Berlin International Film Festival, Sunday 21 February 2016, 09:30am, Berlinale Palast