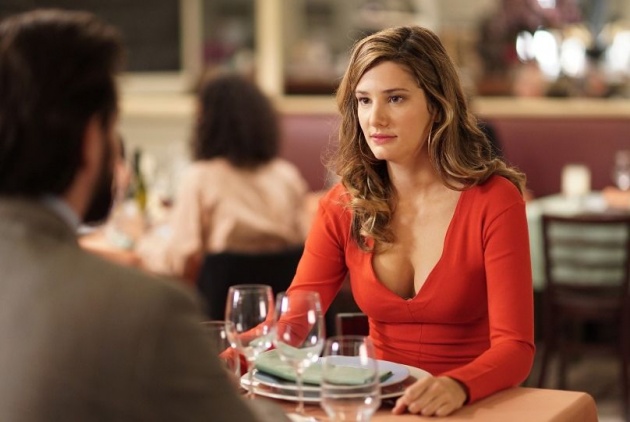 Pictured: Alice Pol in Qui C'Est Les Plus Forts (Director: Charlotte de Turckheim, France, 2015)
Charlotte de Turckheim's mostly terrific fourth film as director, Qui C'Est Les Plus Forts (rough translation: 'who is the strongest?') is adapted with the author from Clément Koch's 2011 play Sunderland about a working class woman Sally, who tries to keep custody of her younger sister by becoming a surrogate mother. The action was set in the North of England even though the play was entirely in French. De Turckheim relocates the action to a one-factory town near Saint Étienne in central France, now deprived of its place of employment.
Former 'chicken boner' Sam (Alice Pol) has been unemployed for over a year – we first see her with her best friend, Céline (Audrey Lamy) in the midst of a protest, baring her breasts, chaining up the factory manager whilst the mob flings plucked frozen chickens at riot police. Cut to 435 days later, Sam is reporting her dismal employment prospects to social services – a temporary job clearing the town's roundabout – necessary to keep custody of her 12 year old traumatised younger sister, Kim (Anna Lemarchand). Kim loves butterflies, though as far as her trauma goes, she is in the chrysalis stage, wearing a set of large earphones to cocoon herself from loud noises. Sam and Kim were born to different dads, neither of whom is on the scene – I don't know what French rules are on child support. The half-sisters live alone with a faulty boiler fixed by their next door neighbour, Dylan (Bruno Sanches). Dylan is in love with Sam, but she doesn't see it. He is a nervous social misfit whose woolly hat – a nod to Benny from the British television soap opera Crossroads perhaps – is a deal-breaker as far as Céline is concerned. Sam dreams of taking over a local bar with Céline, the latter having a formidable list of clients who ring her for phone sex; Kim keeps a list of their times reaching orgasm. Four minutes, forty-five seconds is the latest. (What is this, Top Gear for hand jobs? Wait a minute - Top Gear is for hand jobs. Why do you think the Stig wears a helmet?) It's a lively opening even though not much is going on in the town. Sam was once a cheer leader but the flounce has gone from her pom-poms.
Whilst working on the aforementioned roundabout, pulling up weeds, Sam sees a fleet of black sedans. An Indian delegation is headed for the disused factory. Behind them, somewhat lost, is another car, driven by Paul (Grégory Fitoussi), un advocat, sorry, lawyer. He asks for directions. After some initial teasing, Sam gets into the car with him. 'I remember you,' he says, 'we were on TV together.' Sam is puzzled. 'I was in the background,' he explains. Paul represented the owners when the chicken processing plant went into administration. Now he's helping the Indians. In the least successful – I would say groan-making - scene, Sam deliberately confuses American Indians with South Asian ones; shame on you Mme de Turckheim! Fortunately, the film elevates above this fairly risible attempt at comedy. The Indians don't have a job for Sam, but Paul does. He asks her to dinner at a fancy restaurant – cue some broad humour involving an over-eager and inexperienced waitress –and then tells her the job will pay 200,000 Euro. What is it? He slides across a piece of paper. Sam opens it in horror.
Paul wants Sam to carry his child. The previous surrogate mother, a Ukrainian, kept the baby. Paul's 'wife', happens to be a man, Gordon (Daniel Lobé) who approves. They book Sam into a plush hotel where the insemination can take place – Céline comes too, bringing an appropriate calendar and recommending a particular page. But they are interrupted by Dylan, who bears some shocking news.
The terrific aspect of Qui C'Est Les Plus Forts is that each character is well-rounded. You feel for them all: Sam, Céline, Dylan, Kim, Paul and Gordon. You're not so keen on the social services couple, one of whom is played by Mme de Turckheim herself. They change the goal posts – fitting for a film where a football team helps maintain a sense of community damaged by the loss of the factory. De Turckheim is great with group scenes. The film feels genuinely populated and not just with stock characters. I was reminded of the ethos of John Sayles (Return of the Secaucus Seven, Passion Fish, Lone Star) who writes every character as if he or she was the protagonist.
I could not think of a single element that does not pay-off, even the expression, 'wowie'! The film has real dramatic punch, most notably in the use of the song, 'Cambodia' – the youngest daughter is named after its singer, Kim Wilde. The choice of idol links the film to its (English) source material. Paul and Gordon are based in London and the film makes good use of a nodding Her Majesty the Queen model.
With the threat placed to the Indian-owned steel industry in the UK, the film is timely. It works so well because Kim is its still centre. Everyone wants the best for her, but she also presents a complication for Sam's surrogacy.
In the end, de Turckheim delivers the ending we want. This is feel-good stuff. In many respects, it is a typical woman director's film. It examines: mental illness; sisterhood; difficulties looking after a child; pregnancy; social inequality; and taboos (gay surrogacy, phone sex). But untypically, it works. I don't think the comedy translates to a non-French audience nearly half as much as the drama. Its humanity and optimism is inspiring.
Reviewed at LOCO – London's Comedy Festival – Saturday 30th April 2016, Ciné Lumiere, South Kensington, London, 16:30 screening
Charlotte de Turckheim (born: 5 April 1955)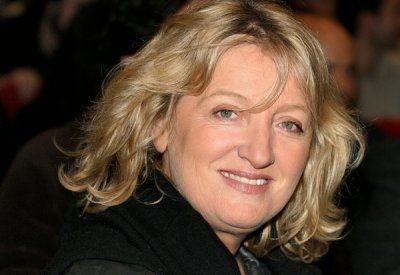 Films as director:
1999: Mon père, ma mère, mes frères et mes soeur
2006: Les Aristos
2012: Mince Alors!
2014: Qui C'Est Les Plus Forts