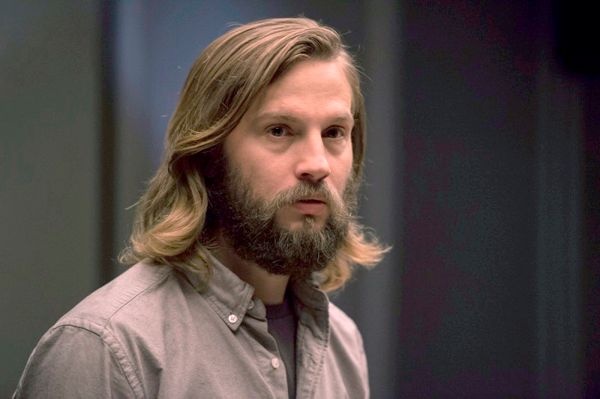 Just what exactly does a great film like The Invitation have to do to get a decent cinema release?
Of all the titles that I have seen so far in this series, Karyn Kusama's fourth film as director is the one that left me with a WTF expression on my aged, bony face. It is bold. It has a bad-ass, exploding in all directions finale. It'll make you think of The Purge crossed with Blue Ruin. Wouldn't you want to see that?
Ostensibly it is a dinner party movie. We all know how those turn out. The Discreet Charm of the Bourgeoisie, Le Dîner de Cons, My Dinner with Andre – no prix fixe menu there! It is also a Los Angeles movie, and in LA they do things a little differently, going overboard on rituals. When you can't find God, you look for something else.
The omens are bad for Will (Logan Marshall-Green) and his new girlfriend Kira (Emayatzy Corinealdi). Driving to the house where Will once lived with his ex-wife, Eden (Tammy Blanchard), they hit a coyote that Will has to finish off. If this was a bring-your-own road-kill type of dinner party, the guests would be enthusiastic, though doubtless there would be someone who would brag, 'that's nothing, I trashed a Prius.' Still, it puts Will and Eden more on edge than they might otherwise have been. The other harbingers of doom are an expensive invitation card and Will returning to the house where his young son died. The tragedy ended his marriage, but Eden in full hostess mode with her new husband, David (Michael Huisman) just seems a little too over it. As it turns out, he is not the only guest who has suffered a traumatic loss. Then there is the sudden appearance of Pruitt (John Carroll Lynch, a go-to creep-out actor) who veers towards evangelicalism.
Personally, I hate dinner parties. It's not just that you have to reciprocate, and your cooking is up for judgement. Couples' dinner parties are all about compare and contrast – whose better off than whom? You're not there to catch up with people you haven't seen in a long time, rather to be made to feel inadequate. I believe couples hold dinner parties as part of their therapy. The only ones that are justified are when you are trying to create a community in a foreign land, where if you didn't mix with others, you might drink yourself to oblivion. In this instance, a dinner party is the definition of the tribe.
This particular dinner party features an eclectic group of guests, including an Asian-American (Michelle Krusiec) waiting for her partner – 'where is he? He was supposed to be here.' Absences set Will on edge. Early on Eden even slaps one of the guests for being so negative. It is the showing of a DVD that darkens the mood, in which a group partakes in the ending of life of one of their number.
What else ups the ante? A report of a break-in in the neighbourhood; Eden and David's insistence that one of the guests can't just leave and a mystery ring on the doorbell.
Our point-of-view character Will is convinced something is wrong and threatens to bring down the mood. Why exactly are they drinking wine worth over $100 a bottle? How do they react to the DVD? What's with all these toasts? Add to that the mysterious candle placed at the bottom of the garden and before long he has a pretty good clue to his hosts' intentions.
The edgy, what-the-heck is going on atmosphere keeps us hooked. This is a film where all the action is in the last fifteen minutes. Boy, does it go off! I can see that The Invitation might be trailer-proof, but its genre pleasures are immense.
Working from a script by her husband, Will Hay and his writing partner Matt Manfredi, Kusama ratchets up the tension and delineates the characters extremely well, including an eccentric house gurest (Lindsay Burdge) and a gay couple. This is of course the tribe of liberalism; how diverse is my address book. The ending is the opposite of group therapy – it is motivated by nihilism. Is the Los Angeles above Beverly Hills corrupted to the point of self-destruction? We can see nihilism in America when Donald Trump seems a 'solid' candidate for US President. Kusama has tapped into the zeitgeist.
Reviewed at IFC Center, New York City (6th Avenue near 4th Street), Saturday 16 April 2016; 13:00 screening