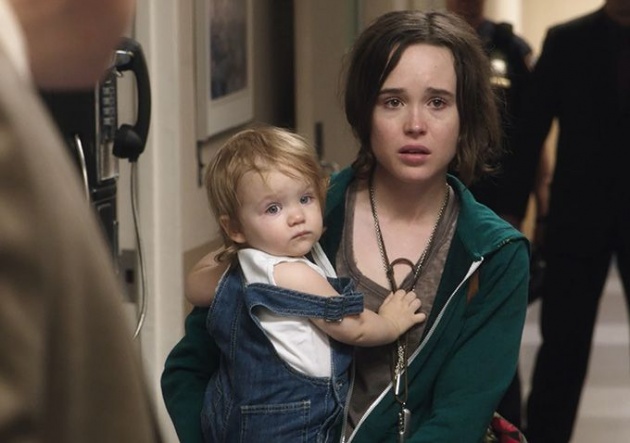 The road to expanding a short film to a feature can be mighty long, but in the case of Tallulah, writer-director Siân Heder's feature length version of her 2005 short, Mother, it is fulfilling. In advance of its 2016 Sundance Film Festival, Heder's film, which re-unites Juno mother and daughter Allison Janney and Ellen Page, was picked up for streaming by Netflix. British audiences will get a chance to see it at Sundance London on Thursday 2 June ahead of its Netflix premiere in July.
Heder and Netflix have form – she writes episodes of its hit prison series Orange is the New Black. You could view Tallulah as a prequel to a penitentiary drama, though in this case a character is genuinely penitent even before doing jail time. What is prison for again?
There is also talk about women directors ending up in directing jail, an expression for being barred from their craft for having a flop. Because her film is on Netflix, Heder is unlikely to experience this. Nevertheless, dramas directed by women that end up with characters in cuffs could be a form of metaphor, but then so could floating through the sky. Heder, a graduate of the Carnegie Mellon School of Drama as well as a former nanny, goes for the fantastical at certain points. ('Isn't gravity great?')
The 2005 short, Mother dealt with a woman asking a total stranger to look after her child so she can go on a date. Tallulah tells this same sort from the stranger's point of view. She is Tallulah (Page). In the opening scene, we see her boyfriend, Nico (Evan Jonigkeit) waiting anxiously for someone to emerge. Is he a stalker? Is he pimping his bride? Then Tallulah – Lu – runs out carrying a bottle of whiskey pursued by an angry mob. 'Don't you know it is illegal to gamble with no money?' Nico tells her, angrily. 'Only if you lose,' Lu replies, exhilarated. Lu lives out of a van, stealing credit cards and making money when situations allow. Nico loves her – they have frisky sex after her gambling fiasco – but wants a real life. They have been on the road for two years. He wants a house – he misses Washington Square. He would like a child. Lu gets angry. That's not her destiny. She is happy being a gypsy, although not the sort with 'a long and slender body / and a bump upon the head' (look it up). The next morning after holding her 'like a baby / that will not fall sleep' (that's quite enough song lyrics for this review), Nico disappears. What happened to the 'sweetest softest hands'? (Really – this is going beyond fair use.) Lu goes in search of him, back to New York City to his mother's house, where Margo (Allison Janney), Nico's mom, doesn't want to know. Used to living off scraps, Lu ducks into a hotel to feed off room service. Eating a bowl of discarded fruit, she is surprised by a lush, Carolyn (Tammy Blanchard) who asks if she is room service. Lu accepts her surprising offer to come inside and her even more surprising offer to look after her naked baby girl, Madison, with whom she cannot cope.
Squeezing herself in the tightest of dresses, Carolyn asks Lu to do her make-up ('I don't do make up,' says Lu believably) then offers her $100. This may be the easiest money Lu has made but she is exploiting a woman who is clearly drunk, needy and whose life centres round the letter 'I'.
When Carolyn returns even more inebriated and flops on the bed – she has been rejected – Lu can't bear to see Madison crying and takes her to her van. When she returns her the next morning, Carolyn has called the police. Lu goes on the run with the child.
Lu is a woman with limited options, but she exploits them. It takes her on a journey where she fabricates a story to find acceptance, lives a lie but can't help being herself – at one point daubing over expensive paintings – but then faces an impasse.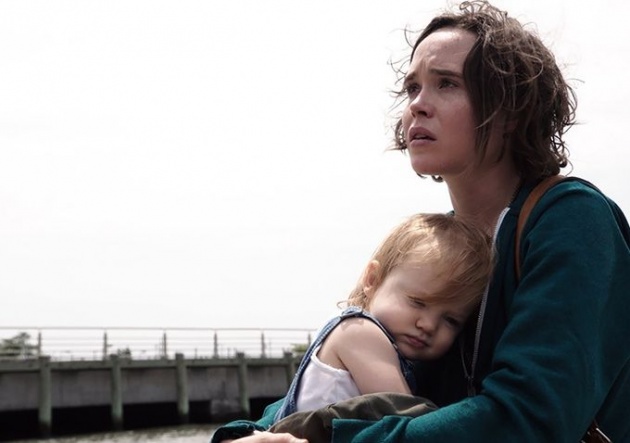 Heder's main subject is the deceits that we practice to get by, how everyone is to some extent bad: either living in tenured housing earned through one's husband, though in the throes of a divorce (papers are soaked in a bath); attempting to cheat on one's partner through unbridled desire; cheating on one's wife with another man, but maintaining the façade of a happy marriage; stealing a baby buggy or bicycle wheels. Lu and Nico met following the theft of the latter; he lost his wheels so – in a manner of speaking – took hers.
It is also about the awakening of Nico's mother, an author of books on the institution of marriage, who learns the importance of moving on, via offering her doorman (Felix Solis) wine. Love does win out; Heder's film builds to a life-affirming finale. Ladies and gents, she earns it.
The performances are ace, with Janney playing to type, prickly and sharp but unable to conceal softer impulses. Page brings out Lu's childlike impulsiveness, which at one point results in an impromptu lemonade sale as if she were in suburbia and not on Park Avenue; mind you, how her van escaped being towed stretches belief more than the floating sequences. Blanchard is unafraid of portraying Carolyn in an unsympathetic manner, but we start to feel sorry for her even though she remains an unsuitable mother. Some key production roles are filled by women - cinematography by Paula Huidobro, production design by Sara K. White, costume design by Brenda Abbandandolo and music supervision by Laura Katz. Uzo Aduba makes an impression as a pregnant police officer.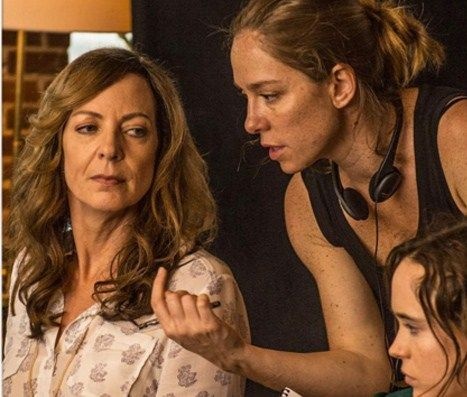 Above: Siân Heder director Allison Janney and Ellen Page in Tallulah
Reviewed at Sundance London press screening, Tuesday 31 May 2016, 09:30am PictureHouse Central, Shaftesbury Avenue, London
Meet the artist Sundance 16 clip: