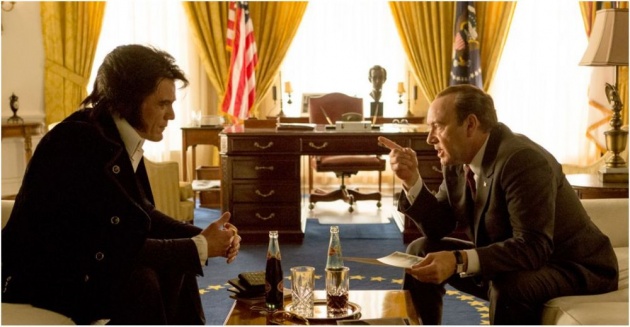 Elvis and Nixon is director Liza Johnson's third feature film after her 2011 debut Return about a female army reservist (Linda Cardellini) having difficulties returning from a tour of duty and Hateship. Loveship (2013), adapted from an Alice Munro story about a nanny (Kristen Wiig) who falls victim to a nasty prank by a wayward teen (Hailee Steinfeld). Whereas Hateship, Loveship only made USD 80,588 at the Box Office (according to IMDB), Elvis and Nixon was seen by rather more people since its 2016 Tribeca Film Festival debut (box office: USD 1.1 million at time of writing).
It imagines the meeting between the 'King of Rock and Roll' Elvis Aaron Presley (Michael Shannon, his second film with Johnson after Return) and 'I am not a crook' US President Richard Milhouse Nixon (Kevin Spacey) on December 21 1970. Now, I have no idea what the DC weather was back in the day, but I was pleasantly surprised there was no snow. Not every rock and roll, sequin-wearing bespangled, hip-swivelling legend can turn up at the White House and ask for a quiet word with the President on a matter of national security, but Elvis did, somehow. Though both Elvis and Nixon are now abiding in the Vegas of the Skies – Elvis still performing, Nixon on car parking duty – there are plenty of people still alive to give testimony on what actually happened, though whether Elvis was short-changed by a candy machine until a fella sitting next to it intervened is a matter of online debate.
Elvis and Nixon is actually the second film on the subject after Allan Arkush's little seen 1997 film Elvis Meets Nixon starring Rick Peters as Elvis and Bob Gunton as Nixon. The story is remarkably similar. Eschewing his private jet and the stewardship of his manager, Col Tom Parker, Elvis nips off first to California to pick up his buddy Jerry Schilling then flies to DC to request a meeting with the President. You will be interested to learn than the logo for American Airlines – Elvis wrote a letter to Nixon on airline-headed paper – is the same as it is today, but then so is Coca Cola. The only real drama in Johnson's film is whether Jerry (Alex Pettyfer) will get back to Los Angeles in time for a meeting with his girlfriend's parents so that he can ask for her hand in marriage - unless of course you count that moment when Elvis wants candy.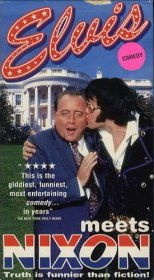 Never mind the story; it is the detail that intrigues us. How do you get into the White House when you are carrying firearms about your person and your gift to the President is also a gun? Why would Nixon make time to see him? What happens if one of Elvis' buddies, Sonny (Johnny Knoxville, a better ringer for the King than Shannon) brings a girl to the room? Why does Elvis hate the hugely successful Beatles so much?
If you have no prior knowledge of the 1970s music scene, you will be slightly lost. Elvis and Nixon is notable for the absence of Elvis songs, a judgement in my view that is right on the money (as opposed to 'One for the money/Two for the show/Three to get ready/Now go cat go' if you are of the 'Blue Suede Shoes' persuasion). If you have no knowledge of a 'Riley's Original – my ass – bun' you need not worry. One of the movie's highlights is Elvis going eatin', because the King loved his food. The key issue is Elvis' dislike of drug-takers and flag burners. He sees himself as a Patriot wanting to do well for his country, but not through a Telethon or concert for the troops but by going undercover in disguise, getting close to groups like the Black Panthers and, ahem, bustin' their ass.
The result is a slight, engaging film that is like a salad – moderately tasty as an appetizer but not exactly filling. Still, Spacey's take on Nixon is a good imitation. He is a better fit for the role than Anthony Hopkins was in Oliver Stone's biopic. Shannon, noted for his menace rather than charisma, is a curious choice for Elvis. On the plus side, he is the kind of guy who might sing, 'Lonely This Christmas', even thought that song was performed by the English group Mud in the Elvis style (thank you, yahoo answers). On the minus side, he looks like the sort of chap who might use his arsenal of weapons, including the World War Two revolver he gives Nixon as a present – I guess he didn't want to risk chocolate.
Alex Pettyfer's career seems on a permanent slide after leads in Stormbreaker, I am Number Four and Beastly but maybe hanging out with Shannon and Spacey is a good way to recharge his mojo. Johnson shows any number of screaming female employees at airports, the Bureau for Dangerous Drugs but not Riley's who become hysterical at the mere presence of Elvis. She contrasts these with Jerry's girlfriend who fears losing him to the madness of Elvis' entourage. This leads me to suspect that Elvis' entourage might be a better subject of a film rather than this one meeting with Nixon. I'd rather see that than the HBO version.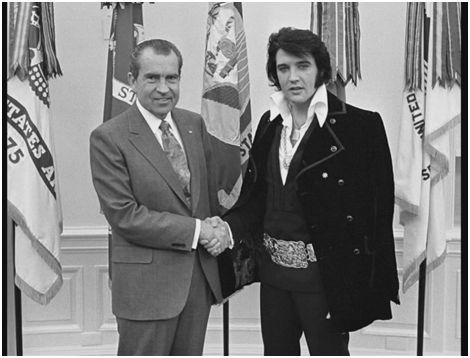 Reviewed at PictureHouse Central, Saturday 11 June 2016, 19:15 screening – preview (cinema's 1st birthday)