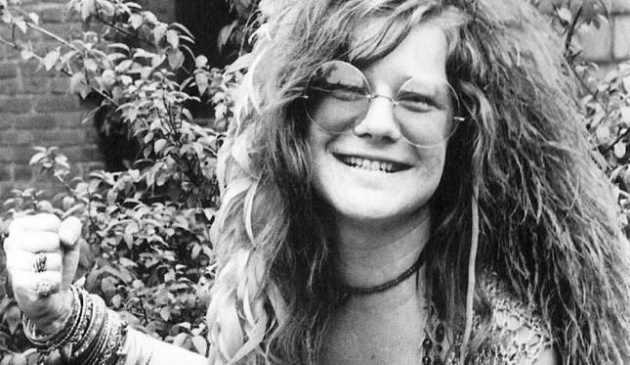 Janis Joplin (1943-1970) was a singer of immense talent. Yet she didn't discover that she could sing until she was seventeen. A rebel and outsider partly owing to her plain looks – in an act of cruelty particular to American High School students, she was voted 'ugliest boy in school' (no, you didn't misread that) – Janis left her home town of Port Arthur, Texas to go to Austin and sing the blues – later she headed to San Francisco. Her British boyfriend, in an act of cruelty not particular to Brits, introduced her to drugs and she was forced to return home to get clean. She joined the group Big Brother and the Holding Company, traded blues for rock, and commanded attention. She saw Otis Redding live, was hooked by his 'you gotcha-gotcha-gotcha' and incorporated that into her singing – the speed up, slow down, talk in a confessional manner to the audience and then belt out the chorus manner that she honed to perfection, transfixing her audience. One music journalist memorably described her singing as a 'desperate mating call'. He wasn't wrong, baby, he wasn't wrong.
Seven years in the making, Amy J. Berg's documentary Janis: Little Girl Blue relates Janis' compelling story – the musical highs, the chemical highs, Monterey Pop, Woodstock and Musical Express. It is a vivid portrait of the time, punctuated by Janis' letters home (read by Cat Power), when people hung out, took drugs, experimented with their sexuality and their music and were gratified by a welcoming counter-culture audience response that got bigger and bigger. Berg interviews Janis' sister as well as former band members, talk show host Dick Cavett and singer-songwriter Kris Kristofferson - she covered the latter's 'Me and Bobby Magee' in the weeks before her untimely overdose.
Naturally insecure and in need of love, Janis stood up against segregation in her home state and was vilified for it. This drove her move to San Fran. She briefly lived with a woman. Although she was not the leader of Big Brother and the Holding Company, she became identified as such. Yet the record deal that tied her to the band actually kept her alive. Janis didn't have the responsibility of set lists and musical arrangements so could concentrate on what gave her stability – her singing. When she did branch out on her own, the early results were chaotic. Mind you, some of her recording sessions, filmed by D A Pennebaker but not included in a movie of his own – we see them here – are also nuts.
Janis knew the danger of drugs – so much so, that she didn't want to be around people who took them. She loved performing – the act of communion with an audience. For her, it was a form of love making, giving and receiving. She called it 'co-dependence'. Janis also faced her demons down, returning to Port Arthur for a High School reunion. Yet we don't hear a curse word said to her fellow students, who surely deserved it. Rather a sense of 'this is where I came from – I have transcended you.'
Comparisons could be made between Janis and Amy Winehouse, another member of the '27' club – singers who died in their prime, aged 27. Janis seems more stable. Her final OD was in a hotel room alone. A telegram from a former lover who confessed that he still had feelings for her didn't arrive until after her death.
Why did Janis: Little Girl Blue take so long to make? It wasn't just tracking down the archival footage. Music clearances are expensive. Berg's saviour was fellow documentarian Alex Gibney (who gets a producer credit here) who put her in touch with a company wanting to produce music documentaries. Finally, she could afford pieces in the puzzle.
Only over the end credits does Berg commit the movie sin of including testimonials of contemporary famous singers who weren't there - they add nothing, except a name to put on the movie poster.
Janis: Little Girl Blue feels like a complete portrait of the singer. I particularly enjoyed the interviews with Cavett with whom she had a rapport – he didn't treat her like a phenomenon but wanted her to talk about her insecurities. His talk show feels refreshingly uncluttered - I can't imagine Janis taking part in 'egg roulette'.
Overall, the film is a worthy addition to the rock documentary genre. I wondered afterwards whether Berg considered herself a 'doc chick' – a woman hooked on the documentary form. A question, perhaps, for another time.
Reviewed at Viennale '15 – the 2015 Vienna International Film Festival, Gartenbaukino, Wien, Sonntag, 25 Oktober, 23:00 screening