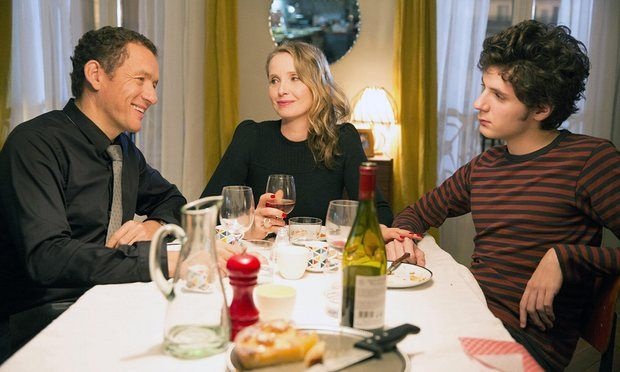 Actress Julie Delpy (born December 1969) is excelling at her second career as writer-director. Lolo, in which she stars opposite Dany Boon, France's answer to [insert contemporary comedy legend here], is her sixth feature film as director. The best known of her films is 2 Days in Paris (2007) in which she starred opposite Adam Goldberg – she directed the sequel 2 Days in New York with Chris Rock, five years later. Although her work behind the camera is broadly comedic, she made one genre film, The Countess (2009), in which she played the blood-sucking Countess Bathory opposite Daniel Brühl. It is a throwback to Hammer horror films – it was a horror all right, sorely lacking in 'a strong coherent vision and sense of purpose' (Boyd van Hoeji, Variety); 'it neither terrifies nor illuminates' (Kirk Honeycutt, Hollywood Reporter). Having got her first screenwriter credit collaboration on Richard Linklater's 'Before' trilogy – Before Sunrise, Before Sunset, Before The Devil Knows You're Dead, sorry, Before Midnight (all four star Ethan Hawke, spot the odd one out) - Delpy has even earned an Oscar nomination for her pains for Before Midnight.
Delpy's highest grossing film as director is 2 Days in Paris (19.8 million USD) which clearly sent her a message: keep the concept simple. So in Lolo, she has fashioned a ménage a trois: a man, a woman and the woman's precocious teenage son (Vincent Lacoste, star of Les Beaux Gosses).
After some lively animated credits, Delpy takes us to an indoor swimming pool where Violette (Delpy) and her best friend, Ariane (Karin Viard) talk about sexual pleasure and lack thereof – well, there is always the wave machine. The pair catch the eye of two men, one of whom Jean-Rene (Boon) has recently moved to Paris. He has an excellent view of the Eiffel Tower from his apartment – well, the tip of it. Jean-Rene dumps a large tuna fish on Violette's lap during a poolside barbecue, but she doesn't let that put her off. They start dating. But Jean-Rene doesn't reckon on the determination of Violette's son Lolo (Lacoste) to put him off.
The comedy is broad, revolving on Lolo sprinkling Jean-Rene's clothes with itching powder. The red sores resemble a sexually transmitted disease – trichomoniasis, one of the characters in 300 - I think one in 300 get it - or a more common STD, a poor credit rating. At a fashion show attended by Karl Lagerfeld, Lolo puts a tranquiliser in Jean-Rene's drink. He persuades two girlfriends to sleep in Jean-Rene's bed so Violette can discover them together. In his worst act, Lolo's friend infects Jean-Rene's computer with a violent, anti-capitalist virus.
Jean-Rene is amazingly tolerant. The tension is whether Violette can wean her son off her unconditional love and do something with his life.
According to Allocine, an authoritative French website, 100 critics gave Lolo three stars. Not terrible, but not great either. The parts stretch neither actor. Violette is an accomplished director of fashion shows. Jean-Rene is eager to please though not a convincing IT nerd. This is Hollywood likeableness.
There is an expectation from foreign critics that French comedies have to be sophisticated. Not so, they just have an emotional core. I believed that this kid didn't want to share his mother with anyone else; that way he can stay at home as long as he wants and doesn't have to grow up. It doesn't have to be an Oedipus relationship, rather more redolent of a slacker. In the UK, children are forced to live with their parents for longer to raise enough money for a deposit. But it is criminally hard for young people to enter the housing market. The Iraq War was not the only thing Labour Prime Minister Tony Blair got wrong; he allowed the housing market to become unaffordable.
As the Before trilogy showed, Delpy is at her best playing characters close to herself – or our perception of her as a chatty, opinionated French woman and mother. But for her next comedy, she should take a few risks by having less than likeable protagonists. She has stated that she does not intend to star in her next film as director, but needs must.
Reviewed at 'The French Connection', Sunday 3 July 2016, Everyman Hampstead, North London, 19:00 screening