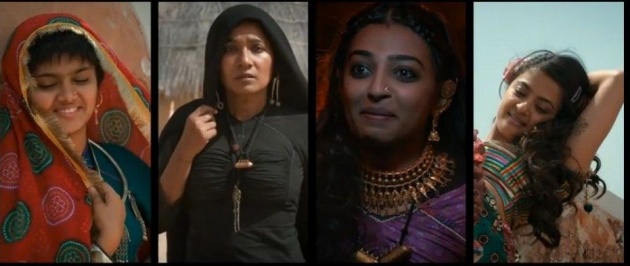 Set in a remote village in Gujarat, India's western-most province but filmed in Rajasthan, the somewhat larger province in the north-west of the country on the border with Pakistan, Parched, written and directed by Leena Yadav, is about the intersecting lives of four women who are bound by friendship and common dissatisfaction with their treatment by men. But the film isn't specifically anti-male – there are at least two sympathetic male characters. Rather the problem is in the values that these men cling to, treating women as property, or acting irresponsibly, abusing them with violence and hanging out with other thugs.
Parched is an independently-produced film with some songs. One of the characters is a feisty erotic dancer and prostitute, the so-called Earthquake lady Bijli, played with commanding presence by Surveen Chawla, who lip-synchs during her routines. But it breaks a taboo – Indian films are forbidden to show male and female nudity, for fear of inciting the (male) crowds. Pornography is available – we see one character looking at an image of a breast being licked on their mobile phone – but it is not part of the mainstream, accepted as suitable family entertainment. Bollywood cinema – India's commercial film output – is aimed at the whole family from young Sunita to old dadaji (grandfather) and works in elements that appeal to all.
The lead character is Rani (Tannishtha Chatterjee), a widow who has borrowed money for a dowry in order to acquire a bride for her wayward son, Gulab (Riddhi Sen). While she works producing elaborate textiles for a local entrepreneur Kishan (Sumeet Vyas), her son drinks beer with his buddies and speaks disrespectfully of women. He doesn't have a firm male hand to teach him respect for others.
The community lacks television. The only entertainment is a travelling dance company in which Bijli is the star attraction. Rani's best friend is Lajjo (Radhika Apte) who is frequently beaten by her husband, mostly for not having children, but also for putting him to shame by being an excellent worker. The fourth woman of the group is young fifteen year old Janaki (Lehar Khan) who arrives at her wedding with short hair, describing how it had to be rid of lice. The bride becomes a laughing stock and Gulab makes no attempt to treat her civilly.
Widow Rani has an admirer who has the same name as an Indian star Shahrukh Khan who constantly phones her. The vibrating phone is a source of (acceptable) sexual humour. Although amused at first at this unlikely wrong number, she finds his attention distressing.
Early in the film, a young bride addresses an outdoor community meeting, explaining that she won't go back to her husband as he won't touch her. The fear in her voice is deeply-felt. As the community views marriage as a commercial contract, the elders judge that she should be sent back to the family – your husband's family has forgiven you. But then she explains how other family members have abused her – she is frequently raped. This makes no difference. For this young bride, there is no hope, no women's refuge that she can run to. Even though she has a sponsor in Kishan, who with his pale-skinned teacher wife will take her in, the community does not allow it.
The film makes it clear that the arranged marriage system, with dowries paid by the groom's family, turn women into slaves or property. Yadev does not at any point argue that the system should be reviewed. Families in India are economic units in which the young take care of the old. Rani lives with her elderly mother, who dies early on – Gulab does not even acknowledge this.
It's not just the arranged marriage system that is the problem. Economies in small communities are not diverse. So there is little opportunity for the men to dream big and better themselves, at least according to the world of this film. So there is no economic incentive to think beyond living in the moment.
Traditions exist to address societal problems. The Catholic Church introduced 'fish on a Friday' to preserve meat stocks. Societies permit release valves to allow the status quo not to be disturbed. When the women ask for television, as something to keep them entertained in the evening, they threaten the role of the dance company that services men's sexual fantasies. By the end of the film, the women have clubbed together to buy a receiver dish, but they haven't addressed the problem in their men folk. Lajjo thinks that if she can get herself pregnant, maybe her abusive husband will respect her, but after having sex with a man in a cave (every community should have one – 'Magic Mike' sperm service), he is unsurprisingly less than impressed. Bijli has an admirer in the dance company, whom she tells to go to the big city. He is willing to travel, but wishes to remain her pimp. It is clear that he loves her, but he lacks the outlook to understand that Bijli can be something else than an object of sexual desire.
Rani exercises no influence at all over her son and, when some money is stolen, vents her anger on Janaki. She realises her mistake – and Gulab runs away from home, vowing not to see his mother again (no loss) – but atones for it by giving young Janaki a fresh start. The second 'nice guy' in the movie is a young admirer from her village who brings her magazines. Only he could not afford her dowry.
The film has an open ending involving a stolen motor vehicle – do the women turn left or right? Yadev leaves us with an image of liberation. The role of the film is for men to re-think how they make women so unhappy, to make society fairer and happier. The title refers to a starvation in happiness, something that could be addressed through fairer community laws.
The film's most perceptibly 'censor-baiting' scene is when Lajjo reveals her wounds – and her breasts – in front of Rani. Rani administers water to them to salve the bleeding. The scene flickers with lesbian desire but in fact is about the reassurance of a caring touch. In the post-screening Q and A, Yadev argued that if men and women just touched each other in a nicer way, the world would be a happier place. Who could argue with that?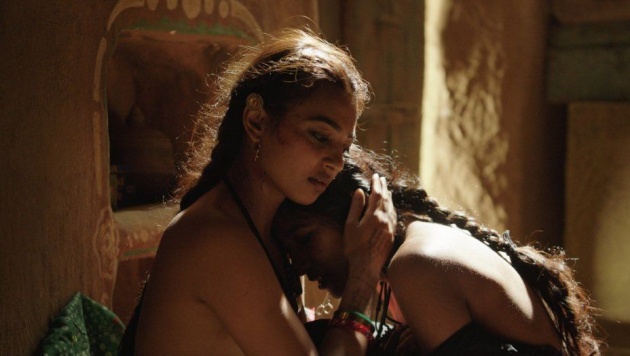 Reviewed at London Indian Film Festival, Cineworld Wembley Screen Five, Middlesex, Saturday 16 July 2016, 17:30 screening