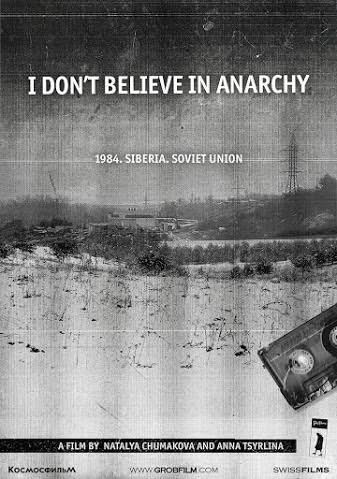 'I have never written a song out of kindness – not once' – Yegor Letov (10 September 1964 to 19 February 2008)
How much do you know about the Russian punk scene? My guess is not a lot. Russian punk songs are not likely to be an entry at the Eurovision Song Contest. Russian punk bands are not cited by their English speaking counterparts – 'I want to be more like...' They don't tour much outside Russia. They are wedded to their social context as well as quasi-religious Russian traditions of the visionary or seer. If Rasputin were alive today, he would have played bass and lead vocals in a punk band, the Dead Romanovs. But we in the West might not have heard of him.
Natalia Chumakova and Anna Tsyrlina's documentary, I Don't Believe in Anarchy (Russian title: Zdorovo i vechno- Big Time and Forever), introduces us to Yegor Letov, lyricist and lead singer of the band GrOb. The band's name is short for Grazhdanskaia Oborona or Civil Defence. Letov's band attracted large, enthusiastic audiences. He developed a style called 'Communizm' spelt with a 'Z' because Communism with an 'S' is a largely discredited system. Few interviews with him exist, or so we are told. Actually quite a lot of interviews exist on the internet. He was not that unavailable.
I Don't Believe in Anarchy is not your usual type of Western rock biopic. Yes, it has interviews, including with Yetov's brother. Yes, it has concert footage, largely shot on camcorders – the images are degraded. Yes, the story is told in chronological order. But I never got a sense, at any point, of the band's impact. How many records did they sell? Who bought them? How much of the year did they tour? Were their musical differences? Did the band actually make money? Were they screwed over by their manager or promoter? Another review of the film tells me that they released 18 albums between 1985 and 1990. Thank you, Mark Bennetts of the Open Democracy website.
We get a lot about Letov's recording methods. He didn't want the songs to sound well-produced. He wanted the garage sound, which is not to confuse it with Garage Band, which is surely trademarked by Apple (TM).
We also learn that Letov helped the career of a young singer, Yanka Dyagileva, who died in 1991 (suspected suicide) one year after GrOb stopped playing.
The lack of critical distance is partly attributed to one of the directors, Chumakova, being Yetov's widow and the band's former bass player. According to the film's publicity material, the film contains a fair amount of reconstruction to suggest the boisterous atmosphere of a GrOb gig.
I did like the framing of the in-camera interviews – one woman is seated on a vast sofa in an otherwise bare room, a man sits by a window with a cup of coffee (?) on the sill. There is also an amusing anecdote about the confiscation of illicit books by the KGB, including a Russian published copy of The Master and Margarita - 'even Russians make mistakes'. Letov's band was straight out of Omsk, Siberia. But as the band were posed in hostile, bleak snowy landscapes, framed by barbed wire, band members didn't quite believe in this image.
The film doesn't give you a reason to seek out their records. It suggests that GrOb were best enjoyed live. There weren't so much songs as single lines yelled against some form of musical accompaniment - electric guitars, you know the drill. We see the band posing in Red Square, the Russian equivalent of Abbey Road, if Shepherd's Bush housed the Winter Palace. We don't get a sense of their contemporaries – the Beatles competed against the Rolling Stones, after all. We do know that Letov was influenced by his smuggled vinyl copy of the rock opera, Tommy. He couldn't play all of the songs – the record was broken – but those he could hear he played incessantly.
In the programme for the 2015 Vienna International Film Festival, co-director Anna Tsyrlina writes about what is left out in the course of building the myth of Letov. In another words, I Don't Believe in Anarchy is by no means definitive.
Reviewed at Viennale '15, Stadtkino im Künstlerhaus, Wien, Montag 26 Oktober 2015, 11:00 screening