If the news from Afghanistan has ever made you feel hopeless or if you've become harden to the 'collateral damage' you see on television, it's time to remind yourself of the humanity we all share with the Afghani people and that they are all somebody's son or daughter. Molly and Mobarak is a documentary made almost 10 years ago by the stellar Australian documentary film-maker Tom Zubrycki.
Mobarak is a young Afghani refugee, sent through Asia to the apparent safety of Australia and then put into internment for years while his case was reviewed. His people, the Hazara, were under threat of extinction due to tribal conflicts and Taliban retaliation that were inflated by the US invasion. Families that were able to sell some possessions and scrape together whatever money they could, were paying people smugglers to take one member of their family to safety.
Mobarak is the chosen one from his family. He's on a temporary visa living in a country town in New South Wales Australia, welcomed by some of the small town locals and feared by others particularly in the opening of the documentary.
Mobarak, despite his journey and time interned, is remarkably like any other young man, looking to find himself a job and role in life that has meaning and looking to fall in love. And he does fall in love with Molly, the daughter of a local English teacher Lyne Rule who volunteered to teach him English and has become his second mother. The problem is Molly has a boyfriend already.
Tom Zubrycki, the film maker, places himself within the family, who become so comfortable and trusting of him, that there is often touching confessions from the heart. This is not a luxuriously shot documentary but rather one shot by Zubrycki himself with a hand-held camera and sometimes a sound assistant, and there's little post production prettying-up either. Zubrycki is a master of fly-on-the-wall observational documentaries and the beauty of the film is how he's sees beyond the ethnic or political dressing of a situation, enabling us to see how very much like anyone else Mobarak is. I met Tom years ago and he told me that he never intended the film to be a love story but that's what emerged by following through the characters.
The documentary was launched at the Sydney Film Festival in 2003 to critical acclaim.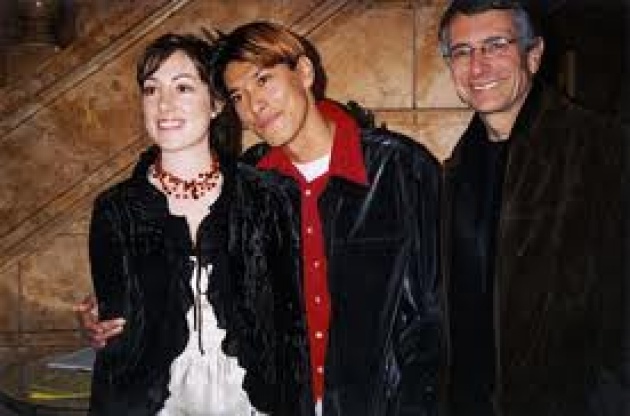 Molly Rule, Mobarak Tahiri and Tom Zubrycki at the Sydney Film Festival in 2003
It's a journey of love, and a journey of learning for the people of the town of Young as much for the new arrivals from Afghanistan.
Small town Australia has been accepting Afghan refugees for more than 10 years now, with tragedy (there have been numerous suicides of refugees) and successes like Mobarak. As one of the town's teacher says in the documentary as she fights to keep the Afghans in her town, "If they left, there would be a hole in my life." The best way to end fear, intolerance and racism, is actually to meet and live together.
The documentary can be purchased at Ronin films Or you can watch some clips at Screen Australia.