Video Credits: WPCrafter.com WordPress For Non-Techies via YouTube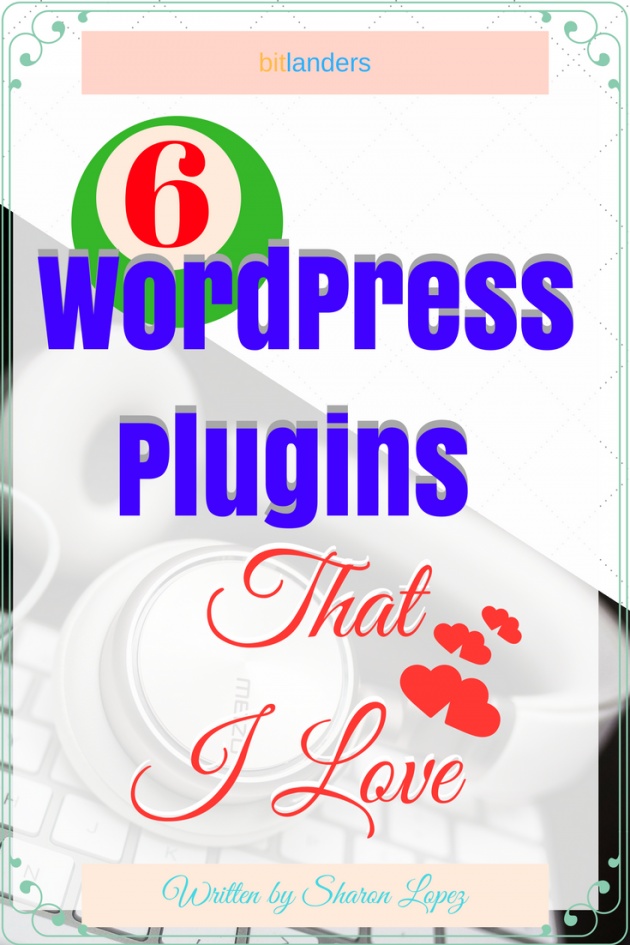 Image Credits: Sharon Lopez via Bitlanders
I have a self-hosted WordPress blog which I am currently managing. I also have a blog hosted in Blogger. Both these blogs are relatively new. My WordPress blog which is less than a year is earning a few amounts through affiliates while my blog in Blogger is just a month old and needs to be improved.
What I like most about WordPress is that we can use plugins for some functions that we need to implement on our sites. This is a good option especially for someone like me who has a little knowledge of HTML.
A plugin is a software component that adds a specific feature to an existing computer program. When a program supports plug-ins, it enables customization. Source
There are thousands of plugins which we can use depending on the needs of our WordPress site which is mostly dependent on the niche we have. The Official WordPress Plugin Repository has Fifty-Five Thousand Two Hundred Sixty Four (55,264) plugins as of the writing of this post. It means it is continuously increasing as new plugins are being developed every day.
Plugins are very useful and easy to use. It can improve the functionality of the site without actually editing the HTML code. There are different plugins that offer nearly similar functions so we have to choose which plugins work best for us.
As a site owner, the basic aspects we want to achieve are speed, security, and SEO. Our choice of plugins that we want to implement on our sites, would basically be based on these goals.
Some of My Favorite Plugins are really helpful when it comes to achieving a great functionality. Here are my favorite WordPress Plugins which are helping me with a lot of great things.
(1) SEO Yoast
Image Credits: Yoast.com
A powerful plugin which helps bloggers on the Search Engine Optimization (SEO) aspect. Yoast plugin has been developed since 2008 and reviews show that it is the number 1 SEO plugin available. The plugin can be used for free or you can upgrade to avail of the more advanced features.
This plugin is very useful when writing posts for your blog. At the bottom of the page, you will find helpful suggestions to further improve your work.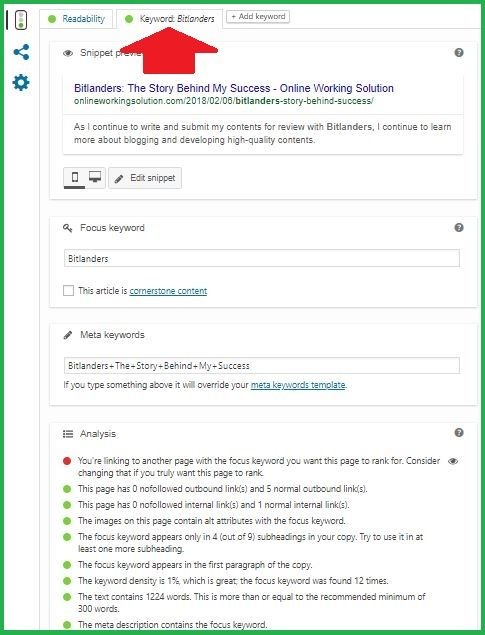 Image Credits: Sharon Lopez via Bitlanders
(Screenshot of the SEO Analysis on one of my articles using Yoast SEO)
Having this plugin on your WordPress site can be very helpful even if you are creating a content for other sites. Crafting the content using the WordPress post editor will make sure that the article is SEO friendly. So much so, it helps in analyzing the readability of the content.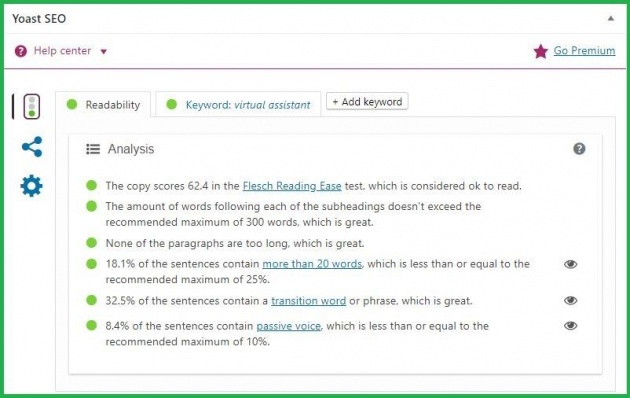 Image Credits: Sharon Lopez via Bitlanders
(Screenshot showing the readability analysis of one of my articles)
The suggestions enumerated in the analysis does not only provide us with the guide in making sure that our articles do well in terms of SEO and readability but it also gave us an overall idea by explaining the reasons and providing additional materials which we could read to further enhance our knowledge.
(2) Dropbox Backup and Restore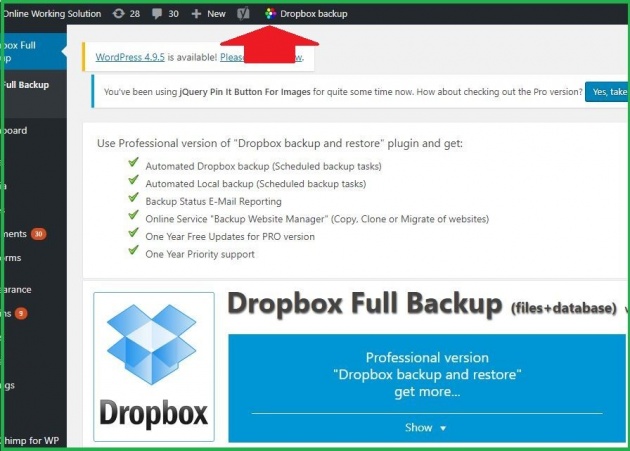 Image Credits: Sharon Lopez via Bitlanders
Dropbox is popularly known for its ability to save large files. As online workers who are into blogging or writing, we know that it is crucial that we have a backup for our work and other important files. Dropbox Backup and Restore is an easy and convenient way to backup our contents.
Once you install the plugin, you can easily backup your content (please refer to the screenshot above). Regularly saving our work could secure us from problems that we might encounter in the future. Loss of files is one of the biggest issues that we might encounter while doing our work online. Having this plugin on our site could be of great help.
(3) WP Smush
Image Credits: Sharon Lopez via Bitlanders
(Screenshot of the plugin)
A slow loading site will certainly make the readers leave the site immediately without having to read what is inside. We don't want this thing to happen. We are aware that large images can slow down the loading of our sites. Using WP Smush will help us achieve a fast loading blog site. This app will resize, reduce and optimize our images for faster loading without losing the quality.
(4) Custom Share Button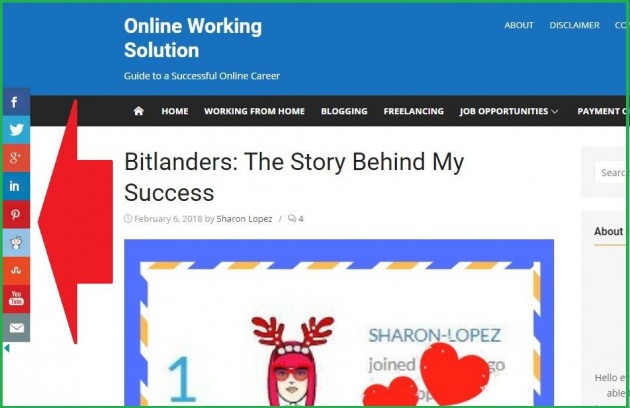 One of the things we want our readers to do is to share our contents on their personal social media accounts. This way, we will have a greater chance of reaching out to more people. However, if our visitors could not see any share button on our site, the chances that our contents can be shared would be less to none. This is the main function of Custom Share Button.
Custom Share Button makes sharing easy for the readers. This Plugin appears on your posts at your preferred location. I placed it on the left side and it goes with the readers as they scroll down the page.
(5) Aspexi Facebook Like box Sidebox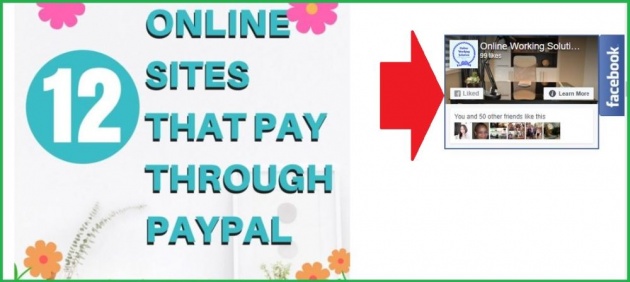 Image Credits: Sharon Lopez via Bitlanders
Having a Facebook Page for our blog sites is a good way to gain more connections and would eventually lead to having more visitors to our site. It is also important to note that some site visitors may come to our site through other ways such as other social media or through searches. Having this plugin on our site would make it easy for the visitors to connect with us. Thus, giving us more opportunity to interact with them.
I placed the sidebox on the right side which will only show once the mouse pointer hovers over that area. This is to save space.
(6) JQuery Pin It Button

Image Credits: Sharon Lopez via Bitlanders
With JQuery Pin It Button, it would be easier for the readers to share our posts on Pinterest. It is a very handy app that will let the reader pin the image they came across with within our post articles. It pays to have the option to share is already available in each image that we have. The reader will most likely to pin the image which will give us a big opportunity to be discovered by other individuals.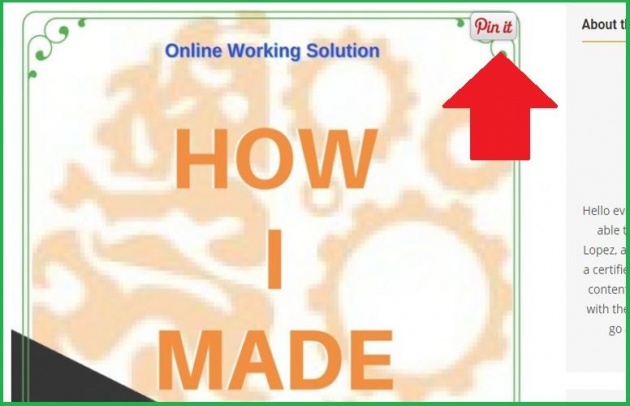 Image Credits: Sharon Lopez via Bitlanders
There are different customizable designs of pin buttons available. I choose this rectangular pin. Round pin buttons are also beautiful.
Here is another video showing 4 Essential Plugins for WordPress.
Video credits: WPCrafter.com WordPress For Non-Techies via YouTube
CONCLUSION:
Achieving great success in blogging is a dream of anybody who enters this career field. We can do the necessary things manually or we can get help from apps that are readily available in order to make the work easy for us. For someone like me who hardly find a time to do all the stuff especially on promotion, I would make use of some of the plugins make things easy for me. Although, we should still work hard in order to achieve success in this field. Plugins are only designed to extend some help but the majority of work should still come from us.
Thank you, my friends, for visiting. I hope that through this blog post, I was able to extend some worthwhile information to you that you could use in your blogging activities.
Meanwhile, here is a Querlo Chat which I prepared for you...
Note: Sites mentioned in this blog post are for presentation purposes only and links are provided for easy access. The author does not receive any remuneration from the sites.
___oOo___oOo___oOo___
Written for Bitlanders
by Sharon Lopez
Thank you for reading!
Here is the link to my BLOGS where you could find more quality posts.
I hope you could also visit my sites, Online Working Solution and Sharon S Lopez
Let's connect on
Facebook, Twitter, Pinterest and LinkedIn
///////////////////////////////////////////////////////////////////////////////////////////////////////////////////////////
Would you like to earn from sharing your ideas, videos, and photos? Join us in Bitlanders!
///////////////////////////////////////////////////////////////////////////////////////////////////////////////////////////
DISCLAIMER: The views and opinions expressed in this blog post are that of the author and does not in any way represent the agency or department she currently belongs.
ADDITIONAL NOTE: The sites mentioned in this post are for information purposes only and links are provided for easy access. The author does not receive any remuneration from the said companies or sites.