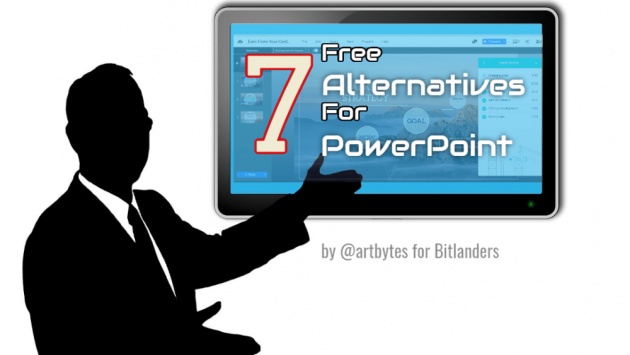 image credit: by @artbytes via Bitlanders
When you buy a new laptop these days that comes with a pre-installed Windows 10 operating system comes with the Microsoft Office Suite. Included in that office suite is Microsoft's presentation software, PowerPoint.
Sure you can use the pre-installed PowerPoint but only for a limited time. The Microsoft Office Suite that is pre-installed on your laptop is a 30-day trial version. After 30 days, notifications will start to pop-up reminding you to register every time you open any program in this suite. Also, you might no longer edit your work using MS Office. Unless what you have in your laptop is a pirated copy. Using a pirated copy might cause some problems in the future once your Windows 10 automatically updates.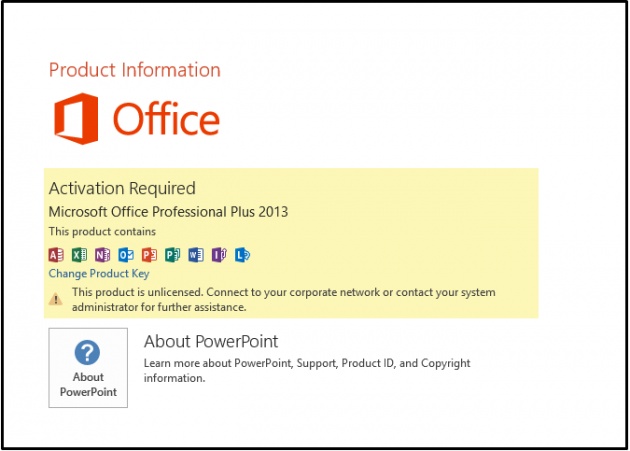 image credit: screenshot by @artbytes via Bitlanders
The price for the 2013 Office Suite starts at $140.00 for the Home and Student version. The Professional version would cost as much as $400.00.
For those who do not want to spend that much money yet don't want to use a pirated copy of the software, I have here 7 Free Alternatives for PowerPoint that You Will Love.
7 Free Alternatives for PowerPoint that You Will Love
There numerous free alternatives for PowerPoint available both online and offline. I have chosen these seven free alternatives for the following reasons.
Free Features- There are some alternatives that offer a lot more features and perhaps more amazing than some of the ones I listed here. Unfortunately, you have to pay for the premium subscription first before you can use those features.
Ease of Use - Another drawback of some full-featured programs or apps is they are quite complicated to use. What I included in this list are the ones you can use within an hour or less of exploration.
Offline Alternatives to PowerPoint.
Before I go through my list here, there are a couple of office suite alternatives worth mentioning. They are LibreOffice and OpenOffice suites. These two opensource office suites offer their own counterpart for PowerPoint, in fact, they can open and edit an existing PowerPoint presentation and even save files in PowerPoint format. I did not include them in this list for a reason that I will mention below.
Aside from the two opensource applications I have only listed two more offline alternatives to PowerPoint.
Offline Alternatives For PowerPoint
1. WPS Presentation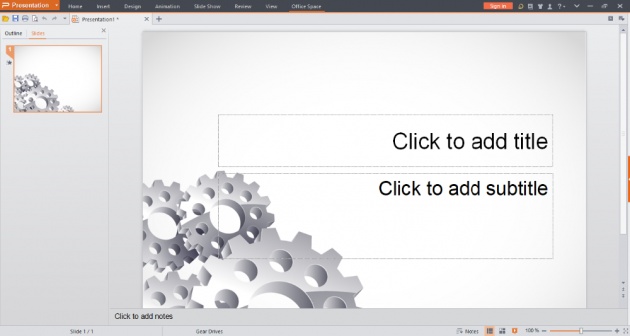 Kingsoft Presentation has the look and feels similar to PowerPoint
image credit: screenshot by @artbytes via Bitlanders
WPS Presentation is part of the Kingsoft Office Suite. This is the reason I did not include LibreOffice and OpenOffice suites and their presentation alternatives. These three suites are great alternatives to Microsoft Office suites. Thus their presentation software is good alternatives to PowerPoint. However, among the three I found Kingsoft's GUI (graphical user Interface) design to be neat and closely similar to that of Microsoft Office.
Aside from a few different and few missing features, the WPS Presentation is almost like a copy of MS PowerPoint. The advantage of this is, if you are already familiar with PowerPoint, Presentation is very much easy to use. This could go the other way around too.
2. SlideDog
SlideDog is an entirely different kind of presentation software. You can not actually make a slide like PowerPoint. However, you can add a PowerPoint Presentation as an item in a playlist. A playlist is SlideDog's term for its presentation file. You can add the following in a playlist
Images
Existing presentation (PTT) files.
Videos - both offline and from YouTube
Interactive Polls and Feedback (you need to have an online channel to start the playlist with any of these)
I found at least a couple of drawbacks in SlideDog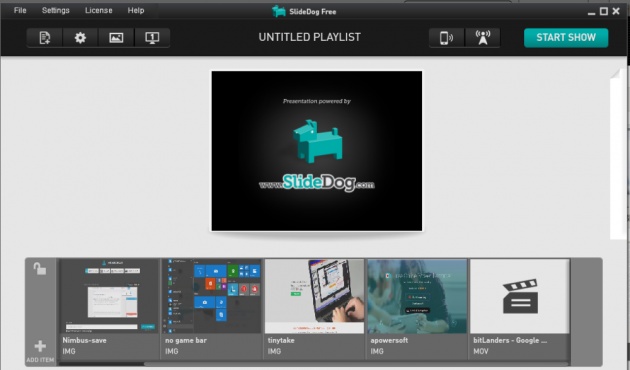 image credit: screenshot by @artbytes via Bitlanders
The playlist takes a long time to load and unload. If you are using this to make a presentation, it is best to load the playlist before you connect your laptop to the projector or external monitor.
For the free version, the default background shows a huge logo of the program and text that says "Powered by SlideDog".
Online Alternatives for PowerPoint
1. Google Slides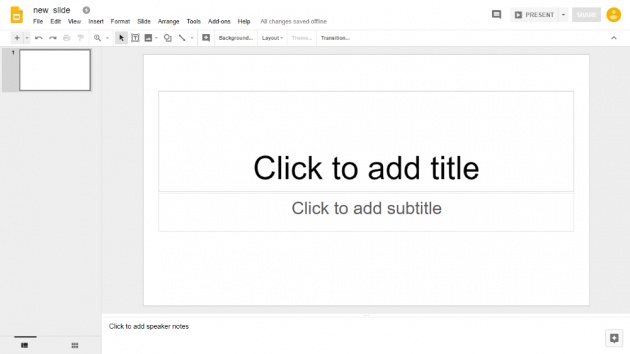 image credit: screenshot by @artbytes via Bitlanders
Google Slides is a web-based cloud application. Since this is a cloud application, I was surprised to see it run even when I turned off the Internet connection of my Laptop. Google Slides does not offer anything outside the ordinary. Except perhaps, for the fact that your slides are synced to Google's cloud storage, making your files available on any computer with an Internet connection.
Google Slides is great if you need to create a quick presentation and save online so you can open it on your own computer or device.
Perhaps, the best feature of Google Slides is a team could work on a single presentation all at the same time.
2. Visme
Visme is not a dedicated online presentation tool. The site was primarily designed to be a visual marketing tool. One of the many things it can do is creating a presentation. As of now, I still haven't fully explored Visme. However, it is obvious that it has something more to offer than PowerPoint. I will go back this web application tool very soon and write a fool review.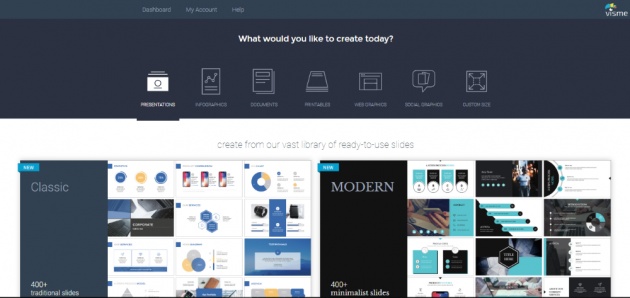 Visme has a huge collection of classic and modern templates to choose from
image credit: screenshot by @artbytes via Bitlanders
3. Powtoon
If you want to make a lively and animated presentation, I suppose the perfect free online alternative for PowerPoint is Powtoon. Powtoon has a lot more to offer than PowerPoint. Primarily, Powtoon is animation software.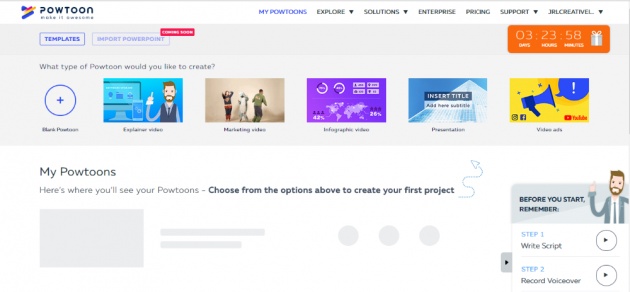 image credit: screenshot by @artbytes via Bitlanders

In Powtoon, each slide has a timeline. Yes, a timeline like the ones you see on video editors. There are tons of animated characters, backgrounds, styles and videos you can use for free. With Powtoon it's not just creating a presentation, you are telling a story.
4. Emaze
Emaze is another online PowerPoint alternative that got my attention at first try. I was amazed to see that it almost has some similarities with Prezi (www.prezi.com). One of the templates available shows that you can zoom in and zoom out in Emaze. A feature that I first encountered in Prezi. However, Emaze offers something more. It also has a 3d effect, and your presentation could contain, websites, galleries, and videos.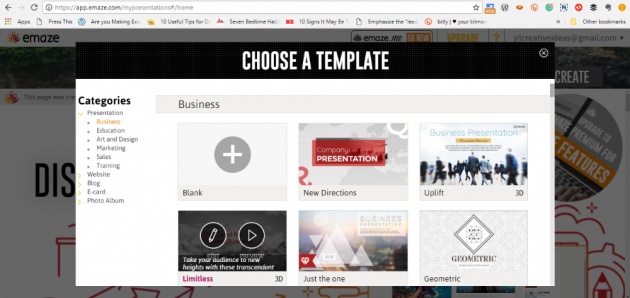 image credit: screenshot by @artbytes via Bitlanders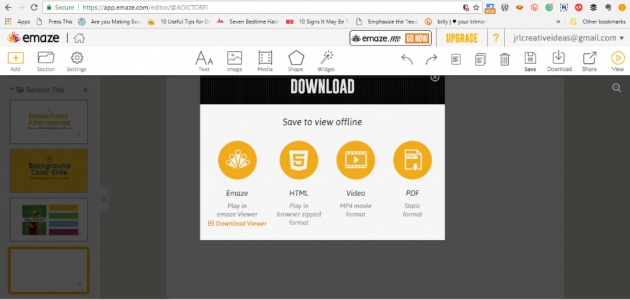 You have four choices on how to download your presentation.
Image credit: screenshot by @artbytes via Bitlanders
video credit: screen recorded by @artbytes via Bitlanders
5. Prezi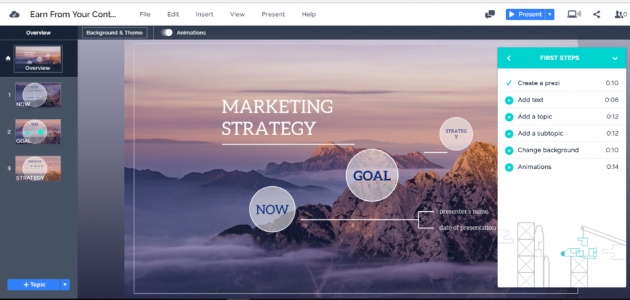 image credit: screenshot by @artbytes via Bitlanders
The first time I encountered Prezi was in 2010 when I was looking for a PowerPoint alternative. I played with for a few minutes. Then in less than an hour, I was able to create my first zooming presentation. Aside from its very unique feature (at the time at least) to zoom in and zoom out of the elements, and the elements could contain smaller elements within, you can rotate the canvass any which way you want.
Unlike PowerPoint, you don't create slides in Prezi. Instead, you get a large canvass where you can place all the elements of your presentation. The elements could be text, images, and videos.
The only drawback that I find in using the free version of Prezi is, all your presentations are saved as Public files. Meaning they are searchable and can be seen by other users.
To show you what a Prezi presentation (sometimes called prezintation), here's a video I recorded while playing with one of the templates.
video credit: screen recorded by @artbytes via Bitlanders
For decades, Microsoft Office products may have dominated the market. However, the widespread use and development of open source systems, there are now a lot of free alternatives available these days.
There are other free alternatives for PowerPoint out there that I might not have encountered yet. If you do, I would appreciate it if you write in the comment below the name of the software or app.
Thanks For Reading