7 Proven Ways to Increase Our Buzz Score in Bitlanders
Video Credits: Bitlanders via Bitlanders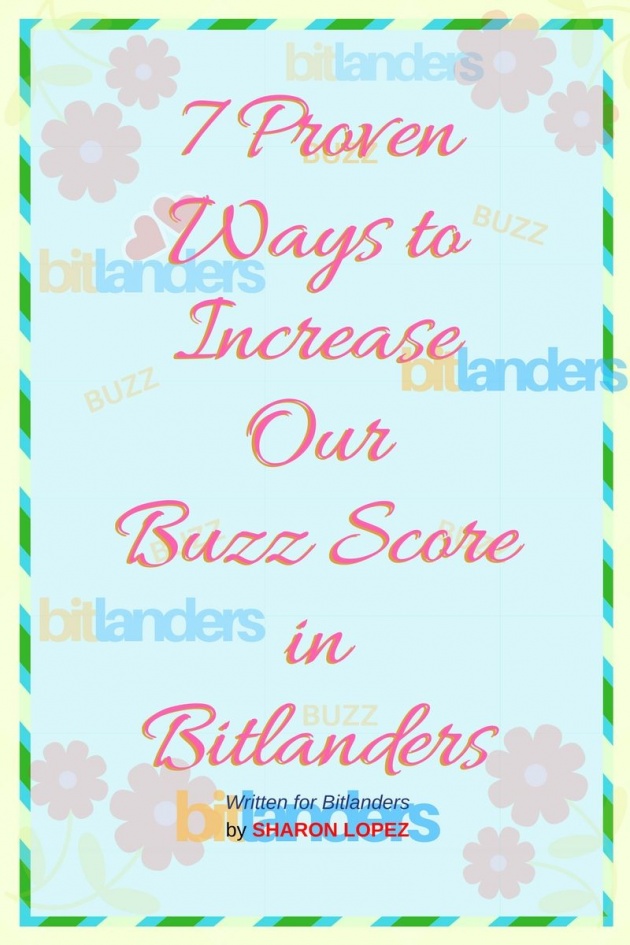 Image Credits: Sharon Lopez via Bitlanders
How to earn from Bitlanders is one of the most asked questions about the site which I often encounter in several forums and other social media sites. I have been answering a lot of questions regarding Bitlanders recently and I must say, I will never get tired of answering those questions.
Just recently, one of the forums where I am a member finally placed a LEGIT mark on Bitlanders in their site after I uploaded my recent payment proof. Such action from the owner of the site made me really happy.
I have written several posts explaining the different activities every member should know in order to make the most of their experience from the site including discussions on different terminologies being used in the site. I also wrote the comprehensive guide on familiarizing the platform which I considered basic yet of utmost importance especially to those new members who are just starting in the online field. This guide would help new members to know what to do as they enter the site for the first time.
Let me say it once again if you are just starting on this platform, it is a good thing if you would browse the Frequently Asked Questions and bookmarked it just in case you have other questions in the future.
I am completely aware that we came to the site, not for any other reason but to earn some decent amount of money. For this post, I will share with you the proven ways to earn from the site based on my own experience.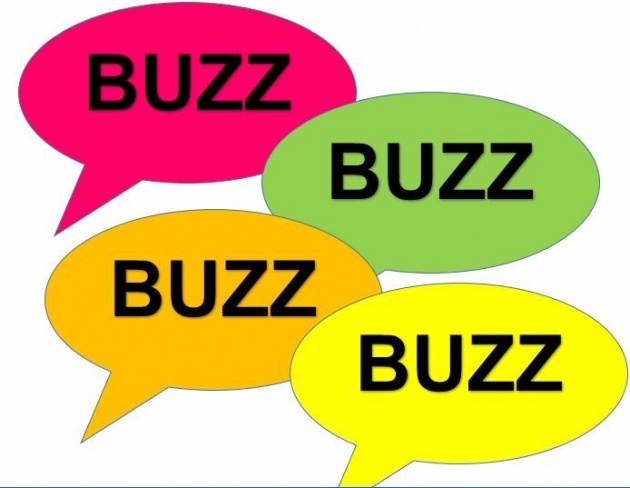 Image Credits: Sharon Lopez via Bitlanders
To start with, let me tell you that Our earnings from Bitlanders depend solely on our BUZZ Score. So basically, the only way to earn is to increase the BUZZ score.
Here are the 7 effective things that you can do in order to increase your BUZZ score and thereby earn more from the site.
(1) Writing Blog Post and Submitting it for Review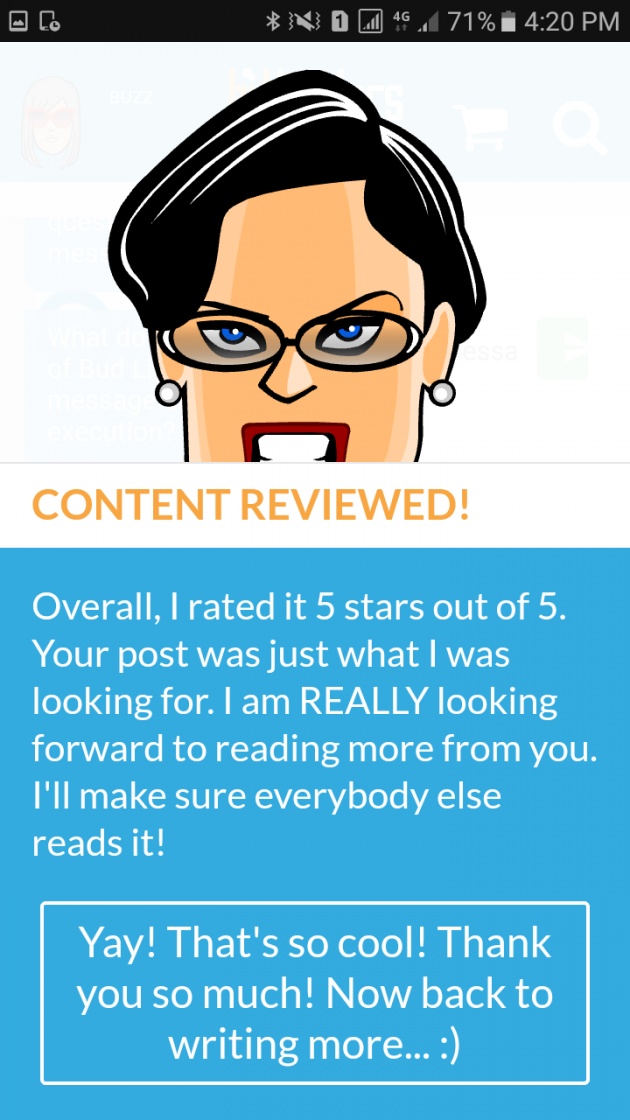 Image Credits: Sharon Lopez via Bitlanders
The best way to increase our buzz score is to write and submit blog posts for review. If you are a new member, we are entitled to have three (3) free submission so you should use this privilege to your advantage. When writing a blog post, please remember that we should focus on the quality of our content. The rule states that a blog post should contain at least 5-7 paragraphs (personally, I write at least 1,000 words), 10 images, 2 videos and at least 1 Querlo Chat. Don't fret when you don't get an automatic response to your submitted post. It would usually take 3 to 7 days before our blog posts are reviewed.
Question: How Do We Earn By Submitting a Blog Post?

Answer: We earn two (2) ways. First, upon submission for review, we earn +3 Buzz bonus as it is part of the completion of the Daily Quest. Once the blog post is reviewed, we earn additional Buzz points plus gems depending on our rating. This Buzz points that we receive will form part of our Buzz Score. Buzz Score is the basis for our daily earnings. The higher the Buzz Score, the higher the daily earnings. Take a look at the Buzz Scores of the members who are on the Leader Board to give you an idea.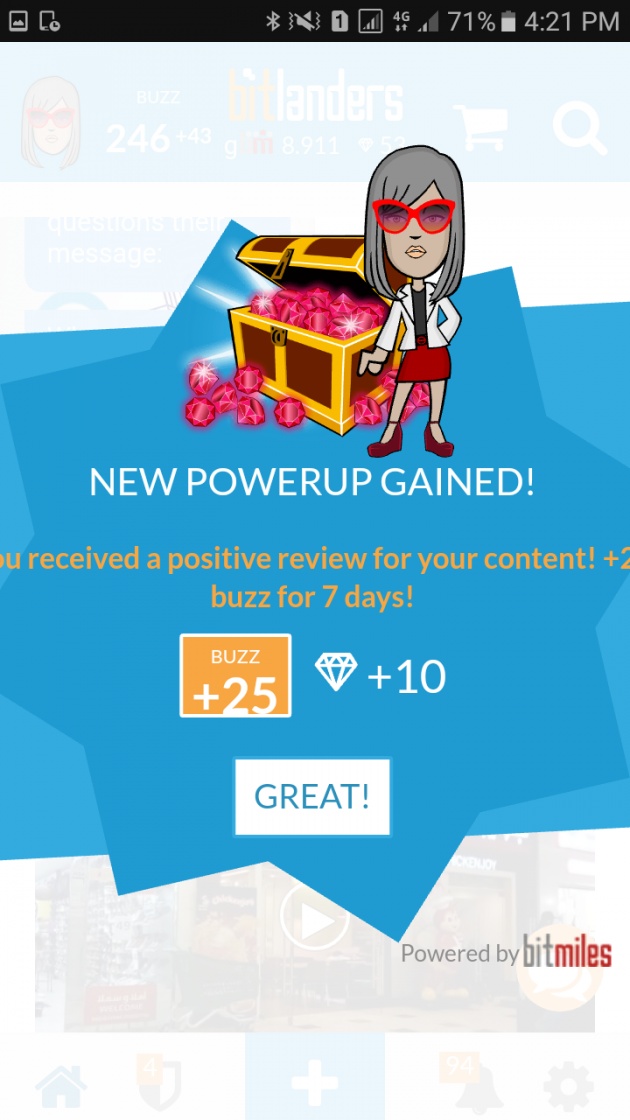 Image Credits: Sharon Lopez via Bitlanders
Read more from this page: bitLanders "Content Review": How are blogs rated?
(2) Uploading Video and Submitting it For Review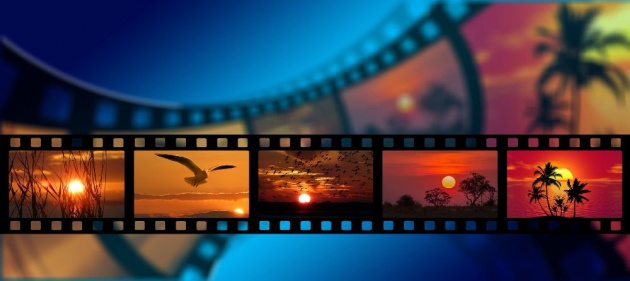 Image Credits: Geralt via Pixabay
If you are good in taking videos, then probably you can create one, upload it to Bitlanders and submit it for review. You will earn additional Buzz points. Though, the Buzz Scores generated from uploading videos and photos do not count in the Base Buzz Score. (Please refer to the above link for more information).
(3) Uploading Photos and Submitting it for Review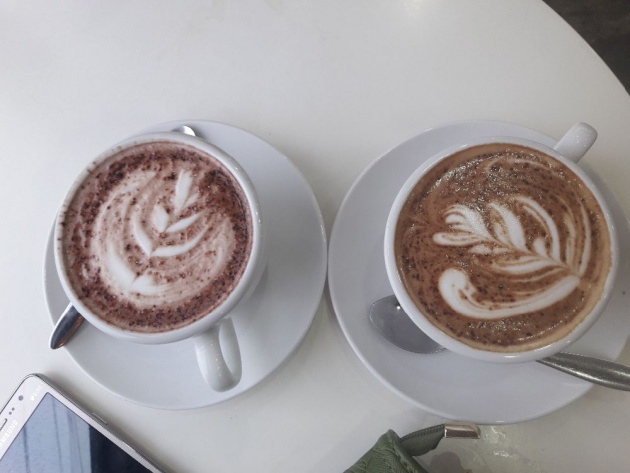 Image Credits: Sharon Lopez via Bitlanders
Uploading photos in the gallery and submitting it for review is another way of getting Buzz points. Bitlanders prefer high-quality photos that is why I am still saving for my DSLR camera as I am planning to take photos of the beautiful tourist destinations in our place.
(4) Completing the Daily Quests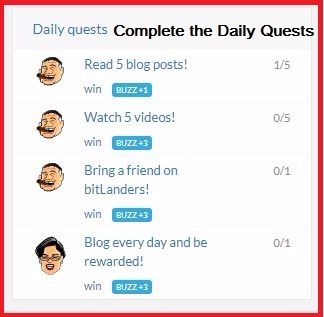 Image Credits: Sharon Lopez via Bitlanders
There are four (4) main activities included in the Daily Quests:
>Watch 5 Movies (+3 Buzz)

>Read 5 Blog Posts (+1 Buzz)

>Submit Blog Posts for Review (+3 Buzz)

>Invte Friends (+3 Buzz)
All in all, if you completed the Daily Quests, you will receive +10 Buzz bonus.
(5) Inviting Friends to Join
Image Credits: Bitlanders
Sharing the benefits we can get from Bitlanders will give rewards to us and to our friends. Apart from the +3 Buss points that we can get from as included in the Daily Quest, we also earn 20% of the referral's buzz score rewards for life.
(6) Growing Your Network
Supporting each other and sharing our own contents as well as other members' contents to social media will also give us additional Buzz Rewards. Subscribing and buzzing other member's rated posts will help in increasing the Buzz Score. This is where the give and take process would apply. But let it go on as a normal process. Otherwise, we might be violating the rules of the site against spamming.
(7) Buying from the Shop
If you are not yet aware of it, shopping will not only allow us to acquire the things that we want but will also give us an additional Buzz points. It's only in Bitlanders!
Take this for instance, since the Valentine's Day is just a few days away, Bitlanders offers additional buzz points whenever we purchase selected items from the Shop.
So, proceed to the Shop right away and choose from the available products. Be sure to watch out for updated announcements from Micky.
These items are available on a limited time
Image Credits: Happy Valentine's day and the Chinese New Year of Dog!
Conclusion:
Knowing the basic rules will help us stay longer and get the most benefit from the site. Being aware of what is happening by watching out for updates will help us towards success. What I have written are based on my own experience from the site which gave me the best from the best - Bitlanders.
Did you know that you can join Bitlanders without disclosing any personal information? Watch this:
Video Credits Bitlanders via Bitlanders
Related Posts:
I hope this post helped you in your quest for success in Bitlanders. May you achieve your goals and I am happy to be a part of that success.
Meanwhile, here is Querlo Chat for you...
__oOo___oOo___oOo___
Written for Bitlanders
by Sharon Lopez
Thank you for reading.
Please visit my BLOGS more quality blog posts.
Sharon Lopez is the owner of Online Working Solution. A Blogger/Writer and a Humantic Call Auditor
''''''''''''''''''''''''''''''''''''''''''''''''''''''''''''''''''''''''''''''''''''''''''''''''''''''''''''''''''''''''''''''''
You may visit me on
Facebook, Twitter and LinkedIn
////////////////////////////////////////////////////////////////////////////////////////////////////////////
Would you like to earn from sharing your ideas, videos, and photos? Join us in Bitlanders!
/////////////////////////////////////////////////////////////////////////////////////////////////////////////

Disclaimer: The views and opinions expressed in this blog post are that of the author and does not in any way represent the agency or department she currently belongs.