9 Online Payment Processors We Can Use as Alternative to PayPal
Video Credits: SafeTricks via You Tube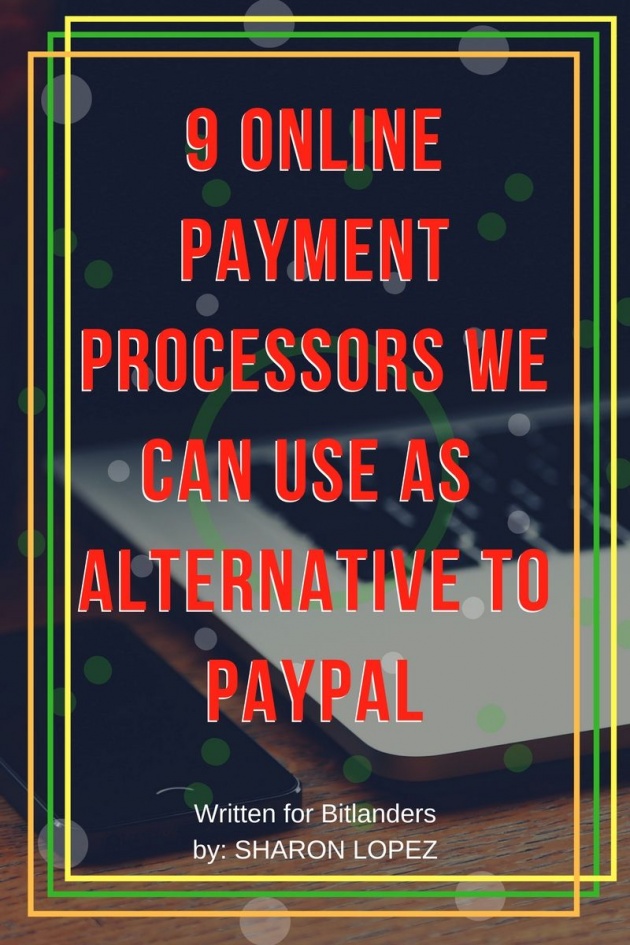 Image Credits: Sharon Lopez via Bitlanders
Blog graphics created and edited thru Canva.com
One of the things every online worker should take into consideration before joining any site is how they are going to receive their payment. With the growing popularity of online working, many people around theworld are eager to partake in this field with the hope of earning decent amount. This is also the reason why online payment processors came into action.
When online working was still new, members of certain sites can receive their payments through cheques while some may receive payment through bank wires. However, as the passing of time, business owners developed the idea of setting up an online payment processor. This way, the client (workers) will not directly disclose their bank accounts with the sites (business owners) where they are working with.
Online Payment Processors act as a middleman between the client and the business owners. Both parties need to open their respective account with the payment processor before they could transact business.
The most popular payment processor that we have today is PayPal. This company started in 1998 and available in 203 countries and regions worldwide. Most sites, including Bitlanders, use PayPal as a payment processor. In the Philippines, we could request payment from our sites directly to our individual PayPal accounts and from there, we can withdraw the fund to our banks or ATM. We can also use the fund from PayPal to purchase goods and services from different online merchants.
But not all countries are supported by PayPal. There are 28 countries not included in the list (as of May 2013). The list includes: Afghanistan, Bangladesh, Cameroon, Central African Republic, Cote D'Ivoire (Ivory Coast), Democratic People's Republic of Korea (North Korea), Equatorial Guinea, Gabon, Ghana, Haiti, Iran, Iraq, Lebanon, Liberia, Libya, Monaco, Moldova, Montenegro, Myanmar, Pakistan, Paraguay, Saint Lucia, South Sudan, Sudan, Syria, Timor-Leste, Uzbekistan and Zimbabwe. (Source: SmallBusiness.Chron.com)
So for those countries not supported by PayPal, they may use Payza as a payment processor in Bitlanders. For Filipino members, we can use either PayPal or Payza.
Being an online worker for some time, I would usually choose a site which pays through PayPal before joining in. The reason behind is that it would be a hassle maintaining a lot of accounts and it would be better to place the fund in one payment processor to save on fees during withdrawals.
However, during the early part of 2017, Paypal made an announcement which had shaken the Paid-to-click, Get-Paid-To and Traffic Exchange industries. PayPal stopped working with them. I had several sites of this kind, Clixsense, Easy Hits For U, MyPaying Ads and Traffic Monsoon and a lot more.
That was when I decided to reactivate my Payza and open an account with other payment processors. Though I am not anymore active with the sites mentioned above and others are gone already, I am still maintaining my accounts with other payment processors.
As an online worker, we should always keep our online payment processors updated. Though we may not be using them at present, we might be needing them in the future.
Here is a list of other Online Payment Processors we can use as alternative to PayPal:
(1) Payza
Image Credits: Payza.com
Payza (formerly AlertPay) has been online for several years. I had my account opened almost the same time I opened my PayPal account. The reason why I did not use it before because I could not verify my account since it was asking for an American Express for verification. However, when I reactivated it, they changed the rules and accepted my ID when I tried to verify my account.
I used Payza with MyPayingAds and Traffic Monsoon. I also tried to use it with Clixsense but for some reason, Clixsense could maintain a solid foundation with this processor after losing PayPal. So I ended up using Payoneer instead.
Another setback with Payza is the relatively high fees and the transaction is taking a long time before it could be processed. As of now, I haven't tried using this payment processor with Bitlanders. I am more comfortable using PayPal.
Currently, we cannot withdraw funds from Payza directly to our banks but we can convert the amount to Bitcoins thru Coins.ph.
(2) Perfect Money
Image Credits: PerfectMoney
When I was active with Traffic Monsoon, a PTC, and a revenue sharing site, I opened my account with Perfect Money. Just like Payza, member from the Philippines cannot withdraw the amount directly to our banks but unlike Payza we can convert our Perfect Money fund to Bitcoi thru Coins.ph via Changer.com in an instant.
Another good thing about Perfect Money is that the amount we have on our account is earning an interest rate of .3% per month.
(3) Solid Trust Pay
Image Credits: Valforex.com
Solid Trust Pay was designed with an email account to send or receive Solid Trust Fund. The company launched in April 2006. The site provides e-Wallet services and direct merchant credit card processing accounts designed for the online entrepreneur.
A friend of mine uses this payment processors for his online transactions by connecting his credit card to it. He uses it for sites that requires investments
(4) Paytoo
Image credits: Paytoo.com
PAYTOO is a brand of PayToo Corp., a US Corporation formed in 1999. Since 2004, PAYTOO offers mobile phone solutions, VoIP, Prepaid Card and secured e-commerce payment transaction solutions.
I opened an account with Paytoo but never had a chance to use it for my online transactions.
(5) Skrill
Image Credits: Skrill.com
SKRILL was founded in 2011 as Moneybookers but was rebranded as Skrill in 2010. Skrill is ranked as the UK's fastest-growing private-equity-backed company in the Sunday Times Deloitte League Buyout Track 100 table. Today, it is trusted by millions for every kind of online global payment, Skrill now makes payments simple, secure and quick in nearly 200 countries and 40 currencies.
I haven't tried using the payment processor but would be open to using it when there is a demand for it.
(6) Tango
Image Credits: Tangocard.com
Technically, Tango is a flexible digital reward card (e-reward)which is delivered through email. It became popular after Clixsense has stopped using PayPal. But I never had a chance to use this because I decided to discontinue Clixsense.
(7) Payoneer
Image Credits: : Techinfographics.com
Payoneer is popular with Freelancers. Most of the virtual Assistants from a group where I am a member are using this payment processor.
I used this processor when I withdrew my fund from Clixsense but I could not withdraw the amount from there because I need at least 50 dollars before I could transfer it to the bank. As of now, I am looking for writing site which pays through Payoneer so that I could get my money from that processor.
(8) Bitcoin
Image Credits: knowyourmeme.com
Bitcoin is a digital currency that is continuously gaining popularity online. We can easily convert our funds from other payment processors to bitcoins via online exchangers. I used to be active with my Bitcoin activities but eventually lost my interest especially when MyPayingAds has stopped paying its members.
(9) Coins.ph
Image Credits: Sharon Lopez via Bitlanders
Coinsph is a bitcoin and a peso wallet in one. It has unique features which is especifically designed for Filipino users. The site is offering variety of online services but the most popular is that it is an online payment processor. We can use it with sites which are offering Bitcoins as payment option. Read more about Coins.ph here.
Here is another video showing how we could receive online payment aside from using PayPal...
Video Credits: Sanity4Humanity via YouTube
On the final thought...
The world is full of uncertainties. Even the biggest, the most popular, and the most profitable sites are facing the same risk as the weak ones. They may be here today and might be gone tomorrow. As an online worker, we need to be prepared at all times.
I hope the list provided herein has helped you in one way or another. We might encounter a site or two in the future that offers payment using one of these processors mentioned herein. Just make sure to check with the rules of each site as different processors have different rules.
Thank you for visiting and reading my post.
Meanwhile, here is a Querlo Chat for you...
___oOo___oOo___oOo___
Written for Bitlanders
by: Sharon Lopez
Thank you for reading.
Please visit my BLOGS more quality information.
Sharon Lopez is a graduate of Bachelor of Science in Commerce Major in Banking and Finance and currently working in the government handling programs on Business Friendly and Competitive LGUs.
You may visit me on Facebook.
//////////////////////////////////////////////////////////////////////////////////////////////////////////////////////////////
Would you like to earn from sharing your ideas, videos, and photos? Join us in Bitlanders!
///////////////////////////////////////////////////////////////////////////////////////////////////////////////////////////////
Disclaimer: The views and opinions expressed in this blog post are that of the author and does not in any way represent the agency or department she currently belongs.
Additional Note: The sites mentioned in this post are for information purposes only and links are provided for easy access. The author does not receive any remuneration from the said companies or sites.