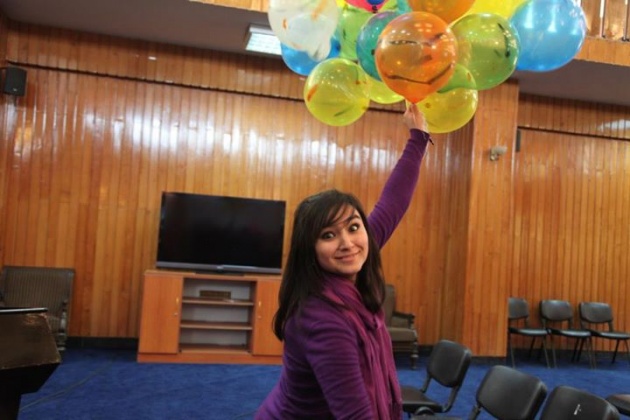 Hello the beautiful people of the world, My name is Zarlasht Sarmast and this is my life in Afghanistan.
My name is Zarlasht Sarmast, I am 18 years old and I live in Kabul Afghanistan. I am the creator, producer and director of a Web show named "Conversations with Zarlasht." In this program, we will get to know all kinds of people, politicians, teachers, musicians, artists and the extraordinary people working and living in Kabul Afghanistan.
For the "We Believe in Balloons" project, I produced "We Believe in Artists", a web series focusing only on artists of Afghanistan, where the viewers would get to know a little bit more about what made them unique and vibrant. For example, what do they like to eat? What are they afraid of?
I really enjoyed creating this web series under the creative advice of Yazmany Arboleda, to show the world the passions and the magic of the artists who are working in Afghanistan today.
In this, my first blog story, I would like to share a little bit about myself so you can get to know me better. I play the violin and my sister plays guitar. In Afghanistan, you won't see many girls doing what we do, playing different musical instruments like we do. But we do it, because of my mom, because she thinks different and she is super cool. I come from a family of artists. My grandfather founded the first symphony orchestra of the country.
My Dad also played the guitar. Although he left us six years ago, his magic and art leaves within each one of us in my family. His musical talent and love has always accompanied us all these years and have been inspirational.
I am living in a very conservative society, but there is a group of us, a group of young people that are coming out and standing up for what we believe, to change the minds of the people and make our voices heard always within the frame of peace, to do what we want and dream of, to feel free.
I have a lot of things to do, but my priority is that I want to go the university and study human rights journalism and I want to work for my country. I want to be a good journalist, the journalist who tells the stories of the people; I want to tell the world what is in heart of my people.
About Kabul, I like the mountains. When I feel very happy or when I feel very sad, I climb a hill and I sit there and I watch and hear the sounds of the city: the houses, the people, the cars and the rush. I see my life in it and when I hear the voices, it tells me that this is my life and that is the voice that comes from my heart. I am a part of this rush; I am a part of Kabul. I am a person who lives in Kabul and I love Kabul.
So now that you know a little bit about me, I hope you enjoyed "We Believe in Artists" web stories as I did about the artists, and also will enjoy the other stories for "Conversations with Zarlasht" that I will upload very soon. So stay tuned. I will be sharing some of the things that make laugh, make me cry and make me dream. I will share my heart and love for Afghanistan and its beautiful people.
Thank you for reading
See you tomorrow with my another life story
Peace & Love
Zar