(Image source: Personal - created and edited by jikZ)
Each member has their own reasons why they joined bitLanders. However, earnings is probably one of the main factors why a member joined the site.
Although, earnings is also one of my main motivators for joining, the following are also major reasons why I have decided to register at bitLanders:
• The site's excellent reputation of rewarding its members
• Its long tenure in the industry
• The clear and transparent earnings information
This post aims to educate and show the reader a closer understanding of bitLanders earnings. Learning such info is important for both existing and "would-be" members – for the latter, these are readers who are mulling to join but is still looking for that hard evidence which would finally make them decide to join this awesome site.
(Image Source: Google.com)
Operational since 2006
In many industries, longevity is always a good proof of reliability. If you will look at many reputable companies, you might notice that many of these firms have been in operation for many years already.
It would be interesting to note that the site was founded last 2006. The site originally started as Film Annex but was revamped to what it is now. Through the years, the site has probably undergone many changes but basically:
• After all this time, the site has been true to its word and still rewards its members
• The above item is one of the main factors why many people are still attracted to join bitLanders
• The site has been up and running for almost a decade – and will seemingly continue to do so for many more years.
Some readers, may be wondering what does the site's origins have to do with this blog's topic (which is earnings)? The answer is actually quite simple. I chose to begin with this one to let you know that bitLanders is a legitimate site and its many years of existence can attest to that.
You see, many people are duped to joining scam sites because of the promise of payment. Unfortunately, many of the scam sites floating around the web can be considered as "fly-by-night" type of operations. Many of these bogus sites are apparently designed to trick people into registering with the sole intention of acquiring the person's sensitive details such as name, email, payment information, etc… Once the sham site has gathered enough information, it will eventually close down without any head's up to the members.
"This is the reason why, if you are looking for a social-media-site that pays, you must understand that a site's years of operation and reputation are very important."
bitLanders Earnings Payment Proof
At this point, you are likely convinced that bitLanders is not a scam. However, you might be still looking for some solid proof of payment – which is of course quite understandable, especially if you have been bamboozled by scam sites before.
Below are screenshots of my bitLanders payment. As can be seen in the photos, I have included pictures of both email notification and the money's arrival on PayPal.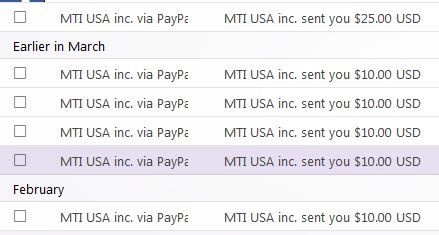 (Both photos are personal - screenshot and edited by jikZ)
The two photos above belong to me. The first photo is from my email account and the second one is from my PayPal account. Upon comparison, the dates and amount coincides with each other. If you saw the amount indicated on the introductory / first photo of this post, you will notice that it is the summation of my received net amount in PayPal.
Below are details that any member must know and understand when redeeming rewards through PayPal:
• There is a fee so don't be surprised if the net amount is different from the gross amount.
• The sender of the email/funds is MTI USA Inc.
• One of the founders of MTI USA Inc. is Francesco Rulli (the same Francesco Rulli who founded bitLanders)
• If you haven't seen or don't know who Francesco Rulli is, here is a link to his bitLanders profile (www.bitlanders.com/francesco) and he is the main speaker on the video below:

(Video Source: YouTube)
Clear and Transparent Earnings Information
Now you that know and understand that bitLanders is legitimate and indeed pay its members, let us now look at another critical aspect of the site – the easily accessible and readily available earnings information.
bitLanders offer three convenient ways on how a member can keep track of their earnings information. These aspects are neatly arranged for easy navigation and viewing of the member.
1. My Rewards Page
2. Current month estimated daily Rewards
3. Wallet movements
My Rewards Page
This particular page provides a good overview of a member's available and accumulated earnings on the site. There are many ways on how a member can reach his / her My Rewards page – but my favorite method is the easiest one which is by clicking the "gbm button" (Please refer to photo below)

(Image source: Personal - screenshot and edited by jikZ)
As can be seen on the encircled item above, the "gbm" button / icon is usually aligned together with the Gem and Buzz Score buttons (icons).
If for some reason you are having difficulty locating the gbm button, here is a link to the Rewards page: http://www.bitlanders.com/rewards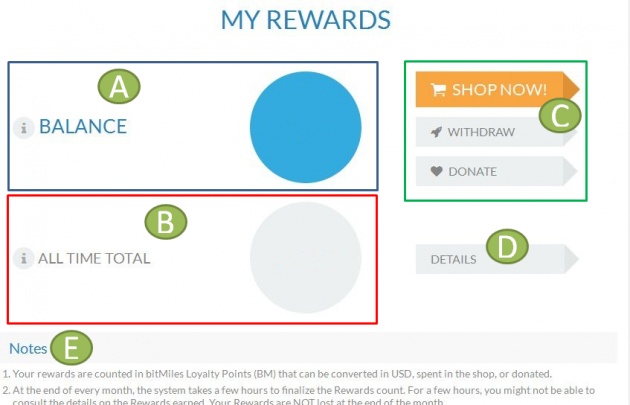 (Image source: Personal - screenshot and edited by jikZ)
Once you have reached the "My Rewards" page, it is important to understand this page contains five important sections. These sections are explained below and can be found on its corresponding letters on the photo above.
A. Balance
This is the amount inside the blue button. It denotes a member's available earnings that can be used to purchase items on the site's shop, can be withdrawn to PayPal if it reaches the minimum required amount, or can be also be donated to the various charities that the site support.
B. All Time Total
This is the accumulated amount a member reached since joining bitLanders. Basically, this amount is your total rewards that is comprised of both currently available and already spent / redeemed earnings.
C. Earnings Option Buttons
The site offers three options on how a member can spend their available balance / earnings. On the photo above, the buttons enclosed on the green box directs the member to the following:
• Shop (http://www.bitlanders.com/shop/) – area where a member can buy bitLanders goodies
• Withdraw (http://www.bitlanders.com/shop/payout) – will direct to either PayPal or Payza redeem page
• Donate (http://www.bitlanders.com/shop/charity) – let's do our part in changing someone's life better
D. Details Button
The Details button brings the member to two important areas: Current month estimated daily Rewards and Wallet movements (I will explain the importance of the two on the next sub-heading)
E. Notes
This is located on the bottom part of the Rewards page. Please be sure to read the 9-items of this section as it was provided directly by bitLanders.
Current month estimated daily Rewards | Wallet movements

(Image source: Personal - screenshot and edited by jikZ)
As explained earlier, clicking on the Details button of the Rewards page will bring the member to these two sections (Current month estimated daily Rewards and Wallet movements)
These two sections are quite straightforward and be sure to read the details provided by bitLanders. It is also worth noting that representation of the breakdown is in "Table Format" for convenience of the reader. Such format is excellent for tracking and reference.
TIP: If you are adept at charts or graphs, you may copy the details of the table on a spreadsheet and make your own personal chart for graphical presentation.
Earning potential - how much can I earn per month?
At this section, we will discuss some juicy information – what is the possible maximum earning potential in bitLanders?
This may come as a surprise to some, but would you believe that the top tier members can possibly get at least $70 (or more) per month.
Based on my observation from logging in daily, I have noticed that the top 3 members listed in the leaderboard can easily attain this amount if their daily earnings wouldn't go below $2.5. In fact, this can be proven with simple mathematics. For instance, if a member can generate $2 a day for 30 days, it would sum up to $60 by month's end.
But not everyone can do it
Yes folks, you read that right. Not every member can earn that much amount. Obviously, the only ones who can reach those type of monthly earnings are the ones whose daily earnings are $2 or more. Needless to say, members who are constantly listed on the leaderboard are the usual top earners of the site.
So basically, it is important for members to understand that -- to earn bigger revenues, you have to build your base buzz to increase your ranking.
Why does earnings fluctuate?
The higher your rank is, the higher is your earning potential. Since the site has numerous members, most likely, it has an algorithm that calculates a member's base buzz thereby giving the member his or her rank.
Naturally, the algorithm takes into consideration many factors which explain why a member's rank might vary from day to day (and by month).
Since, the rank changes, this translates that earnings for that day may be different from yesterday's revenue. This is the reason why you should not be surprised if your rank or base buzz is not constant and may change daily.
(Image source: Personal - screenshot and edited by jikZ)
I have made the two photos/charts above based on my April earnings (left side) and Monthly revenues since Nov2015 (right side) The units used on the vertical axis of the chart are in BM (bitMiles). Please also note that the current conversion of 1,000,000 BM (1gBM) is approximately $1 (USD)

bitLanders is NOT a Get-Rich-Quick scheme
By this time, you are now aware that the site does not employ a Get-Rich-Quick scheme. Thinking about it, one should be wary when joining any sites that advertise Get-Rich-Quick tactics as it is usually employed by bogus sites.
Anyway, bitLanders is not a get-rich-quick type of site (and the site never makes or advertise such promises). But what the site does is to reward its members for the content that they share and for their social interactions. So as much as possible, have fun when you log in to the site.
Logically speaking, it would be absurd for any site to promise richness and wealth to anyone by simply sharing their thoughts. And if such a site exists, it would probably close down because it would not be able to sustain operations as its members-count would probably be even greater than Facebook.
Obviously, people would jump-ship and retire from their dayjobs if they know that a site exists that will provide them a decent amount of income – that is enough to support livelihood.
Complaining Never Helps
This section is intended for members who have lower ranks which may somewhat discourage them because their earnings are smaller compared to others. One good advice that I can give to such members is – complaining never helps!
If you are at this point on the blog, then you must by now how the site earnings works. If you still don't get it, here is a quick recap: (1) bitLanders it is not a get-rich-quick scheme; (2) there are thousands of members, and; (3) there is an in-house computation that calculates each member's base buzz and rank.
If you are not satisfied with your earnings, then instead of complaining, it would be wiser to build up your base buzz to increase your rank – therefore also boosting up your earnings.
TIP: How To Increase Earnings
The link below contains three tips provided by bitLanders itself on how a member can earn more.
http://www.bitlanders.com/earn-more
That's just about it. If you enjoyed this post and already have a clearer view on how bitLanders earnings work – but not yet a member, then what are you waiting for?
Now is a great time to JOIN as the site has a special promo that instantly rewards new members with 1,000,000 BM (bitMiles loyalty points)