Enterprise from Thailand creates a concept of a bicycle that purifies the Air.
The aluminium frame from the Air Purify Bike have a photosynthesis system that generates oxigen.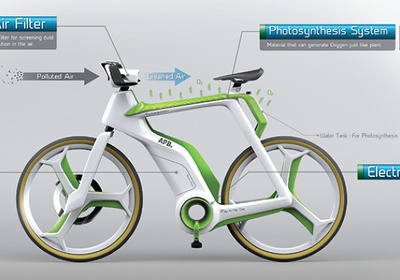 The Thailand enterprise Lightfog Creative & Design developed the concept from these bicycle that purifies the air on the frame with a photosynthesis system that generates oxigen with the wather and electricity from the batery of Lytiun.
Silawat Virakul the Creative Director from the enterprise saids " Using the bike could reduces the traffic on the cities. More than that, we want to increase the value to the bicycle, making reduction on the air pollution."
For now the designers have a model for the product that wons the Design Red Dot Premium but they want to do a prototype soon !
Its really a nice ideia to use the pleasure to go to a ride on bike and colaborate with the enviroment reducing the pollution on the air and giving more oxigen to the planet and reducing the traffic on big cities too, greating for Lightfog Creative & Design for the beautifull ideia !