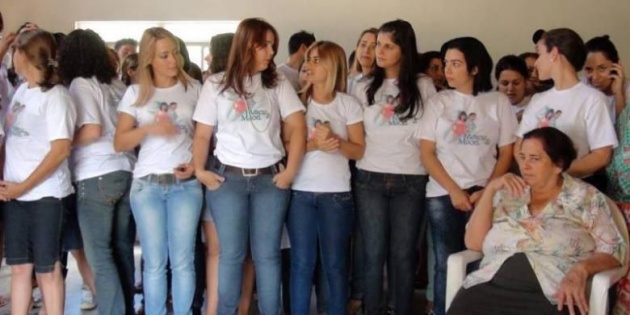 A small town, Noiva do Cordeiro, Menas Gerais, Brazil, has 600 residents who are all women, which according to many people to have a beautiful face.
The town's female residents aged 20-35 years. They are now missed the presence of the single men, who are willing to live in the city with the rules of the women.
Most of these women are already married. However, their husbands work away from their homes and may only be returned at the weekend.
Meanwhile, the boys were asked to leave the city at the age of 18 years and no other man is allowed to stay in the city which is located in a secluded valley, about 96 kilometers from the city of Belo Horizonte.
The city was established in the 1890s, when a young woman named Mary Senhorinha de Lima and his family ostracized by the local Catholic church for allegedly commits adultery.
Slowly, more and more single women, and women join the community. In 1940, Pereira Anisio pastor to marry a young woman aged 16 years and founded the church in the community.
However, the pastor Anisio then apply the strict rules, which prohibits citizens drink, listen to music, get a haircut, or using contraceptives.
When pastors Anisio died in 1995, these women decided to no longer let him dictate their lives. One of the first things they do is dissolve religious organizations that are considered gender biased.
Now, women in power in the small town. They do everything themselves, from farming, urban development plan, to religious rituals.
However, residents Noive de Cordeiro faced one major problem, that although these women are flawless, they are having trouble finding a life partner. Nelma Fernandes (23), a resident of the city, looking for a partner is admitted that it is almost impossible for the women of this city.
"Here, you can find the man who single girls if not already married or are related to us. I've never kissed a guy," said Nelma.
"We all dream to fall in love and get married. However, we also love to stay here and do not want to leave the only city in search of a husband," he continued.
Shortage of single men now make the community beautiful women invite the men, which of course is willing to adapt to the world of women, to stay in the small town.
"We want to know a man who wants to leave their lives and become a part of us. However, first they must agree to obey our commands and live by our rules," said Nelma.
Although it has long been disbanded church pastor who pioneered Anisio, the women of this town feel they never left God.
"We have God in our hearts. However, we think we do not need to go to church, get married in the presence of a priest, or baptize our children. All are rules made ​​by men," said Rosalee Fernandes (49).
Rosalee sure in many ways far better women than men. He said, in the hands of women, city Cordeiro Noiva do much more beautiful, more organized, and more at ease than if the town was run by men.
"When faced with a problem, we solve the problem by means of women. We seek consensus rather than conflict," said Rosalee.
"We share everything, even the land where we work. There is no competition between us. Was all done for the sake of unity," he added.
In idle moments, the women gossip or fill them with each other to try new clothes or grooming each other.
"In fact, our recent joint purchase a big screen TV so we could watch soap operas together," says Rosalee.
Life in Noiva do Cordeiro is fun and almost without flaws. The only drawback that the women felt it was the presence of the men who love them.,