Video Credits: Roberto Blake via YouTube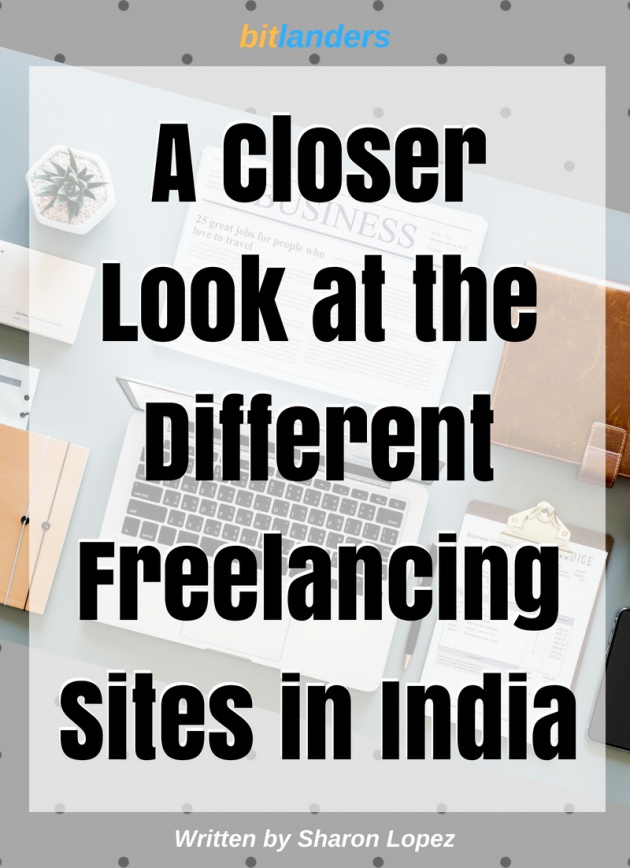 Image Credits: Sharon Lopez via Bitlanders
The online world is a huge place that though only exists virtually, a lot of opportunities is available. Currently, there are more than 3 billion people around the world that are using the internet. People come online for a variety of reasons, such as for communicating, for entertainment, work or business.
The Importance of Freelancing Sites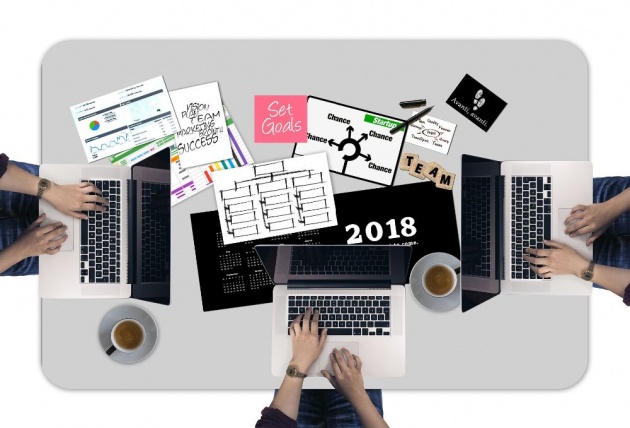 Image Credits: Geralt via Pixabay
If you are one of those individuals who aim to earn some amount online, you belong to the group of individuals who use the internet for working purpose and those who use the internet for business. Businesses will often hire individuals for a piece of work. Thus, there is a need for freelancing sites which will act as a bridge between workers and clients or businesses.

Image Credits: Geralt via Pixabay
Freelancing is not a new term. Even before the existence of the internet, there are already individuals who are in this type of activity. However, when the internet started to rise, the opportunities had begun to increase giving more opportunities for individuals to find work.
Both the businessmen and workers are benefited from the freelancing platforms. The clients can find an individual with the skill the client needs for his/her business. on the other hand, the worker can find a work suitable for his/her skills.
As clients and workers, it is imperative that we find the perfect site offering the best deals.
Freelancing Sites in India
India is a country in South Asia. Like some countries, including the Philippines, there are also large numbers of individuals from India who are currently working online. In fact, Indian nationals are known to be competitive and equally hardworking individuals. With this being said, allow me to present some sites from this country that offers freelance work.
Showing below are some of the Freelancing Sites in
India where we may be able to find a suitable job as well as the perfect person for our projects.
Image Credits: Broxer.com
Broxer is an online freelancing site based in India that serves as an exchange platform between clients and freelancers for digital products and services. The site is similar with Fiverr on the presentation of jobs by which the workers are the one posting the skills/jobs. One of the good things about the site is the low fees being charged on the job. The minimum amount a worker can charge for a job is ₹250 (250 Indian Rupees) or $3.65. A minimal fee of 2% is added to the base price. The amount is much lower than what other freelancing platforms are charging.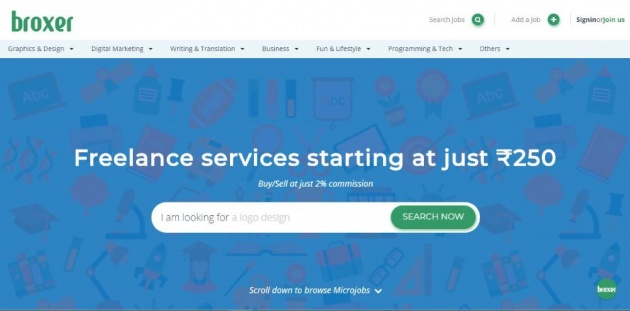 Image Credits: Sharon Lopez via Bitlanders
(Screenshot of Broxer's homepage)
The site looks promising in terms of freelancing activities. The homepage is easy to navigate and provides detailed information on what to expect from a freelancing platform.
The site is accepting members from all over the world and supporting different payment options such as PayPal, PayUmoney, Credits Cards and Bank Transfer.
If you are interested in taking a look at the site, you may visit it through this link.
Image Credits: Truelancer.com
Truelancer is an online platform for freelancers where the clients are posting the needed products or services and the freelance workers could apply or make a proposal for the job.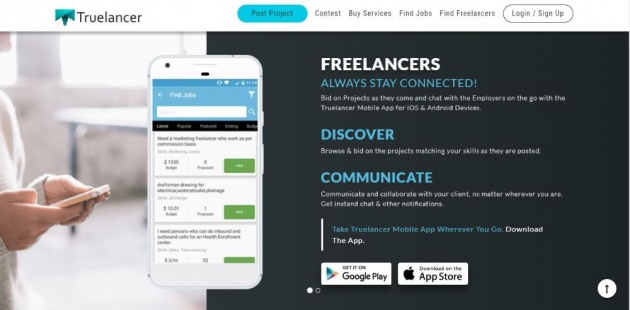 Image Credits: Sharon Lopez via Bitlanders
(Screenshot of Truelancer's Homepage)
On the other hand, freelancers' profiles can be viewed by the clients and they may offer the job to the freelance worker of their choice. One of the awesome features of the site is that they have their mobile app which can help the freelancers do their work on the go. the app can be downloaded from Google Play or App Store.
If you would like to try the site, you can visit it from here.
WorknHire is another freelancing site in India which bridge the gap between clients and workers by providing an easy-to-navigate platform where clients and freelancer meet. The site offers a wide variety of jobs for their freelancers and at the same time have a pool of excellent freelancers who are willing to do the jobs.
If you want to try the site, you may visit it from here.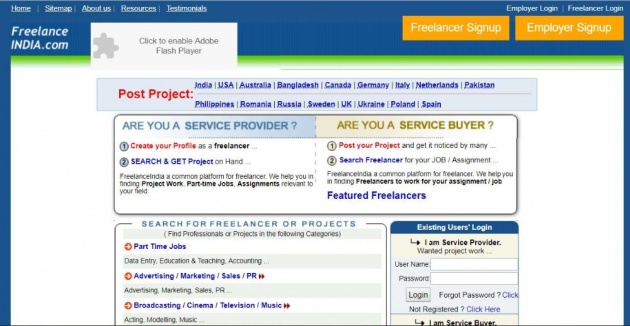 Image Credits: Sharon Lopez via Bitlanders
(Screenshot of FreelanceIndia's Homepage)
As the name suggests, this is an Indian freelancing job portal which offers job opportunities for freelancers as well as a pool of skilled workers for the employers. Here are what the site offers:
They have both free and paid membership.
Freelancers can get a personalized web page at FreelanceIndia and in turn get a quick Google listing.
Their professionals give personalized service most suited to each service seeker and service providers need
They have a team of professionals who are experts in identifying and short-listing the freelancers as per the service-seekers requirements
You get a quick response from our professional and dedicated team.
They cater to service seeker and service providers in every conceivable category from across the globe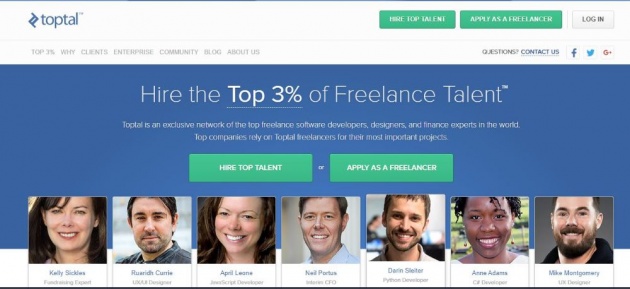 Image Credits: Sharon Lopez via Bitlanders
(Screenshot of Toptal's Homepage)
TopTal is an exclusive network of the top freelance software developers, designers, and finance experts in the world.
Here is another video which will guide us on how to become a successful freelancer.
Video Credits: Dreams Around the World via YouTube
On the final thought...
Freelancing is the current trend in the online earning industry. We can find the right job for us by identifying our most inherent skill. A combination of hard work, patience and skills will let us land a good paying job. What I shared here are subject to your own judgment. I am aware that we are aiming for success in our chosen field and I hope that with the information presented herein, you could be able to find the best work for you.
Thank you for reading. Stay tuned for more reviews and information about the different freelancing sites on my upcoming blog posts.
Before you close this page, here is a Querlo Chat which you could answer if you have a free time.
More from this Author:
DISCLAIMER: The views and opinions expressed in this blog post are that of the author and does not in any way represent the agency or department she currently belongs.
ADDITIONAL NOTE: The sites mentioned in this post are for information purposes only and links are provided for easy access. The author does not receive any remuneration from the said companies or sites.
______________________________________________________________________________
Written for Bitlanders
by Sharon Lopez
Date: July 01, 2018
Visit my blog profile for more BLOG POSTS
Let's connect on Facebook
Want to earn from sharing your opinions through blogging? Join us in Bitlanders and claim your 1 DOLLAR REWARD upon signing up. CLICK HERE TO JOIN.