A Compendium About BitLanders for Beginners

What is BitLanders?
from wikipedia.org
BitLanders is a social networking site (founded by an Italian businessman and philanthropist, Francesco Rulli) where you can earn money by posting microblogs, uploading pictures and videos, and/or by blogging. It has gamification features wherein the user is rewarded with bitmiles for certain activities done within the site.
The site has this so-called bitmiles (bm) that is convertible to cash. 1,000,000 bm or 1 gbm is equal to $1 (US). Members with a 15 buzz score or so can earn at least an average of 2500 bitmiles a day simply by logging in, viewing 5 blogs a day and watching 5 videos a day. Active users, who post once a week and get it reviewed, can earn 1,500,000 bm a day. Active users who have active referrals and/or many buzzes on their posts can earn as much as 9,000,000+ bm a day. That's about $9 worth of money by simply doing 10-minute tasks everyday (plus submitting content for review weekly)!
The Buzz and The Buzz Score
A buzz is similar to the Facebook's "like" button. The more subscribers buzz your posts, the more you'll earn bitmiles. A subscriber is a bitLanders' user who subscribes to your posts. They'll see your posts in their news feed/homepage (not everything, though).
Want to increase your buzzes? Subscribe to other users and buzz their posts. Also, don't forget to comment on their posts so more bitLanders users would know you. The more they see you and your posts, the more they're likely to buzz you. Do note that asking for buzzes and subscriptions is prohibited in bitLanders.
There's this thing called the buzz score in bitLanders. In my experience, it goes up by an average of 10 points after a blog post is finished reviewing, even if the content is without a buzz. Sometimes it goes up or down by 1-10 points, regardless of your activity. It will gradually go down if you don't often post new content and submit for review (in my experience, an average of 10 points per week). Do note that the buzz score doesn't count how many buzzes you received on that day, rather it grades your overall activity within the site and the following: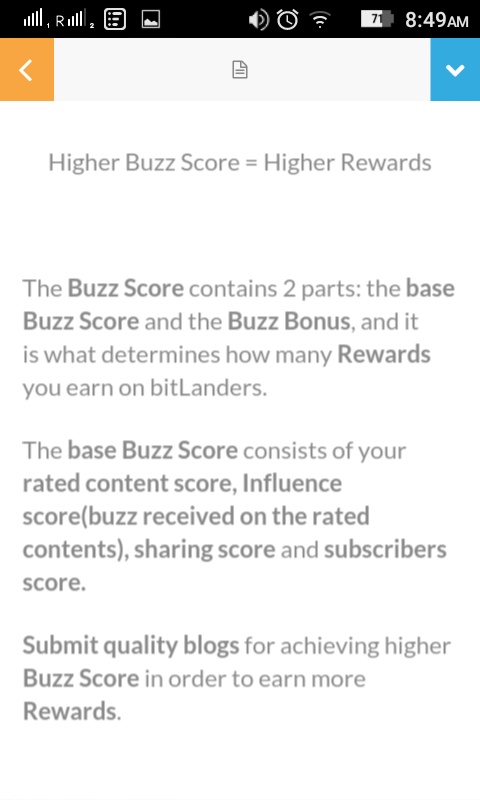 from micky-the-slanted-salerno
Your buzz score will also increase if you buy in the bitLanders shop (the push cart icon), but only by a little margin (about 1-14 points?) and for a limited amount of time (for 1-7 days).
Signing Up
When you sign-up on bitLanders, you'll get a 1,000,000 bm sign-up bonus. You will earn 3 gems and another 500,000 bm by creating your avatar.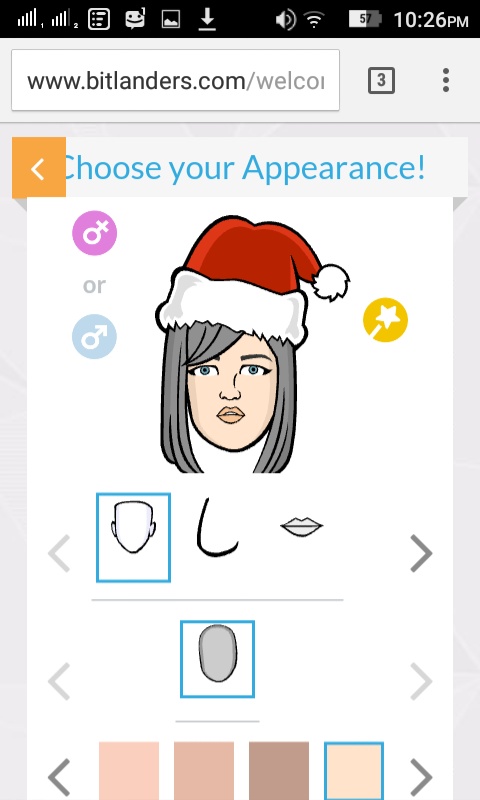 The avatar is like your whole-body cartoonish profile picture where you can customize its hair style, hair color, eyes, eyebrows, nose, and lips. Only the avatar's head can be seen when you post something or buzz or comment on a microblog, blog, gallery or video, but when you view your profile, the whole body is seen. There's a default onesie bitLanders outfit after making your avatar and you can change it by buying in the bitLanders shop, the bitFashionista.
The Quest Box
After filling up details such as your username and email, you will see a Quest Box with a list of to-dos with corresponding gems given:
1. Write your first blog post (4 gems)
2. Upload your first movie (4 gems)
3. Create your first gallery (4 gems)
4. Write your first microblog (4 gems)
5. Choose and support your 3 favorite charities (1 gem)
If using a smartphone, click the shield icon on the bottom of the webpage, next to the plus sign, to see the Quest Box. Do note that the Quest Box is a one-time offer (or I haven't stayed long enough to see another Quest Box task).
Gems
Gems are important in bitLanders. By signing up and doing the tasks in the Quest Box, you will be able to collect about 20 of these. I advise you not to spend it on the bitFashionista shop for apparel as gems are needed for your gallery, video and blog (to submit for review). 10 gems are required when you submit a post for review. If you're out of it, you can buy it in the store (bitGoodies) either using your bitmiles or paypal funds. A gem is costly: 71,992-180,000 bm, depending on how many you buy. You can buy gems in these increments: 10 gems (1.8 gbm), 25 gems (3.120 gbm), 50 gems (5.988 gbm), 100 gems (10.8 gbm), 250 gems (21.588 gbm), 640 gems (53.988 gbm), and 1500 gems (107.988). Buying gems would also give you added buzz score for a specific duration. You can also earn gems as a bonus for your reviewed content.
Posting Content
In microblogging, you can post anything you like except offensive stuff. 160 characters are allotted to microblogging, similar to twitter. If you're using a smartphone, click the plus sign on the bottom center of the webpage to microblog.
Uploading movie, tv and music video clips is prohibited, but somehow they are lenient with this rule. But please abide by the bitLanders rules as it is a ground for account suspension. You can post a clip about the sun setting, raindrops falling on leaves, your sneakers while walking, your pet, your school, a building, etc. If you're on your smartphone, the link to uploading videos is: http://bitlanders.com/movie-admin/add.
You can post pictures of your trip to a restaurant, plants, grocery items, sceneries, etc. You can upload up to 50 photos per album. If you're on your smartphone, the link to uploading pictures in the gallery is: http://bitlanders.com/gallery-admin/add.
For writing a blog, you can know more by reading Submitting for Review below. Post blogs that interest you because words will flow easily. If you're on your smartphone, the link to writing a blog is: http://bitlanders.com/blog-admin/add.
Submitting for Review
This is the fool-proof way to increase your buzz score. I suggest you focus on making blogs as I've read that submitting a video or gallery isn't as rewarding as submitting blogs for review. After publishing your content, click the right button then click submit for review.
In formatting, bolding keywords, italicizing terms, underlining important details, and adding a hyperlink to word/s are useful when you'll be submitting your blog post to be reviewed. You also need to use the proper formatting of texts (paragraph, heading 1-6, preformatted).
There's a maximum of 2 videos and 10 images per blog post. Don't forget to type in your photo/video sources under them (example: photo source: pixabay.com). If it's your original photo/video, add watermark to it. Don't forget to write at least 1000 words for each blog and properly format it as it will ensure you a higher rating. Also, don't plagiarize as it is a ground for account termination.
As for tags, write keyword phrases related to your post that you think people usually search on google (eg: how to earn money, blogging tips, cure for acne, etc). Better if it is commonly searched with few competition from others. I suggest you max out the number of your tags, meaning, use 10 tags per blog.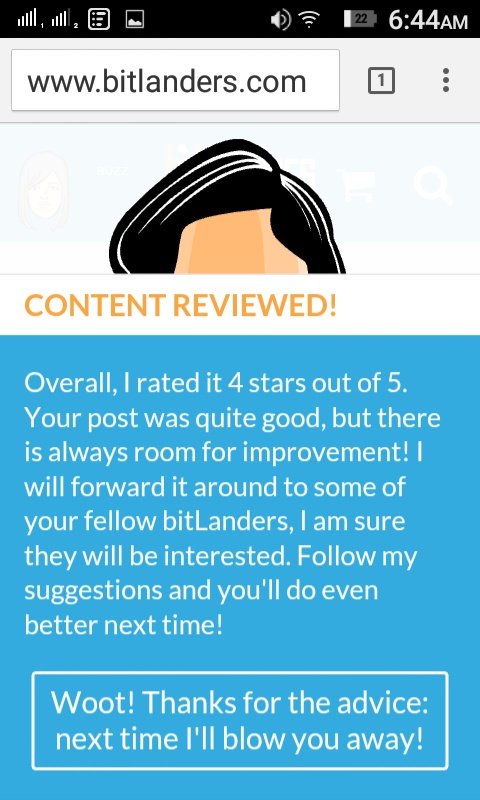 Wait for about a week until it is finished reviewing (by Miss Hillary Summers). She'll pop up and give comments about what you've written. Afterwards, she'll rate your post with stars. Rewards are as follows:
1. 1 star – +1 buzzscore and 1 gem
2. 2 stars – +2 buzzscore and 2 gems
3. 3 stars – +3 buzzscore and 3 gems
4. 4 stars – +5 buzzscore and 4 gems
5. 5 stars – +10 buzzscore and 10 gems
As for my experience, the base buzz score (without the + sign) will increase by 10 (average) and the earnings by 100,000 bm. Do note that after you submit for review, you cannot edit the content anymore.
The Daily Quest
Everyday you must do the following:
1. Read 5 blogs (buzz +1)
2. Watch 5 videos (buzz +3)
3. Bring a friend on bitLanders (buzz +3) (this is optional)
Doing the Daily quest would fairly maintain your buzz score. Do note that you must do the Daily Quest before the big treasure box of daily rewards show up, as it will affect your buzz score. The Big Treasure Box shows up at around 6:00 PST onwards. You need to log in at these times to do the Daily Quest and collect your daily earnings. Collecting daily earnings will only take you about 10 seconds, and you can collect it before 12nn the next day. If you don't then it's goodbye bitmiles.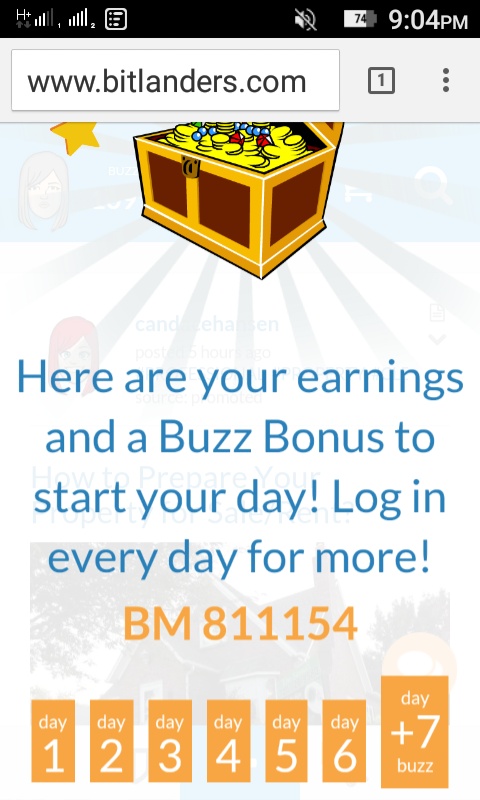 Charity
from bitlanders.com
There are many charities to support in bitLanders, but you must only pick three as your primaries. It's up to you who you want to help. When you view a blog or buzz a donation notification, you will earn and the charity you've chosen. It's a win-win situation actually.
If you're feeling generous, you can visit the store (bitCharities). You can donate to your chosen charity amounts of 40 bm, 280,000 bm, 2,000,000 bm, or 20,000,000 bm,
Payout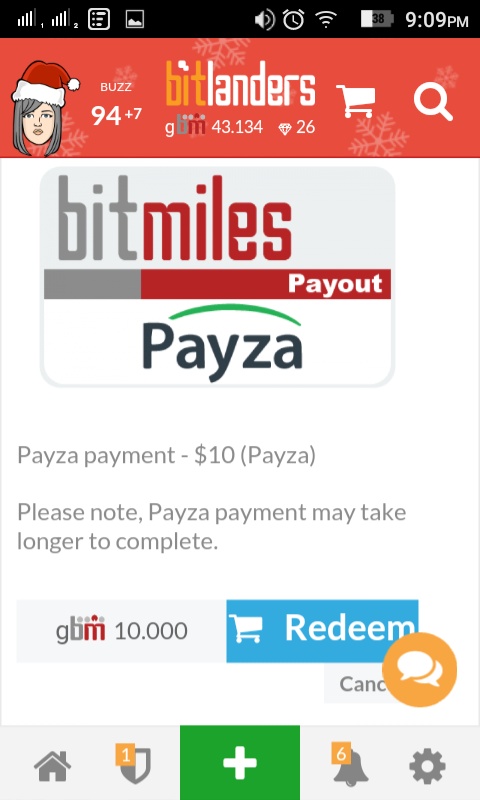 You can cashout as soon as you reach 10,000,000 bm. This might be hard at first but if you take care of your bitLanders account by doing the Daily Quest on time and submitting content for review once a week, then expect payout every week. Afaik, per 10 points added to a 20-30 buzz score (not +buzz) would add 100,000 bm to daily earnings; if the score decreases dramatically, so shall earnings.
For cashing out for the first time, a selfie with ID and bitLanders written on paper is needed to ensure that you are the owner of the bitlanders account. Only one account is allowed per person. Multiple accounts with the same IP is allowed, though. It would take about a week for them to confirm your identity.
BitLanders pays in bitcoins before; now it's through Paypal and Payza. Paypal charges 7.4% while Payza charges 5.9% when you cashout $10. Lower charges apply when you cash out in bigger increments. Cashout increments are: $10, $25, $50 and $100. Wait for a week for it to be credited to your Paypal/Payza. In the PH but no bank account? Try Paymaya or Coins.ph.
Refer a Friend!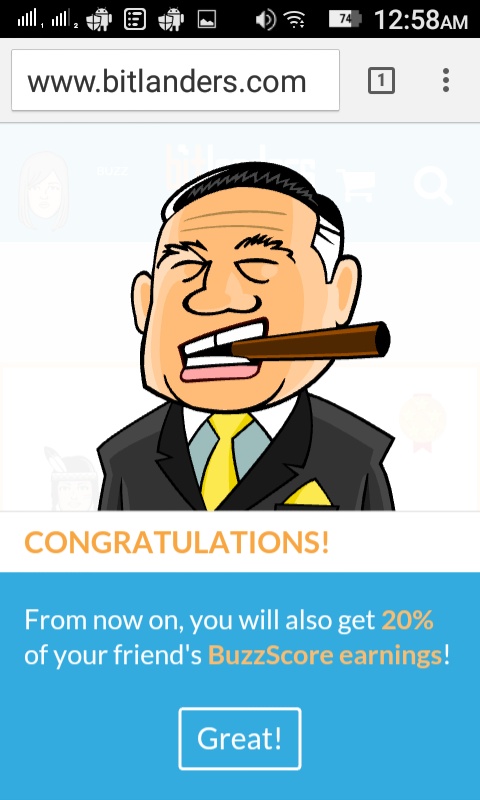 You'll get 20% earnings of your referral's total earning for life. Click on the cogwheel icon, then click earn more, then click the Invite your friends…then copy link then send to your friends.
Some solely earn through their referrals, even if they have low buzz scores.
Join Now: