A Day at The Loreland Farm Resort in Antipolo, Rizal
I've so many things to blog about but this one's been hanging in for too long in my memory card so I'll first put this up. Still, we'll have a trip tomorrow at Villa Escudero (and I hope it won't be the death of me, LOL) and we've been to Hong Kong last week so I guess I'll have 2 months' worth of blogs if I post weekly.
Anyway, this blog post is about our trip to Loreland Farm Resort in Antipolo, Rizal. My siblings just decided that they wanted to go for a swim that only requires a quick travel time from the Metro and that allows pets inside the vicinity. There were only two days left before Saturday that time so I hurriedly googled and came up with Loreland Farm Resort.
About Loreland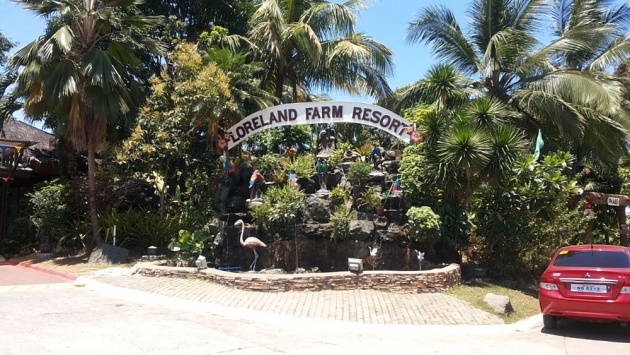 Photo credit: lapiz-lazuli
This Resort is a mango and cashew plantation, two products that Antipolo is famous for. Their owner however, slowly turned it to a resort and events place because of complements from peers, or so I've been told.
Here's an excerpt from their official website and facebook page:
Experience the grandeur of an 8-hectare land resort which you will cherish for its relaxing and unique ambiance. Loreland Farm Resort offers an ideal accommodation for business, leisure and family in breathtaking location amidst the rolling hills and green landscapes of Antipolo City. It is the best location for meetings, events reunions and weddings with an overlooking view of Metro Manila.
One of Loreland's promotional videos:
Video credit:
Loreland Farm Resort
via
youtube.com
A Day's Stay
The eldest wanted to spend a night at the resort; unfortunately, I was informed that reservations should be booked at least 3 days before scheduled date (when I called one of their phones). Yeah, their phone works and someone answers.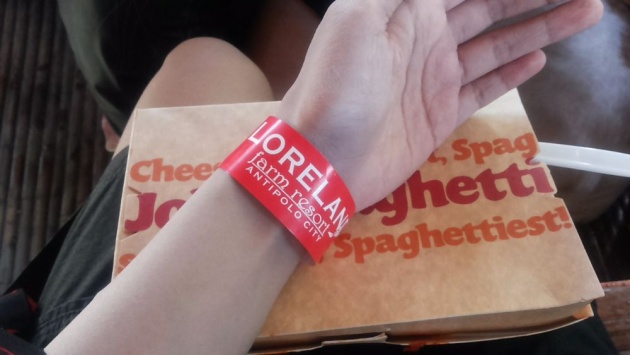 Photo credit: lapiz-lazuli
The rates are per head plus a mandatory cottage renting. After you pay, one of their staff members need to fasten a waterproof paper armband around your wrist so you can enter the vicinity and use their facilities.
Overview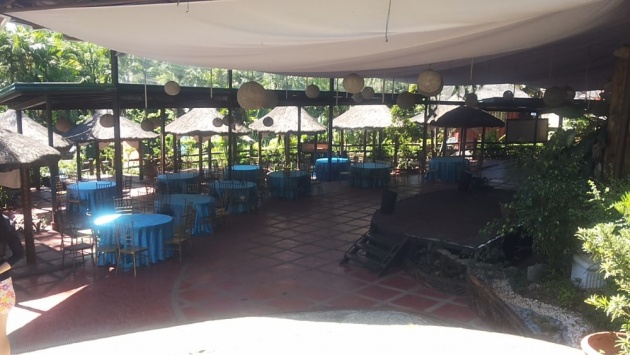 Photo credit: lapiz-lazuli
Overall, the place doesn't look huge, but when you walk around you will be surprised that another stairs lead to another couple of stairs until you would reach the end. The view was nice at the end though.
I will really advise you to watch your step if you plan to visit the resort because some steps have wide treads, others have slippery treads, but they are all generally steep as hell. I think I've emphasized that enough.
Pets Allowed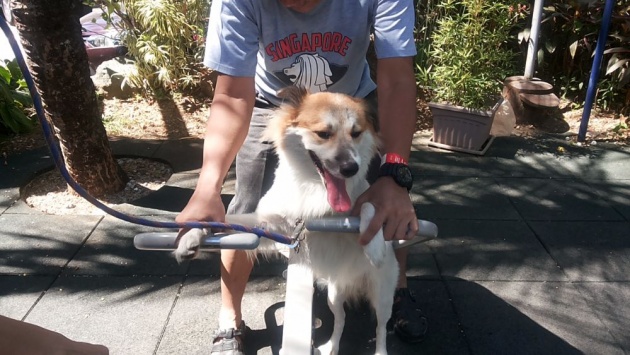 Photo credit: lapiz-lazuli
Anyway, we settled for a day's stay with our dog. They informed me on the phone that they only allow dogs up to 20 pounds in their resort so I looked at our dog's medical record and found out he was too heavy.
Lucky for us, on that day, he was allowed inside because he didn't look like 20 lbs and is medium-sized. However, you will sign a waiver claiming full responsibility for your pet and that you'll accept to be kicked out of the place if your pet is noisy or a nuisance to other people. Our dog barks often but thank goodness, he was generally behaved (and even fearful of the place, IDK why). He barked a few times but nobody reprimanded us.
Food and Drinks Allowed
One of the great things about this resort is that they allow non-resort food to be taken inside without any fee. Water and fruit juices are also allowed but they have a different policy when taking in soft drinks and liquor. I have no idea how much food costs at their restaurants, but other food kiosks sell reasonably priced commodities.
I talked to the ice cream guy and he told us that everything we see at the resort is owned by the none other than the Resort owner (I only know she's a JCI member from my sister). Kiosks and restaurants don't lease but are property of the Loreland Resort owner. Workers only have scheduled rounds on which booths to man around the resort.
Toilet and Bathroom
There are numerous restrooms around the place, but the nearest in mini cabana didn't have shower curtains. They have faucet, bucket and dipper (tabo) in every cubicle though, and they all work. Toilet flush works too. Are they clean? The quality is passable.
At around 4:00 pm onwards, things can get crowded in the bathroom. You can see the line from outside. So, if you want to maximize your stay, arrive early so you can leave before 4:00 pm.
Adventureland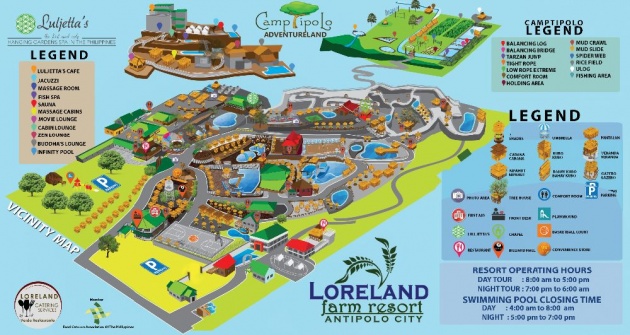 Photo credit: Loreland Farm Resort
There's a downloadable map of Loreland Farm Resort online and on the northeastern outskirts, you can see Camptipolo Adventureland. I tried to reach the place but fatigue got the best of me; besides, I think the area was closed from the public because private activities were being held that time. All I heard were screams and cheers from assumedly team building events.
Swimming Pool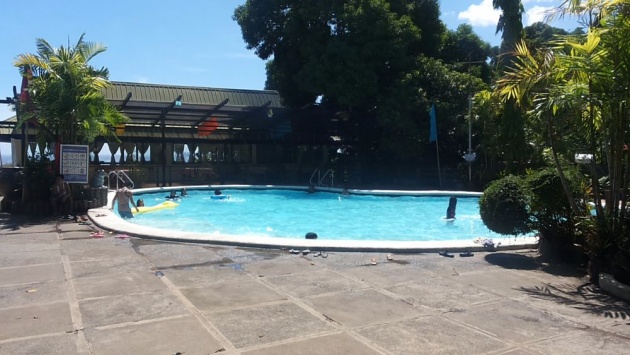 Photo credit: lapiz-lazuli
This was what we really came for and I was satisfied with the size and depth of the pools. The 2nd nearest pool from our mini cabana was I think the largest around the place. Its shortest depth was 3-ft down to 5-ft. The nearest from our cottage was for children; it looked dirty.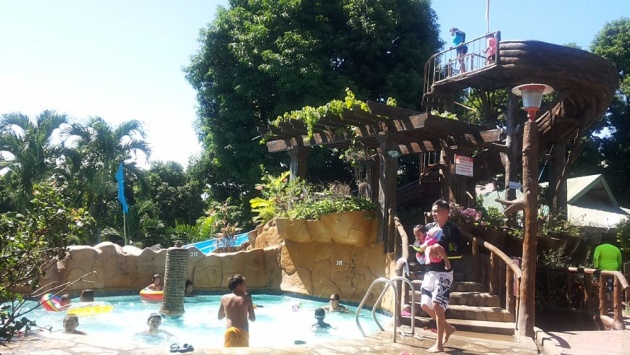 Photo credit: lapiz-lazuli
We tried out other pools –especially the one with slides—but our feet can't reach the bottom of that pool so we ditched it and found another one with slides. It was meant for kids so I speedily landed on my bottom. Ouch.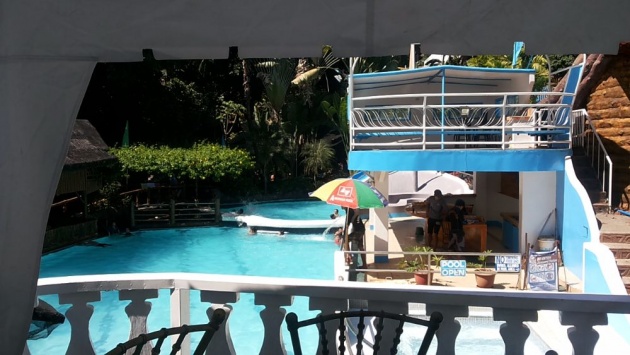 Photo credit: lapiz-lazuli
We tried the deepest pool around but we didn't manage to reach the 7-foot mark; heck, I was trembling when I left the 4-foot mark. We exited that area and settled for the pool beside the kiddie pool with the slides. There were only a few people swimming in that area and we can touch the floor of the pool so there goes our bet.
Photo credit: lapiz-lazuli
Other Stuff
Video credit: lapiz-lazuli via
bitlanders.com
There's a horse inside the resort, meant for horseback riding around the place (duh!). It's 150php per round and 20php per picture with the horse. I was scared to get near on its behind because it might kick my face and knock me out.
There's also an interesting playground near our cottage. We had fun trying some equipment, especially the rowing machine.
Staff
I can say that their staff is well trained and cordial. I didn't come across any rude and unresponsive crew from Loreland Resort.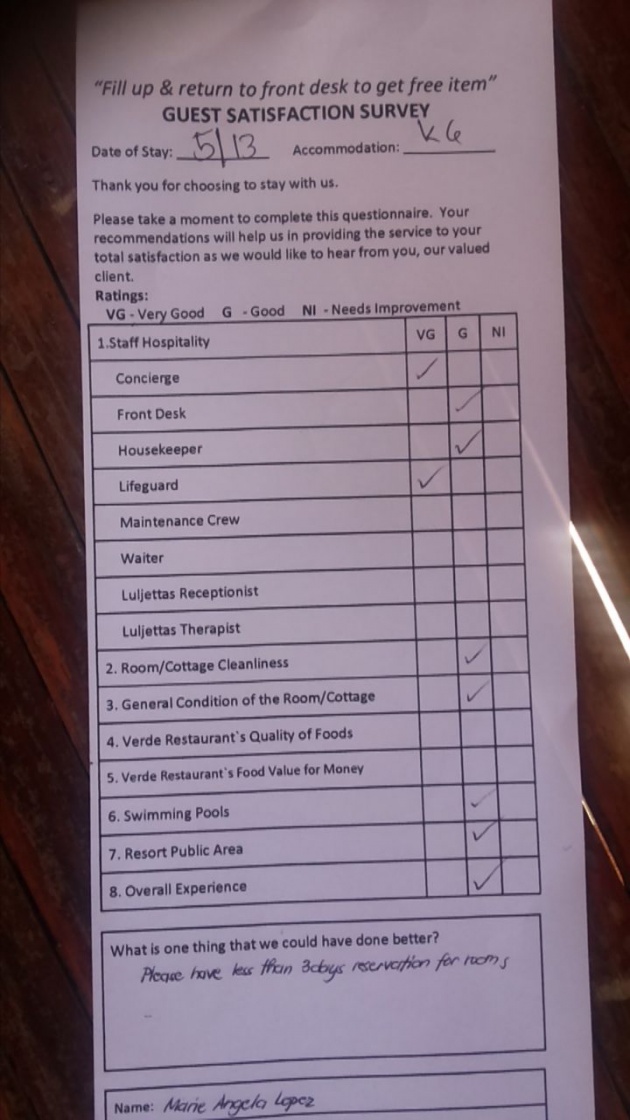 Photo credit: lapiz-lazuli
It was a plus they gave us a 500-peso coupon for our next stay at the Resort. They also handed us a survey paper to fill up.
If you want to fill up a survey about travelling, you can try this Querlo chat collated by Fredo898:
Disclaimer: Pictures, videos and writeup are owned/made by lapiz-lazuli. Views and opinions in this blog post are truthful but subjective and are not influenced by sponsorship of any sort.