It was a courtesy coupon from Joycee Abaquita who is a Bluewater Bliss Member of Bluewater Sumilon Island Resort where expiration of the membership is fast approaching. Few days before the day of expiration Joycee tagged us along to make use of the coupons rather than wasting it to no avail. There are three of us who got to enjoy the membership freebie coupons (Arlene, Neil and I). A short notice invite that I gladly grab for a day of fun and relaxation that I wouldn't dare to miss and tick it off on my wish list.
I have been to Sumilon Island twice and actually made an article on a few years back and it is entitled SUMILON ISLAND. In the said article the photos I shared were all in a sandbar because that's all you can do when you're at the public beach of Sumilon Island. For this time around, we made it through to the private resort and visited once again (third time) the public beach to where the sandbar is and wrapping up our day in Bluewater Sumilon Island Resort.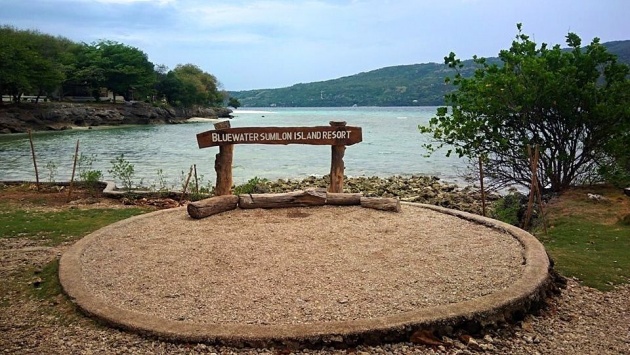 Finally here at the private resort of Bluewater Sumilon Island Resort after 10 minutes ride from the mainland. This wooden signage adjacent to the sandbar is the best way of welcoming their guests. If you can see in the photo the peeking white sand stretched to the turquoise water (above the resort sign), that is the sandbar. The last two visits I was here the sandbar was located behind the rock and it was a long stretch of white sandbar but this time around it changes its location (the one in photo) and the shape as well which it usually does according to the previous boatmen. I will be sharing a video on the sandbar but it will be on the second part of this blog.
GETTING THERE
How we get there was easy since we rode a private vehicle owned by Joycee. But for reference, be in Cebu City and head to South Bus Terminal to take a ride on a Ceres Bus that is bound to Bato Oslob. Advise the driver or the conductor of the bus to drop you off at Bancogon Oslob where the Bluewater Sumilon Island Resort port is located. A transfer boat is available at the drop-off point for both members and walk-in guests.
ENTRANCE RATES
►DAY TOUR ADULT RATE◄
From Mondays to Fridays
Saturdays, Sundays, and Public Holidays
▼Inclusions of the day tour rate are as follows:▼
Round trip boat transfers for free from the drop-off point port (mainland) to Sumilon Island and vice versa.
Free parking at the drop off point and one welcome drink.
A buffet lunch at Pulo Restaurant with a complimentary drink (soda or iced tea).
Use of mask and snorkel
Use of beach towel
Complimentary use of the following facilities: lagoon swimming pool, beach, and shower rooms
Free use of payag (hut), kiddie park and sunbeds on a first come first serve basis.
Complimentary adventures like Trekking, Fishing at the lagoon, Fish feeding, Kayaking, and Pedal Boating.
►DAY TOUR CHILD RATE◄
Kids aging 6-11 years old are charged half the adult rate.
Kids 5 years old and below are free of charge.
▼NOTE TO REMEMBER▼
Guests are not allowed to bring any food when on the island. An inspection of all the baggage is done before boarding the boat transfer. It is a personal discretion to bring or leave the foods on the mainland. If you choose to bring the foods to the island, a corkage will be charged. But if you opt to leave it at the drop off point you can take it back once you return to the mainland.
► DROP OFF POINT IN BANCOGON OSLOB PORT ◄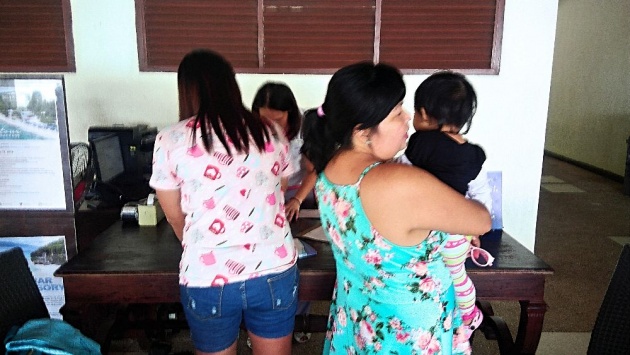 Once arrived at the drop off point in Bancogon Oslob Cebu, approach the reception staff for the payment of your day tour if you are a walk-in guest. Since Joycee is a Bluewater Bliss Member of the resort she just showed her membership card and had us registered our names as her companions for the use of her free coupons. This is also where you need to list your name in the vessel manifest for passenger listing just before the short orientation that will be given by the staff of the resort.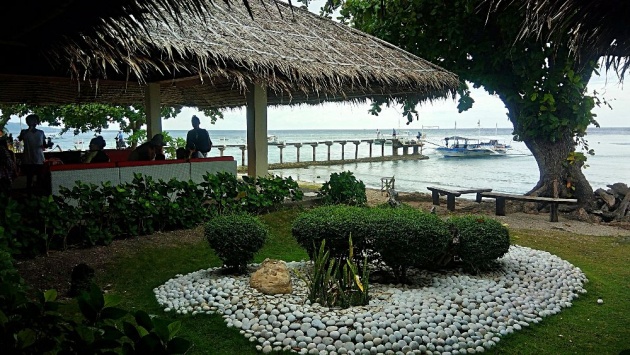 After payment and registration are done you can make use of any of the two waiting areas of Bluewater Sumilon Island Resort and enjoy the fresh courtesy drink that will be served to each guest. For the photo above the waiting area has comfortable couches while on the adjacent side are tables and chairs. You can sit back and relax while waiting for the staff to do the short briefing before boarding. The motored boat that you can see at the right part of the photo just at the end of the boardwalk is the transfer boat to Sumilon Island which is free of charge for members and walk-in guests.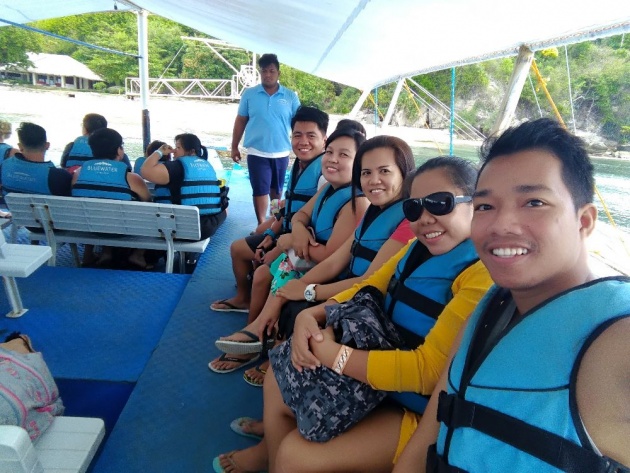 Once the briefing is done the staff will provide a colored band to each guest. The band is an indication if you are a walk-in guest or a companion guest. If you can see on the photo the one wearing a yellow top, her band, as well as mine and the guy holding my phone, are all in peachy colored bands and that is for guests who accompanied a Bluewater Bliss Member. For the walk-in guests, they will be given a blue colored band. After having the band attached to your wrist, a short orientation will be made regarding the inclusions and exclusions for the walk-in and member companion guest/s. Member guests have a brief orientation separately. After the briefing, the staff will advise the guests to go on board to the transfer boat and wishes all the guest to enjoy the day in Bluewater Sumilon Island Resort.
Let me show you a compiled video during our day in Bluewater Sumilon Island Resort. From the drop off point to the Bluewater Sumilon Island Resort. The brief orientation is also included in this video. I have no videos on the rooms since walk-in guests have restrictions in going to the guest's rooms. Only those who are checked-in in the resort can go beyond the restricted point. One of the restrictions for walk-in guests is the use of the infinity pool that is exclusively for stay-in guests.
► WELCOME TO BLUEWATER SUMILON ISLAND ◄
Bluewater Sumilon Island Dock Port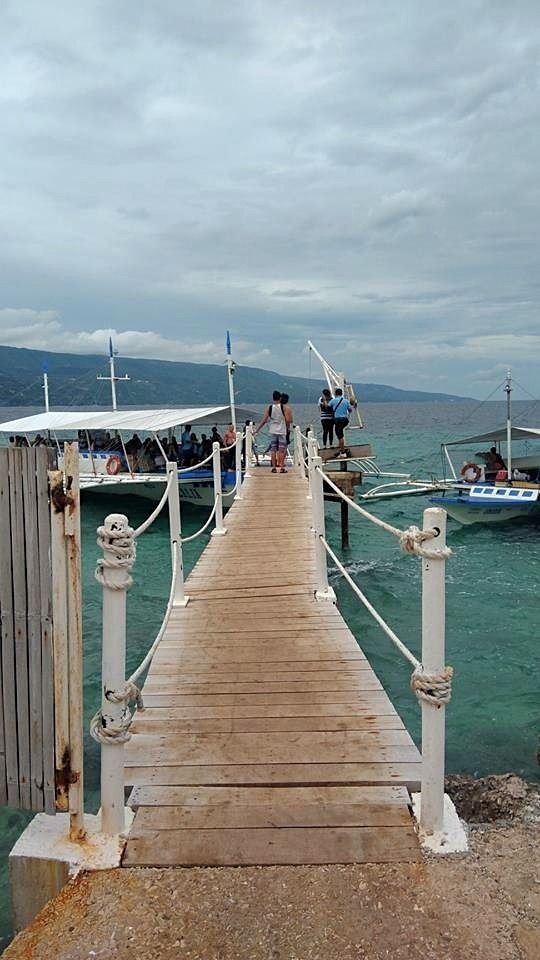 Bluewater Sumilon Island Resort Dock Port / Credit: Erlin Yen Yu (Dimpsy) via Facebook
Just for 10 minutes, you will arrive at the port of Bluewater Sumilon Island Resort. It was a windy morning as we docked on the port. There was a bit of struggle in transferring from the boat to the boardwalk because the boat kept on moving back and forth due to the strong current but the boatmen were very much capable of transporting their guests unharmed. This is where the starting point of our day in Bluewater Sumilon Island Resort adventure.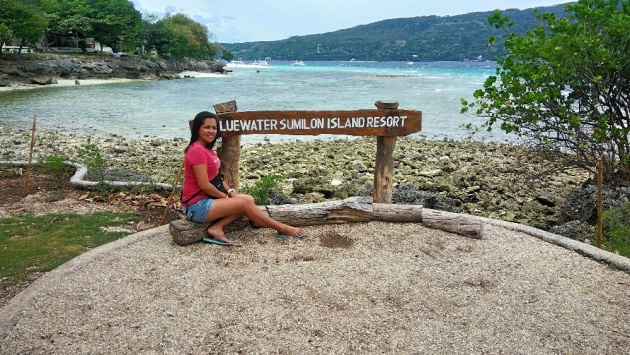 Welcome to Bluewater Sumilon Island Resort / Credit: Erlin Yen Yu (Dimpsy) via Facebook
After a short walk on the boardwalk, guests are welcomed by this sign while facing the sandbar and the welcome sign. If you can see at the topmost portion of the photo there are docked triggered boats, that is where the sandbar is situated and that area is the public beach of Sumilon Island.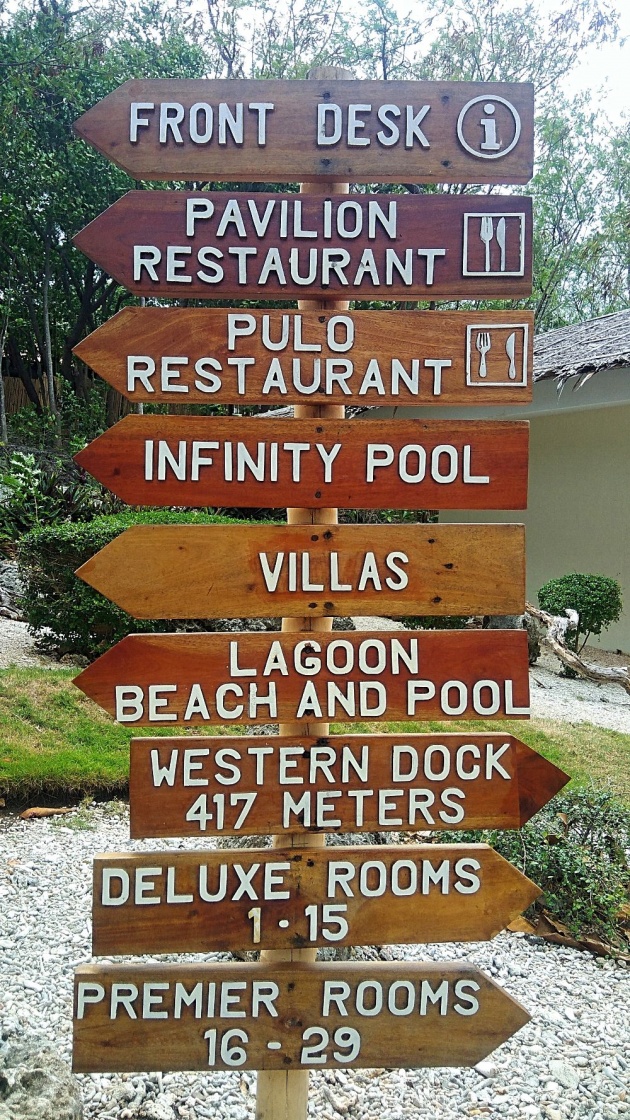 Wooden directional signage is everywhere and I find it very much helpful for guests who are not quite familiar with the resort. One of the areas that walk-in guests are restricted is the room area where De Luxe Rooms and Premier Rooms are situated. It is only the checked-in guests or the Bluewater Bliss members of the resort who are allowed to enter the room premises.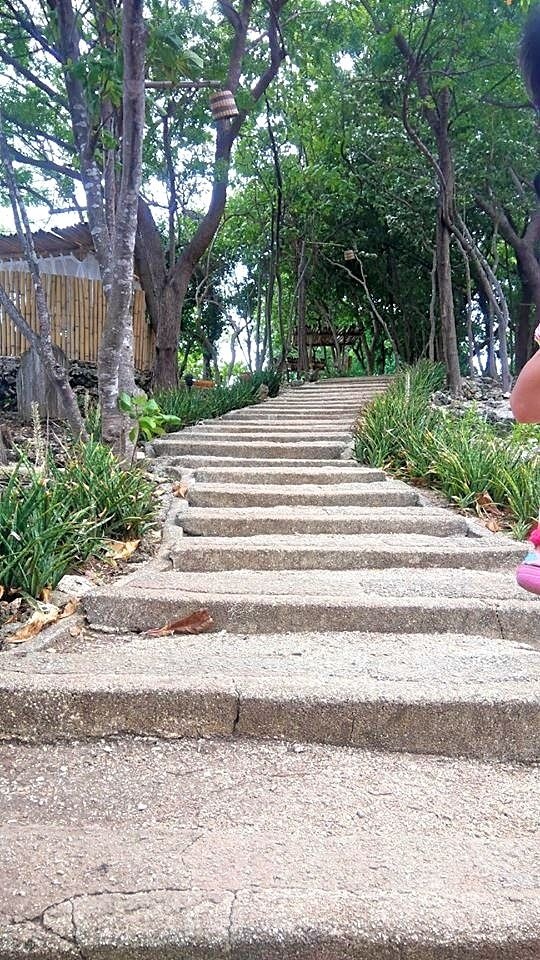 Stairway to Bluewater Sumilon Island Resort / Credit: Erlin Yen Yu (Dimpsy) via Facebook
After the wooden signage you will find a solid stairway that will lead you to the reception area, pavilion cliff bar, spa huts (the one you see on the left with white curtain), infinity pool, children's playground, Pulo restaurant, beach, lagoon, lagoon swimming pool, huts, sunbeds, trekking trails, and the sandbar.
► AMENITIES ◄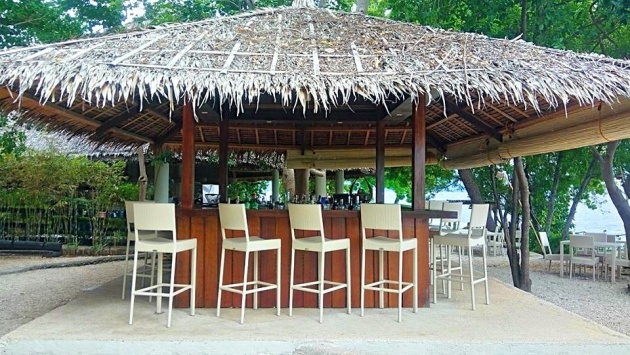 Cliff Bar and Pavilion of Bluewater Sumilon Island Resort / Credit: Erlin Yen Yu (Dimpsy) via Facebook
This is the Cliff Bar having a panoramic view of Cebu. The best place for chilling out, unwinding, and socializing with other island guests or with your companions. The place is so breezy that it compliments to the refreshing cold beverages and other alcoholic concoctions. At the back of the Cliff Bar is where the reception desk and the Pavilion Resto located.
Since lunch buffet is already included in the day tour packages, a separate rate of Php800 net per pax if you want to have a breakfast buffet. For the dinner buffet, it is Php1,250 net per pax. There is a half-price rate for children aging 5-11 years old and free of charge for kids 4 years old and below. For more information on dining rates, you may refer to this link.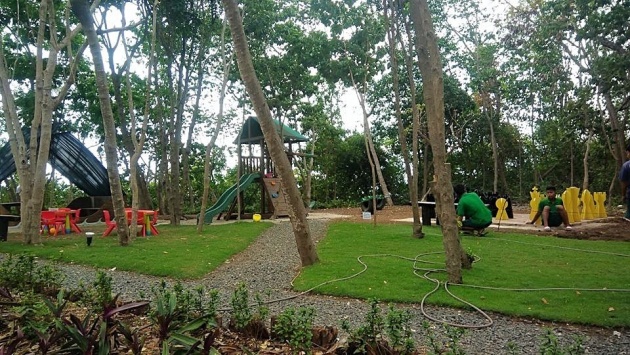 If you have kids with you they can have fun here at the resort's children's playground. Though you must keep an eye on your child/children since this place is a bit elevated and I find it dangerous for kids running around since there are no fences attached to the ground. For safety reasons, full guidance for kids is highly required in this area.
Bluewater Sumilon Island / Credit: Ledanne via Youtube
Here is a video from Ledanne during her adventure in Bluewater Sumilon Island. You will see in this video how she gets to Sumilon Island, her activities while on the island are swimming in the infinity pool which was possible during her trip and the sandbar exploration.
► CONTACT DETAILS ◄
Official website: http://www.bluewatersumilon.com.ph/
For other concerns you may refer to these links:
Bluewater Bluewater Sumilon
Ms. Brylin Galve
032 517 1600 loc. 7201
0919 320 9430 or 0917 655 2356
csr.bliss@bluewater.com.ph
Customer Service Concerns
Ms. Jessa Monton
032 517 1600 loc. 7203
0919 320 9368 or 0917 830 5549
csr2.bliss@bluewater.com.ph
Admin Related Concerns
Ms. Josephine Arligue
032 517 1600 loc. 7200
bliss@bluewater.com.ph
**NOTE: Office Hours: Mondays to Fridays from 9:00 AM- 5:00 PM and Saturdays from 9:00 AM-1:00 PM. The office is closed on Sundays and Holidays (special and non-working holidays). ~ Official Website
► END OF PART I ◄
Part one is an introduction to Bluewater Sumilon Island and some amenities that the resort has. For the second part, it will be more on the adventures I did on the island. This trip is like a belated birthday gift to me from Joycee since it happened two weeks after my natal day. I always wanted to see how the resort would be after hearing out good reviews and reading on some travel blogs about Bluewater Sumilon Island Resort. I am just so grateful that Joycee tagged me along and shares her blessing to us, without her, a day in Bluewater Sumilon Island Resort wouldn't be possible. Thank you so much Joycee Abaquita for ticking one box on my wish list. God Bless you more!
* * * ♥ ♥ ♥ * * * * * * ♥ ♥ ♥ * * * * * * ♥ ♥ ♥ * * *
Thank you so much for reading my blog.
* * * ♥ ♥ ♥ * * * *
For more travel blogs you can visit my page Dimpsy.
* * * ♥ ♥ ♥ * * * * * * ♥ ♥ ♥ * * * * * * ♥ ♥ ♥ * * *