The short stay at Boracay was because of the Farm visit at Marlon Escolin's Game Farm. That was the main reason why we traveled to Aklan. But aside from the farm visit, hubby and I were able to also take a glimpse of Kalibo.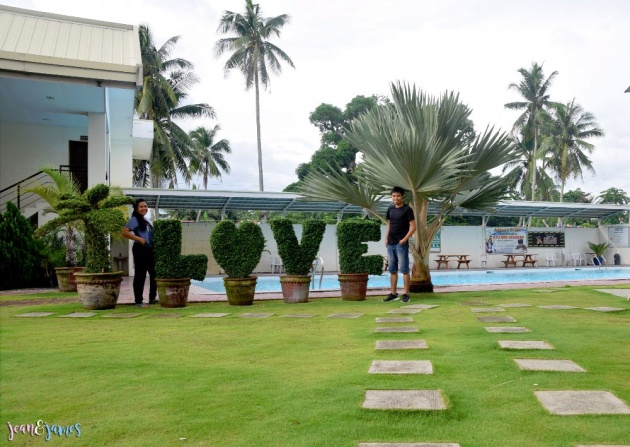 Caption: Hubby and I had to take a photo of this shrub.
Kalibo is usually the option for visitors when traveling to Boracay due to the fact that the airport here is bigger than the one in Boracay Island itself. The fare isn't that expensive compared to the one in the main island although another travel via land and sea is both needed to get to Boracay. Most visitors wouldn't mind that since there.are available buses around the airport which are willing to take passengers from here to the other island. Addition to that are private vans and taxi cabs too which are always waiting for heads who are willing to pay for an exclusive trip to the most famous island in the Philippines specially during summer.
Also, from the Jetty Sea Port, it will only take a good 10 minutes boat ride to Boracay. The fare is also very affordable so it isn't a pain if one would prefer getting airfare tickets from Kalibo.
As much as I would like to check more of what Kalibo could offer, we only had a very limited time due to the farm visit. I actually regret joining the guys. It would have been better if I was left at the hotel and just roam around the entire city but anyways, I will have to leave that regret. Let me then share our day at Kalibo.
KALIBO: Breakfast at Marzon Hotel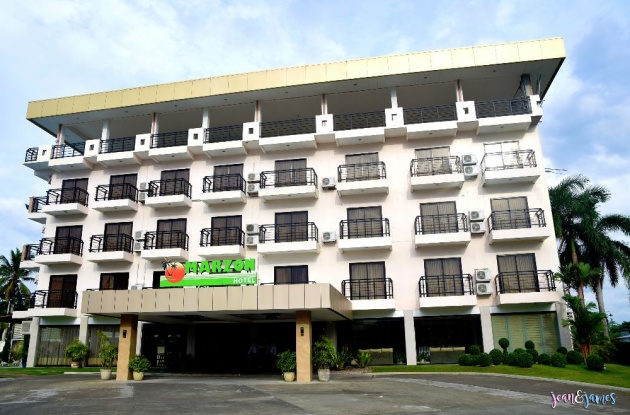 Caption: The Marzon Hotel from the outside area.
No, we didn't stay at Marzon Hotel due to the fact that their room accommodation costs higher, we stayed at another hotel which I will be sharing later on. But we had breakfast here instead and since we stayed for more than an hour, hubby and I grabbed the opportunity of taking photos of everything that we can take here.
From our hotel, we took a tricycle and reached Marzon Hotel in just five minutes. The city was a small one.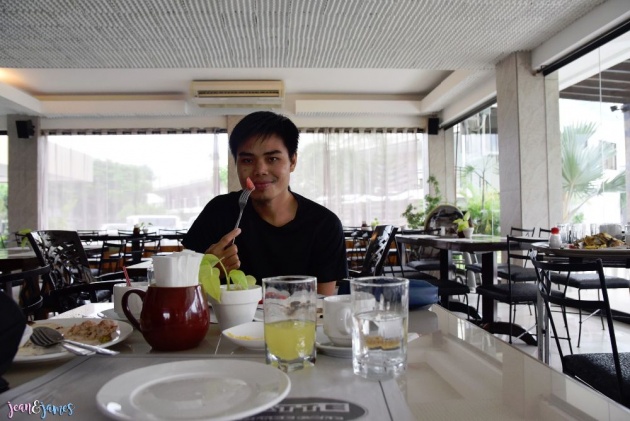 Caption: Hubby eating breakfast at the Marzon Hotel.
And although we didn't stay here, walk in breakfast is accepted so we had a sumptuous breakfast along with the other guys. That meal cost us Php 250 per person which for me was alright since we didn't stay there. The viands available were common Filipino food and there was coffee, tea, cool drinks, variety of fresh tropical fruits too!
But what I love about the hotel is their cleanliness plus their shrubs which looked like sculpted or trimmed to look like the word LOVE. I can't go without taking a photo with it.

ROXAS CITY: Farm Visit at Marlon Escolin's Farm
After breakfast, a trusty four wheel drive vehicle took us to a bumpy ride towards a farm owned by one of the very well known breeders and fighters in the Philippines, Marlon Escolin. Got very amazed by the landscaping of the said farm. It took us around two hours going there but glad that the area was windy that we didn't bother the heat of the sun.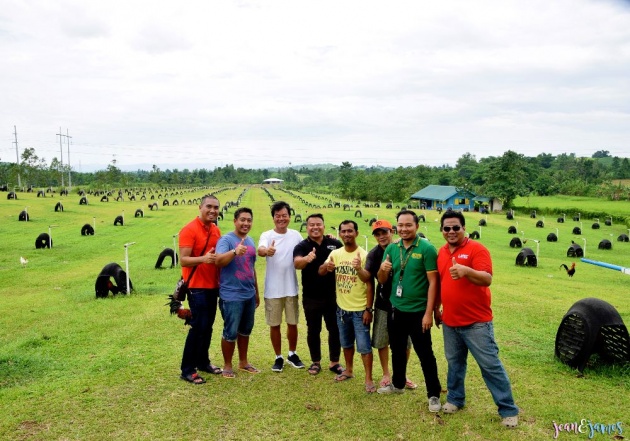 Caption: The pack whom we have accompanied when we went to the farm.
For more than three hours, the group checked his farm, looked and observed his chickens and the stags which were all good looking. Marlon Escolin also has mating pens, around twelve of them which were all huge ones. My favorite spot perhaps is his chord area. There are more than a thousand chickens around knot tied and have been monitored through the use of a drone which Marlon Escolin himself controls. He even showed us how he does it. He has two drones, the other one is still being fixed since it dropped a few feet while flying. The second drone looks really expensive and I wish we could also own one. He then played with it and even took a selfie with the group using the drone camera. It was a fun day plus he also had let a few stag fight while we watch them.
After that long selection of chickens, we decided to go back to Kalibo bringing with us four stags and two female ones.

ROXAS CITY: Lunch at Baybay Beach
It was almost lunch time when we hopped back into the vehicle to go back to Kalibo. And since our stomachs were all complaining, we stopped at a coastal area where there were sea food available for grilling and soup.
We were treated by our company, Dino who was also complaining about being hungry. He ordered grilled fish, hot fish and shell soup, some freshly grilled squid, chicken and pork too. There were also locals who were passing by selling their delicacies so we bough a few packs of sweet yams and some tortillas as well.
Since I was with all boys, lunch was quick! The table food vanished in just five minutes, no I am just kidding but it was a quick one and everyone was full!
ROXAS CITY: Shell Beach
What astonished me was the beach behind the restaurant. There were random shells scattered around the area and I had to go near to the gray sand beach to figure out what these shells are.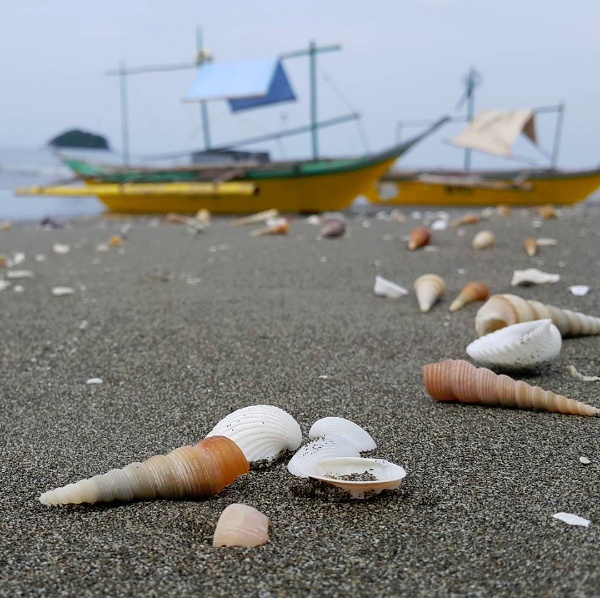 Caption: View of the shell beach where we had taken our lunch. It was quite amazing.
Spiral and long. These are the shells which have been distributed all through out the beach shore. It was quite amazing to see them and I have not seen anything like this before. There were only few people around, low tide has just started and so the shore sand was still properly arranged. There were sea boats arranged as well at the nearby area while some people perhaps locals were walking around while I was bending over to take a good shot of the shells.
I asked the locals if this is always the setting here and they nodded as a sign of it as a common daily view. That was really awesome!

CAPIZ: Christ the King Statue
The driver pulled over and I didn't know why, everyone started to get out of the car. Hubby and I realized it was because of this huge statue which looked like the one from Brazil. I immediately pulled my mobile camera and took a quick shot of it.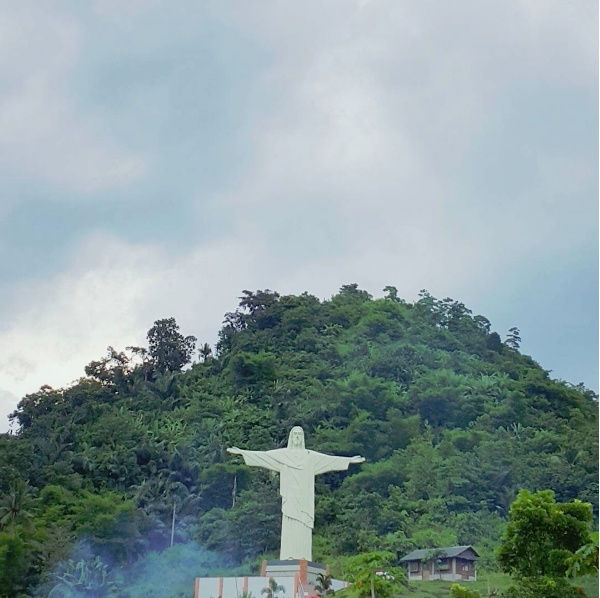 Caption: Taken using my phone for a quick shot.
Later on, I learned that this is a privately owned statue of an Inday Ruth Gamboa. It is 130 feet tall, white painted statue standing in a cemented pedestal in the surface of a hilly mountain with trees and green shrubs as its background but the houses are also quite obvious.
The statue was actually constructed to attract tourists who are on their way to Boracay or other parts of Panay Island.
KALIBO: Dinner at AKEAN Resto Bar+Kafe
AKEAN - I pronounced it as Akean like akea but then I was corrected by the tricycle driver and told me that E is pronounced as L in their native tonge so it should be pronounced as Aklan. I stood corrected.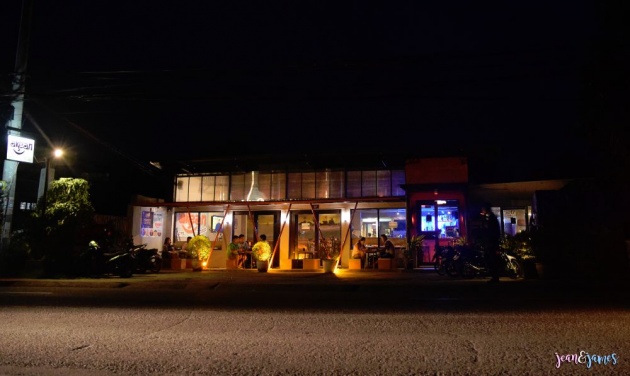 Caption: This is the view outside the Akean Cafe, hubby and I were at the other side of the road.
Hubby and I was looking for a place to dine in after reaching our hotel that same day. I found a restaurant which was referred by one of the blogs I stumbled upon. We asked to be dropped there by one driver but then we later figured out it has closed down. It's a bit disappointing that there are no recent blogs about the places to dine in Kalibo but anyways, we found our way to Akean Resto Bar+Kafe.
Caption: Time lapse while eating dinner at Akean Cafe.
Hubby and I were both wanting to try their native delicacy. I got really entertained by the designs inside the cafe. There were doodles about Pizza, about school and a lot more. I can't stop taking photos of them. Then an earthquake!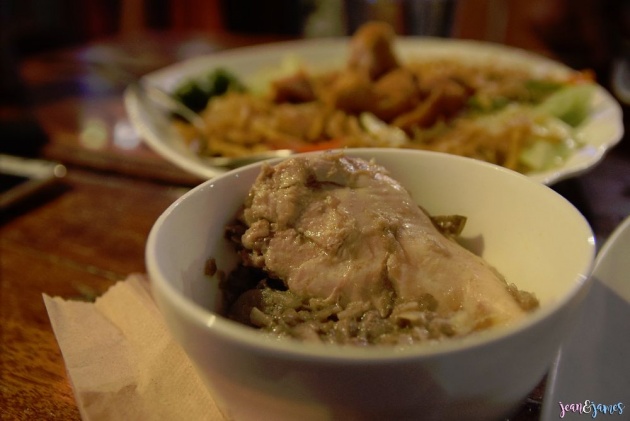 Caption: The Binakul - a special delicacy of Aklan. Akea Cafe serves good amount of chicken binakul.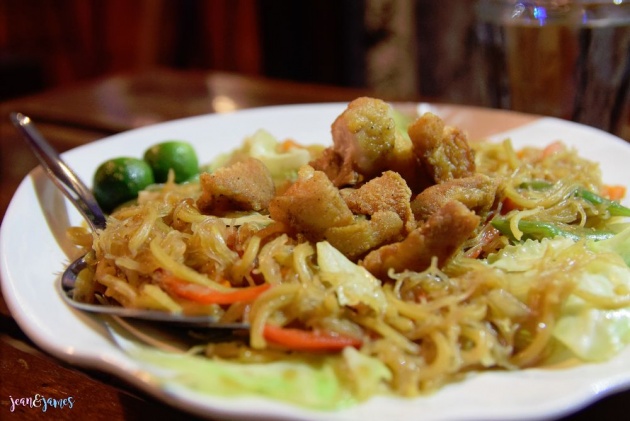 Caption: This Pancit Guisado is really tasty plus the serving was really huge!
Gladly, it was just a short mild one. Our food was served after a few minutes of waiting and we happily enjoyed the rest of our time in the cafe. It was affordable and tastes really good! Servings were massive that we were not able to finish the pancit!

KALIBO: Stayed at Ati-atihan County Inn
Both my husband and I only needed a place where we can secure our bags since we won't be here the entire day and while we were on our way from Boracay, we looked online for such place which is affordable and would be very near to the airport at the same time. We found a lot of options but we decided to stay at Ati-atihan County Inn, why?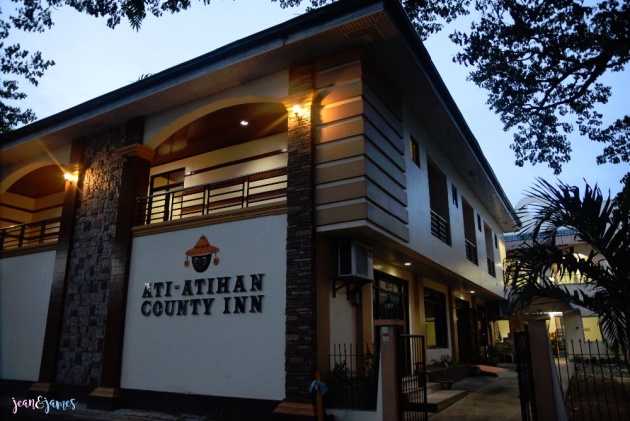 Caption: The view outside the Ati-atihan County Inn at the heart of Kalibo.
Two reasons. First, it was recommendable online. There were lots of reviews online saying it has a reasonable price and that it is safe. Second, it is owned by the LGU of Kalibo itself. That two reasons had encouraged us to support the said hotel.
It is definitely near the airport and it was also near Marzon Hotel where our other companions stayed. Then it has a feel of the Ati-atihan which is a festival annually celebrated by the locals here.
We stayed for two night and checked out at around five in the early morning the next day since our flight back to Cebu was at six in the morning. Glad that it was an affordable room but it was super spacious, it even has a little terrace where we can see Jollibee's face! The bathroom was also very spacious and we don't have any complaint or whatsoever. Totally satisfied boarders!
Caption: Sharing my walk-a-tour around the shell beach in Baybay, Roxas City. I had fun with the shells!
That was how we spent our one day stay in the island of Panay specifically in Kalibo, Capiz and Roxas City. A lot of things happened. I regret not been able to check the local tourist spots in Kalibo but that is one good reason to come back in the future.
I'll end the blog here. Hope you had enjoyed it!
Copyright 2016 Jean Beltran-Figues
All rights reserved.